Andre Berto vs. Jesus Soto Karass: Preview and Prediction for Welterweight Bout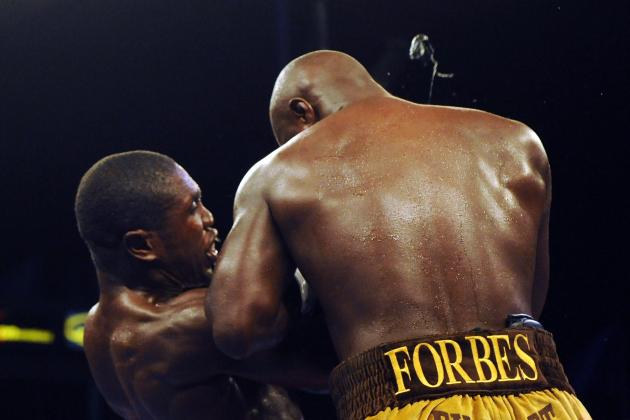 Harry How/Getty Images

Former welterweight world champion Andre Berto returns to action in San Antonio this Saturday, when he faces hard-nosed journeyman Jesus Soto Karass. The fight will be broadcast on Showtime.
The welterweight division has been the sport's glamor class in recent years. These are two well-traveled veterans, who have both fought often for national audiences.
Begin Slideshow

»
| | | |
| --- | --- | --- |
| Per Boxrec | Andre Berto | Jesus Soto Karass |
| Record: | 28-2, 22 KO's | 27-8-3, 17 KO's |
| Height: | 5'8.5" | 5'9.5" |
| Reach: | 70.5" | 72" |
| Weight: | 147 pounds | 147 pounds |
| Age: | 29 | 30 |
| Stance: | Orthodox | Orthodox |
| Hometown: | Winter Haven, FL | Los Angeles, CA |
| Rounds: | 161 | 271 |
Jesus Soto Karass is the taller, longer fighter. He has fought at junior middleweight before, and will likely have at least a small weight advantage by the time both men enter the ring.
Berto has been one of the division's top knockout artists in the past five years. Jesus Soto Karass has lost his share of fights, but he's fought a very high level of competition.
At 29 and 30, these are two fighters who have no more time to waste in their careers. This is a must-win fight for both men, if they want to remain relevant at 147.
Two years ago, Andre Berto was the undefeated WBC welterweight champion. He had knocked out 22 of 28 opponents and was viewed as a rising star in the sport.
In August of 2011, Berto dropped his belt to Victor Ortiz, but the loss didn't set his career back too badly. Although Berto was knocked down twice, he knocked down Ortiz once. It was an exciting war, and a near-universal selection for 2011 Fight of the Year.
A rematch was scheduled for June of 2012, but it had to be scrapped when Berto failed a PED test in May. Berto ended up sitting out most of 2012, before finally returning to action in November against interim WBC champion Robert Guerrero.
Guerrero mugged Berto early, knocking him down in both of the first two rounds. Berto hung tough and made it a fight. He finished on his feet, though with both eyes nearly swollen shut.
To get anywhere close to where he used to be, Berto desperately needs a win against Jesus Soto Karass. Soto Karass is an opponent he should be able to beat, but it's unlikely to be an easy night of work.
Soto Karass would have to be classified as a journeyman, but he's a pretty high class journeyman. He's been in the ring with multiple world champions and credible contenders, and rarely fails to make an exciting fight.
Harry How/Getty Images

Andre Berto is a very athletic fighter with explosive punching power. There's a reason 22 of the 28 men he's beaten failed to make it to the final bell.
Berto has very quick hands and feet. Against most fighters he's able to score quickly and then move out of range before they get a chance to counter.
Berto is very durable, which is a critical skill when you fight the way he does. He can take a shot and keep going.
Jesus Soto Karass has campaigned at junior middleweight and is large for a welterweight. He uses his frame to muscle inside on opponents and take away their space to move and counter.
I thought he had serious skill and athleticism deficits against Mike Jones, but in the first fight especially, he was able to fight on even terms through sheer determination and ruggedness.
Soto Karass has a deep gas tank and uses it to maintain high volume punching. I have rarely seen him outworked.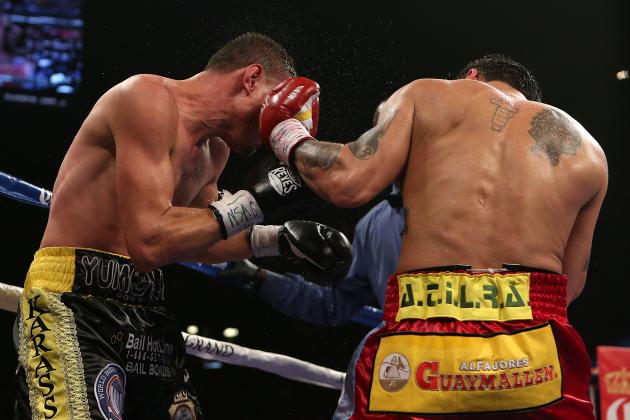 Josh Hedges/Getty Images

Andre Berto seems to treat defense as an afterthought much of the time. His primary defense is an aggressive offense.
Against a fighter like Victor Ortiz, who could trade on even terms while varying angles, Berto was steadily out-punched over the course of the fight.
He attempted to shoulder roll like Floyd Mayweather against Roberto Guerrero, but didn't have the footwork and timing to make it work. Guerrero was able to crowd him and beat him up on the inside.
Berto is the kind of puncher who needs some space to work. Claiming that space might be a chore against a grinder like Soto Karass.
Jesus Soto Karass is a plodding, come-forward masher with little in the way of defensive art. His main stratagem appears to be to deflect as many punches as possible with his forehead, limiting the abuse to his nose and chin.
Although he often enjoys a reach advantage, he tends to negate it by leaning forward with his head and shoulders, while squaring his stance.
His hand speed is never going to dazzle anyone at the world-class level, and he doesn't have the timing to compensate. Most of the good fighters he's faced have been able to consistently beat him to the punch.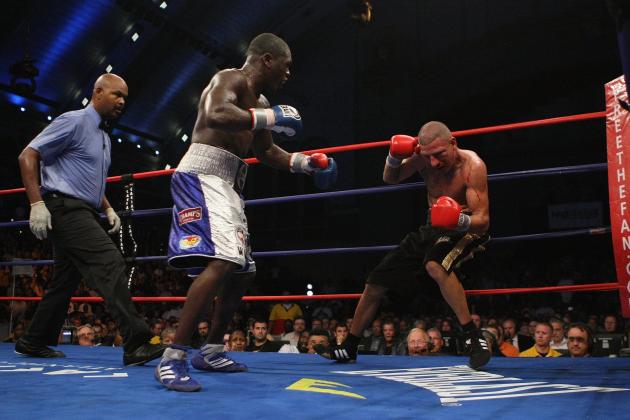 Al Bello/Getty Images

I think Andre Berto should take a lesson from Marcos Maidana, who beat Soto Karass by Round 8 TKO in September of last year. The brawling Maidana didn't exactly turn into Sugar Ray Leonard in that fight, but he did employ a busy jab and just enough footwork to jolt and turn Soto Karass and put him in vulnerable positions all night.
With intelligent use of the jab, Berto should be able to stop Soto Karass' advances short, before launching his own violent attacks from angles that Soto Karass is unable to defend.
Berto throws a good punch moving backwards, and he should look to score with it often on the come-forward Soto Karass. Berto has agile footwork and changes directions on a dime.
Against Soto Karass, he should capitalize on his speed advantage by shifting from offensive to defensive posture and back again, too quickly for Soto Karass to adjust.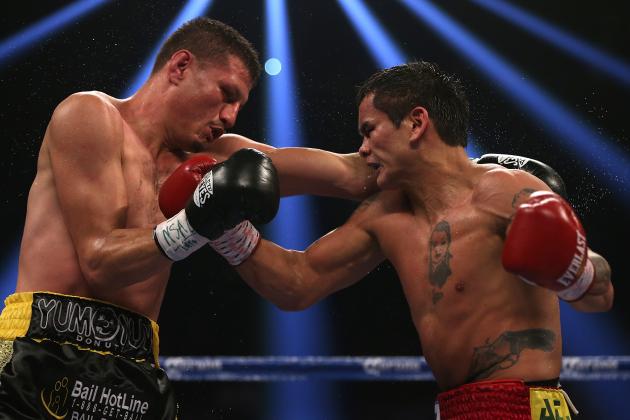 Josh Hedges/Getty Images

Believe it or not, Jesus Soto Karass is currently attempting to duplicate Robert Guerrero's 2012. Last January, Soto Karass simply out-hustled Selcuk Aydin to win by majority decision. Guerrero beat Aydin by one-sided unanimous decision in July of 2012.
Last November, Guerrero beat up Berto, knocking him down twice and closing both his eyes. The performance earned him a shot against Floyd Mayweather last May.
No matter what Soto Karass does against Berto Saturday, he's obviously not moving into line for the next shot at Mayweather in the spring. But a win here will make the hard-scrabble Soto Karass a contender of sorts, after all these years.
To do it, he's going to have to do his own version of what Guerrero did last November. He's going to need to crowd and bully Berto in close.
Soto Karass needs to fight an aggressive fight to win, but he has to be intelligent about it. As soon as he starts to lean and lunge, Berto will light him up.
Soto Karass should start hitting Berto as soon as he is in range, while moving to cut Berto off and crowd him. He needs to flood Berto with punches, and then take away Berto's space to to punch back.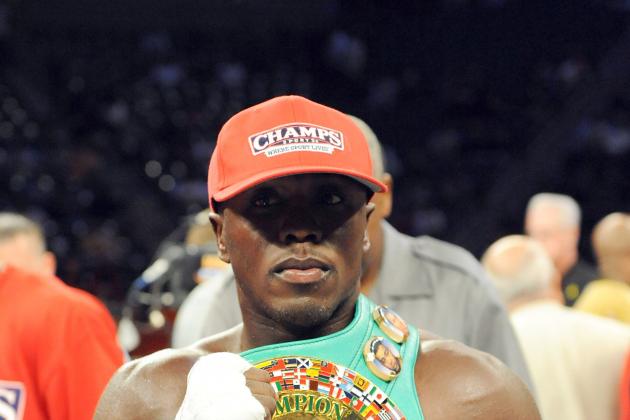 Harry How/Getty Images

This should be a very winnable fight for Andre Berto. He appears too quick and explosive for Soto Karass.
Robert Guerrero showed the blue print for beating up Berto by taking away his room to maneuver. But I think Soto Karass lacks the footwork and defensive abilities in close to pull off what the Ghost did last year.
Soto Karass also lacks the speed and movement to beat Berto in the kind of shoot out Victor Ortiz did in 2011.
What Soto Karass is going to do is put his body in front of Berto in the pocket and trade punches. Since Berto is the quicker, more powerful puncher, it's hard for me to see how Berto loses that kind of fight.
If two armies line up across a field from each other, the one that is firing the heavier shells at a faster rate is probably going to win a war of attrition.
Unless Berto is a shadow of his former self since testing positive for steroids, he should simply be too athletic for Soto Karass.
Andre Berto by Round 9 TKO.