Sri Lanka V South Africa: Winners and Losers from 2nd ODI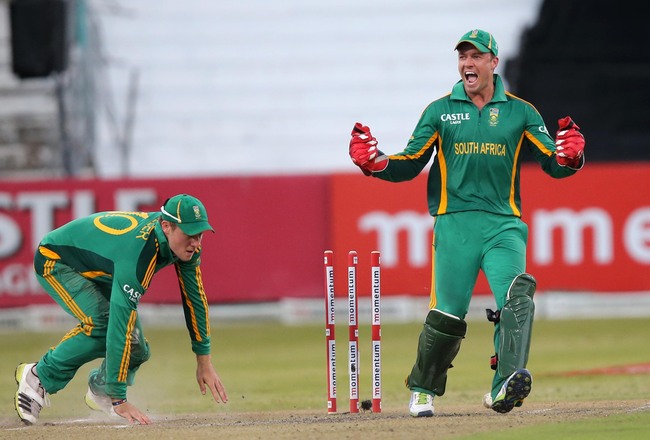 Gallo Images/Getty Images
South Africa lost their second one-day international against Sri Lanka by 17 runs on the Duckworth-Lewis Method. A rain-interrupted match caused much frustration for everyone involved and the Proteas' old foe had the final say.
AB de Villiers' troops now have a must-win match to stay alive in the series. Despite it being a sticky wicket to bat on, the Proteas bowlers struggled yet again. The batsmen still haven't quite adapted and Hashim Amla suffered an injury.
All in all, it was a tough time for De Villiers' troops all while Sri Lanka continue to march on. We've picked some of the winners and losers from the second match. Add your thoughts in the comments.
Winner: Dinesh Chandimal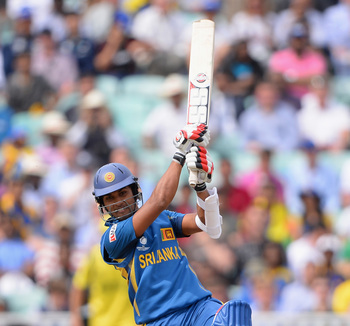 Mike Hewitt/Getty Images
Dinesh Chandimal is having a whale of a time as skipper. He's had it easy, of course, but he underscored Sri Lanka's win with a decent knock. With just three of Sri Lanka's batsmen managing to get past 20, Chandimal added 43 off 51.
There's never been any doubt that the youngster has been earmarked for future success, but wins and scores like this will do plenty for his confidence.
With a truncated match to contend with, Chandimal used his bowlers well. Being able to adapt and adjust when conditions are dictated by weather is key for any captain. Chandimal did so with ease.
Winner: Tillakaratne Dilshan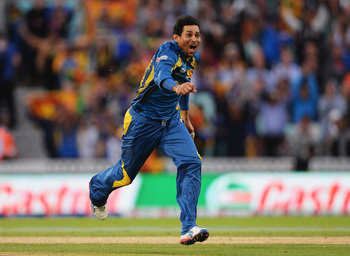 Mike Hewitt/Getty Images
Tillakartne Dilshan had a good outing on Tuesday. Scoring 43 with the bat and picking up the wicket of AB de Villiers, it was all smiles for the former Sri Lankan captain.
His dismissal was a bit needless, though, and it was perhaps the only downside to his performance. With little use of his feet and a fine effort behind the stumps from AB De Villiers, Dilshan was undone before he could get his half ton.
Loser: Hashim Amla
Paul Gilham/Getty Images
It feels slightly wrong to put "loser" in the same sentence as Hashim Amla. He wasn't quite a loser as much as he was unlucky.
Having just recovered from a stiff neck, Amla suffered an injury while fielding. Amla has a Grade 1 tear in his groin, an injury which usually takes three to seven days to heal. It's unlikely that the Proteas will risk him in their next one-day match, they need him fit for their tour of the UAE later in the year.
Amla didn't bat—he would have if he needed to—but perhaps his loser status is changed to winner thanks to the rain saving him from having to aggravate his injury.
Winner: Morne Morkel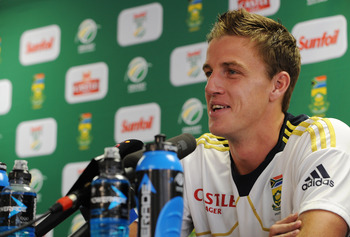 Gallo Images/Getty Images
Morne Morkel finally looked like his usual imposing self. Taking three wickets for 34 runs, Morkel was effective in all his spells and dismantled the top order.
Without Dale Steyn in the side, Morkel is prompted to leading the attack. Robin Peterson started the bowling, but with two new balls from both ends, Morkel wasn't too troubled. Despite dodgy weather and plenty of moisture on the ball, Morkel still managed to get the ball to do what he wanted to.
Morkel is a great player and with more performances like Tuesday's effort, he could be superb.
Winner: The Pinch-Hitting Revolution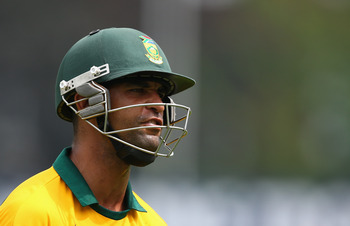 Paul Gilham/Getty Images
With Hashim Amla struggling with an injury, South Africa had to make an alternative plan. AB de Villiers and Faf du Plessis can both open, but the Proteas instead opted for the pinch-hitter approach.
It's worked for them before and Robin Peterson has shown he's no mug with the bat. On Tuesday, though, the experiment flopped.
There's nothing wrong getting it wrong, of course, Peterson hardly gobbled up the deliveries to get himself in. The pinch hitting option is a high risk with a high reward. It didn't pay off this time, but it's good to see that South Africa are still open to a provocative appraoch.
Keep Reading