The Athletics nearly came out of nowhere on Monday to snag one of the top pitchers available this summer.
Jeff Passan of Yahoo! Sports reports Oakland made a late push to acquire starting pitcher Matt Garza from the Chicago Cubs. The news is very surprising considering the A's weren't even mentioned in the same sentence as Garza in the last few days. Oakland general manager Billy Beane must be good at keeping secrets.
Sources: A's late involvement in Garza sweepstakes pushed Rangers to up ante. General sense is Cubs got great return for 2 months of Garza.

— Jeff Passan (@JeffPassan) July 22, 2013
As many now know, the Cubs decided to trade Garza to Oakland's AL West rival, Texas. The Rangers traded Mike Olt, Justin Grimm and C.J. Edwards to Chicago in exchange for the right-hander, according to the team's official Twitter account. Imagine if Oakland would've completed the deal, though?
Oakland enters Tuesday with the 14th-best starting rotation in baseball in terms of WAR, according to FanGraphs. Most of the team's success has been due to Bartolo Colon's resurgence on the mound. The right-handed veteran is 13-3 on the year with a 2.52 ERA. The other starters have been good but not nearly as good as Colon. Garza would've given the team a big boost.
Oakland A's Starting Pitchers

| | | | | | | | |
| --- | --- | --- | --- | --- | --- | --- | --- |
| Player | W-L | G | IP | K/9 | BB/9 | ERA | WAR |
| Bartolo Colon | 13-3 | 20 | 135.2 | 4.98 | 1.06 | 2.52 | 3.0 |
| Dan Straily | 6-3 | 15 | 87.0 | 7.24 | 2.69 | 4.14 | 1.4 |
| A.J. Griffin | 8-7 | 20 | 127.1 | 6.93 | 2.05 | 3.82 | 1.2 |
| Tommy Milone | 8-8 | 20 | 122.2 | 6.75 | 2.13 | 4.18 | 1.1 |
| Jarrod Parker | 6-6 | 19 | 114.0 | 6.08 | 3.00 | 3.95 | 0.5 |
| Brett Anderson (on 60-day DL) | 1-4 | 5 | 23.2 | 9.13 | 4.94 | 7.23 | 0.1 |
2013 Statistics courtesy of FanGraphs
If the A's had landed Garza instead of the Rangers, things would be completely different going forward. It may seem crazy, but he could end up deciding which of the two teams wins the division and which has to fight for a wild-card spot in the postseason. Because Garza now pitches for Texas, the Rangers have the upper hand.
Besides the surprising news that Oakland was in on Garza, here are a few other rumors to ponder as the time dwindles before we flip the calendar to August.
Boston Eyeing Pitchers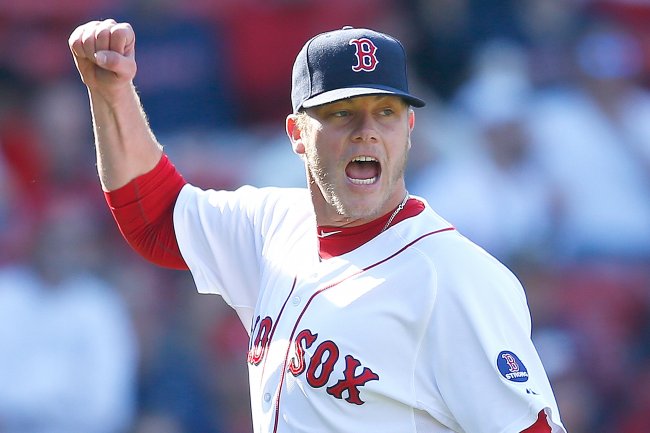 Jim Rogash/Getty Images
Injuries have taken a toll on Boston's pitching staff in recent weeks. Joel Hanrahan was a disaster for the Red Sox before undergoing season-ending surgery. Andrew Bailey will miss the remainder of the season with shoulder surgery, per ESPN Boston. Andrew Miller is out for the year as well. Clay Buchholz hasn't pitched since June 8.
What will Boston acquire before the deadline?
Boston already upgraded its staff once in the last few weeks, acquiring Matt Thornton from the White Sox to boost the bullpen. But Thornton isn't going to be enough, especially if Buchholz doesn't return within the next month or so. Danny Knobler of CBS Sports reports the team is looking for starters and relievers.
The Red Sox rank in the top 10 in WAR for starting pitchers and relievers, according to FanGraphs. But with the team's pitchers dropping like flies, a trade to acquire at least one notable name is inevitable. Evan Drellich of MassLive.com reports Francisco Rodriguez could be an option, but he could be expensive too.
K-Rod has appeared in 25 games this season for the Brewers and has only allowed three earned runs all year long. He would be a great addition who could pitch in the seventh and eighth innings before Koji Uehara. Nick Cafardo of The Boston Globe reports Boston also had interest in acquiring Garza from Chicago.
Arizona Looking for Stars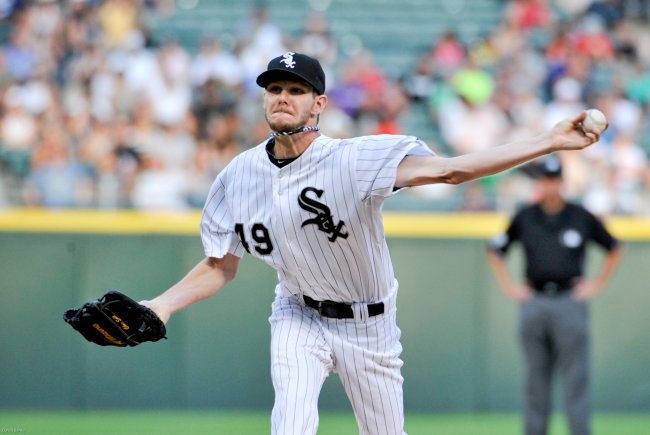 David Banks-USA TODAY Sports
The Diamondbacks have a lot of decisions to make in the next week, as they entered Tuesday a half-game behind the Dodgers for first place in the NL West. Arizona's pitching staff has a lot of questions surrounding it, and the team could make a move for a starter or promote a top prospect from the minor leagues.
Ken Rosenthal of Fox Sports reports the Diamondbacks aren't in on players like Bud Norris or Jake Peavy—the video can be seen below. They prefer to trade for a starter they can control long term. Ideally, per Rosenthal, Arizona would like to acquire Jeff Samardzija or Chris Sale, but both are unavailable.
Rosenthal also notes the Diamondbacks are interested to see how Brandon McCarthy and Trevor Cahill return from their injuries. The other option for Arizona is to promote a prospect like Archie Bradley. The top prospect is 6-4 with a 2.30 ERA in 14 Double-A starts this season. He pitched in Single-A earlier in the year.
While the team does have two key starters injured, Arizona's rotation ranks 18th in the game in terms of WAR, per FanGraphs. The club needs to make a move quickly to avoid dropping in the division. At the moment, it appears the Snakes will sit quiet instead of making a big splash with a trade, based on what Rosenthal reports about the situation.
All statistics in this article were obtained via FanGraphs unless otherwise noted and are current through July 22. All injury information was obtained via Baseball Prospectus and all contract information was obtained via Cot's Contracts.