Fantasy Baseball: 10 Tricks to Identifying a Player Before He Breaks Out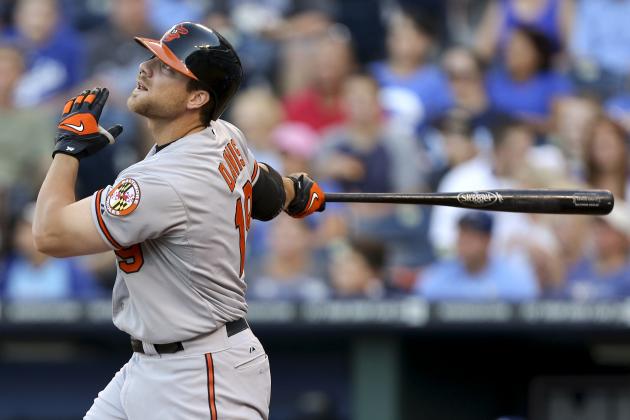 Ed Zurga/Getty Images
Show of hands, who predicted that Chris Davis would hit 37 homers through his first 100 games?
So, you're looking for the next breakout star to save your fantasy baseball team.
How does one go about locating the next big thing? Is there a reality TV competition where the winner receives a 30-homer season?
What about a psychic who delves only in fantasy sports tips? Are you saying none of these exist? In that case, excuse me for a second. I have some calls to make...
The truth is, there is no crystal ball. No matter how much I or any other fantasy sports writer try to convince you otherwise, none of us hold any answers with full certainty. We can, however, help you grasp a fighting chance.
Right now, some of you are bitterly cursing at the computer screen as you peer over the roster of the manager who drafted Chris Davis, Carlos Gomez and Matt Harvey. How did this wizard manage to pull that coup? Did it take colossal insight, or did pure luck guide the way?
Maybe a little of both. Sometimes you can never see an improbable result coming (Explain yourself, Bartolo Colon!), but that doesn't mean we can't try to at least pinpoint possible success stories brewing under the surface. Follow these tips, and you could be one step closer to landing the next unheralded fantasy savior.
Note: All statistics, unless otherwise noted, are courtesy of FanGraphs.com, which you should visit regularly in your quest to enhance your fantasy baseball knowledge.
Begin Slideshow

»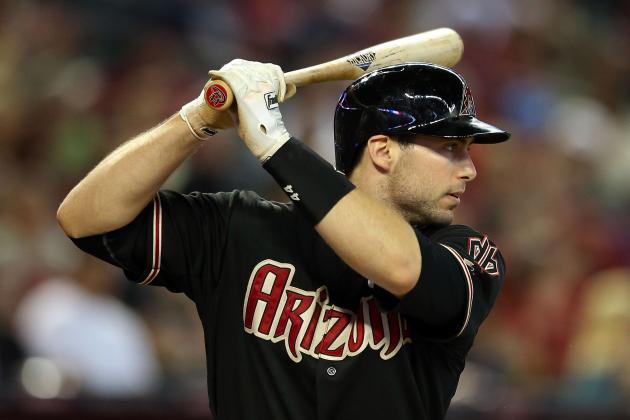 Christian Petersen/Getty Images
Paul Goldschmidt is getting really good at hitting baseballs.
Well, of course.
Sure, maybe some drafter grabbed Chris Davis simply because his cousin's friend met him at an Applebee's once and he seemed like a nice guy. But let's not count on that happening.
Often the writing is smothered all over the walls, and anyone with Internet access can reap the rewards. We live in a golden age of easily accessible information. Utilize it to your full advantage.
Read multiple columns from several different writers. Look for general baseball news from beat writers, as John Lackey has proved that the cliche "he's in the best shape of his life" preseason story occasionally means something.
Sometimes a writer knows a thing or two about a thing or two, so reading never hurts.
For example, some incredibly smart and deviously handsome man hijacked the Paul Goldschmidt bandwagon during the preseason. Ignore the earlier slides from that article encouraging drafters to take Aramis Ramirez, Ben Zobrist and Zack Greinke.
But you don't trust someone else's word completely. Nor should you. It's one thing for some writer you never met to recommend a player, but you want to reach those conclusions on your own.
Alrighty then. Here's how you get started.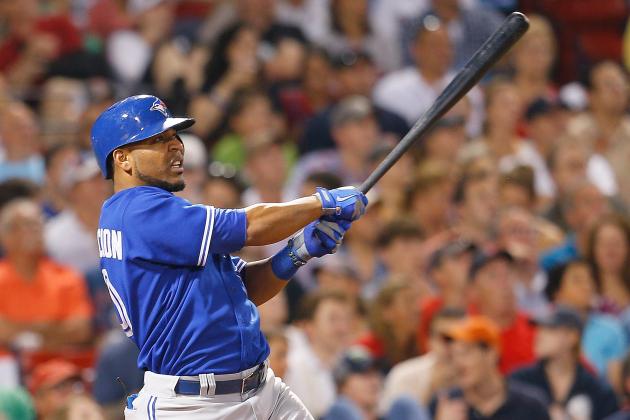 Jim Rogash/Getty Images
A more disciplined plate approach transformed Edwin Encarnacion into a fantasy star.
Numbers are your friend. Numbers don't care if you're shy. Numbers won't berate you for a failed attempt at a beard that makes you look 17 instead of 14.
That is if you choose to hang out with the right ones. Know what metrics to consider, and you'll feel like Billy Beane before Michael Lewis published that book that led every other team to evaluate talent the same way.
Even if you play with the standard five categories (batting average, runs, RBI, home runs, stolen bases) that offer no reward for plate discipline or punishment for lack of it, still monitor a player's strikeout and walk rates.
A player who increasingly draws more free passes often sees his patience pay off in other categories that matter more to fantasy gamers. Take 2012's breakout star Edwin Encarnacion for example. He went from amassing an 8.1 percent walk rate in 2011 to 13.0 percent last year, and with that came a career-high .280 average.
Now that he was swinging at the right pitches, he hit the ones he chased with authority, smashing 42 homers. Those genuine improvements have allowed him to avoid the dreaded one-year wonder label, as he has hit a respectable .266 with 26 homers and 74 RBI.
While some stars overcome lofty strikeout numbers, it's still a habit that you want to see minimized. Goldschmidt struck out in 29.9 percent of his at-bats during his rookie campaign, but he dipped the rate to a more manageable 22.1 percent. That offered optimism for a breakout 2013 campaign.
It's also important to track other power rates outside of home runs. Going back to Goldschmidt, he tallied a disappointing 20 homers in 2012, but his .490 slugging percentage and .204 ISO rate showed that his power had not vanished.
Extra-base hits can start clearing the fences, which is something to keep in mind now for Manny Machado, Matt Carpenter, Anthony Rizzo and Dustin Pedroia.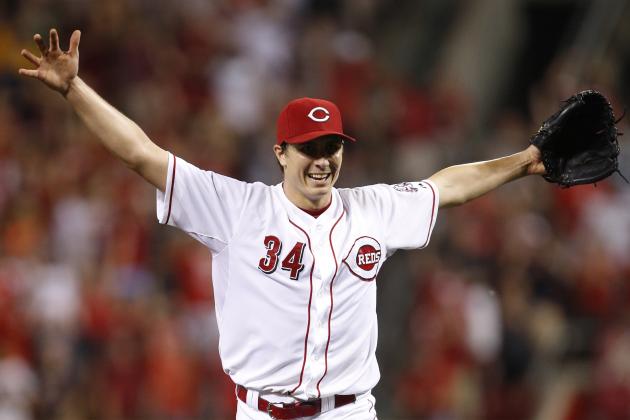 Joe Robbins/Getty Images
Homer Bailey is a fantasy ace in waiting.
It's even more crucial to eye the underlining stats for pitchers, as the conventional numbers tell a lot less than you think.
A pitcher stands at the mercy of his surroundings more so than a batter. He must rely on his defense to scoop up batted balls, his offense to generate run support and even the umpire to call strikes. That's why it's important to pinpoint the stats he controls.
Which brings us right back to strikeout and walk rates. You want guys who strike out a ton of hitters while not issuing free passes. Success will often follow.
Look at Mike Minor. He never sported an ERA lower than 4.00, but he always struck out at least seven batters per nine innings while walking 2.81 per nine innings in 2012. He's sporting a 2.98 ERA this year.
You're also going to want to look at ground-ball rates, BABIP and FIP. When a pitcher fails to succeed despite positive strikeout and walk rates, a lack of ground balls often stems as the reason why. Minor, who carries a career 35.7 ground-ball rate, is a prime example.
Phil Hughes is posting gaudy strikeout (7.42 K/9) and walk (2.42 BB/9) rates, but it doesn't show, because he has only generated a 29.5 ground-ball percentage, which doesn't work when you pitch roughly half of your games in Yankee Stadium.
Then there's BABIP and FIP, which attempt to normalize variance caused by defense or plain bad luck. A pitcher with a high BABIP, low FIP but bloated ERA is due for an adjustment as less balls find open space.
Entering this season, Adam Wainwright (.315 BABIP, 3.10 FIP, 3.94 ERA) and Max Scherzer (.333 BABIP, 3.24 FIP, 3.74 ERA) were two prominent poster boys for this infliction. This year they are both Cy Young candidates poised to finish among the top-10 fantasy aces.
Based on all of these numbers, Homer Bailey is next in line to break out in a huge way. The 27-year-old, who recently tossed his second no-hitter, holds a 9.28 K/9 ratio, 2.16 BB/9 rate, 48.9 ground-ball percentage and 2.80 FIP. That's the stuff of an ace, so see if his 3.84 ERA can help you steal him for a bargain before the trade deadline passes.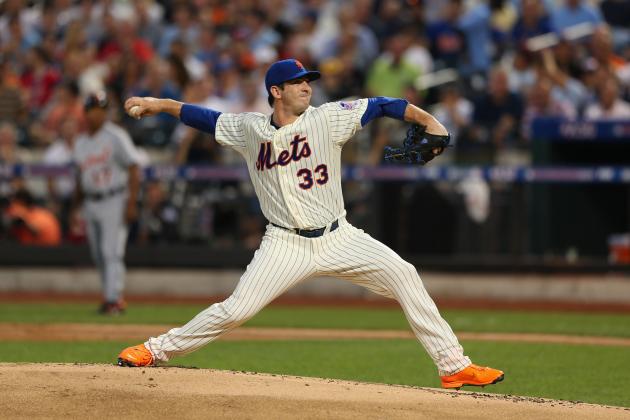 Mike Ehrmann/Getty Images
Matt Harvey has won 11 games in 30 career starts. Does anyone dare say that he's not that good because of it?
Yes, numbers are your friend, but some friends deceive and manipulate. These are the friends you need to cut off.
This is incredibly difficult since most of us rely on many of these rotten apples to determine which of us know the most about baseball. Oddly enough, you must be wary of batting average, RBI, wins and saves when evaluating baseball talent.
Confusing, I know. This is not to say that these numbers are always useless. You can count on Joe Mauer to hit above .300, a star slugger such as Miguel Cabrera will drive in a snot-load of runs and Mariano Rivera's awesomeness has earned him every one of his 640 saves.
But then there's Miguel Montero, who hit a career-high .286 last year due to a .362 BABIP. He's paying hard for his past good fortune this season, hitting .226 with a .270 BABIP. Neither average paints a particularly accurate picture of Montero as a hitter because of the wide levels of fluctuation among his batted balls.
Brandon Phillips has tallied 79 RBI so far in 2013 despite an uninspiring .266/.317/.412 slash line. Enjoy the counting numbers for now, but anyone who ignores the deteriorating skills and expects another 100-plus RBI next season will be sorry.
And anyone who still value wins probably overlooked Matt Harvey's 10.62 K/9 rate from his debut in 2012 because he only won three of his 10 starts. This is not the first time, and it won't be the last time I say this: wins are not a proper measure of a pitcher's performance.
Much like wins, saves are all circumstantial. Did you leave 2012 unimpressed with Greg Holland and Glen Perkins' low save totals? Did you draft Chris Perez, Joel Hanrahan, Jose Valverde or John Axford after they each saved more than 30 games last year? How did that work out?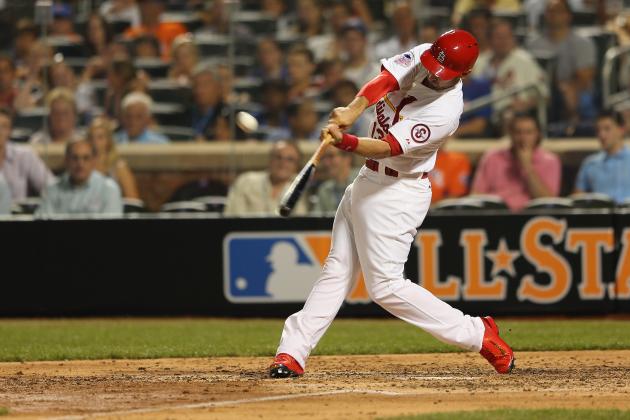 Mike Ehrmann/Getty Images
Matt Carpenter just needed a chance to show what he could do.
We have determined that some players are placed in a better place to succeed. Unfair? Maybe, yet fantasy owners still must capitalize.
Phillips' luscious RBI total shows that a hitter's place in the batting order occasionally can make a difference. Teammate Shin-Soo Choo, who boasts a career .387 on-base percentage, entered the season as the Cincinnati Reds' leadoff hitter, so it should come to no surprise that his 69 runs situates him among baseball's top 10 run scorers.
Since most managers tinker with the batting order more than Dusty Baker, this is not the most efficient way of scouting talent. What's more important is to watch for players just waiting for an opportunity.
The prospect of Matt Carpenter starting at second base for the St. Louis Cardinals excited many fantasy pundits, but it was far from a foregone conclusion. That made Carpenter an excellent low-risk gamble for those willing to spend a draft pick on a player who showed excellent plate discipline and gap power.
Given the chance to start and bat first in the National League's most prolific offense, Carpenter has hit .324 with 76 runs scored. Those who banked on Carpenter's skills earning him much-deserved playing time have been rewarded handsomely.
On the pitching side, Kenley Jansen was trapped in the set-up role despite posting dazzling numbers, but anyone who stuck with the dominant reliever long enough now has an elite closer on his or her hands.
Some players who will now get a chance to shine include Eric Young Jr., Logan Schafer, Christian Yelich, Mike Olt, Erasmo Ramirez and Mark Melancon.
Then there are ballpark factors to consider, as Petco Park makes Andrew Cashner and Eric Stults fantasy relevant while Yankee Stadium hampers Hughes (who is a free agent this offseason, so watch out if he leaves) and Coors Field turns Michael Cuddyer into Paul Bunyan.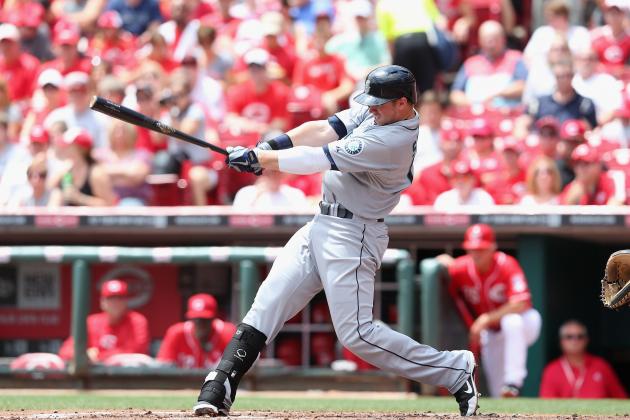 Andy Lyons/Getty Images
Is Justin Smoak on the verge of a breakout or merely in the midst of a hot streak?
Remember when Mark Reynolds was hitting over .300, Vernon Wells and Travis Hafner turned the clocks back eight years and Kevin Slowey caused a flock of managers to pick him up?
April is the most dangerous time of year for fantasy baseball, since owners are constantly misled by unsustainable starts. The small sample sizes causes gamers to constantly get fooled.
Even during the season, players such as Yasiel Puig can capture fans' hearts while veterans like Colon, Marlon Byrd and Raul Ibanez light up the league for a little while. It's important to distinguish a breakout from a hot streak.
Puig is a bright young talent to watch, but you'd be crazy not to test his trade value in a redraft league as the free-swinging slugger will experience some cold spells. The surging veterans make for great stories, as long as you prepare a Plan B for when they fall back down to earth.
This complicates searching for a breakout player midseason. After hitting .241/.289/.398 through 75 games last season, nobody can blame you for balking on the chance to add Josh Donaldson when he came out firing in April.
More data is needed to make an informed decision, but waiting for it will likely cost you the chance to land him.
You've seen this song and dance from Justin Smoak before. He has that one torrid stretch that fills your head with the notion that he's finally turned the corner only to see him quickly unravel.
It might happen again, but Smoak has earned a speculative add by hitting .328/.403/.563 during July. The 17-game sampling could be too insignificant to draw any conclusions, but you'd hate to see him finally break out for another fantasy manager when you'd tried your luck with him over the past few years.
Some wild swings in production result from pure variance, but others can occasionally be the sign of a true breakthrough, which is especially possible for a post-hype sleeper candidate such as Smoak.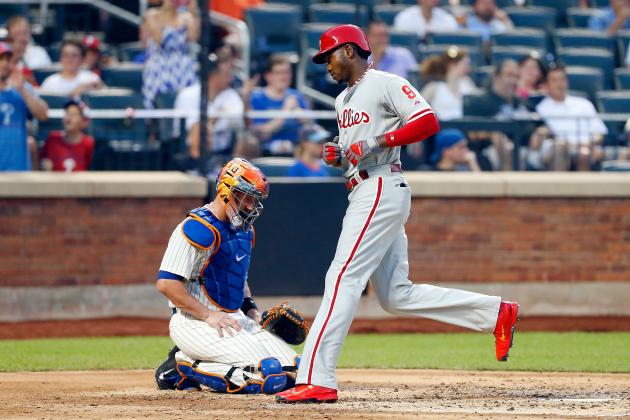 Jim McIsaac/Getty Images
It took him a while, but Domonic Brown is finally having a monster season at the plate.
We've all made this mistake before, and we'll all probably make it again. As fun as it is to watch prospects like Puig and Jose Fernandez immediately take the league by storm, most youngsters need time.
Since we attach all our hopes to these guys saving franchises and fulfilling their uncapped potential, we become decimated when they fail to produce from the get-go. A couple of dwindling years later and that once top prospect becomes an afterthought who you wouldn't get caught dead drafting.
Gomez, Minor, Domonic Brown and Julio Teheran all took longer than expected to make a dent in the majors, but here they are. In prior years, Alex Gordon, Pedro Alvarez and Anibal Sanchez were prematurely written off.
Not everyone can turn on the switch to big league superstar instantly. Many former top minor leaguers, especially those who are rushed to the pros, will take some time to adjust.
Of course, instilling this skepticism upon every youngster will prevent us from enjoying Fernandez, Bryce Harper, Harvey and others who made the seamless transition. Let's just not deem a player's career over before he turns 24.
Even Mike Trout hit .220 during his first stab at major league pitching.
If you're looking for some post-hype sleepers to pounce on now, Eric Hosmer and Rick Porcello are primed to break out during the second half.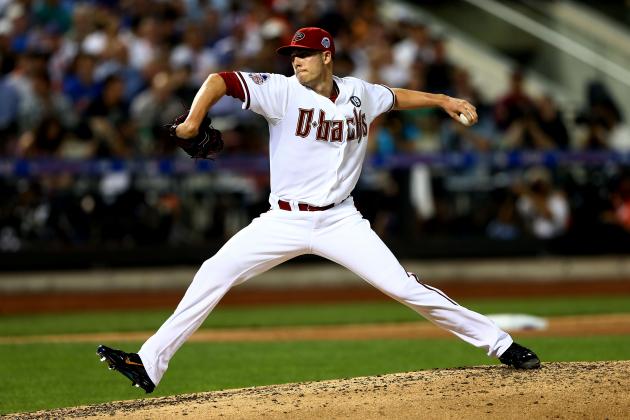 Elsa/Getty Images
You should have drafted Patrick Corbin this year, but that doesn't mean you should take him next year.
Just four years ago, Chone Figgins, Jason Bartlett, Derrek Lee, Jason Bay, Javier Vazquez and Ted Lilly offered vital fantasy contributions. Roy Halladay was baseball's best pitcher not too long back.
Things change; a good fantasy baseball general manager must quickly adapt.
If you want to hit the jackpot in drafts and free agency, it's important not to let past reputations interfere. Yes, Michael Young used to be great, but there's no reason to roster him now in a standard league.
Instead, give a lesser-known talent like Brad Miller or Brett Wallace a shot. They could flame out, but they also have a better shot at sticking on your roster as a serviceable contributor.
Drafters often make the mistake of settling for last year's breakout studs instead of scouring their cheat sheets for someone who will flourish that year. Just remember that you're not playing with last season's stats.
If you missed out on Patrick Corbin this year, don't attempt to amend the mistake by drafting him in 2014. He'll likely cost more than he should, so instead look for guys like Porcello, Hughes, Jarrod Parker and Corey Kluber who could be next in line to blossom.
You'll never snag a breakout star if you're too busy dwelling in the past.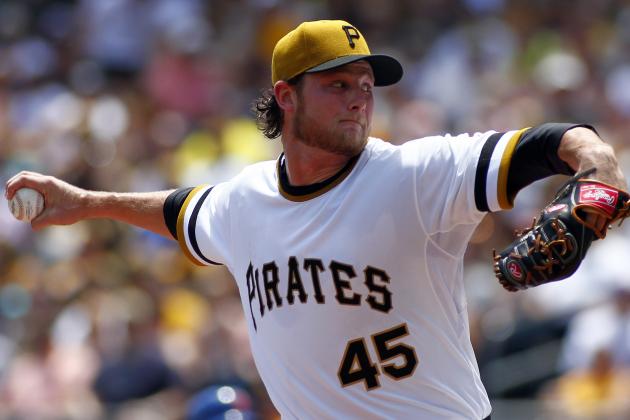 Justin K. Aller/Getty Images
Gerrit Cole has a bright future ahead of him in Pittsburgh.
For all the talk of numbers, I should probably make it clear that scouts are not the enemy. Instead, they're an invaluable source of information that should go hand in hand with numerical analysis.
Especially when keeping tabs on prospects whom you've never gotten to watch before, peruse some scouting reports to see what they bring to the table.
A player's minor league numbers often do not tell the full story. He might just be decimating weaker competition, but a pitcher won't get away with throwing straight heaters in the big leagues while a hitter will have to learn to handle a breaking ball.
On the other hand, a prospect might approach the minors the way some view spring training: as a lab to conduct experiments. That's the time for a young player to tinker with a new batting stance or see if he can throw an effective cutter.
Gerrit Cole struggled with his command in Triple-A, walking 28 batters through 68 innings. In the majors he has issued 10 walks through 48.2 innings.
Small sample size? Or was Cole, who entered the season as Baseball America's No. 7 prospect, just growing bored in the minors counting down the days until the Pittsburgh Pirates brought him up? Considering how highly touted he remained among the scouting community, perhaps the premier prospect deserved the benefit of a doubt.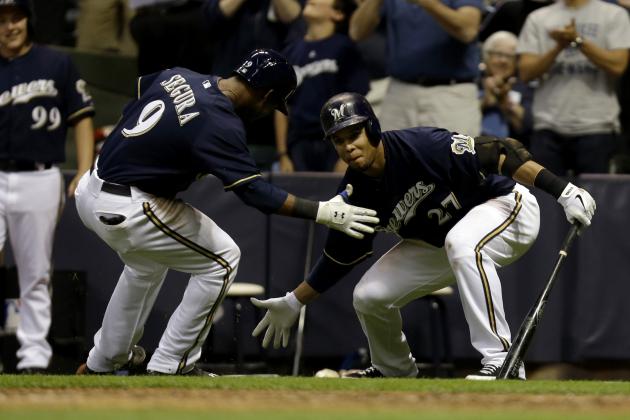 Mike McGinnis/Getty Images
Some owners might have just unknowingly stumbled upon Jean Segura and Carlos Gomez.
Hey, maybe your cousin's friend who met Chris Davis is a good judge of character.
Every draft is littered with a constant stream of decisions that could easily make or break the season. Sometimes it amounts to just guessing lucky.
Needing a speedy outfielder during the 12th round of my draft this season, I still nearly passed on Gomez due to his lack of plate discipline. If Carl Crawford wasn't snagged earlier in the round, I might have picked him instead.
The pick I felt the least confident about turned out to be the major boom of my draft. And while his 24.1 percent strikeout rate will cause his .290 average to drop during the second half, the power and speed more than offset that worry for where I selected him.
There are so many outside factors that can come into play. A few drafters probably weren't wild about Davis, but they took him anyway because Josh Willingham and Nick Swisher just fell off the table.
Chances are a few people drafted Jean Segura with little knowledge of who Jean Segura was because their fantasy book ranked him higher than Alexei Ramirez.
Much like the players whom our silly game's outcome is based entirely upon, a little luck is often needed to break free from the pack.