Examining Tampa Bay Buccaneers' Offseason and Key Preseason Positional Battles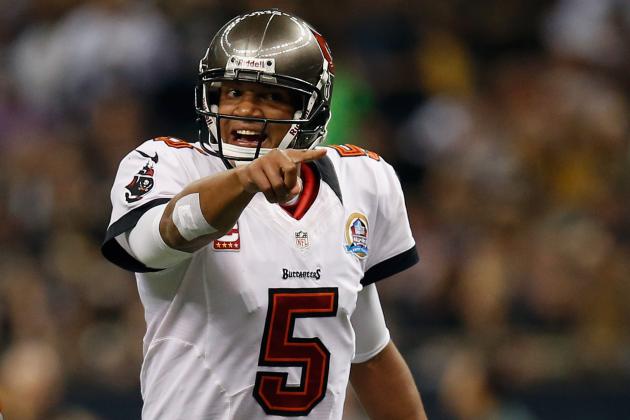 Chris Graythen/Getty Images

The term "on paper" only goes so far when examining the prospects of an NFL franchise. In the case of the Tampa Bay Buccaneers, that holds especially true.
After a disappointing 7-9 finish last season, the Bucs spent much of the offseason getting substantially better—on paper—and appear poised for a much more successful 2013 campaign.
Tampa Bay fielded the league's worst passing defense in 2012 (4,758 yards allowed) and went to work to shore up its secondary with a pair of huge free-agent signings that should remedy that issue this season.
The proof is in the pudding, though, and Darrelle Revis and Dashon Goldson are going to have to prove they were worth the price.
Revis, on the heels of a couple tumultuous seasons with the New York Jets, didn't get the new contract he was looking for, instead being dealt to the Bucs for the 13th pick in the 2013 NFL draft and a conditional pick in the 2014 draft.
Following that trade, Tampa Bay locked up the league's best cornerback to a six-year, $96 million deal. The best part? The Bucs included no guaranteed money in the contract, meaning if Revis' injury problems creep up again while in Tampa Bay, the team will have effectively negated the monetary concerns.
Goldson, meanwhile, was one of the biggest names to hit free agency this offseason, but with the San Francisco 49ers unwilling to pay the 29-year-old safety the money he was looking for, Goldson hit the open market with a bevy of potential suitors waiting to pounce.
The Bucs pulled the trigger on a five-year, $41.25 million contract for Goldson, who stands to make Tampa Bay's safety duo one of the top units in the league.
Veteran Ronde Barber decided not to return following Goldson's signing, admitting he wasn't thrilled about the prospects of playing a lesser role in the Bucs' secondary. He had this to say to Mike Garafolo of USA Today:
Now don't get me wrong, if (GM) Mark (Dominik) and (coach) Greg (Schiano) would've said, 'Hey, we absolutely need you to play, you played great last year, here's X amount of dollars, come play, we need you…' That wasn't necessarily the case. They're reshaping that football team. You're spending a quarter of a billion in free agents in two years, they're definitely going in a new direction.
That new direction isn't a bad one, and while Barber's retirement was certainly a sad day for Bucs fans, it was only a matter of time before the 16-year veteran decided to call it quits.
Revis and Goldson were terrific additions who will go a long way toward shoring up a secondary that faces Matt Ryan, Drew Brees and Cam Newton twice a year. Barber won't be back this season, but Tampa Bay did what it needed to do to remain competitive in the NFC South.
The Bucs also lost tight end Dallas Clark, offensive tackle Jeremy Trueblood and defensive end Michael Bennett this offseason, though none of the three was irreplaceable. In fact, Tampa Bay didn't wait long to find suitable replacements.
General manager Mark Dominik brought in former Green Bay Packers tight end Tom Crabtree and former Chicago Bears offensive lineman Gabe Carimi this offseason. He also went to work in the draft to shore up the defensive end position following the loss of Bennett, adding another terrific cornerback in the process and a quarterback who could challenge for Josh Freeman's starting role.
We'll more closely examine many of those additions in the following slideshow, highlighting the Bucs' 2013 draft class and a few positions to keep an eye on as the season draws near. Read on.
Begin Slideshow

»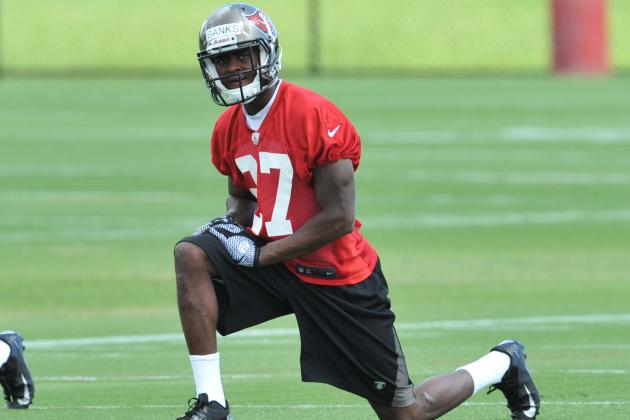 Al Messerschmidt/Getty Images

Round 2 (Pick 43): CB Johnthan Banks, Mississippi State
Round 3 (Pick 73): QB Mike Glennon, North Carolina State
Round 4 (Pick 100): DT Akeem Spence, Illinois
Round 4 (Pick 126): DE William Gholston, Michigan State
Round 5 (Pick 147): DE Steven Means, Buffalo
Round 6 (Pick 189): RB Mike James, Miami
Grade: B-
Mark Dominik parlayed the 13th pick into Darrelle Revis, so he can't feel too badly about having limited selections in the 2013 draft.
What Dominik did with that limited ammunition was pretty impressive, though.
In the second round, Dominik continued his quest to improve the Bucs' secondary with the selection of Mississippi State cornerback Johnthan Banks—a player many considered a potential top-15 pick before an underwhelming performance at the combine.
Banks ran a 4.61 40-yard dash, but he was never considered a burner at the cornerback position. What he lacks in speed, he makes up for in size, physicality and ball skills.
At 6'2" and 185 pounds, Banks has the frame to hold up well in Tampa Bay's various press-coverage looks. Opposite a shutdown defender like Revis, Banks has a chance to be an extremely productive player from day one.
The Bucs went an entirely different direction in the third round with the selection of North Carolina State signal-caller Mike Glennon—a selection that was almost certainly a result of influence from head coach Greg Schiano.
According to Stephen F. Holder of the Tampa Bay Times, people close to Freeman have suggested nearly everyone in the organization is on board with Freeman under center, except for the head coach:
The Bucs, as an organization, aren't all that concerned about the record-breaking Freeman and the quarterback position. In fact, people close to Freeman have confirmed that Just about everyone at One Buc Place seems onboard with Freeman except for one person: Schiano.
While Freeman may have to win Schiano's favor this season, Glennon won't exactly have an inside track to the starting gig. He has the arm talent to be a quality NFL quarterback, but Glennon is by no means a sure thing, especially as a third-round rookie.
We'll examine that situation further in this slideshow.
In the fourth and fifth rounds, the Bucs keyed in on defensive linemen who will add considerable depth to the unit going forward. While Tampa Bay's front four is already an impressive group, there are still some holes that need to be filled.
Illinois defensive tackle Akeem Spence could garner some starting attention this season, but it remains to be seen how well his physical abilities translate to the NFL level. Spence has the size (6'1", 307 pounds) to hold up against NFL offensive linemen, but his technique and use of leverage need drastic improvement if he is to be a successful starter in Tampa Bay.
Defensive ends William Gholston and Steven Means have similar shortcomings, and while neither is a lock to see substantial playing time this season, both have considerable upside.
Gholston is a big, physical and deceptively quick defensive end who excels in the pass-rushing elements of a four-man front, but his motor was never all that consistent in 2012. If Schiano can motivate Gholston to give full effort, the Michigan State product can be a disruptive edge-rushing force in a one-gap scheme—but that's a bit of a question mark at this point.
In all, Dominik did what he had to do to make the Bucs better heading into the 2013 season. There weren't any shocking picks in his 2013 draft class, but he certainly found some value and a way to bolster the team's defensive depth going forward.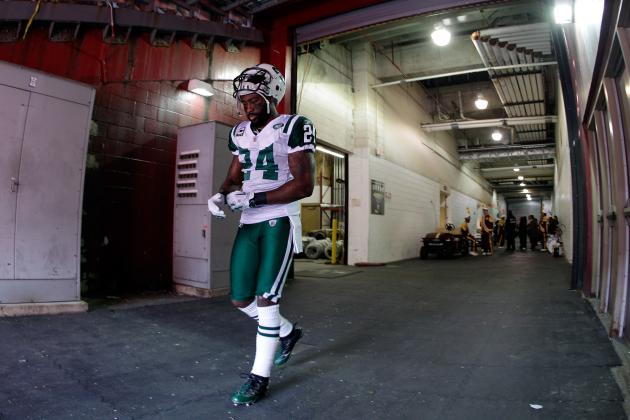 Rob Carr/Getty Images

Tampa Bay focused intently on reworking its secondary this offseason, and that's where we'll start as well.
Adding Darrelle Revis was an obvious win-win scenario for the Bucs. After all, it's not very often one of the best (if not the best) defensive players in the league lands in a team's lap for the price of a mid-first-round pick.
Provided Revis rebounds from his ACL injury and returns to top form this season, Tampa Bay will be well on its way to fielding a much-improved pass defense in 2013.
Eric Wright looked to be in line to start opposite Revis this season, but Tampa Bay decided to trade him to the San Francisco 49ers. Instead of getting something in return, Wright failed his physical and was subsequently released by the Bucs, per an Associated Press report, via ESPN:
Cornerback Eric Wright failed his physical with the San Francisco 49ers, nullifying a trade to bring him to Northern California from Tampa Bay.

He was subsequently released by the Tampa Bay Buccaneers.

San Francisco coach Jim Harbaugh declined to say specifically what portion of the physical Wright failed.
Regardless of the reasons for Wright's failed physical, he's no longer on the roster. Rookie second-rounder Johnthan Banks stands to gain the most from that.
Without another top-tier option at the position, Banks is likely to start opposite Revis in Week 1, as noted by Pat Yasinskas of ESPN.
Anthony Gaitor, Leonard Johnson, Michael Adams and Myron Lewis and Danny Gorrer will all compete for the nickel and sub-package roles this season, but none is likely to challenge Banks for the starting role short of injury or major collapse. As it stands, the job is Banks' to lose.
Johnson is the most likely candidate to secure the No. 3 role behind Banks given his experience last season (three interceptions), but he was largely inconsistent in 2012 and is a little undersized to play on the outside. As such, the slot corner roles is probably a better fit for Johnson and the Bucs.
Adams will also challenge for the role, though. The Arizona Cardinals' former nickel corner, Adams has the experience to provide substantial depth for defensive coordinator Bill Sheridan and defensive backs coach Tony Oden to work with. In any case, Tampa Bay could do a lot worse in fielding Adams as a dime and sub-package corner.
Every team needs at least three quality corners to hold up against opposing passing offenses, and while the additions of Revis and Banks will certainly help the cause, it may be wise to err on the side of caution when considering the Bucs' secondary.
Will it be better? Absolutely. But it's too early to label the cornerback group one of the best in the NFL at this point in the year.
At safety, however, there's little cause for concern.
2012 first-rounder Mark Barron is coming off a terrific rookie campaign (88 tackles, one interception) at the strong safety position, often displaying the potential to be one of the best in-the-box safeties in the NFL. With a year under his belt—and a couple new mentors in the secondary—he stands to show even more improvement this season.
As quoted by Mark Cook of PewterReport.com, Barron will be looking to Revis and Goldson for examples of how to succeed at the professional level:
Knowledge [is what they bring to the table]. Just like with Ronde Barber (last year). There were certain things I wanted to learn from him as far as just studying the game. And I picked up some things from him and now I have two different players I can pick up more things from. I just feel like I am in a great situation where I can learn from different players and pick up a lot of things.
Along with knowledge, Barron will also benefit from the talent each player brings to the secondary.
Goldson is coming off an All-Pro season in San Francisco, and there's little reason to expect a decline in his production this season. Talent was never an issue—the 49ers just weren't willing to pay Goldson what he wanted to make.
Mark Dominik was willing to shell out the cash, however, and Tampa Bay now has a chance to field arguably the best safety duo in the league this season.
Behind Barron and Goldson, Ahmad Black and Cody Grimm provide a little depth and an insurance policy in the event of either player coming up on the injury report this season, but neither Black nor Grimm should be expected to make major contributions in 2013.
Tampa Bay probably could have used a late-round selection on another defensive back this year, but as it stands, the Bucs have plenty of talent to work with. Provided injury issues don't creep up, there's no reason to expect another historically bad season from the team's secondary this year.
Projected Secondary Depth Chart
| | |
| --- | --- |
| CB1 | Darrelle Revis |
| CB2 | Johnthan Banks |
| Nickel | Leonard Johnson |
| Sub Package | Michael Adams |
| FS | Dashon Goldson |
| SS | Mark Barron |
| S3 | Ahmad Black |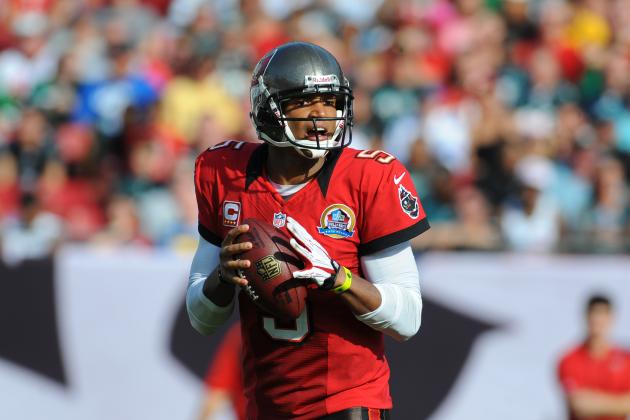 Al Messerschmidt/Getty Images

Josh Freeman appeared to have turned a corner last season, but things fell apart down the stretch.
After leading the Bucs to a 6-4 record with an impressive 21-6 touchdown-to-interception ratio, Freeman reverted back to old form in the ensuing contests, throwing just six touchdowns and 10 interceptions in that span.
With five consecutive losses before winning the season finale, Greg Schiano had a reason to be upset with his starting quarterback.
Schiano maintains Freeman will be his starting quarterback this year, but he's been quick to note that the incumbent won't be without competition this offseason, per Pete O'Brien of USA Today:
We have our starting quarterback, and it's Josh Freeman. And I'm not looking to find a new one. But I do like to have quality depth at every position. And when you get that, just naturally, these are the most competitive guys on the planet. And it raises everybody's level.
While it seems highly unlikely third-rounder Mike Glennon will usurp Freeman this year, the latter is entering a contract year, set to make $8.43 million, per O'Brien.
Freeman may not be protecting his job, but he's certainly in position to fight for a new contract.
Given Tampa Bay's impressive running game—led by stellar second-year rusher Doug Martin—Freeman won't need to shoulder the offensive load in 2013, but he will need to play much better than he did down the stretch in 2012.
Glennon will have his chance to compete for the job, though.
The North Carolina State product has been likened to Baltimore Ravens signal-caller Joe Flacco, both because of his size (6'7") and tremendous arm strength. But in spite of his physical capabilities, Glennon doesn't offer the same versatility as does Freeman, and like all rookie quarterbacks, the learning curve will be steep at the NFL level.
While Schiano isn't tied to Freeman, Mark Dominik apparently is. As noted by Stephen F. Holder, the general manager has been firm in his support for the 2009 first-round pick:
General manager Mark Dominik, who drafted Freeman, admits the quarterback has displayed some frustrating swings in his play. Everyone knows that is indisputable. But Dominik, you'll notice, maintains his effusive praise of Freeman. He's been asked about the quarterback as often or more than Schiano during this offseason, and Dominik has never publicly expressed major doubts.
Without another quality quarterback to challenge for the starting role under center, Schiano has little choice but to entrust the fate of the offense to Freeman.
If Freeman can avoid the second-half collapses that have plagued him in recent years, the Bucs' offense has a chance to do some special things this year. That just appears to be a major question mark at this point.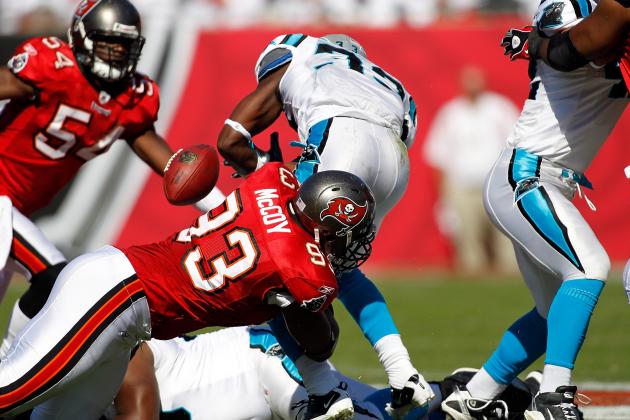 J. Meric/Getty Images

The correlation between a team's pass rush and secondary is often overlooked. It's easy to understand the benefits of fielding a strong pass rush to augment a weak secondary, but the opposite can also have the same effect.
Along with shoring up its passing defense, Tampa Bay also put in place the foundation for a much more formidable pass rush this season, predicated on giving its defensive line a little more time to make plays in the backfield.
After losing Michael Bennett to free agency, that's going to be a major concern.
Bennett led the team in sacks last year with nine, and defensive tackle Gerald McCoy enters the 2013 season as the team's current leading pass-rusher from a year ago. Given the injury concerns regarding defensive ends Da'Quan Bowers and Adrian Clayborn, adding a pair of defensive ends in this year's draft was a wise decision.
When healthy, McCoy, Bowers and Clayborn comprise a formidable trio on the defensive line, but things don't always play out as expected—as was the case last season when Clayborn went down with a knee injury.
As it stands, Bowers and Clayborn are expected to start at defensive end with McCoy and Gary Gibson in the middle of the line. But Tampa Bay's young additions need to be prepared to step up this season should any of the four miss substantial time.
Daniel Te'o-Nesheim played well last season as a situational pass-rusher, but he may be expected to play a bigger role in the defense this season, especially on third downs. Likewise, rookies William Gholston and Steven Means should be prepared to hit the ground running in Bill Sheridan's defense.
The Bucs have the personnel to field a better pass rush in 2013 (after notching just 27 sacks a year ago), but it's going to take a little good fortune and some stellar play at the back end of the defense to make that happen.
Tampa Bay's defensive line shouldn't be an area of major concern, but it will be worth keeping an eye on as the season progresses.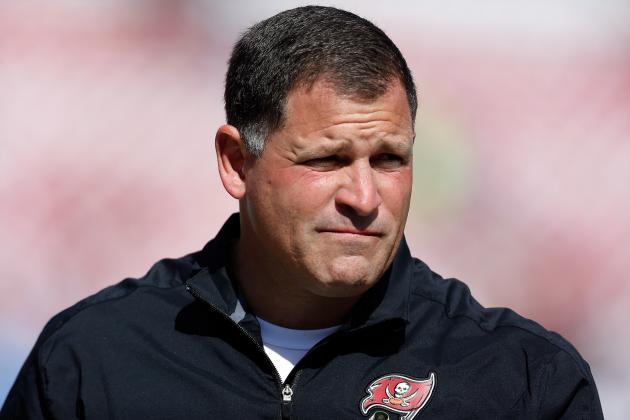 J. Meric/Getty Images

*For a complete look at Tampa Bay's 2013 schedule, check out NFL.com.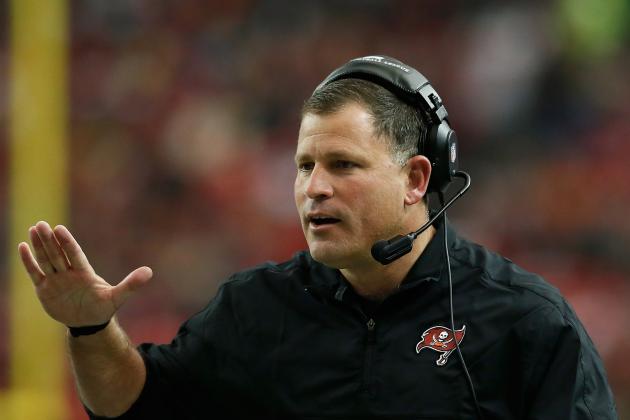 Kevin C. Cox/Getty Images

Tampa Bay isn't yet a front-runner for the NFC South title, but it isn't that far off. What was once a one-team race for the division has now become a much more crowded affair, as the Carolina Panthers, Atlanta Falcons and New Orleans Saints are all within reach as well.
As such, the Bucs can't be expected to run away with the NFC South this season. They could certainly challenge, but it's likely the division title isn't decided until the final weeks of the season this year.
Tampa Bay has the ammunition to make things interesting, though. Doug Martin pieced together a remarkable rookie campaign in 2012, accounting for 1,926 yards from scrimmage and 12 touchdowns. With LeGarrette Blount now in New England following a draft-day trade, the offense is Martin's to carry.
He'll get some help from Freeman and Tampa Bay's top receiving targets, though.
With Vincent Jackson on board last season, the Buccaneers' receiving corps got considerably more dangerous as he and Mike Williams anchored a unit that can contend with the best in the NFC. The pair combined for 2,380 yards and 17 touchdowns in 2012, and they're poised to put up similar numbers this season if the status quo remains unchanged.
Tampa Bay really doesn't have many glaring positional needs at the moment. Again, the roster—on paper, at least—looks like a quality group with plenty of talent and upside.
Prediction: 9-7, Third in NFC South
Realistically, Tampa Bay could win anywhere from six to 12 games this season. In a crowded NFC South, the middle of that spectrum may be the most likely.
Splitting with Atlanta, Carolina and New Orleans would be a massive victory, and even a 3-3 in the division would afford the Bucs an opportunity to pick up some big wins in their non-divisional schedule, which is loaded with winnable matchups.
If Tampa Bay can hold its own in the division and steal a few wins from the likes of the New York Jets, Arizona Cardinals, Buffalo Bills and Philadelphia Eagles, a playoff appearance won't be out of the question.
But question marks at the quarterback position—as well as similar concerns on the defensive line—could make for some speed bumps along the way. Freeman has a lot to prove this year, and until he actually shows he can carry the team for an entire 16-game schedule, I'll have some doubts.