Rangers and Blue Jackets on Unexpected Paths 1 Year After Rick Nash Blockbuster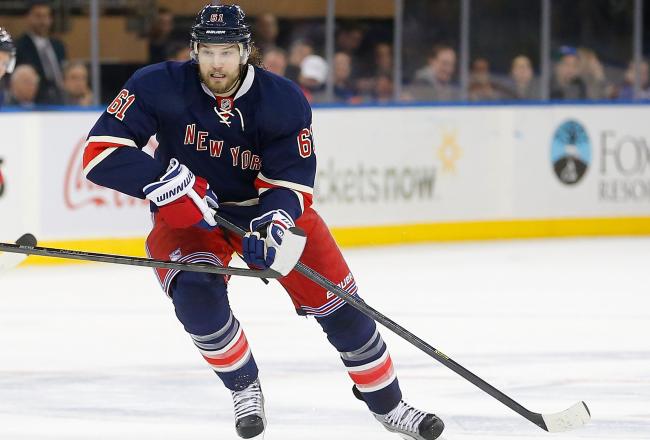 Paul Bereswill/Getty Images
Twelve months ago the Columbus Blue Jackets and New York Rangers made a blockbuster deal involving Rick Nash, but no one could have predicted the divergent paths each franchise has traveled on since the trade was consummated.
When a superstar leaves for greener pastures, the franchise is usually doomed (see LeBron James and the Cleveland Cavaliers). That didn't happen with Rick Nash, and his old squad actually got better following the trade.
As soon as the trade was official, pundits were heralding the Rangers by becoming a top Stanley Cup contender. The Rangers were considered a powerhouse on paper, and fans drooled over potential line combinations.
A line of Rick Nash, Brad Richards and Marian Gaborik was something that seemed to only be possible in the confines of a video game.
It was about to become a reality because of the trade, and everyone thought it was only a matter of time before they set the league on fire, but that reality never materialized.
Instead, the Rangers struggled, and the lowly Blue Jackets rose from the ashes and appeared to be the team that was in control all along.
In the last 12 months, the Blue Jackets added a sniper in Gaborik and a power forward in Nathan Horton. While Nash is an elite talent, Gaborik and Horton provide a nice blend of size and skill.
Although the Blue Jackets lost Nash, they used the Rangers' 2013 first-round pick to select Kerby Rychel, a 18-year-old winger who currently stands 6'0" and weighs 185 pounds. If he develops as planned, he could be a suitable replacement as the Blue Jackets' former franchise player.
Heading into the 2013-14 season in terms of depth, the Blue Jackets have a nice blend of young talent and experience at center and wing.
Additions via the Nash trade like Brandon Dubinsky, Artem Anisimov and Tim Erixon have improved the roster, and have given the Blue Jackets significant value. Cam Atkinson, Matt Calvert and Ryan Johansen are three youngsters with upside, and they are looking to build off a strong 2012-13 campaign.
They also will have youth on the blue line with Jack Johnson, Fedor Tyutin, James Wisniewski, Ryan Murray and Erixon. Last but not least, they will have strength in goal with reigning Vezina winner Sergei Bobrovsky. Overall, the franchise has a ton of upside because of their talent and youth, and it all was expedited by trading their franchise star.
On the other side of the equation, things have not panned out as planned.
Nash has been great for the Blueshirts, but the acquisition cost the Rangers more depth than initially anticipated. The impetus to add the 2001 No. 1 overall draft pick was to strengthen the roster, but the loss in depth caused the franchise to regress.
During the 2012-13 campaign, the Rangers weren't as physical, strong or deep as they were in 2011-12, so they decided to take action. To compensate for the loss of depth they dealt for Derick Brassard, John Moore and Derek Dorsett, but it cost them Gaborik.
When adding all the pieces from the two trades between Columbus and New York, the trade looks like a total wash.
But the Rangers wasted a year to get back where they started. The lack of execution cost John Tortorella his job, Gaborik his roster spot and a year of Henrik Lundqvist's prime.
Brad Richards has also regressed, and failure this season could facilitate wholesale change given the Rangers' salary cap situation. As it currently stands, only six Rangers have contracts for next season.
Alain Vigneault will do his best with what he has, and the Blueshirts could opt to retool their roster next summer to suit their new bench boss' coaching style.
The roster as constructed is not good enough to win the Stanley Cup, and general manager Glen Sather likely will make a move when cap space is available. The Rangers are good enough to be a playoff team, but they can become a bona fide contender if Sather adds another top-six scorer to the roster.
What team has the better roster?
However, Sather will need to add a scorer without sacrificing depth, which will be no easy task. For this to happen, the Rangers may have to wait till free agency, but they can't afford to waste another year.
The only silver lining in this situation is that post-Nash trade, they are in the same situation they were pre-Nash trade. However, they now have a new coach and Vigneault may be able to get more out of this team than Tortorella could.
On the opposite end of the spectrum, the Blue Jackets have a ton of limited potential given the makeup and youth of their roster. The deal breathed new life into the franchise, and they haven't had time to look back.
Columbus is now a member of the newly christened Metropolitan Division, AKA Atlantic Division 2.0. As a result of their various deals with New York, they will have a legitimate chance to overtake the Rangers in the standings.
This article is
What is the duplicate article?
Why is this article offensive?
Where is this article plagiarized from?
Why is this article poorly edited?

New York Rangers: Like this team?