Breaking Down the Lions' 2-Deep Depth Chart at the Start of Training Camp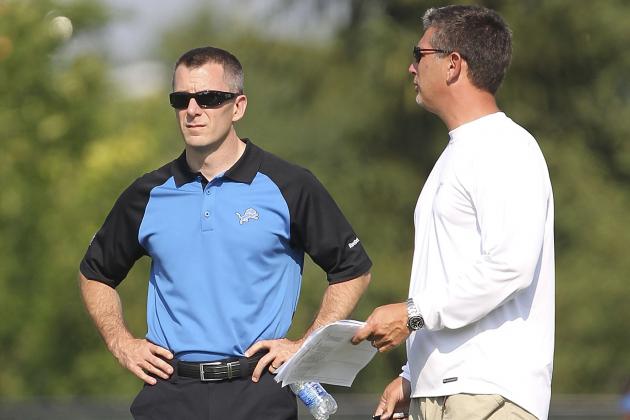 Leon Halip/Getty Images

The Detroit Lions are typically not interested in depth charts when training camp starts.
Given how secretive head coach Jim Schwartz can be with his team's operations, you could argue the Lions aren't really even interested in depth charts at the end of training camp.
To inspire open competition, they like to mix things around, throw different players in with different groups and see what fits. That's a good thing, but it tends to leave fans in the dark, wondering who fits where on the roster.
In some areas, there is very little doubt about how things stack up. In others, the entire depth chart is jumbled, top to bottom.
Of course, everything will sort itself out by the end of the preseason, but that's over a month from now. Who has time to wait for that? Instead, enjoy my early projections for the Lions' depth chart, as far as the first backup.
And yes, this means I also have to predict winners in camp battles, so don't worry—there will be plenty to discuss at the end of this.
Note: in positions with multiple starters—cornerback, for instance—the "two-deep" depth chart will include the appropriate number of starters in bold font and the first backup.
Begin Slideshow

»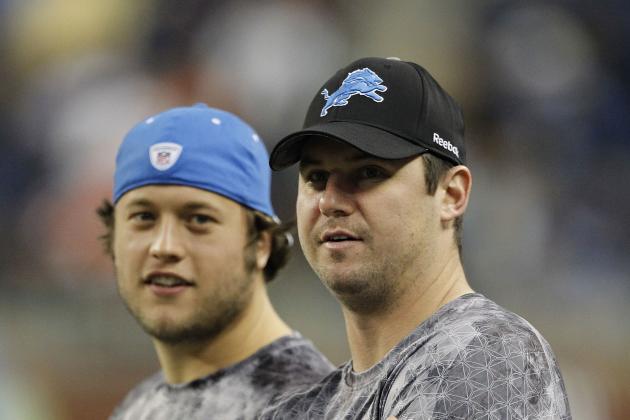 Leon Halip/Getty Images

Shaun Hill
If you have any doubt about this alignment, there are very special padded rooms made specifically for people like you, and I promise everything's going to be just fine.
Seriously, though, there might be less intrigue about the Lions' quarterback situation now than at any time in the last 50 years. Stafford just signed a huge contract extension, and Hill is one of the league's most effective backups.
There is a battle for the third quarterback position, but the possibility that it has any long-term effect on the team is minimal at best.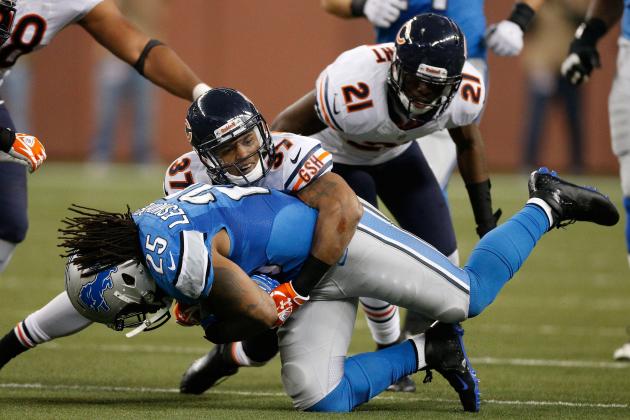 Gregory Shamus/Getty Images

Mikel Leshoure
Joique Bell
This is an odd position for the Lions. The team has officially moved out of the "feature back" paradigm, opting instead for a stable of running backs with specific roles.
Bush is the speed back who acts as a hybrid back/receiver.
Leshoure is the power guy, pulling solid (but not explosive) yardage while wearing down defenders by running through them.
Bell is sort of the utility guy. He's a better receiver than Leshoure, but not as good as Bush. He runs with more power than Bush, but not as much as Leshoure.
There is a suspicion Bell could actually be better than Leshoure, but neither has played nearly enough to prove that yet. More to the point, Leshoure's running style complements Bush's far better.
Still, expect to see all three of these guys earn reps regularly this season.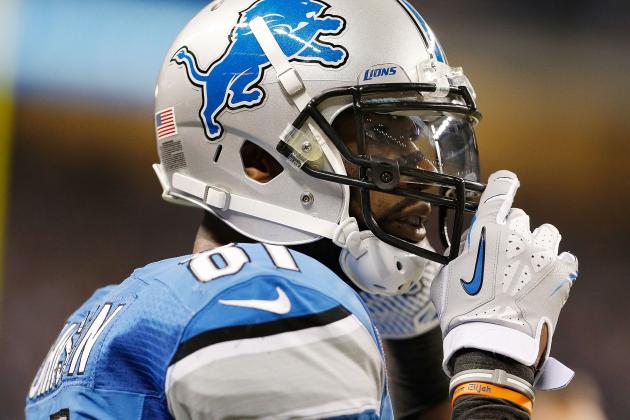 Gregory Shamus/Getty Images

Calvin Johnson
Nate Burleson
Ryan Broyles
Is this subject to change? Absolutely. The Lions could reasonably be looking to sign a new receiver and have in fact worked out three free-agent receivers this week alone, according to Jason La Canfora of CBS Sports.
A move in free agency could cause a shift in the depth chart, but, regardless, this season should be the one in which Broyles becomes an invaluable target for the Lions' offense. After the Titus Young deactivation, Broyles put up a string of solid performances, and that experience should feed well into his second season.
Still, for now, the veteran Burleson will likely be listed as the other "starting" receiver until Broyles takes the position from him by force. The talent and potential are there, but the Lions won't re-organize their depth chart based on talent and potential, especially not with a team leader like Burleson on the block.
Also, Calvin Johnson is awesome, full stop.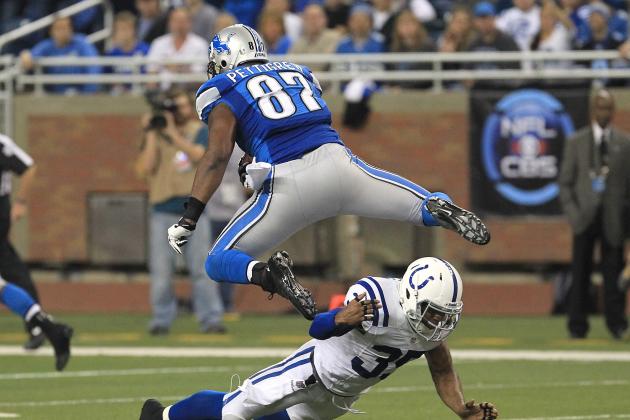 Dave Reginek/Getty Images

Brandon Pettigrew
Tony Scheffler
Ok, so they're listed as starter and backup, but, realistically, Pettigrew and Scheffler will most likely enjoy roughly equal playing time this season.
Given the nature of the Lions' rushing attack, I chose to highlight two running backs as "thunder and lightning"-style starters, rather than both tight ends.
Besides, the Lions don't really need to "complement" Pettigrew with anyone. He isn't a one-skill player. He's an all-around player who is above average as both a blocker and receiver (despite a recurring issue with drops).
Pettigrew and Scheffler will each see a lot of action this season, as the Lions will have to make some big decisions about whether to keep them next offseason. Pettigrew is just easier to stick in as a starter because he's a three-down player.
Mike Carter-USA TODAY Sports

Riley Reiff
Jason Fox
Corey Hilliard
For a potential first-year starter, Reiff is running relatively unopposed at the most important position on the offensive line (left tackle). That either shows the Lions have the utmost faith in him or a total lack of faith in any other possible option.
Most likely it's a blend of both.
But the real intrigue in camp will be at the right tackle position. A couple of long-time reserves will battle for the position, and unless the Lions grab somebody off waivers (a possibility, especially around final roster cuts), Fox and Hilliard are as good as it's going to get.
The tackle depth falls off sharply after those two, with undrafted rookie LaAdrian Waddle being quite possibly the next best option at tackle.
I'm giving Fox the nod for the starting job, but it will be close. For a more in-depth breakdown of the nuances of that battle, go ahead and check this out.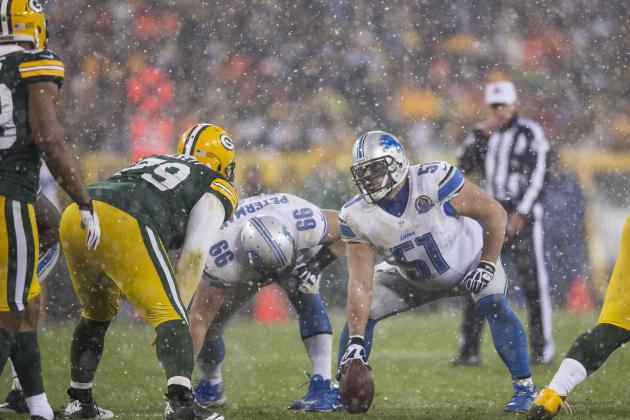 Tom Lynn/Getty Images

Dominic Raiola (C)
Larry Warford (G)
Rob Sims (G)
Rodney Austin (G/C)
This is one of the bigger stretches I'll make here.
The starting lineup of Raiola, Warford and Sims is solid to the point of being almost undebatable. Warford is a question mark just like any rookie, but by all accounts, he is expected to earn the starting job by the end of training camp.
Austin, however, is a practice-squad guy who will need to beat out a handful of veterans and former Cowboys starter Bill Nagy just to make the roster.
Still, there is a reason Austin is still around despite the Lions drafting Warford and signing veterans Leroy Harris and Jake Scott. If they weren't interested in his potential, they wouldn't need to keep him around.
By my estimation (which is admittedly just an estimation), Harris and Scott are only there as fallback options in case the young players fall through. Nagy doesn't seem able to get healthy, and long-time reserve Dylan Gandy may have worn out his welcome (though as the incumbent, he probably represents Austin's biggest challenge).
Maybe I'm wrong and Austin is just another practice squad guy on the very edge of the chopping block. Or maybe he keeps popping up for a reason.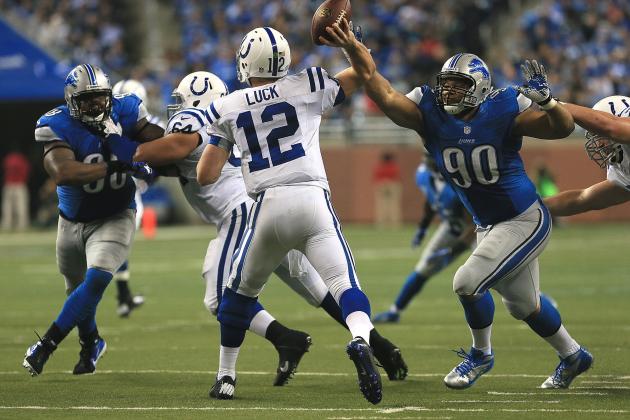 Dave Reginek/Getty Images

Ndamukong Suh
Nick Fairley
C.J. Mosley
It's a good thing this depth chart only goes to the first backup, because there is absolutely no telling who the second one is.
Suh and Fairley are both former first-round picks who are expected to form one of the best defensive interiors in football this season. There is no doubt they are 1a and 1b on the depth chart.
Meanwhile, C.J. Mosley was signed to be a solid backup and probably take a bunch of reps like Sammie Hill and Corey Williams did before him. But the Lions are used to having two defensive tackles on the bench, ready for action.
Mosley is just one man, and the Lions clearly aren't happy with their options beyond him, as they've worked out a handful of veteran defensive tackles this week, according to CBSSports.com's Jason La Canfora and ESPN's Adam Schefter.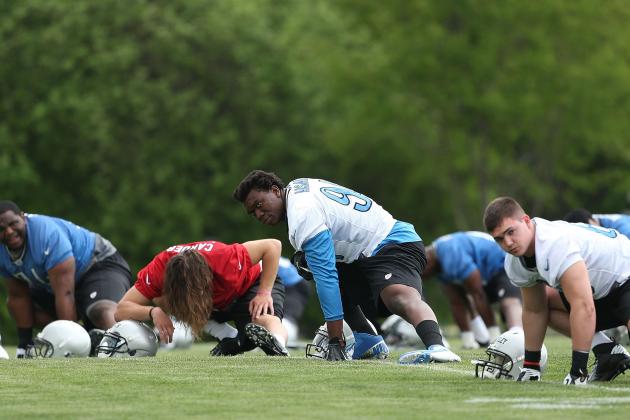 Leon Halip/Getty Images

Ziggy Ansah (RDE)
Jason Jones (LDE)
Israel Idonije
There should be little doubt that Ansah, the fifth overall pick in this year's draft, will be slated to start this season, perhaps regardless of his progression in training camp.
Jim Schwartz, via Tim Twentyman of the Lions' official website, has effectively already announced Jones as the starter at left end.
However, when it comes to depth, there are lots of players, all with questions.
How much does the veteran Idonije have left in the tank?
Is this the year Willie Young puts it all together?
How fast will rookie Devin Taylor develop?
Has Ronnell Lewis improved over last season, when he took only one rep at defensive end?
Idonije is the safest bet, as the steady veteran of the group. But there is room for improvement in the younger players, and any one of them could grow into a larger role this preseason.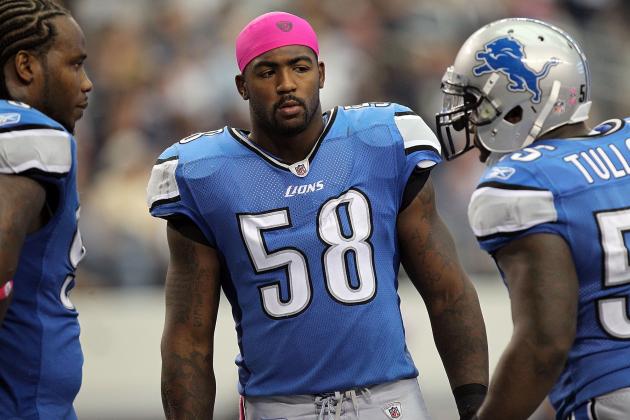 Ronald Martinez/Getty Images

DeAndre Levy (WLB)
Stephen Tulloch (MLB)
Ashlee Palmer (SLB)
Travis Lewis
As much as I would like to see one of the 2012 rookies (Lewis or Tahir Whitehead) take the starting job at outside linebacker, it certainly does look like the Lions have Palmer in mind as the favorite.
Palmer has toiled away as a reserve and a special teamer since 2010 for the Lions, which means he's familiar with the scheme. Palmer even started two games last season while Levy battled a hamstring injury. This should make for a relatively painless transition at a position where intelligence and comfort in the position are as important as athleticism.
That leaves Lewis and Whitehead to battle for the fourth linebacker spot. There might be different ratings for those guys at the middle linebacker position rather than outside, but that's probably moot. If Tulloch were to go down with injury, it's likely Levy would slide into the middle, with Lewis or Whitehead replacing him on the outside.
So why Lewis over Whitehead? It's a toss-up, really, but I like Lewis' mind for the game. He always seemed to be in the right place at the right time at Oklahoma, and playing linebacker is a lot more about that than it is sideline-to-sideline speed.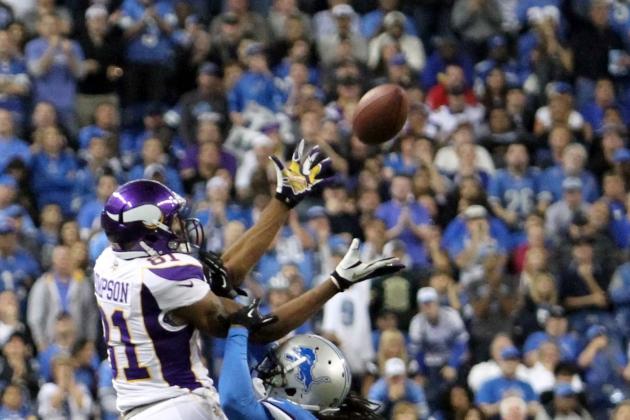 Raj Mehta-USA TODAY Sports

Chris Houston
Bill Bentley
Darius Slay
There are 25 million reasons to believe Houston will head up the Lions' depth chart this year, so that one is likely beyond debate. Obviously, the Lions didn't re-sign him to sit on the bench.
Beyond Houston, though, there is just a pile of youth—and Ron Bartell.
Though the physically gifted Chris Greenwood and the relatively experienced Jonte Green shouldn't be ruled out (both should have big defensive roles regardless of the depth chart), the top cornerback positions will most likely come down to Bentley and Slay.
Bentley earned the starting job as a rookie in 2012 but missed most of the season with an injury. Slay has impressed so far in shorts but will need to keep up his performance once the pads go on.
If there's a flaw in this, it's that, physically, Slay makes more sense on the wing, and Bentley makes more sense as a slot/nickel corner—eventually.
But for now, Bentley has an edge in experience, however slight, and that should keep him on the outside until Slay gets a better feel for the game. Of course, if Slay grows up quickly, that development period could be over by the end of September. I just don't expect him to be starting at the beginning of it.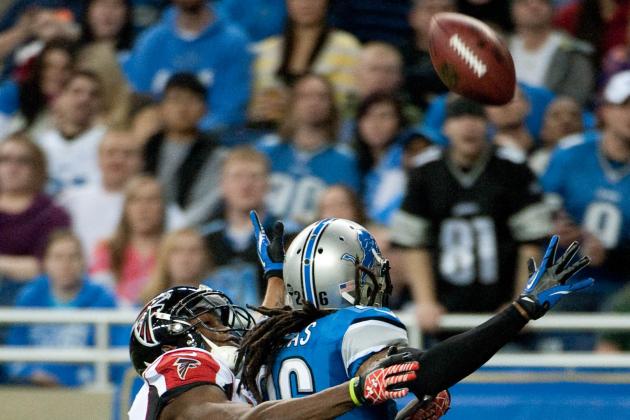 Tim Fuller-USA TODAY Sports

Glover Quin
Louis Delmas
Don Carey
As with Chris Houston, the Lions didn't sign Quin to keep the bench warm. He's an instant starter.
Theoretically, Delmas should be too—if we're only talking about ability. Bring durability into the equation, and things get cloudy. Delmas is still a question mark for training camp. We don't know if he will participate or how much.
With the way Carey played at the end of last season, he might be in line to wrest the starting job away from a healthy Delmas, even. Admittedly, that's a long shot, but it's worth pointing out to show just how good Carey was last year.
Realistically, the starting job opposite Quin is Delmas' to lose, but that kind of statement tends to gloss over the fact that he could actually lose it. Right now, his role on the team is like the Jahvid Best of knee injuries, which is as frustrating for fans as it is for Delmas himself.
If he doesn't get back to playing very close to 100 percent in training camp and keep himself there, it's questionable whether he ever will.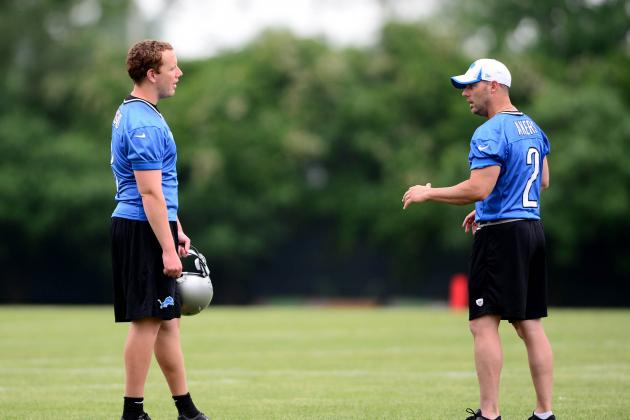 USA TODAY Sports

Kicker
David Akers
Havard Rugland
The Lions' special teams unit is perhaps the one with the most intrigue this training camp, as just about the entire unit (aside from Pro Bowl long snapper Don Muhlbach, who is unopposed at his position) is being turned over.
At kicker, we have veteran and six-time All-Pro David Akers facing off against some guy from the Norwegian Internet.
Normally, that would be a first-round knockout, but Akers is coming off the worst season of his career and is currently rehabbing an injury. Rugland took the opportunity in minicamp to turn heads by booming everything his left foot touched through a set of uprights.
As a result, we now have a legitimate roster battle, not a sideshow. Akers is still the favorite, but that's only based on his history. All else being equal, Rugland is winning the offseason so far in a shutout.
Punter
Sam Martin
Blake Clingan
This is easily the least intriguing battle in the special teams arena right now. The Lions signed Clingan over the winter off the street. Then, they spent a fifth-round draft pick on Martin.
To an extent, performance doesn't even matter. The Lions have invested in Martin, and they'll stick with him because that's how the league works. It would be humiliating for the team to spend a fifth-round draft pick on a guy who was beat out by a real estate consultant.
The only way Martin doesn't win this battle is if his kicking leg falls off midway through training camp.
Kick/Punt Returner
???
By the end of training camp, the Lions might run about 15 players through looking for a return man.
Dave Birkett of the Detroit Free Press has reported undrafted free agent running back Steven Miller of Appalachian State will get the first crack at the return job, but that's the first crack, not the biggest or the only one.
Just about every offensive skill position player (and some defensive backs) is in play for a return role, and the Lions should try out as many as they can before making a decision. It's hard to post a depth chart for this, because the Lions are going to be mostly trying out players who haven't returned kicks with any regularity.
Even Miller, the closest thing there is to a supposed front-runner, returned only three kicks and one punt over his entire college career. After him, there's Joique Bell, Ryan Broyles, Micheal Spurlock, Patrick Edwards, Reggie Bush, Mike Thomas, Corey Fuller, Theo Riddick...
There are lots of options here, OK? In this case, it's best just to sit back and let things play out. We'll know a lot more in a month than we do today.