The first two Tests of the 2013 Ashes series are in the books. With England holding a commanding lead over Australia heading into the third Test, both captains will return to the drawing board to adjust their strategy for the remainder of the event.
England will enter the third Test of the Ashes with a 2-0 series lead over Australia. The Aussies have their backs against the wall after losing by 347 runs to England in the second Test at Lord's Cricket Ground, while the frontrunners are in a comfortable position prior to the next phase of action.
Australia lost the first Test by 14 runs.
The third Test will commence at Old Trafford Cricket Ground on Thursday, Aug. 1. While Australia has hopes of taking the final three Tests and regaining the Ashes, England has an inside track on making this year's international clash their third straight Ashes victory.
As we often say in sports, it ain't over until it's over. Here's a look at the changes England and Australia must make to capture the third Test in Manchester.
Ashes 2013 Third Test Information
Who: England vs. Australia
When: Aug. 1 - Aug. 5, 2013
Where: Old Trafford, Manchester, England
Changes Australia Must Make
A promising start for Australia turned ugly during the second Test of the Ashes.
Ashton Agar's record-setting debut of 98 was a distant memory as the Aussies fell to England by 347 runs; Australia's return to the pitch at Lord's after falling behind 1-0 in the series was more representative of the idea that "underperforming" is a nice way of describing the batsmen's early struggles.
As you can see in this tweet from Paul Beckett of The Wall Street Journal, Australia is going to need a new gear to compete with England in Test No. 3:
Australia Needs to Dig Deep in Third Test] http://t.co/fv5vYq14Lz via @WSJ

— Paul Beckett (@paulwsj) July 23, 2013
Backlash from the second Test has been swift and harsh for the Aussies.
Captain Michael Clarke called his squad a "laughing stock" after the hefty defeat to England in the second Test, and there's few that would argue with that sentiment from an objective perspective.
"Our performance in the first innings was unacceptable," Clarke told The Guardian's Andy Wilson on Sunday. "We've got so much support here and in Australia but we're letting ourselves and our supporters down at the moment. We're letting our bowlers down as well."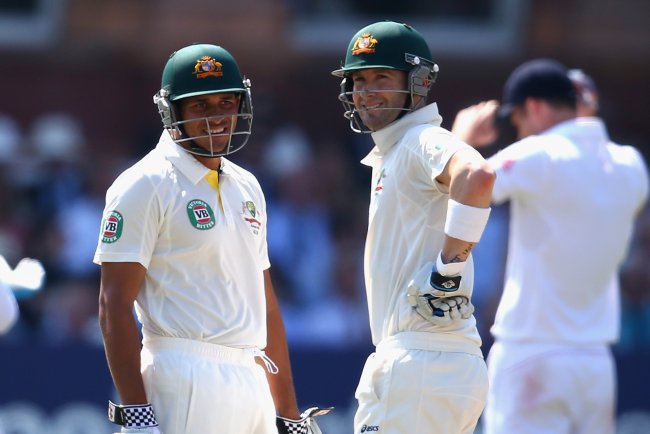 Ryan Pierse/Getty Images
Glenn McGrath in The Guardian wrote on Monday that Australia has hit rock bottom. From Shane Watson to Phillip Hughes to Agar, the follow-up performance with the bat at Lord's was so troubling that the brief strengths of the lineup at Trent Bridge are a distant memory.
Many have suggested that Australia drop Agar in favor of a spinner who can turn things around. Metro's Chris Stocks is of that opinion, and Nathan Lyon could very well be in the Aussie lineup if he has a strong showing against Sussex.

Cricket Australia confirmed that Lyon would be back and play in Australia's next match at Hove, opening the door for a potential return to Clarke's Ashes lineup:
Darren Lehmann says Matthew Wade and Nathan Lyon will play in Hove starting Friday. #Ashes #ReturnTheUrn

— Cricket Australia (@CricketAus) July 21, 2013
From a pure experience standpoint, there's little doubt Lyon adds more to Darren Lehmann's lineup. The Cricket Geek shed some light on that assertion on Twitter:
Nathan Lyon has bowled 2499 overs in professional cricket and has 237 wickets. Ashton Agar has bowled 487 overs and has 40 wickets

— The Cricket Geek (@TheCricketGeek) July 21, 2013
Agar had a sensational debut, but he took 0-142 at Lord's and might not be the right choice if Australia wants to prolong its hopes of reclaiming the urn at Old Trafford.
While the batting has been the clear problem so far, the bowlers won't have it easy the rest of the way, either. In addition to facing a tough English lineup, one of Australia's best bowlers has been ruled out for the rest of the Ashes. Sky Sports had the tweet:
Australia fast bowler James Pattinson ruled out of remainder of Ashes series with stress fracture in his back. http://t.co/g8xEXdDmXm

— Sky Sports (@SkySports) July 22, 2013
Simply put, Australia must find a way to produce timely strikes with the bat. Australia has to avoid a slow start to the third Test in a must-win situation.
England can smell blood in the water. Australia, desperate to avoid losing the Ashes three straight times, must be firing on all cylinders and put pressure on England early to have any shot at overcoming the steep climb they've left for themselves the rest of the way.
Changes England Must Make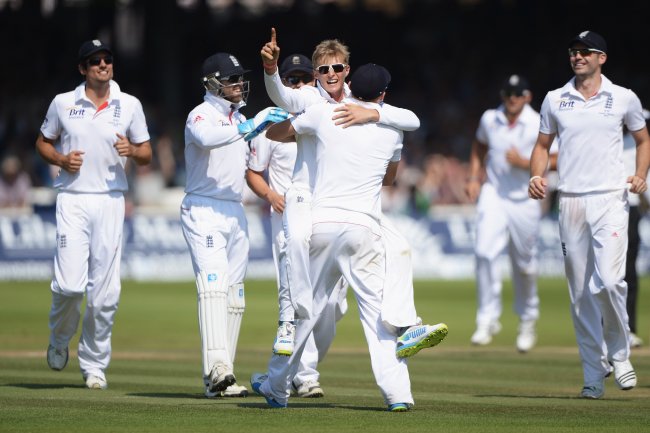 Gareth Copley/Getty Images
England have been the better side in the Ashes this year, and the current series count would confirm that assertion.
A number of Englishmen have stepped up in key moments to help capture the current 2-0 series lead. Ian Bell, James Anderson and Joe Root have all had a strong showings, with Anderson and Root earning Player of the Match honours after the first two Tests.
Root, who put 180 on the board in the second Test, was the third-youngest player to score a century at Lord's. The Guardian profiled the up-and-comer on Monday, noting that he could be a consistent star for English cricket very soon.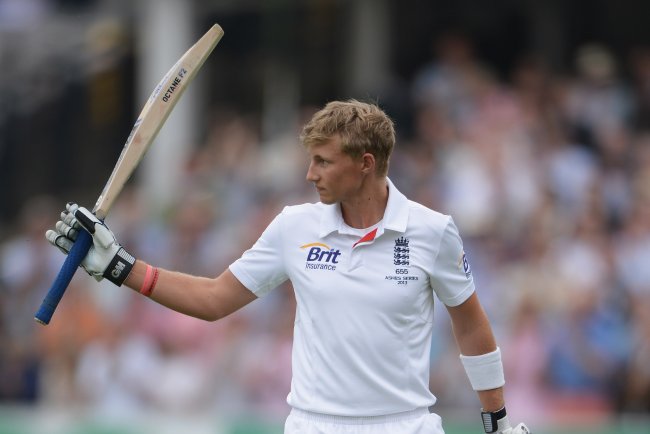 Gareth Copley/Getty Images
England hope to have Kevin Pietersen when the third Test begins, but his status is still in doubt. According to The Telegraph on Tuesday, England remains hopeful that the 33-year-old's will be ready for the next meeting.
The change the squad must make is simple: England must continue to be aggressive against a team that is holding on to Ashes life by a thread.
Captain Alastair Cook was part of Australia's 5-0 Ashes sweep back in 2007, and there's a good chance this England squad can replicate that result by keeping their foot on the gas pedal during the final three Tests.
England can't give Australia any glimmer of hope toward flipping the script and pulling off a 3-2 Ashes upset.
As noted by Alec Stewart, England's ex-captain and a special correspondent for BBC Sport, the huge English victory in the second Test exposed the different levels of talent that England and Australia are working with.
What outcome are you predicting for the third Test?
That being said, England have underperformed as a unit and were lucky to get past the first Test unscathed. Some of that frustration would be taken out in the second Test, but Cook and company can't afford to revert back to earlier form.
"A sign of a great team, as opposed to just a good one," said Stewart to BBC Sport correspondent Sam Sheringham, "is that they recognize when they have their opponent on the ropes and really go for the jugular."
England has a chance to do just that at Old Trafford when the third Test begins. It isn't necessarily a change, but Cook's men must be ready to overcome a desperate Australian squad's efforts to lay claim to the Ashes crown.
Follow B/R's Ethan Grant (@DowntownEG) on Twitter.