The Los Angeles Lakers will have only two players guaranteed under contract following the 2013-14 season, so the future of the organization will depend heavily on what can be accomplished in the next free-agency period.
Indiana Pacers All-Star Paul George, who is an L.A. native, is due to be a restricted free agent at that time. However, George isn't interested in returning to his roots, which is actually a positive for both him and the Lakers.
Marc Stein of ESPN reports that after Monday's Team USA practice, the 23-year-old George confirmed that he and the Pacers have already discussed a contract extension, which would effectively take him off the market.
George iterated how glad he was to be in Indiana, too:
I'm happy, man. I'm happy in Indiana. It's overwhelming (to hear) that they would want a player like me to come play for their team. But right now I'm focused on Indiana. I'm happy to be in Indiana. Our future is bright in Indiana. I wouldn't want to leave something great.
While there's no doubt that George is an intriguing and rapidly developing player, the fit in Los Angeles would not quite work out for the parties involved.
Video Credit: Los Angeles Times
Steve Nash and Robert Sacre are the only sure commitments the Lakers have beyond this coming season. In all likelihood, Kobe Bryant would return, but his exorbitant salary demands would eat up a ton of the team's cap room.
Bryant is due to make a salary of approximately $30.5 million in 2013-14, per HOOPSWORLD.com. The total salary cap for the season is $58.769 million (h/t NBA.com), and the luxury tax is extremely harsh.
If there were any way for Bryant to sacrifice some coin to bring in other stars, perhaps the George scenario might work. However, until that happens, it's hard to fathom bringing him in.
Plus, that doesn't even include power forward Pau Gasol, who will make over $19 million in the final year of his current contract. Gasol and Bryant have teamed up for multiple championships, and it will be difficult to separate those two.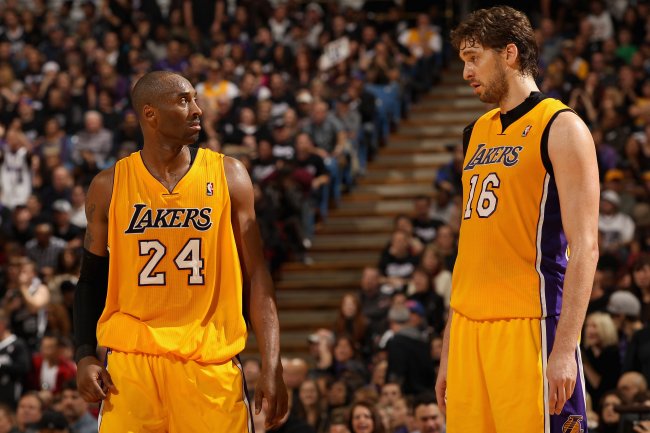 Ezra Shaw/Getty Images
Taking on a prospective max contract in George would put the Lakers in a difficult position financially over the next several years, and there's no telling how much longer Nash, Bryant or Gasol can hold up and play well.
Which team should Paul George choose for the prime of his career?
George is blossoming into a fine player in a basketball-loving state, and the Pacers play as such a collective unit that he doesn't yet have the pressure to be the alpha, No. 1 superstar.
Indiana has done a wonderful job in letting George organically develop and gel with a stellar and improving supporting cast.
Roy Hibbert continues to get better, and the re-signing of David West gives the Pacers hope to contend with their current nucleus in the Eastern Conference in the forthcoming season.
The pieces the Pacers have to offer around George are simply better than the aging core in L.A.
A big-moment stud like George could relish the chance to return home, play under the bright lights, rock a Lakers jersey and be teammates with his idol in Bryant.
But for both sides' sakes, this is a match to avoid making.