UFC on Fox 8 Info and Predictions for Johnson vs. Moraga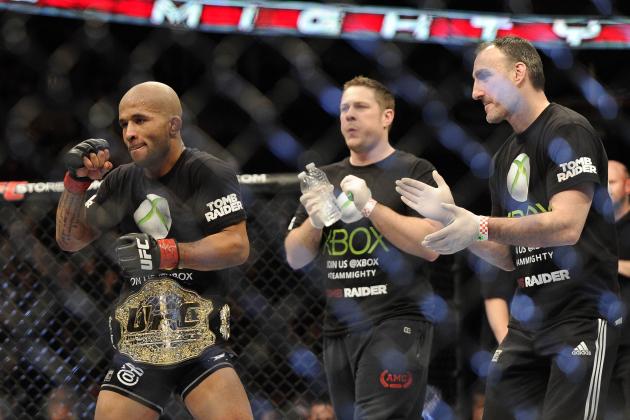 David Banks-USA TODAY Sports

The eighth installment of the UFC on Fox series will play out in Seattle this Saturday, July 27.
Sandwiched between pay-per-view events UFC 162 and UFC 163, this weekend's card hasn't received a tremendous amount of attention, but that doesn't mean it lacks the potential to provide some solid MMA action.
With a total of 12 fights, UFC on Fox 8 spans Facebook, FX and Fox, and features a number of intriguing matchups. It even has a title fight and everything!
The show will be headlined by a flyweights Demetrious Johnson and John Moraga, who will clash for UFC gold, while Rory MacDonald and Jake Ellenberger will fight in the co-main event. Rounding out the main card, we have a women's MMA pairing of Liz Carmouche and Jessica Andrade and a welterweight battle between Robbie Lawler and Bobby Voelker.
Here you will find information about when and where to catch Saturday's action, previews for each of the night's bouts and predictions, made by yours truly, for every outcome.
Begin Slideshow

»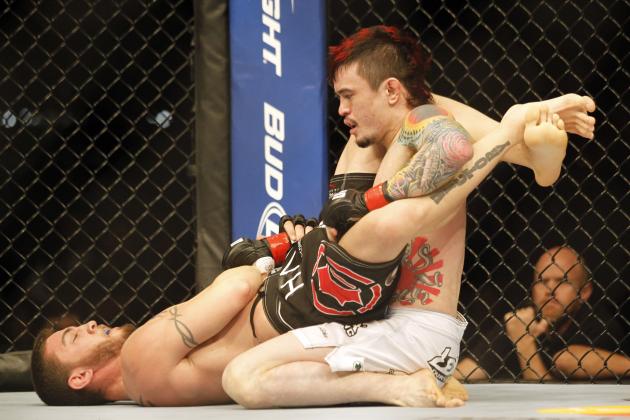 Joe Nicholson-USA TODAY Sports
Albert searches for a submission against Scott Jorgensen.
Division: Featherweight
See it on: Facebook (4:05 p.m. ET)
It's rare that an unheralded fighter survives three straight losses in the UFC, but John Albert has done just that. The feat is made all the more impressive because those three losses were all first-round stoppages. To suffer those results and still keep a spot on the roster is unprecedented.
Yaotzin Meza's first turn in the UFC was brief—less than two minutes, in fact. Unfortunately, it wasn't a quick win. It was a quick loss. A loss to Chad Mendes but nevertheless a loss.
The combatants' combined 1-4 UFC record shouldn't get anyone excited for this first fight on UFC on Fox 8, but at least we'll probably see a finish, and that finish isn't likely to be long in coming.
Albert and Meza have jointly produced an average UFC fight time of 3:22, and neither man has ever gone past the first frame.
I'm going with Albert here, because he's at least shown some flashes of potential against tough opponents like Ivan Menjivar and Scott Jorgensen. The only thing Meza showed against Mendes is that he had zero chance from the get-go.
Prediction: Albert, submission, Rd. 1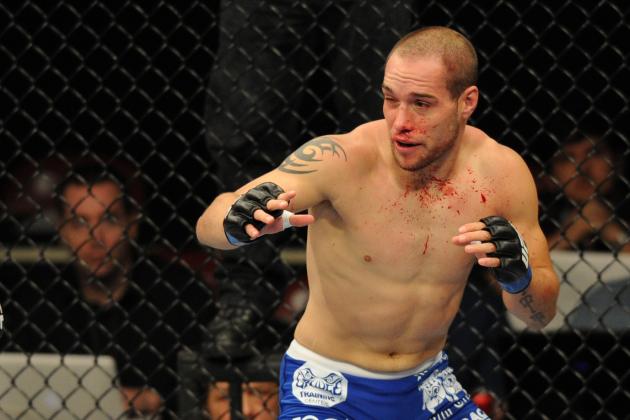 Steve Mitchell-USA TODAY Sports

Division: Lightweight
See it on: Facebook (4:05 p.m. ET)
Aaron Riley will make his non-awaited return to the Octagon after being sidelined since 2011. As a UFC fighter, he has posted a 3-4 record over two stints with the promotion, never having won or lost consecutive fights. While the long layoff bodes poorly for him here, the pattern of lose-win-lose-win says this one is his for the taking—if you're the superstitious sort.
Justin Salas is another fighter looking to find consistency inside the Octagon. After debuting with a decision victory over Anton Kuivanen, Salas dropped a TKO loss to Tim Means. He'll want to do what he can to keep Riley on the defensive in this fight, preferably on his back.
I like Salas as the more powerful fighter in this matchup. I foresee him bullying Riley enough to control the majority of the fight's action, and I anticipate the judges being impressed enough to award him a W.
Prediction: Salas, unanimous decision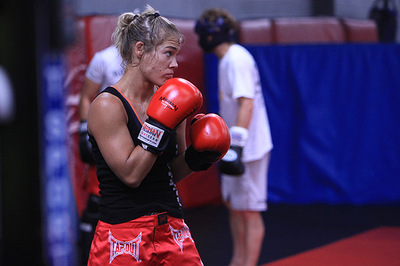 Photo by sherdog.com
Division: Women's Bantamweight
See it on: FX (5 p.m. ET)
Germaine de Randamie will make her promotional debut at UFC on Fox 8, and she is not experienced in any capacity. She has just five professional fights with a middling 3-2 record over that span. She does have plenty of kickboxing and Muay Thai experience (and accolades), but that has yet to translate to big things so far in women's MMA.
Like her opponent, Julie Kedzie has yet to compete inside the Octagon. But unlike de Randamie, she has a lot of MMA experience, owning a 16-11 career mark. More importantly, she has fought against many highly regarded foes such as Miesha Tate, Alexis Davis, Tara LaRosa and Gina Carano.
While I wouldn't forecast either of these ladies making a big impact on the UFC's women's circuit, Kedzie is the pick in this bout.
Prediction: Kedzie, unanimous decision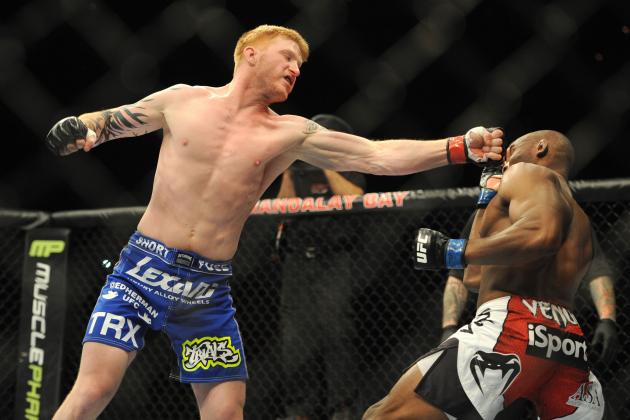 Kelvin Kuo-USA TODAY Sports

Division: Middleweight
See it on: FX (5 p.m. ET)
Ed Herman has been a member of the UFC since joining the promotion via The Ultimate Fighter in 2006. He has had an up-and-down career, putting together a couple of nice streaks, suffering through rough patches and posting inconsistent results in between.
Perhaps his greatest weakness is his submission defense, which has failed him six times as a pro fighter. As it happens, Trevor Smith, Herman's UFC on Fox 8 opponent, is a specialist in making people tap.
Smith joins the UFC after a moderately successful Strikeforce career, where he posted a 3-2 record. He was never able to add a big name to his resume, though, so he'll be gunning hard for a victory over Herman.
While the metrics say this match favors Smith, Herman possesses a strong submission game of his own and is used to fighting better competition than Smith. Should the action hit the mat, Herman has as good a chance to win by submission as he does to lose by submission.
And in fact, that's how I see him pulling this one out.
Prediction: Herman, submission, Rd. 2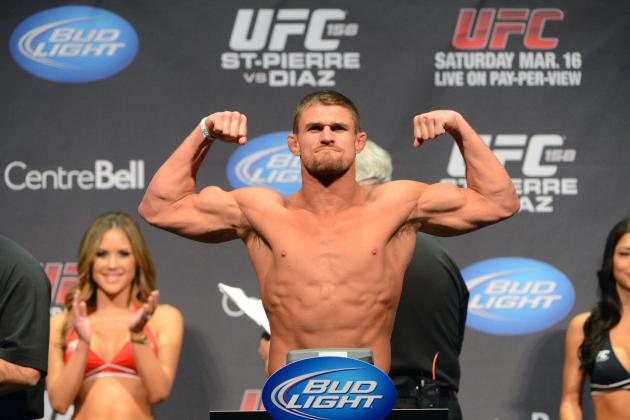 Eric Bolte-USA TODAY Sports
Daron Cruickshank
Division: Lightweight
See it on: FX (5 p.m. ET)
Since transitioning from The Ultimate Fighter to the UFC proper, Daron Cruickshank has compiled a 2-1 record, most recently losing to John Makdessi. Cruickshank is a well-rounded fighter, but he has demonstrated a strong penchant for striking. Luckily, his opponent at UFC on Fox 8 is likely to indulge him in that regard.
Yves Edwards is a true journeyman of MMA. He's fought in many of the sport's most recognizable promotions, taken on many recognizable fighters and been around long enough to compete 62 times. And through it all, he continues to be a tough out for the younger fighters he now faces.
Like Cruickshank, Edwards is a striker by trade. This suggests an exciting bout.
I could see this one going either way, but I'm going with the old man. I think he'll fight smart, keep away from Cruickshank's powerful kicks and do enough to outpoint the TUF alumnus.
Prediction: Edwards, unanimous decision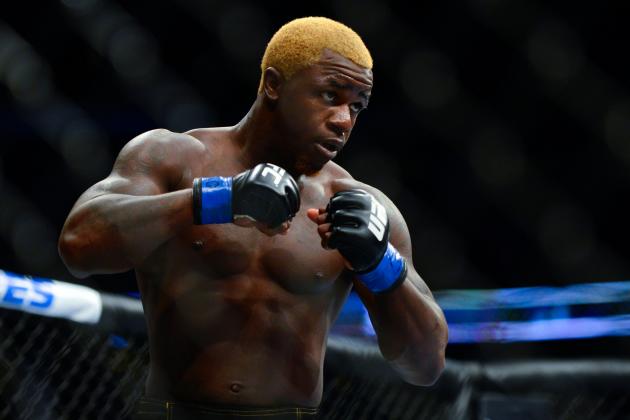 Ron Chenoy-USA TODAY Sports

Division: Lightweight
See it on: FX (5 p.m. ET)
With just three wins in his last nine bouts, Mac Danzig needs a win more than anyone else in the UFC, except for maybe his opponent, Melvin Guillard.
Guillard has posted just one win over his past five outings and has been stopped three times during that stretch.
Basically, this is the end of the road for the loser. It has to be.
I think Guillard will be called to hit the bricks, because I still don't believe that he can stop his opponent's submissions. Danzig, who is capable on the mat, should be able to capitalize on Guillard's weakness, just like nine of "The Young Assassin's" previous foes have.
Prediction: Danzig, submission, Rd. 1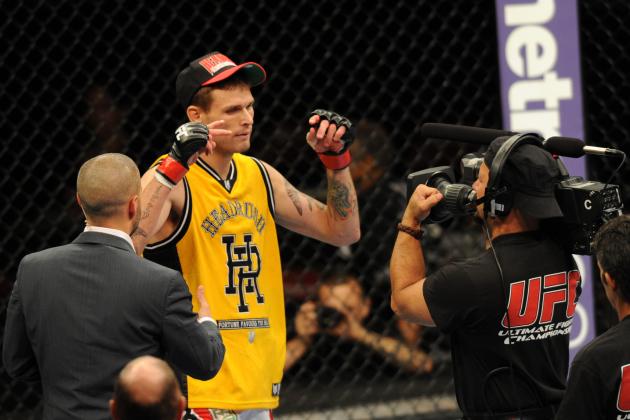 Steve Mitchell-USA TODAY Sports
Tim Means
Division: Lightweight
See it on: FX (5 p.m. ET)
Danny Castillo has done well since joining the UFC roster, but he hasn't been able to oust anyone of high standing yet. His UFC on Fox 8 opponent, Tim Means, lacks the notoriety for a win this weekend to be career defining, but the fight could still be a challenge.
Over three fights in the UFC, Means has won twice but failed to make it three straight when he lost his last time out. The American packs some nasty power, especially on the mat, which has led to 13 career knockouts.
This fight is one between opponents of a similar style, as both guys having solid stand-up but better wrestling. Whoever is able to get on top and control the action will take home the W. If neither prove capable of doing that, it could turn out to be a stand-up affair.
Prediction: Means, unanimous decision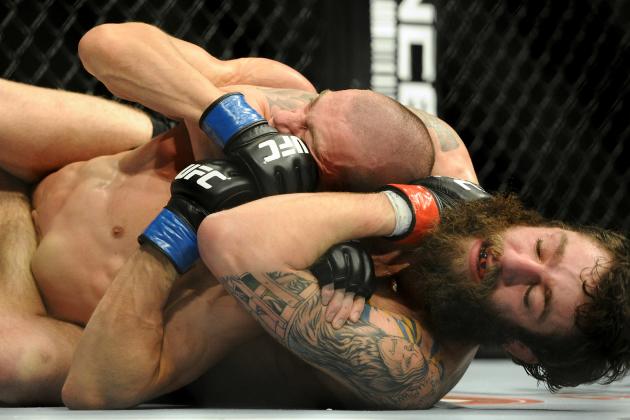 Jayne Kamin-Oncea-USA TODAY Sports

Division: Lightweight
See it on: FX (5 p.m. ET)
Michael Chiesa has been outstanding since winning The Ultimate Fighter in 2012. He has gone 2-0 inside the Octagon, with both of those wins coming by submission. But he'll be facing the toughest challenge of his career at UFC on Fox 8.
Jorge Masvidal looked terrific in his UFC debut, handling Tim Means for 15 minutes. The 28-year-old has long been on the precipice of breaking through to stardom but has never been able to get that one big win. A victory over Chiesa may not be the signature win he desires, but it would be a step in the right direction for Masvidal.
This has the makings of a tough, grueling battle, and frankly, I've been back and forth on the prediction for the last couple of weeks. Ultimately, I'm settling on Masvidal due to his edge on the feet, but no outcome would surprise me very much.
Prediction: Masvidal, unanimous decision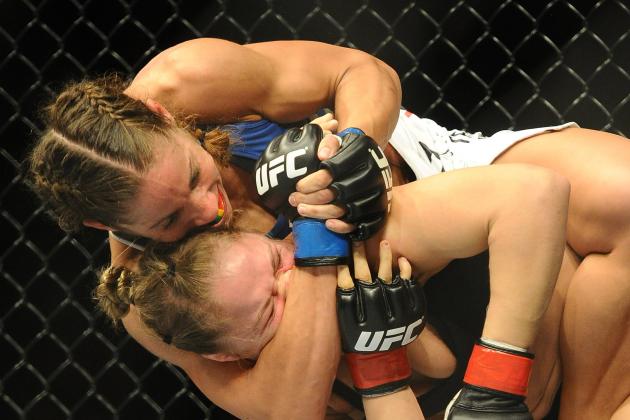 Jayne Kamin-Oncea-USA TODAY Sports

Division: Women's Bantamweight
See it on: Fox (8 p.m. ET)
Jessica Andrade comes to the UFC as a 21-year-old. Her age makes her a prospect rather than a contender, but her youth belies her talent. At 9-2 with nine stoppage wins, she's unquestionably a finisher.
For her part, Carmouche sits at 8-3 with seven finishes. Those numbers don't quite match Andrade's, but keep in mind that Carmouche's losses were against Marloes Coenen, Sarah Kaufman and Ronda Rousey. It's hard to make a case for Andrade beating any of those fighters.
Nevertheless, I like Andrade's chances here. Carmouche's near upset of Rousey garnered her some well-deserved attention, but for all she accomplished in that bout she still lost in the first round.
Andrade's sharpest tool is her submission offense, and if there is a chink in Carmouche's armor, it's stopping submissions.
Furthermore, Andrade likes to rush opponents and cling to them until she forces a grappling affair. It's the same thing Rousey did to Carmouche, and while Andrade is no Rousey, she wields a wicked guillotine that just might be able to catch Carmouche at some point.
Going with the upset here, I call another Andrade stoppage victory.
Prediction: Andrade, submission, Rd. 3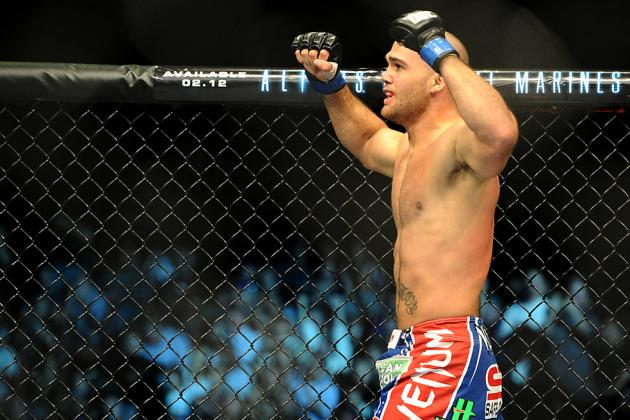 Jayne Kamin-Oncea-USA TODAY Sports

Division: Welterweight
See it on: Fox (8 p.m. ET)
After struggling to stay relevant in the middleweight division, Robbie Lawler returned to 170, destroying Josh Koscheck in his homecoming at UFC 157 in February. Though he's hit some rough patches during his career, Lawler remains a dangerous knockout artist and will carry a significant striking edge into his bout with Bobby Voelker.
Voelker came out on the short end of a tight decision result against Patrick Cote in March. But now, fighting once again at 170, he'll be looking to resume his winning ways, which saw him take three straight prior to his UFC debut.
It's tempting to go with Voelker in the upset here, since you know he'll be trying to take Lawler down, and you know that he might succeed. But Lawler's ability to turn out his opponents' lights in a snap makes just too convincing a case for him to take this bout.
Prediction: Lawler, knockout, Rd. 2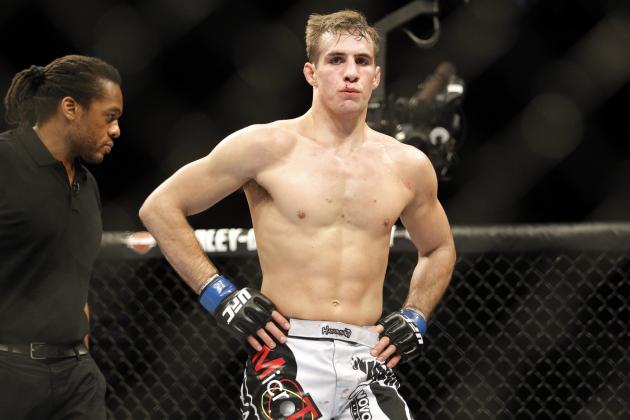 Joe Nicholson-USA TODAY Sports

Division: Welterweight
See it on: Fox (8 p.m. ET)
Except for letting victory slip to Martin Kampmann in 2012, Jake Ellenberger has not lost since 2009. That's an impressive run—with or without the Kampmann loss—considering the stiff competition Ellenberger has faced. Yet, Rory MacDonald may be the toughest challenge for Ellenberger since he fought Carlos Condit in his UFC debut.
MacDonald personifies the "mixed" aspect of MMA, excelling in all areas of the game. He has developed a dangerous striking arsenal, can finish fights with submissions and complements those abilities with some fine wrestling.
This is a big fight for the welterweight division, and it's one that looks very competitive on paper.
Ellenberger is a strong starter, but he tends to fade as the fight wears on. If MacDonald is able to resist the early onslaught, the odds will tilt his way, which is something I explained during my extensive breakdown of the matchup.
The question is, will MacDonald be able to overcome Ellenberger's fearsome attacks long enough to take control of the action?
I say yes.
Prediction: MacDonald, TKO, Rd. 3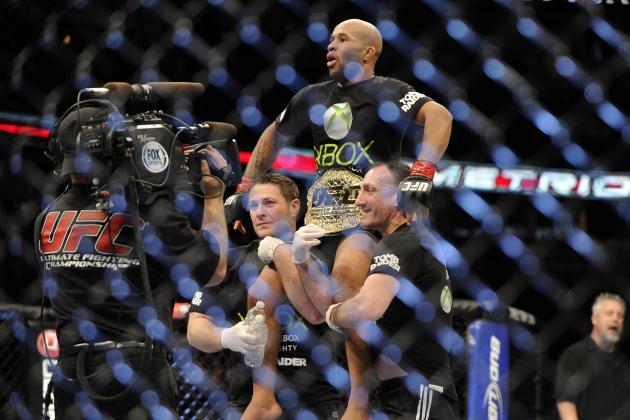 David Banks-USA TODAY Sports

Division: Flyweight
See it on: Fox (8 p.m. ET)
Since joining the UFC ranks, John Moraga has looked about as good as he possibly could. He plowed through two opponents thus far, Ulysses Gomez and Chris Cariaso, making it look easy. With a shot at Demetrious Johnson and the UFC, he'll look to carry his momentum forward all the way to the division's throne.
"Mighty Mouse" still hasn't tasted defeat as a flyweight competitor, which is saying something since his strength of schedule has been ludicrous. Though Moraga's name doesn't carry the same weight as Ian McCall's, Joseph Benavidez's or John Dodson's, it does fit alongside them, so this is not a fight the flyweight champ can afford to take lightly.
As always, it's worth mentioning that Johnson will carry a speed advantage into this bout. Neither fighter is particularly powerful, but both are capable enough with submissions that a finish is possible.
A finish does seem unlikely though, seeing as how neither fighter has ever been finished and both have a handful of decision wins.
So whom will the judges side with? We'll have to wait and see, but I pick the champion.
Prediction: Johnson, unanimous decision