Cincinnati Bengals Bubble Watch: Cedric Peerman vs. Dan Herron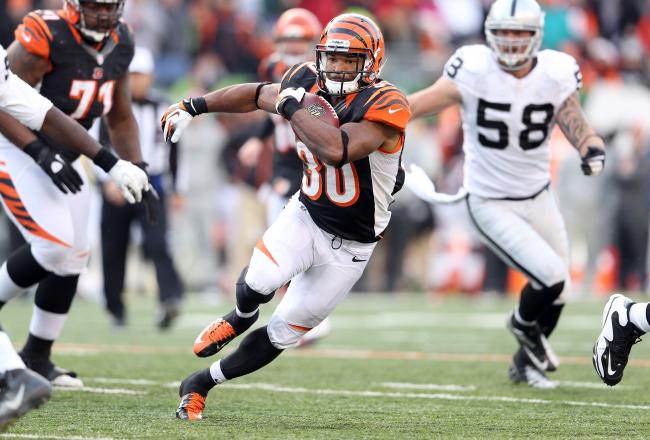 Andy Lyons/Getty Images
With the Cincinnati Bengals' training camp just around the corner, the feelings of intense roster battles about to begin are growing stronger.
The Bengals will have some difficult decisions regarding the final cuts this year—which is a good problem to have—and need to be sure to keep the proper final 53-man roster intact.
One such battle will be between two running backs—veteran Cedric Peerman and second-year Dan Herron. Both of these players are not in line to see many snaps on the offensive side of the ball; however, they are both extremely important when it comes to special teams.
Both players showed their prowess last season in punt formations. They proved to the coaching staff that they deserve to maintain roster spots due to their contributions in this department.
Unfortunately for these two players, it all comes down to the numbers.
The Bengals should be keeping four running backs on their final roster this year. With the top two spots locked up—BenJarvus Green-Ellis and Giovani Bernard—there are now only two remaining. It appears as though the Bengals will look to keep Rex Burkhead on the final roster as well. His versatility in the backfield and the possibility of moving him to the H-back position make him a valuable asset.
That only leaves one remaining spot for Peerman and Herron.
So, how do we decide who stays and who goes? The same way that the coaches will: go to the tape.
Peerman and Herron showed remarkable playmaking ability in punt formations last season. By looking at what each of them do well, it may be easier to make an educated assessment regarding which player should earn that final roster spot.
This highlight of Peerman is from Week 11 of 2012 against the Kansas City Chiefs. He is in his usual position in punt formations as the personal punt protector to Kevin Huber. The Bengals plan to use Peerman's athleticism on a very risky fake punt deep in their own territory: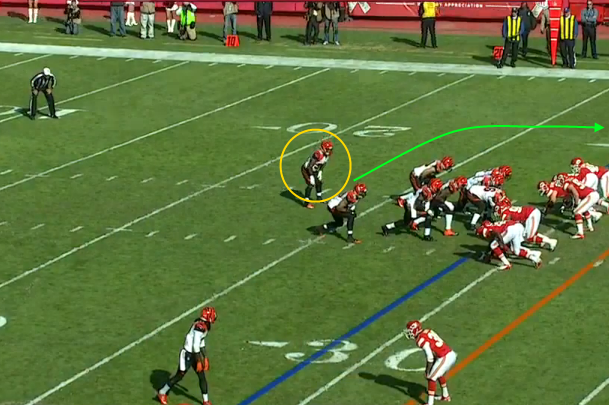 The ball is directly snapped to Peerman. He uses his fantastic initial burst to move laterally toward the sidelines and get away from the big bodies in the middle of the field. The line does a very nice job of sealing off the left side: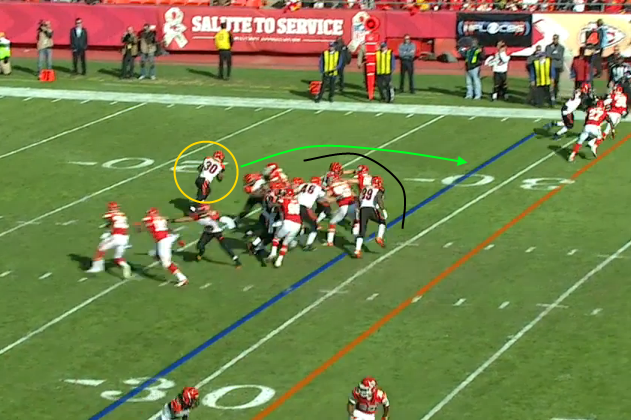 Peerman gets up the field so quickly that many defenders do not realize the Bengals are running a fake until he is well past the first-down marker. This makes defenders take poor tackling angles, and allows Peerman to increase his gain before he is even touched: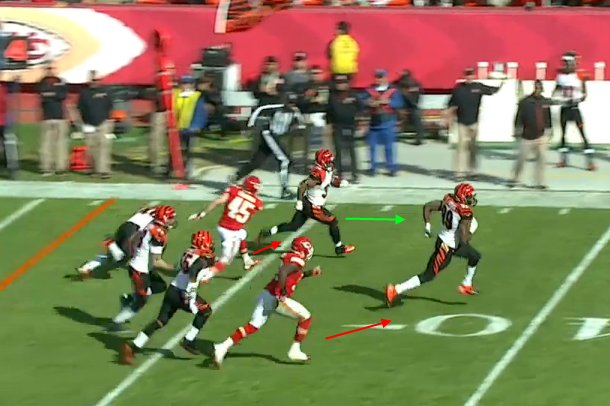 He is finally dragged down at the Chiefs' 39-yard line—a 32-yard gain. Not only did the fake punt work, but Peerman executed with such precision that he was able to completely change the field position for Cincinnati.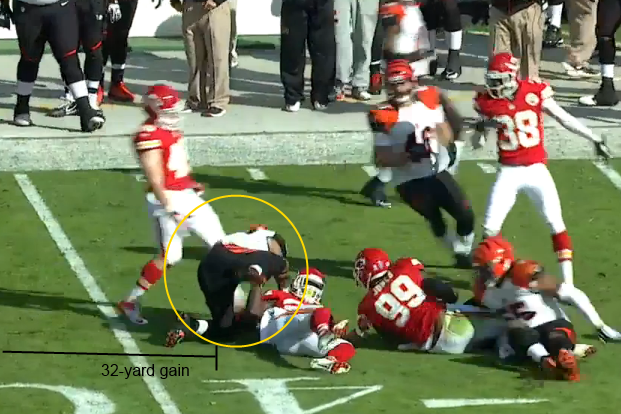 Dan Herron
Herron's highlight is during Week 15 of 2012 against the Philadelphia Eagles. He lines up wide—his sole goal being to get to the punter as fast as possible in an attempt to block the kick: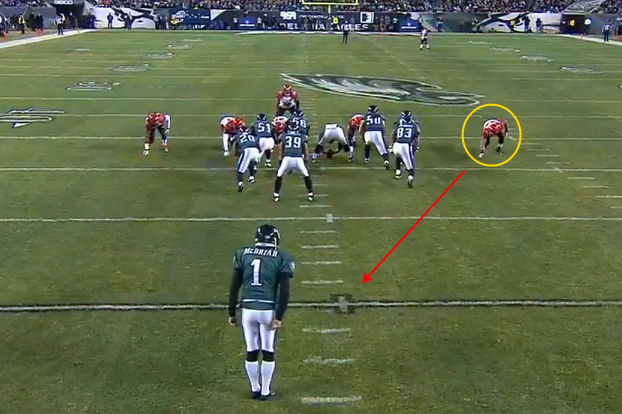 Herron speeds around the edge as the ball is snapped. He engages the blocker five yards away from the punter. Generally, this play would be over for Herron at this point. However, he uses great leverage to get below the pads of the blocker and push him backwards towards the punter: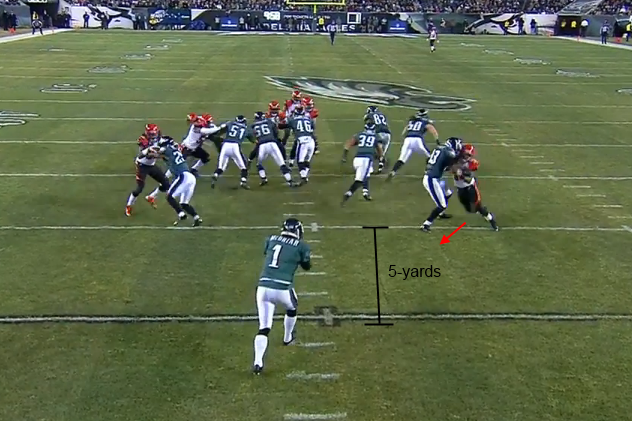 His great leverage and power proves to be successful as Herron pushes his blocker back into the path of the punter, essentially blocking the kick. This takes a tremendous amount of lower body strength to push a large body so far in such a short amount of time: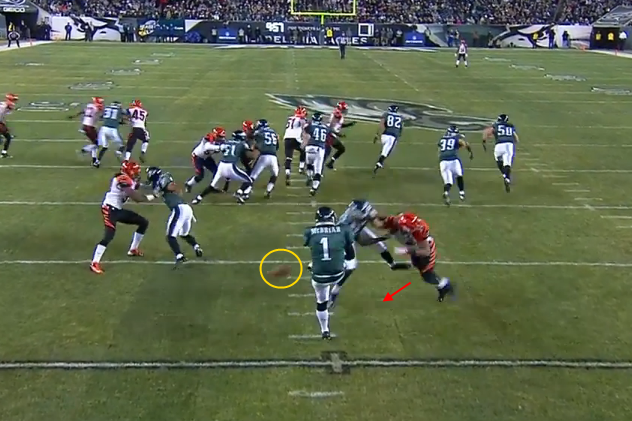 Not only does Herron block the kick, but he keeps his head on a swivel, locates the ball and recovers for the Bengals—he even gains a few extra yards in the process. This type of heads-up play can turn the tide of a football game in an instant.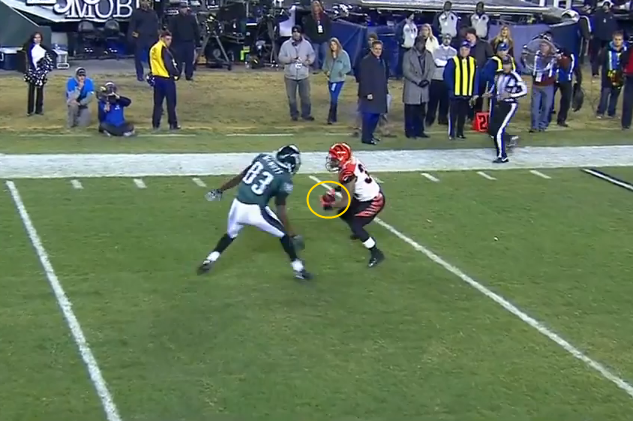 The Difference
Although these are two amazing special teams plays, the problem still remains—only one of these players can earn a 2013 roster spot.
As of right now, the deciding factor must come from how they can contribute in other phases of the game—they are running backs, after all.
Peerman was great when he needed to serve in the backfield last season. He rushed 36 times for 258 yards and a score. That is an impressive average of 7.2 yards per carry. Even if his aforementioned 32-yard scamper is deducted, he still averaged 6.4 yards per carry. He is truly a great asset in the backfield.
Herron is a completely different story, however. He only saw limited time in the backfield, but was completely lackluster when given an opportunity. His plodding style of running only amounted to five yards on four attempts—a 1.3 yard-per-carry average.
There is still time for Herron to catch up in the running game—he was a rookie last year, after all. However, given the current status of these running backs, it appears that Peerman has the edge to survive the final cuts in 2013.
All screen shots are courtesy of NFL Game Rewind.
This article is
What is the duplicate article?
Why is this article offensive?
Where is this article plagiarized from?
Why is this article poorly edited?

Cincinnati Bengals: Like this team?