The Los Angeles Dodgers enter Tuesday with a slim lead in the NL West. In order to preserve that lead for the remainder of the year, they need to acquire a starting pitcher like Bud Norris of the Houston Astros before Major League Baseball's July 31 trade deadline.
Jeff Passan of Yahoo! Sports reports that Los Angeles has interest in Norris:
Should Rangers not get Garza, sources say they've been in on Bud Norris. Other teams in on Norris: Pirates, Dodgers, Jays, Giants and more.

— Jeff Passan (@JeffPassan) July 18, 2013
Norris has pitched for Houston his entire career, and while his numbers aren't too pretty, you have to keep in mind the team he's been playing for. Throughout his more than four-year career, the right-hander is 34-46 in 118 games—one relief appearance—and has a 4.33 ERA, and a 4.00 xFIP, per FanGraphs.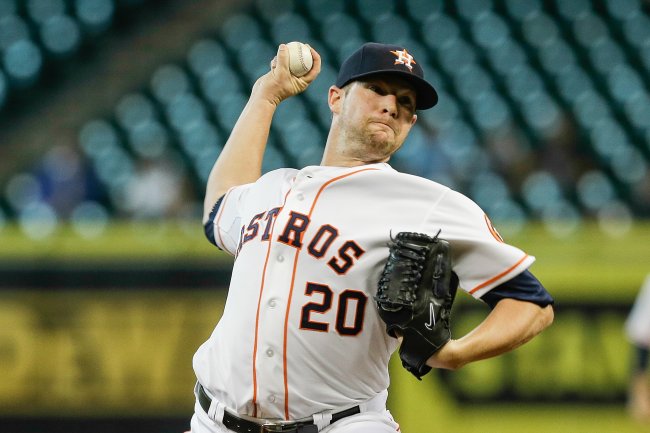 Bob Levey/Getty Images
The Astros don't really have any reason to keep him for the remainder of the season, as they're almost mathematically eliminated from the playoffs already. Yes, he's still under contract for the next few years, but Houston could get a good prospect or two in exchange for him. The struggling organization will likely love that idea.
Talks appear to be heating up on Norris, per Jerry Crasnick of ESPN:
Things have been heating up with Bud Norris trade talks since All-Star break, say baseball execs. #astros

— Jerry Crasnick (@jcrasnick) July 20, 2013
The Dodgers are a natural fit for the 28-year-old. For one, Norris grew up in California and went to college there. But that's not the deciding factor. Los Angeles has already added a starting pitcher this season—Ricky Nolasco—but the team still needs a reliable arm in the back of the rotation.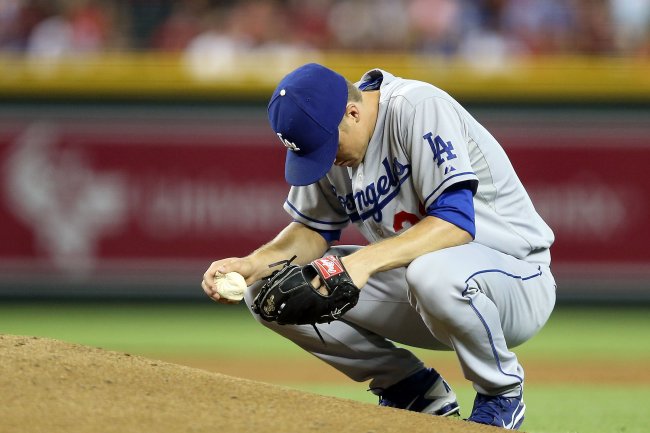 Christian Petersen/Getty Images
Dodgers starters have been very banged up this season. Josh Beckett and Chad Billingsley are both out for the remainder of the season. Zack Greinke missed a chunk of time with a broken collarbone. Ted Lilly has been out for more than a month with a neck issue. Los Angeles needs more pitching depth.
Entering Tuesday, Los Angeles has the 17th-best rotation in baseball in terms of WAR, according to FanGraphs. It's the ninth-best rotation in the National League, per the site. Clearly, there's a need for an upgrade.
Here's a look at what the projected starting rotation could look like if the Dodgers managed to acquire Norris from the Astros—with Chris Capuano heading to the bullpen to make room for the team's potential acquisition:
Projected Dodgers Starting Rotation

| | | | | | | | |
| --- | --- | --- | --- | --- | --- | --- | --- |
| Player | G | W-L | IP | K/9 | BB/9 | ERA | WAR |
| Clayton Kershaw | 21 | 9-6 | 152.1 | 8.74 | 2.07 | 2.01 | 3.9 |
| Zack Greinke | 15 | 8-2 | 91.0 | 7.02 | 2.97 | 3.36 | 1.1 |
| Hyun-Jin Ryu | 15 | 8-3 | 122.0 | 7.08 | 3.02 | 3.25 | 1.7 |
| Ricky Nolasco (w/ MIA & LAD) | 21 | 6-9 | 129.2 | 7.01 | 2.08 | 3.75 | 1.9 |
| Bud Norris (w/ HOU) | 20 | 6-9 | 119.2 | 6.24 | 3.01 | 3.91 | 1.8 |
2013 Statistics courtesy of FanGraphs
That's a rotation that could clinch a spot in the playoffs for the Dodgers for the first time since the 2009 season. Sure, the offense needs to stay healthy and continue to be productive, but Los Angeles won't be a contender without a strong core of starting pitchers.
ESPN's playoffs predictor—via the current standings—gives the Dodgers a 49.8 percent chance of making it to the postseason. That percentage would certainly increase with the addition of Norris to the starting rotation. It may not seem like the most impactful move of the summer, but it's a move worth taking a shot on.
General manager Ned Colletti told Dylan Hernandez of the Los Angeles Times that he doesn't expect to make any major moves this summer. But that doesn't necessarily mean adding Norris is out of the question. Norris isn't a superstar, but he's a starter who would bring a lot of value to the Dodgers.
This isn't like when Colletti took on the contracts of Carl Crawford, Adrian Gonzalez and Josh Beckett from the Red Sox. This is a completely different situation and scenario. The Los Angeles GM needs to realize his pitching staff still needs a little bit of a boost, and Norris is the guy who can get the job done.
All statistics in this article were obtained via FanGraphs unless otherwise noted and are current through July 22. All injury information was obtained via Baseball Prospectus and all contract information was obtained via Cot's Contracts.