Pittsburgh Steelers Shoe-ins for the Hall Of Fame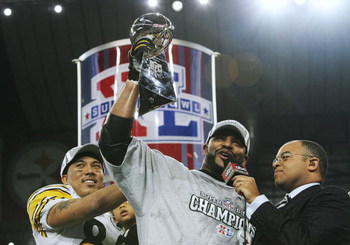 You know their faces and what they accomplished, now I will tell you which Pittsburgh Steelers, past and current, will have their bust in Canton one day.
This isn't a list packed with every member of the black and gold short of the towel boy, only the ones that truly made a difference.
Even though some have only played for a short period of time they already possess the numbers and the rings to walk across the stage in Canton, OH.
The Pittsburgh Steelers have practically made their own wing in the Pro Football Hall of Fame and with the talent they have right now, there seems to be no end in sight for more men of steel to become immortalized.
Ben Roethisberger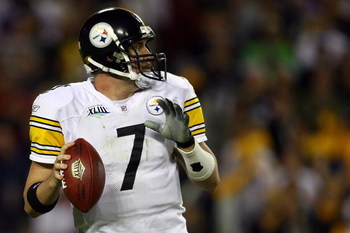 Boom! Didn't see that one coming now, did you?
While I'm sure this one will get the most comments lets put our cards on the table and see what we got.
Drafted in 2004, Big Ben was thrown in to a system without its starting quarterback and he hit the ground running.
He had a 66% completion, 98.1 quarterback ratting and tossed up 17 touchdowns en route to 2004 Rookie of the Year honors. Did I mention his only loss that year was all the way in the AFC Championship game?
The next year was history, his encore performance was a Super Bowl XL victory. Even though his performance wasn't the best, his post season run was invaluable.
Not even a motorcycle accident, emergency appendectomy and concussion could keep this guy out of the home opener the very next season. The season after that, he set a team season record with 32 touchdown passes.
However, nothing can top his 4th quarter comebacks. His most notable being a toss to Santonio Holmes with 32 seconds remaining in the corner of the end zone to put the Steelers ahead for good in Super Bowl XLIII.
Brady and Manning have the stats, Roethlisberger has the uncanny ability to come through when he's needed the most. Two rings won't hurt his chances during the voting process either!
Jerome Bettis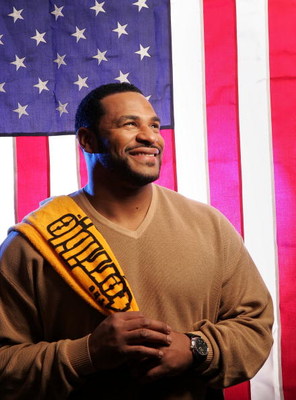 First of all, who could argue with a picture like that?
The fifth all-time leading rusher in NFL history was once thought to be finished after three years with the Los Angeles/St. Louis Rams after poor performance had him traded to Pittsburgh in 1996.
Enter "The Bus."
For a decade Jerome Bettis was the workhorse of the football team, running over linemen for first downs and practically unstoppable in the red zone.
His tell-all book recounts him nearly being released from the team but he proved his worth season after season as a force to be reckoned with but more importantly as a leader.
In 2005, the perfect ending to his career came to fruition. On the podium of the Super Bowl in his hometown of Detroit, he announced his retirement as he hoisted the Lombardi Trophy. A fitting end to a great career.
Hines Ward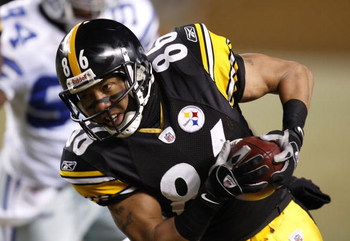 Mr. Smiles, Mr. Hits-Harder-Than-The-Defense, or who takes a lickin' and keeps on tickin'
Hines Ward now has virtually all Steelers franchise receiving records and he only had to compete with guys like Lynn Swann and John Stallworth.
Originally a 3rd round draft pick in 1998 he's blossomed in to a premiere receiver while others have come and gone.
How about the "Hines Ward Rule?" After the 2008 season a blindside block may no longer be delivered from the blockers helmet, forearm or shoulder to the defenders head or neck areas.
Among the unlucky on the receiving end of Ward's hits include Daven Holly, Keith Rivers (broken jaw) and Corey Ivy.
Despite the hard hits or rumored "bounties" on him, he constantly wears a grin on his face. His smile may shin the brightest off the field with his work in Korea as an advocate for the equal treatment of mixed-race children, like himself growing a half African American, half Korean child.
Recently, Hines Ward inked a new 5-year deal that will surely let him finish his career in Pittsburgh and secure his legacy in Canton.
Dick LeBeau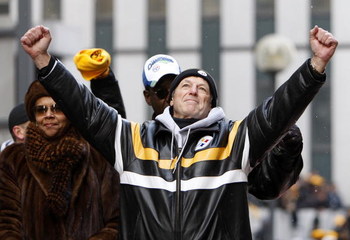 It may be Mike Tomlin's team, but it's Dick LeBeau's defense.
His resume includes being the architect of the Blitzburgh defense of the early 90's and the Big Nasty D of this decades Super Bowl runs.
A master tactician, his record speaks for itself. He created the patented Zone Blitz, designed not to outplay the opposing offense but outsmart them.
He is loved by his players. During a preseason game, his defense wore his old Detroit Lions jersey in warm ups to honor his play and campaign to get him in to the Hall of Fame.
"Coach Dad" as he is affectionately called has received many gifts through out the years including a Rolex watch.
Most recently, he was honored at the annual Dapper Dan Awards in Pittsburgh with the 2009 Lifetime Achievement Award.
While he may have only lasted 3 lack-luster years as a head coach with the Cincinnati Bengals he is arguably the most well known defensive coordinator in the league and one of the brightest all time.
Troy Polamalu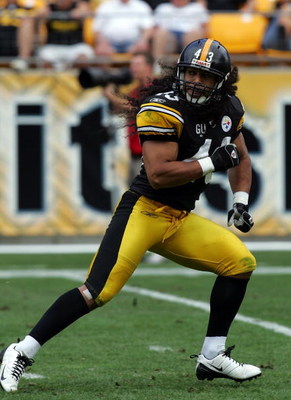 If his hair isn't enough to remember him by his play makes him unforgettable. Over the years, the hard-hitting Strong Safety has dazzled with his flying tackles and impossible interceptions.
A quite individual off the field, his presence is anything but in a helmet. His diving finger tip catch against the Chargers this past season will be shown for years. And his hair, its synonymous with Jack Lamberts missing teeth, waving behind him like a cape.
Then he is of course a game changer. His interception return for a touchdown in last years AFC Championship game sealed the deal for a Super Bowl birth.
The new father keeps a quiet life outside of football with hobbies like playing piano to working in his flower garden (try laughing to his face). This 5 time Pro Bowler shows no sign of slowing down anytime soon.
Bill Cowher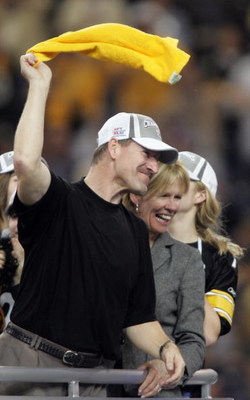 The man, the myth, the legend...The Jaw. He may have rock-pile teeth and spits when he yells but is without a doubt one of the best the ever coach a Steelers team.
The second longest tenured coach with the Steelers built a reputation of physical football. Born in Crafton, PA, he quickly became endeared for his fiery attitude and hometown likeness.
During his time as head coach, no team won more games than Pittsburgh. After a heartbreaking loss in the Super Bowl he would bring another championship back to the Steel City ten years later.
He chose to resign in 2007 to spend more time with his family and lead a more quiet life in North Carolina. His daughters are in school now, one at Princeton and he gets to spend more time with his wife.
He is currently a studio analyst for The NFL Today on CBS.
Who's Close, Who Should Be In?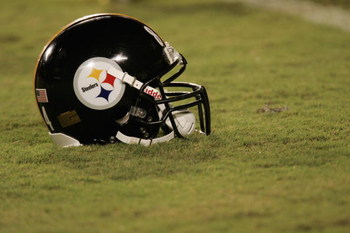 The Steelers have a lot of talent on the roster but it may be to early to order their gold jacket right now.
Santonio Holmes has broken out to become a premiere receiver and clutch performer but one catch in the Super Bowl doesn't automatically give you a bust in Canton. We'll have to watch his career unfold to see if he crosses the line from good to dreat.
James Harrison? while I wouldn't say it to his face, the Defensive Player of the Year will need to play at that consistent level over his career.
He may not have to be as unbelievable as this past year but definitely stay close. He admits, he still has work to improve on.
Rocky Bleier. He may not have set the records his teammates set but probably had the most heart of anyone to wear the black and gold, even "Mean Joe" Greene.
Wounded in Vietnam and told he was 40% disabled, he returned to the Steelers in 1970 and stayed for 10 more years.
He was the original Pat Tillman and although his numbers are not Hall of Fame worthy, his competitive nature has turned him in to a legend.
Keep Reading

Pittsburgh Steelers: Like this team?