The second and final day of the Big 12 Media Days is on Tuesday in the Omni Dallas Hotel, and there are several prominent personalities who will be most intriguing to watch.
Certain aspects, such as some new team jerseys, will be exciting to view, but with five of the power conference's head college football coaches slated to speak along with several athletes, the soundbites should be most interesting to listen to.
A couple of athletes stand out, but monitoring the comments of the only quarterback in attendance will inevitably garner the most attention.
Let's take a closer look at the most intriguing people to watch for when the action gets underway in Texas.
Note: Schedule of appearances is courtesy of Big12Sports.com.
Bob Stoops, Head Coach, Oklahoma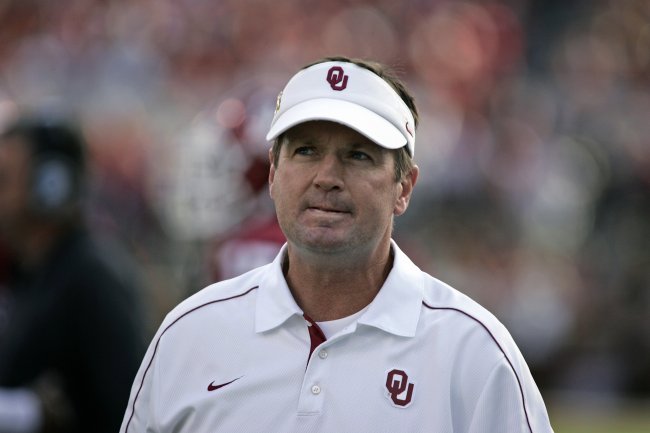 Brett Deering/Getty Images
Who are you most interested in watching for on Tuesday?
Controversy was generated when Stoops stated that "propaganda" is being fed in the media to essentially promote the mythological greatness of the Southeastern Conference, according to John E. Hoover of The Tulsa World.

Stoops argues that the SEC is very top-heavy and that there is a big gap between the conference's best and worst programs. That's a fair point, but few would argue that the Big 12 is superior.
It would not be surprising at all to see Stoops get peppered with questions about that in Dallas on Tuesday.
While many SEC players go on to be selected in the NFL draft, Stoops himself has an extremely impressive record in that regard since taking the helm in Norman in 1999, per the program's official Twitter:
41 days until #ItsFootballTimeinOklahoma! Under Bob Stoops, 41 #Sooners have been taken in the top five rounds of the NFL Draft since 1999.

— Oklahoma Football (@OU_Football) July 21, 2013
The coach should have yet another solid team this coming season despite the departure of prolific quarterback Landry Jones.
David Ash, QB, Texas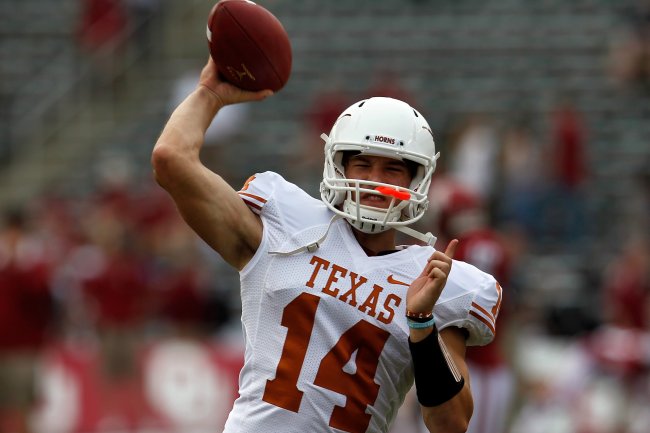 Tom Pennington/Getty Images
The junior is the only returning Big 12 quarterback from last year to appear at the conference media days, and after splitting time with Case McCoy throughout last season, it seems he has the starting job firmly in his grasp.
Ash had promising showings at times in 2012, and the final numbers are actually fairly solid: 19 touchdowns to just eight interceptions, a 67-percent completion rate and a yards-per-attempt of 8.49.
However, he had some dubious outings, particularly in the 63-21 loss to Oklahoma in which he threw two interceptions. Even against lowly Kansas, Ash completed eight of 16 passes with two picks.
Consistency will be the key, and Ash should have to field several questions about his spotty troubles with turnovers. To be fair, though, the Longhorns defense was often shaky, forcing Ash and Co. into obvious passing situations at times.
With the additional experiences under Ash's belt and the flashed ability to be a star, he should enjoy a relatively successful 2013 campaign.
Dana Holgorsen, Head Coach, West Virginia

J. Meric/Getty Images
Frequent shootouts characterized the Mountaineers of a season ago, led by the high-octane offense triggered by QB Geno Smith, who, along with his top playmakers in Tavon Austin and Stedman Bailey, is in the NFL.
John Antonik of WVUsports.com recently logged what Holgorsen had to say about the 2012 team. Expectations were high, especially after 5-0 start, but West Virginia hit the skids in dropping the next five contests before finishing 7-6.
Some of the more interesting topics covered were outlined by Antonik in a subsequent tweet:
By the way, @Holgorsendana had some interesting thoughts about depth and the # of plays his defense faces in the Big 12 on regular basis ...

— John Antonik (@JohnAntonik) July 18, 2013
As many points as the offense put up, it was actually somewhat of a detriment to a defense starting many true and redshirt freshmen.
The spread offense trend that is taking the Big 12 and college football by storm caused the Mountaineers' defense to be on the field far too long at times. The lack of roster depth on that side of the ball was exposed, and thus the offense couldn't always keep up.
Running the ball shouldn't be difficult, though, especially with the transfer addition of ex-Houston RB Charles Sims, who is a great receiving threat out of the backfield, too.
Holgorsen runs one of the most exciting offenses in the nation, and with an uncertain QB situation and last year's bitter ending, he should have plenty of note to say.