UFC on Fox 8 Preview: Demetrious Johnson vs John Moraga Head-to-Toe Breakdown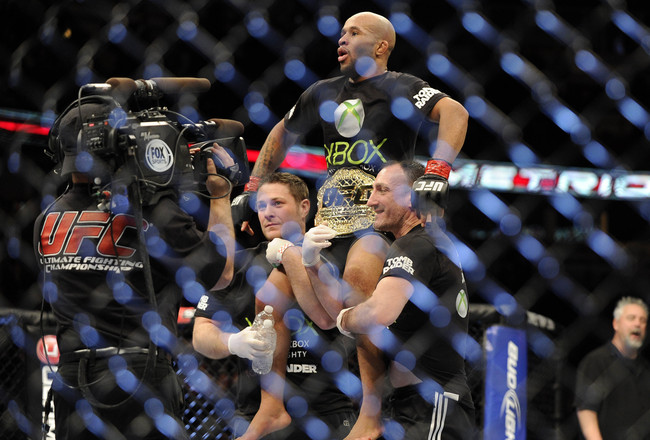 David Banks-USA TODAY Sports
Demetrious Johnson is set to defend the UFC Flyweight Championship against John Moraga this coming Saturday at UFC on Fox 8.
Johnson will be fighting in front of a friendly crowd in his backyard of Seattle, Washington.
Moraga earned his title shot with two straight victories inside the Octagon. He stopped former top-10 flyweight Ulysses Gomez and then submitted Chris Cariaso in December. Now he gets to fight the face of the division.
Mighty Mouse was last seen in January on Fox. He made the first successful defense of his title against John Dodson—who happens to be Moraga's lone loss.
The two elite flyweights will headline a stacked card that will be brought to your living room live and free on Fox.
This is your breakdown of the upcoming flyweight title bout.
Striking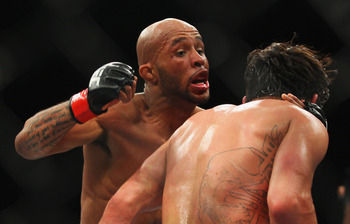 Mark Kolbe/Getty Images
"Mighty Mouse" Johnson may be one of the best technical strikers in the division. He is lightning quick, has excellent head movement, and his footwork is second to none.
Moraga, on the other hand, brings power. He has the ability to alter the fight with one clean punch. That will be something Johnson has to worry about.
The champion was caught several times against Dodson, and Moraga will be sure to study that tape. Johnson will also be studying that to fix his mistakes.
While Moraga has good power, Johnson has shown the ability to eat hard shots and keep coming forward. He has also showed his resilience. Add that to his superior technical ability, and the striking category is solidly in his favor.
Edge: Johnson
Wrestling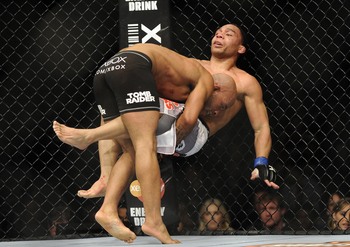 David Banks-USA TODAY Sports
The wrestling battle will be one of the keys to this fight.
Johnson is a very skilled wrestler, and his MMA wrestling is fantastic. However, it's Moraga that has the better credentials.
The Arizona State Sun Devil has more experience at a higher level than Johnson. His wrestling is top notch, but in MMA there is more to it than just pure wrestling ability. That is why I shy away from giving him this category.
Johnson gets a slight edge because of his proven ability to change levels from striking to wrestling in the blink of an eye. He has taken down the very best wrestlers in the division, and Moraga will be just another name on that list. His striking and wrestling blend together seamlessly.
That is where Johnson has the edge.
Edge: Johnson
Submissions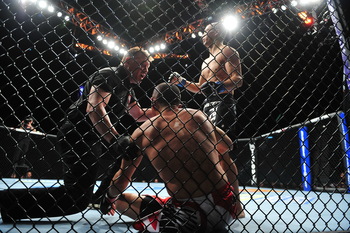 Gary A. Vasquez-USA TODAY Sports
The submission game is razor-thin as well. Both competitors have six submission victories to their credit.
Johnson has shown more of his defensive jiu-jitsu in his UFC run than his offensive skills.
Mighty Mouse put on a great defensive display against Miguel Torres in his second UFC bout. Torres repeatedly threatened with submissions and sweeps, but Johnson had an answer for each attempt. That has been a constant throughout his career.
Moraga will get a very slight edge due to his submission of Cariaso. He is more able to finish via submission, and has more tapouts in recent times than Johnson. The champion tries to ground-and-pound more than seek a submission.
Edge: Moraga
X-Factors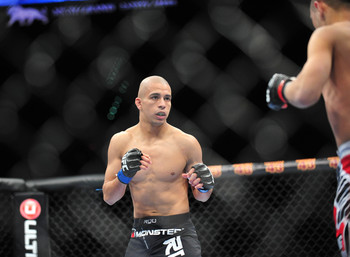 Gary A. Vasquez-USA TODAY Sports
Johnson's X-Factor: Deep Water
Johnson has been in five-round wars quite a bit. In fact, it was a big factor in his title defense against John Dodson earlier this year.
Dodson, like Moraga, has a lot of cardio. However, he wasn't able to keep the pace of Johnson for 25 minutes. That is the key for Johnson.
Mighty Mouse's output and pace wears on his opponents. If he cannot finish Moraga early on he can drag him in to deep waters and drown him. The champion has the experience of championship rounds, and that is a big advantage for Johnson.
Moraga's X-Factor: Limit Johnson's Movement
The champion's movement is extraordinary, and it create a lot of problems for his opponents. It makes him hard to hit and hard to get a hold of.
Moraga has to find a way to limit the movement of Johnson. He can try to batter him with leg kicks or cut off the cage and take him down. Regardless, he needs to stop Johnson from bouncing all around the large Octagon.
The longer he can get Johnson to stand in front of him, the better opportunity he has to take home gold.
Prediction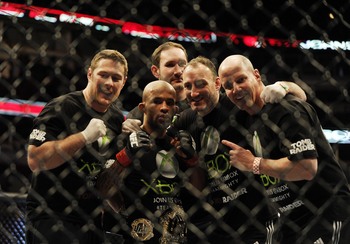 David Banks-USA TODAY Sports
Johnson holds the total overall advantage entering this bout, but don't count Moraga out. He is a capable and quality fighter who has a good shot at defeating Johnson.
I just don't see it happening.
Johnson is simply too skilled to drop this fight. He won't stand in front of Moraga to be hit with a big shot, and he has the defense to avoid being taken down. And should the fight hit the canvas, his jiu-jitsu defense is incredible.
Over the course of 25 minutes the champion's total output will win over judges, and will wilt the challenger.
Moraga will be sucking wind after the third. Johnson takes over, pours it on and is eventually peeled off his prey in the fourth round.
Prediction: Johnson defeats Moraga by TKO in the fourth round
Keep Reading