Winners and Losers from Houston Rockets' Summer League Team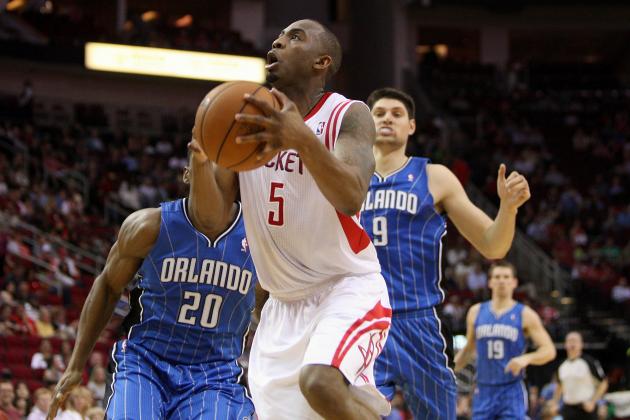 Troy Taormina-USA TODAY Sports
James Anderson certainly wasn't a "winner," and now finds himself with an entirely different team.
The Houston Rockets concluded their play in the Orlando NBA Summer League with a loss to the Oklahoma City Thunder in the championship game, bringing their overall record in the league to 4-1. The team was certainly a winner as a whole, but what about the individual parts?
Despite the league's relative lack of importance, teams can learn vital lessons about roster construction from the individual performances of players who otherwise wouldn't be given a chance. Scouting and preparing well for the summer league could be the difference between general managers finding cheap players to fill up the roster or having to go into free agency to do so.
Rockets GM Daryl Morey took the first approach and found some potentially important pieces in the process. In an offseason being talked about as the one where the Rockets made a splash in free agency, it could be the moves for young role players that end up making the biggest difference.
Of course, there were just as many losers as there were winners. When new players find their way onto a team's roster, there have to be other players vacating said positions. It's the circle of life in the NBA.
Begin Slideshow

»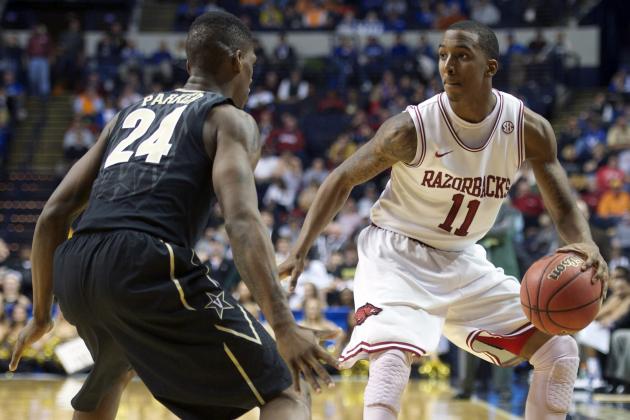 Joshua Lindsey-USA TODAY Sports

B.J. Young, a rookie who went undrafted out of Arkansas, played so well in the summer league that the Rockets offered him a three-year contract with a "small first-year guarantee."
The fact that there's money guaranteed suggests head coach Kevin McHale envisions himself giving Young playing time during the regular season—even if it's only a few minutes per game. The 6'3" guard has great length and would bring even more athleticism to an already athletic Rockets team.
During 18.5 minutes per game in Orlando, Young averaged 11.8 points, 1.8 assists and 1.5 rebounds. He performed best in the team's final two games against the Brooklyn Nets and Oklahoma City Thunder, scoring 15 and 20 points, respectively.
Young declared for the NBA draft after a successful sophomore season in which he scored 15.2 points per game. Young isn't a particularly great shooter (44.9 percent from the field), nor is he very good from the free-throw line (66.9 percent). His ability to get to the basket and finish at the rim must have been enough for Daryl Morey.
It will be very interesting to see his role on the team come the regular season.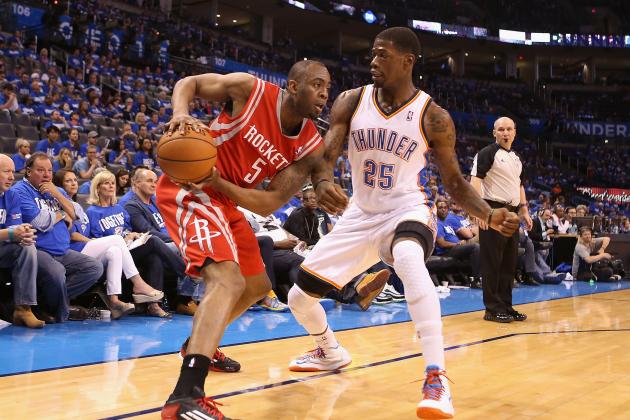 Christian Petersen/Getty Images

Unfortunately for shooting guard James Anderson, the signing of B.J. Young signaled the end of his run with the Rockets. After playing 29 games with Houston last season, the team decided to waive him right after signing Young.
Luckily for him, he was claimed right away by the Philadelphia 76ers.
Many felt that Anderson was in danger of being waived prior to the emergence of Young in Orlando, as his salary and presence on the roster prevented Daryl Morey from making moves in free agency. Anderson was not a catalyst in the team's surprising run last season, so losing him likely won't come back to haunt the team.
He only averaged 10.6 minutes and 4.0 points per game last season in Houston, as James Harden didn't exactly sit all that often. Anderson actually received even less playing time in 10 games for the San Antonio Spurs prior to coming over to Houston. He averaged 9.4 minutes and 3.4 points per game for the Spurs.
Anderson could prove to be better off in Philly, while Young could step up and fill that same role for the Rockets next season.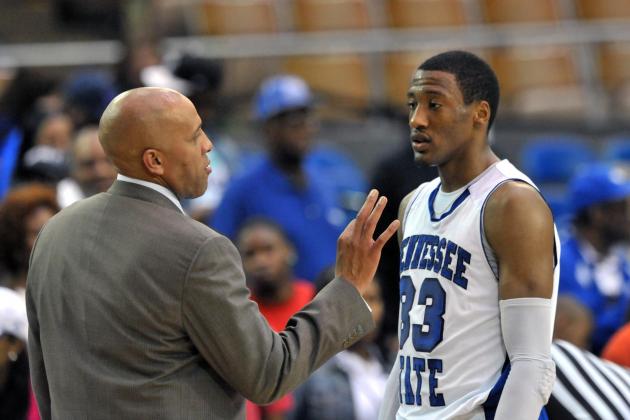 Jim Brown-USA TODAY Sports

Robert Covington went undrafted out of Tennessee State, but the Rockets invited him in for a workout and extended an invitation to the Orlando Summer League. This turned out to be a great move, as he played well enough to earn a contract.
At 6'9", Covington is a forward who can shoot with the best big men in the league. It can be argued that he's a better sniper than a majority of the players who were actually selected in the draft. He nailed at least 37 percent from three in each of his four seasons at TSU, hitting nearly 45 percent in two of those years. Those marks came with him averaging nearly three attempts per game from long range.
Covington has ridiculous length (7'2" wing span), and that length allows him to shoot over nearly anybody. Listed as a power forward, Covington's surprising lack of defense will likely shift him over to small forward.
Locking up great shooters is a go-to move for Daryl Morey, and he did just that yet again with Covington. He may not crack the NBA roster right away and instead could be asked to play for the Rio Grande Vipers of the D-League. He has a partially guaranteed contract and a great touch from deep, though, so he may not spend a very long time down there.
Even if his future is as a role player, Covington's NBA future seems bright.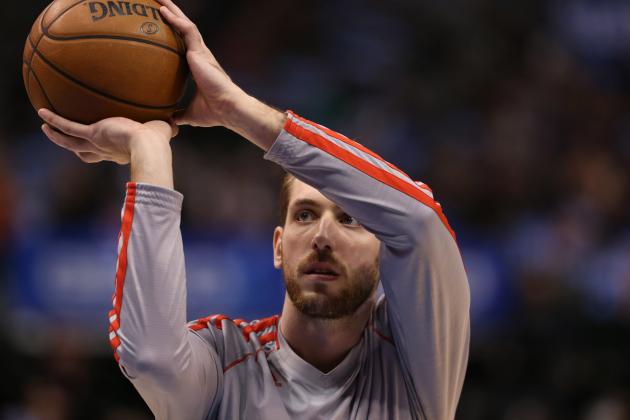 USA TODAY Sports

Like James Anderson, Tim Ohlbrecht was waived by the Rockets and then claimed by the 76ers.
Dwight Howard's signing, Omer Asik's persistence and Greg Smith's showing from last season had made Ohlbrecht expendable, but the Rockets likely allowed him to play in the summer league to see if he was worth stashing in the D-League. Obviously, the Rockets did not love what they saw.
Ohlbrecht did not make much of an impact with the team last season, playing just three games for a total of 12 minutes. He only scored three points and grabbed just one rebound. He has a much better chance of finding playing time in Philadelphia. Spencer Hawes is the clear starter at center, but Kwame Brown isn't the most reliable of reserves. Even if the two split reserve duties, Ohlbrecht will be in a much better position regarding playing time.
In terms of being on the better team, Ohlbrecht really loses out on that one. The 76ers probably won't do anything next season, whereas the Rockets stand to move up the ranks of the Western Conference. It all comes at a cost, I suppose.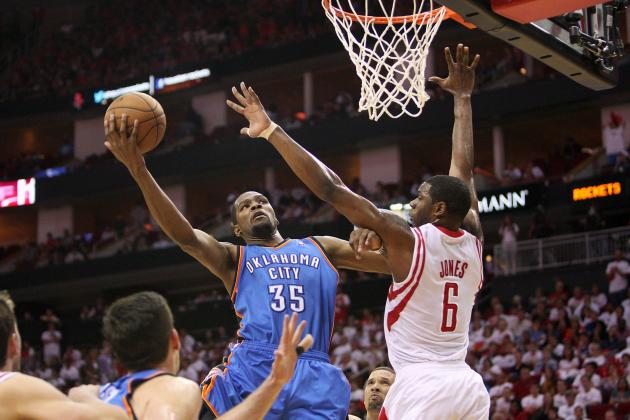 Troy Taormina-USA TODAY Sports

Terrence Jones put on a very strong showing in the Orlando Summer League, scoring 15.8 points per game—good enough for seventh-best in the league.
He didn't just serve as a scorer, though. He also pulled down seven boards and blocked 1.3 shots per game. Jones filled the stat sheet in the summer league, and his role during the upcoming season could potentially be impacted by his strong performance.
While training camp will also have implications on his playing time during the regular season, Jones was the team's best player in the summer league and finally played up to his potential. He was a bit of a disappointment during his rookie season, but his sophomore season in 2013-14 could prove to have a much better outcome.
The power forward position is up for grabs entering the season. Jones, Donatas Motiejunas, Greg Smith and even Omer Asik could start the season there, but Jones' performance could put him at the top of the depth chart.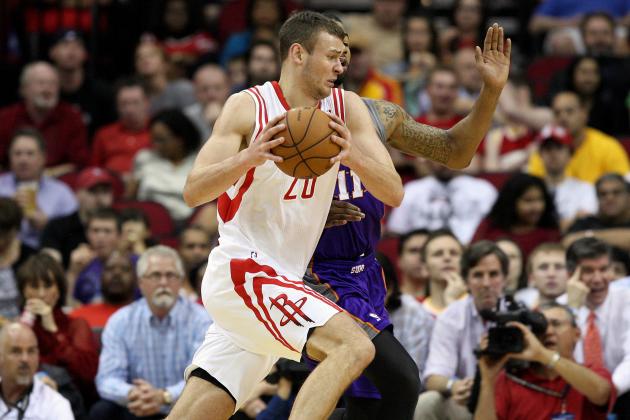 Troy Taormina-USA TODAY Sports

Donatas Motiejunas did not play in the Orlando Summer League, though his stock heading into the season could actually be heading down because of Terrence Jones' strong play. Many considered Motiejunas the favorite to land the power forward's job, but Jones has likely sneaked ahead of him over the past month.
He started 14 games for the Rockets last year (he played in 44 total) and averaged 5.7 points and 2.1 rebounds in 12.2 minutes per game. He played just one game in the playoffs, perhaps showing that Kevin McHale does not have much faith in the seven-footer.
He's not a very good rebounder for a guy his size and often plays very soft. The one advantage he has over Jones is that he's a better shooter, but Jones offers much more athleticism and overall potential. Barring any surprises in training camp, McHale should have a pretty easy decision to make.
Motiejunas is a serviceable backup and will likely find spot starts here and there, but don't expect him to get nearly as much playing time as Jones.