One Player Each NFL Team Needs to See Perform in Training Camp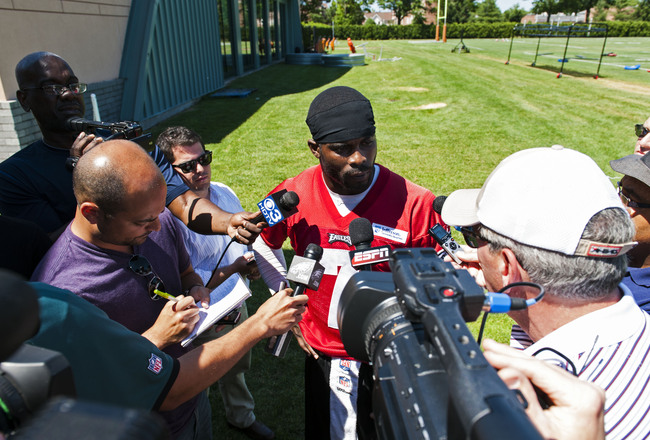 Howard Smith-USA TODAY Sports
As all 32 NFL teams soon embark for training camp, the journey of hoisting the Lombardi trophy becomes the biggest goal for every single organization.
One way that goal can be achieved is by having certain players elevate their game in 2013. Which rookies will quickly live up to the lofty expectations and burst onto the scene during the summer? Which veteran players on the bubble can prove their value to a team over the next month?
Each team has expectations for a certain player on their roster to perform at a high level during training camp. Here is an outlook for each franchise.
Arizona Cardinals: WR Michael Floyd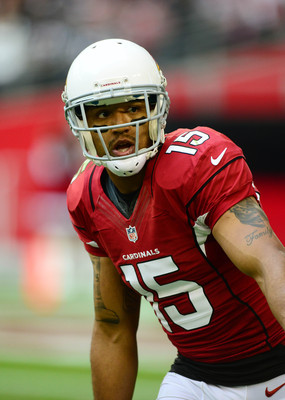 Mark J. Rebilas-USA TODAY Sports
When the Arizona Cardinals represented the NFC in the Super Bowl a few years back, the building blocks for their franchise were a quality veteran quarterback and two wide receivers who can elevate an offense when it matters most.
After a lackluster campaign in 2013, the addition of Carson Palmer adds some stability to the offense. Larry Fitzgerald continues to prove he is an elite wide receiver despite the results on the stat sheet.
The question that remains is the development of Michael Floyd, who was drafted by the Cardinals in the first round of the 2012 draft. With head coach Bruce Arians turning the offense into an aerial attack, the coaching staff is relying on Floyd to prove his worth as a quality option for Palmer, and thus add more intrigue to the league's toughest division.
Atlanta Falcons: CB Desmond Trufant
Dale Zanine-USA TODAY Sports
The Atlanta Falcons continue to present championship aspirations after coming up short in the NFC Championship game last January. Though, that didn't prevent the franchise from parting ways with veteran talent in the secondary.
With the departures of Dunta Robinson and Brett Grimes, the Falcons addressed the vacancy at the position by selecting Desmond Trufant in the first round.
Now, Trufant finds himself on top of the depth chart and is expected to fill the immediate void in Mike Nolan's defense. He will certainly be challenged during training camp as he defends teammates Julio Jones and Roddy White each day.
There is no better way for a rookie to improve his game than to learn from the best.
Baltimore Ravens: WR Tommy Streeter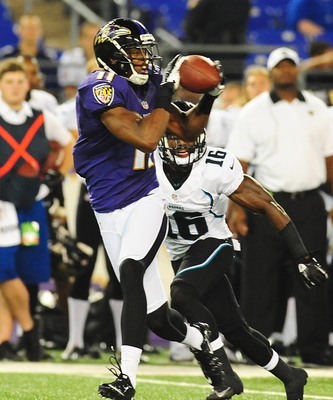 Evan Habeeb-USA TODAY Sports
The defending Super Bowl champions enter training camp with an open battle for the second option at wide receiver behind Torrey Smith.
That leaves an opportunity for second-year receiver Tommy Streeter to challenge Jacoby Jones in camp for the position on the depth chart.
Streeter brings the necessary speed and athleticism to the position, but it remains to be seen whether he can stay healthy throughout camp and improve his route-running skills enough to justify becoming involved in Jim Caldwell's offense.
Buffalo Bills: QB E.J. Manuel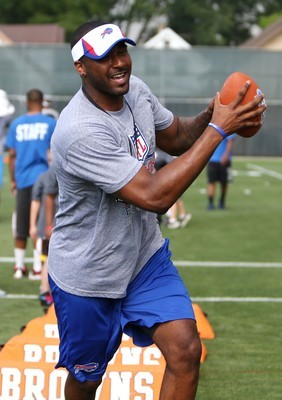 Ron Schwane-USA TODAY Sports
The Bills have made a commitment to E.J. Manuel as the leader of the franchise. However, the question remains whether or not Manuel proves he is capable of becoming the starter by Week 1 against New England.
There has been no clear-cut winner in the battle between Manuel and veteran Kevin Kolb. New head coach Doug Marrone and offensive coordinator Nate Hackett continue to instill their game plan among both quarterbacks.
While Kolb could potentially gain the upper hand early on in camp, Manuel is in a prime position to overtake him as the starter if he shows the ability to decipher NFL defenses and adapts to a pro-style offense in Buffalo.
Carolina Panthers: WR Brandon Lafell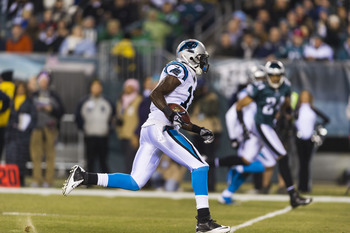 Howard Smith-USA TODAY Sports
The Panthers have made the obvious commitment to Cam Newton as the franchise quarterback since drafting him first overall in the 2011 draft.
But it remains to be seen if the organization has added a surplus of talent around Newton that can allow him to excel in the passing game.
Thus, Brandon Lafell has the opportunity to become a more consistent option for Newton opposite veteran Steve Smith. Lafell managed only 677 yards receiving and four touchdowns in 2012.
Whether fair or unfair, the pressure will be on the former LSU standout to reach his full potential at the pro level.
Chicago Bears: WR Alshon Jeffery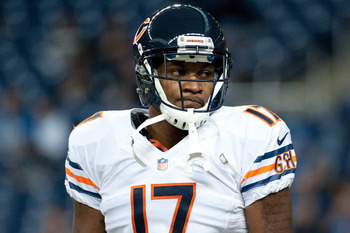 Tim Fuller-USA TODAY Sports
When the Bears selected Alshon Jeffery in the 2012 draft, the potential to pair him alongside Brandon Marshall for the near future seemed to be a realistic expectation.
Now with the emergence of Marc Trestman bringing his offensive knowledge to the NFL, Jeffery needs to reassure the first-year head coach that he can become reliable by staying healthy and continue to improve into a second option in the Bears passing game behind Marshall.
Jay Cutler faces a major turning point in his career as he prepares for a contract year. For his sake, any improvement of Jeffery will be beneficial for improving his overall play moving forward.
Cincinnati Bengals: RB Giovani Bernard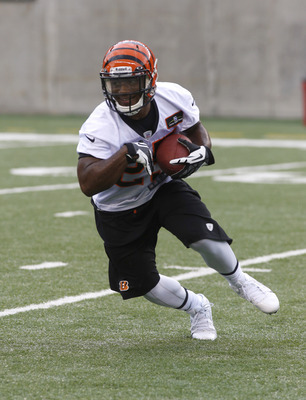 David Kohl-USA TODAY Sports
The Bengals displayed a major commitment towards improving the talent on offense with the additions through this year's draft.
While Tyler Eifert gains most of the attention, running back Giovani Bernard can present a challenge to Benjarvus Green-Ellis for carries at tailback.
Bernard displayed his explosiveness while at UNC and adds a unique dynamic to an offense that came to a halt during the last two appearances in the postseason.
As the organization continues to build around Andy Dalton, it doesn't hurt to have a running back who is capable of becoming a home run threat out of the backfield on any possible play.
Cleveland Browns: QB Brandon Weeden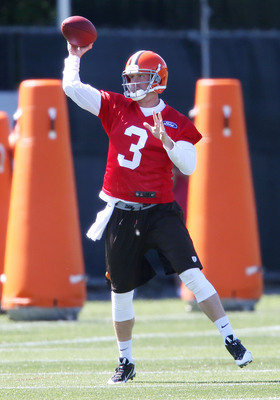 Ron Schwane-USA TODAY Sports
As the Browns continue to move forward with a new owner and coaching staff, Brandon Weeden has an opportunity to enhance his performance in his sophomore year and ensure himself as the quarterback beyond 2013.
Though, it would help for Weeden to begin on the right path with offensive coordinator Norv Turner with an impressive training camp and preseason.
With a stellar performance in July and August, Weeden can avoid any doubts about the quarterback position becoming a legitimate competition with Jason Campbell.
Dallas Cowboys: RB DeMarco Murray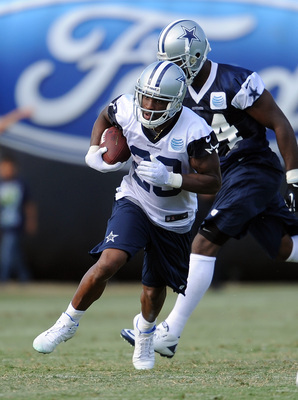 Jayne Kamin-Oncea-USA TODAY Spor
The Dallas Cowboys have an undeniable plethora of talent on offense, as Dez Bryant and Jason Witten consistently are Tony Romo's most reliable targets.
However, head coach Jason Garrett wants an improvement in the running game, which is where DeMarco Murray comes into play. Can he stay healthy enough to be an effective starter for Dallas in 2013?
While it's a concern, Murray is an effective runner when healthy and can use the upcoming training camp to prove that he is fully recovered from injury and can handle a major load when the season begins.
Denver Broncos: LB Shaun Phillips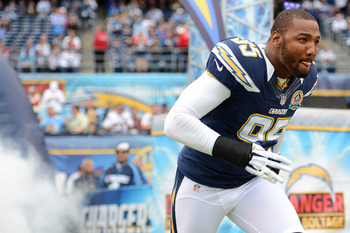 Jake Roth-USA TODAY Sports
The Denver Broncos received discouraging news as training camp nears, with the announcement that the NFL has suspended Von Miller four games for violating the substance abuse policy, according to ESPN.com.
If the suspension does stay intact, then veteran Shaun Phillips will have big shoes to fill as he replaces the All-Pro linebacker. Phillips has plenty of experience against Denver in the past, as he has played the majority of his career with the San Diego Chargers.
Although Phillips won't replace the production of Miller, his veteran experience can be a quality addition to a championship contender.
Detroit Lions: CB Chris Houston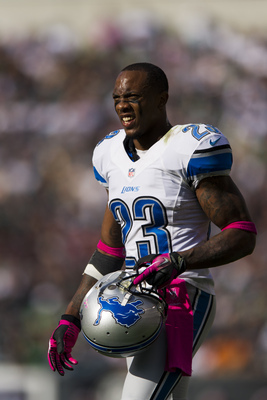 Howard Smith-USA TODAY Sports
The Lions will look to return to becoming competitive in the NFC North, with the improvement of the secondary becoming a major reason why.
Chris Houston is among the cornerbacks looking to make their mark in 2013, with the potential to become the leader of that unit against some of the more explosive offenses in the game.
Houston displays a great deal of experience as a seven-year veteran in the league and needs to emerge as a leader who head coach Jim Schwartz can trust heading into the season.
Green Bay Packers: RB Johnathan Franklin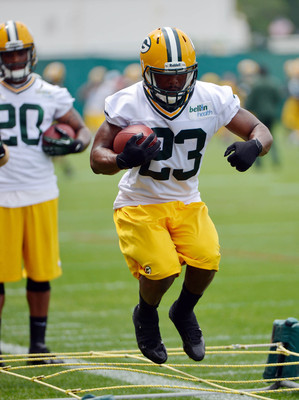 Benny Sieu-USA TODAY Sports
The Packers made it clear that in order to compete with the NFC's elite for a championship, an improvement was needed in their balanced attack. As a result, Green Bay improved the position with the selections of both Johnathan Franklin and Eddie Lacy in the draft.
Yet Franklin is primed to emerge as the halfback who leads the charge in the Packers backfield. His ability to stay healthy, along with his impressive athleticism, makes him a viable running back to use in a spread offense that Green Bay can orchestrate.
With the running back competition wide open, Franklin will have the opportunity to make his impact early on in his NFL career.
Houston Texans: RB Ben Tate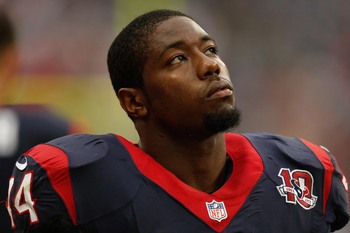 Thomas Campbell-USA TODAY Sports
Arian Foster has emerged as one of the game's elite running backs over the past three years. Though, it's fair to question Foster's workload as the lead runner for Houston over the last few seasons and whether those injuries could take a toll in 2013.
Ben Tate has slowly received a more prominent role in the offense and could be in line for more carries with another stellar summer performance.
Tate is the ideal No. 2 halfback for the Texans, but he can become more effective in 2013 as the team tries to limit Foster's carries.
Indianapolis Colts: WR Darrius Heyward-Bey
Brian Spurlock-USA TODAY Sports
The Colts have established their new franchise quarterback in Andrew Luck but now need to focus on building upon his stellar rookie campaign.
One way to improve Luck's development is the increasing amount of talent surrounding him. As a result, the Colts felt it was worthwhile taking a chance on former first-round pick Darrius-Heyward Bey. While his inconsistency in Oakland proved to be his downfall, a possible change of scenery could do the trick for an incredible athlete who can receive proper coaching.
If Heyward-Bey can become a proper replacement for Donnie Avery, then the Colts can be in a good position to return to the postseason for a second straight year.
Jacksonville Jaguars: QB Chad Henne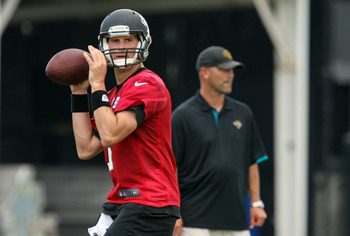 Rob Foldy-USA TODAY Sports
The Jaguars find themselves rebuilding beyond 2013, but the uncertainty at the quarterback position will be an interesting development during training camp.
Chad Henne emerged as the starter when Blaine Gabbert was injured, and it's imperative for him to produce with the first team in training camp and earn a starting job in this league.
Due to the lack of talent at the position, Henne can take advantage of the opportunity to start in this league and use this season to build on his career for the future.
Kansas City Chiefs: WR Jon Baldwin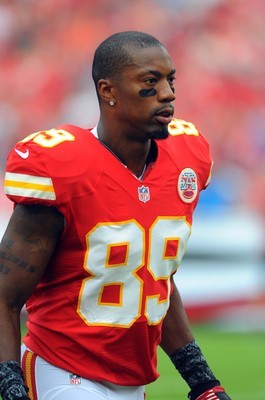 Denny Medley-USA TODAY Sports
The Chiefs begin a new era with the hiring of Andy Reid and the acquisition of quarterback Alex Smith. Smith joins an offense where Jamaal Charles and Dwayne Bowe were responsible for the majority of the production in 2012.
Though, Kansas City hopes to rely on former first-round pick Jon Baldwin to make strides in 2013. Baldwin's development has stalled as he played under two head coaches during his short time in the league. With the emergence of Reid and his offensive system, Baldwin can become a legitimate second option alongside Bowe if he displays the work ethic to impress the new Chiefs coaching staff.
Miami Dolphins: CB Jamar Taylor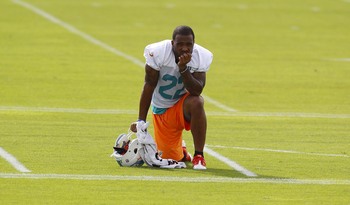 Robert Mayer-USA TODAY Sports
The Miami Dolphins showed aggression to improve their defense with the acquisitions of Dannell Ellerbe and Brett Grimes. While those signings receive the most attention on a weekly basis, their most valuable draft pick could turn out to play a valuable role in the defense's improvement.
Jamar Taylor was an impressive lockdown corner while at Boise State, and his athleticism and intensity makes him an attractive option to start opposite the veteran Grimes. He will certainly have his opportunity to win the job, as he will be closely monitored throughout camp and the preseason. He is a young, valuable asset within the organization who can begin making his mark in the next few weeks.
Minnesota Vikings: WR Jerome Simpson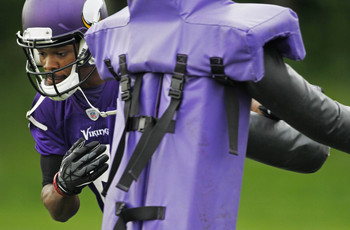 Bruce Kluckhohn-USA TODAY Sports
The Vikings made a clear effort to improve the talent around Christian Ponder by signing Greg Jennings and drafting Cordarrelle Patterson. However, veteran Jerome Simpson is the crucial piece for Ponder to become the reliable veteran option opposite Jennings.
Simpson enters his second season with the Vikings and needs to improve the continuity he has built with Ponder. While Simpson appears to be a safe bet to become the second receiver on the depth chart, an intriguing battle will involve him and Patterson, who has the tools to earn more playing time early on if he develops right.
New England Patriots: WR Aaron Dobson
Bob DeChiara-USA TODAY Sports
The Patriots continue to undergo a transition with the departures of both Wes Welker and Aaron Hernandez. And while the organization has not drafted and developed young receivers well over the last few years, there is a sense that Aaron Dobson could become Tom Brady's next biggest target.
As Doug Kyed of NESN.com mentions, Dobson will be battling for reps against Josh Boyce. With the amount of playing time available in New England's offense, the rookie out of Marshall could become another valuable offensive weapon for the Patriots.
New Orleans Saints: RB Mark Ingram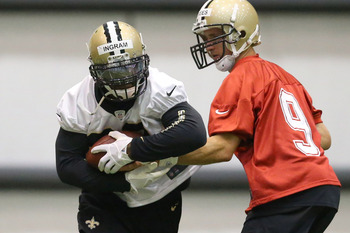 Crystal LoGiudice-USA TODAY Spor
The Saints are regrouping as head coach Sean Payton returns to the sidelines. Payton's offense will continue to focus around quarterback Drew Brees, but that doesn't mean the unit can't benefit from a balanced attack.
Mark Ingram says his health is on par with how it was during his playing days at Alabama. If that's the case, then the former Heisman winner has the potential to compete with Pierre Thomas for the majority of carries within the offense.
Look for Payton to show the determination to create a more effective and unpredictable offense, which could lead to Ingram receiving an increase in opportunity.
New York Giants: Rueben Randle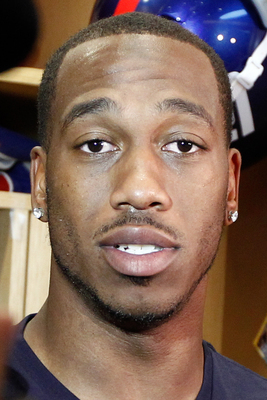 Debby Wong-USA TODAY Sports
As the Giants look to return towards competing for another championship, a crucial component may very well be the development of Rueben Randle. The second-year wide receiver has a full season under his belt and could become an extremely effective third receiver in the Giants offense.
Certainly, Tom Coughlin will focus on building a balanced attack. However, Randle could provide insurance for the Giants in the event that Hakeem Nicks continues to battle injury problems in 2013.
If Randle can take the next step in his development by improving through training camp, the Giants might have found themselves another young and talented receiver to develop moving forward.
New York Jets: CB Dee Milliner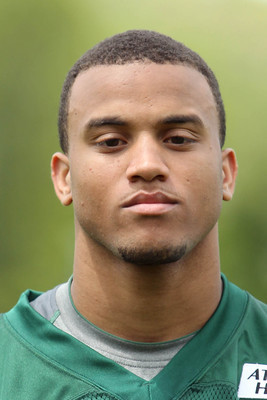 Brad Penner-USA TODAY Sports
The Jets made a franchise-changing decision when they dealt Darrelle Revis to the Tampa Bay Buccaneers this offseason. In return, they drafted his replacement in Dee Milliner.
Although Milliner is undoubtedly a starter by Week 1, it's evident that the Jets would prefer an easy transition for Milliner, who is going to face pressure to become the next dominant corner for the franchise in the future.
With the Jets defense having the talent to become a formidable unit in the future, Rex Ryan would like to witness the former Alabama Crimson Tide product to gain confidence during the month-long training camp.
Oakland Raiders: WR Jacoby Ford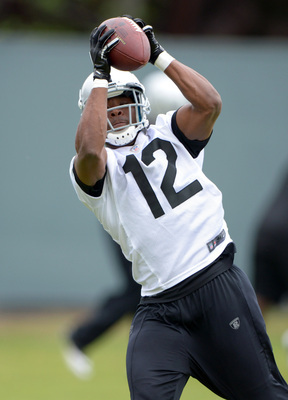 USA TODAY Sports
As the Raiders continue to struggle as a franchise, a legitimate concern is who the team can count on to become consistent playmakers on a week-to-week basis.
Can Jacoby Ford improve his all-around game as an explosive game-changer? With Matt Flynn potentially starting at quarterback for a full season, Ford has an opportunity to become one of the two primary targets for the veteran quarterback and have a quality season as he enters his contract year.
Philadelphia Eagles: QB Michael Vick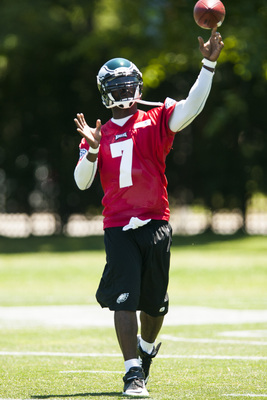 Howard Smith-USA TODAY Sports
The Eagles made a monumental move this offseason with the hiring of Chip Kelly, who notoriously implemented an impressive up-tempo offense at Oregon.
With the quarterback competition currently undecided, Michael Vick needs to use the next month to establish himself as the leader of this offense in 2013. His performance needs to make this decision to name him the starter a unanimous one, leaving no doubts that he is the better option over Nick Foles.
Pittsburgh Steelers: RB Le'Veon Bell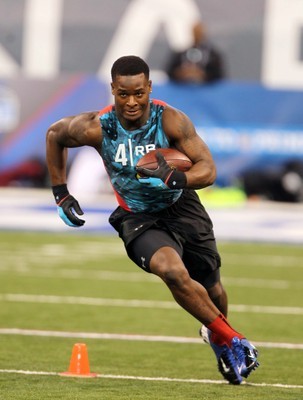 Brian Spurlock-USA TODAY Sports
The Steelers struggled towards an 8-8 finish in large part due to the injuries on offense and the lack of chemistry between Ben Roethlisberger and Todd Haley.
Pittsburgh's winning formula of running the football will come into play this year, especially if rookie Le'Veon Bell becomes the starting running back by Week 1.
With Rashard Mendenhall's departure, Bell has an opportunity to defeat Isaac Redman in the battle for the top spot and add the toughness that the Steelers envision with their physical runners.
St. Louis Rams: RB Daryl Richardson
Kim Klement-USA TODAY Sports
The Rams endured plenty of change on offense, both in a positive and negative way. Steven Jackson's departure leaves a group of young running backs for Jeff Fisher to work with in 2013.
While there is a possibility that the Rams will split carries between both of their running backs, Daryl Richardson is in a position where he could go from seventh-round draft pick in 2012 to becoming the starter during this upcoming season.
Although it's not set in stone, Richardson brings a totally different dynamic than Jackson ever did—his elite speed complements the young and fast receivers on the outside.
Thus, the Rams will use training camp to see how both running backs respond to competition, but you can look for Richardson to take the reigns as the primary running back in the rotation.
San Diego Chargers: WR Vincent Brown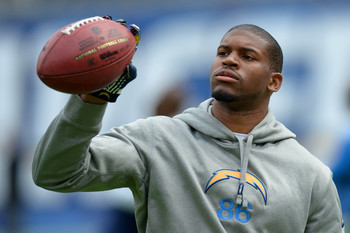 Jake Roth-USA TODAY Sports
Vincent Brown has shown the potential to be a viable threat in the Chargers offense, but injuries last season plagued him from showing an impact in 2012.
As Mike McCoy takes control of the Chargers offense, Brown is in the middle of an open competition at receiver for the top two positions on the depth chart.
If Brown can stay healthy and show for a second straight training camp that he has potential to become a valuable talent in this league, the Chargers and quarterback Philip Rivers could become pleased with the dynamic threat they can put on the field.
San Francisco 49ers: WR Quinton Patton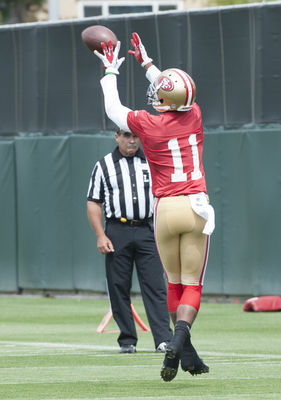 Ed Szczepanski-USA TODAY Sports
The 49ers continue to build one of the more talented rosters in the league due to their keen eye for talent through the NFL draft. In this year's draft, Trent Baalke selected Quinton Patton, which happens to be a receiver that needs to play a prominent role in 2013.
Due to the Michael Crabtree injury, the depth chart is a question mark after Anquan Boldin. Patton can quickly become a factor in the 49ers offense if he continues to improve his route running while picking up Greg Roman's offense effectively.
Seattle Seahawks: RB Christine Michael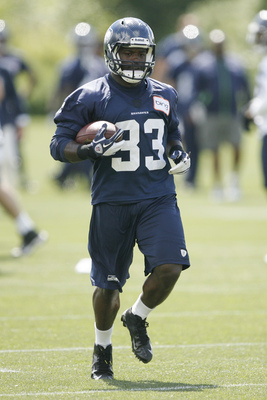 Joe Nicholson-USA TODAY Sports
The Seahawks display one of the more talented rosters in the league. With depth at nearly every position, the key players to watch during training camp are rookies such as Christine Michael, who is battling for playing time.
While Marshawn Lynch is the primary running back in 2013, it's never too early for Seattle to look ahead as the team could potentially cut ties with him after the season.
It is important that the Seahawks recognize what talent they have at the running back position and whether it can be useful beyond this season. But more importantly, the rookie out of Texas A&M could be an incredible change-of-pace back and add more speed to an offense that currently features Percy Harvin and Sidney Rice.
Tampa Bay Buccaneers: CB Johnthan Banks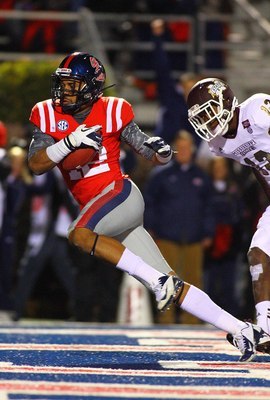 Spruce Derden-USA TODAY Sports
The Buccaneers grabbed headlines this offseason by acquiring All-Pro cornerback Darrelle Revis. And while that is a drastic upgrade to the secondary, the key could very well be rookie Johnthan Banks.
Banks is in a great position to start opposite Revis by Week 1, especially with the team parting ways with Eric Wright. With the new and talented secondary adding new pieces to its rotation, the only concern is how quickly the unit can build chemistry before the Week 1 opener.
Most eyes will be on the rookie Banks, who is ready to prove his worth to the veterans and the rest of the coaching staff in a heartbeat.
Tennessee Titans: WR Kenny Britt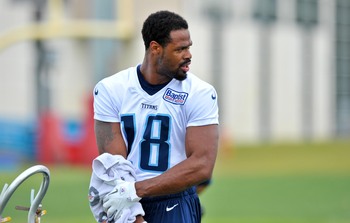 Jim Brown-USA TODAY Sports
Kenny Britt has displayed the potential to become a top-flight receiver, but injuries and run-ins with the law have prevented him from improving as a pass-catcher.
This training camp will be an important one for Britt, who now faces legitimate competition near the top of the depth chart. Justin Hunter and Kendall Wright are young, emerging talents who could put Britt's time in jeopardy if he is unable to elevate his game.
Britt also needs to use training camp to build chemistry with Jake Locker, who will be the starting quarterback and face plenty of pressure to succeed.
Washington Redskins: QB Robert Griffin III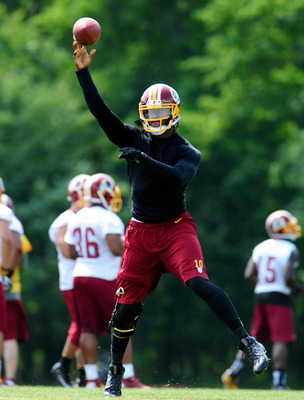 Evan Habeeb-USA TODAY Sports
As Robert Griffin III returns from his ACL tear, the Redskins need to be mindful of how he progresses from the injury once he hits the practice field.
How quickly can RG3 regain his physical strength and be as dynamic of a player as he was during his rookie year?
It's a question that Mike Shanahan needs to observe, and with the drama that he faced regarding RG3's injury, it's of the utmost importance that the team's star quarterback can return to normal football activities at a high level.
Keep Reading