Philadelphia Eagles: Grading Strength of Every Position Unit Heading into Camp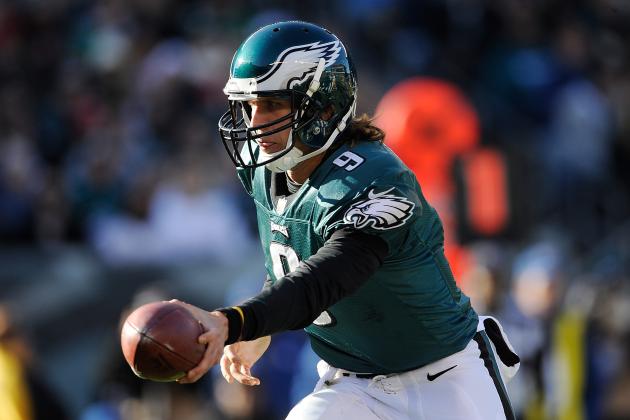 Patrick McDermott/Getty Images

Training camp has finally started. For Philadelphia Eagles fans who are desperate to wipe away the memories of a second consecutive disappointing season, the offseason took way too long.
But times have changed. Gone is Andy Reid, the winningest coach in franchise history. In is Chip Kelly, one of the most successful college coaches in recent memory but a complete unknown at the NFL level.
Nobody knows what Kelly's offense will be like. We don't even know who the starting quarterback will be this season. We don't know anything.
What we do know is the 90 players currently on the roster, of which the Eagles will select 53 to make the final roster.
The following slides will highlight each position, grading them based on the current talent.
Begin Slideshow

»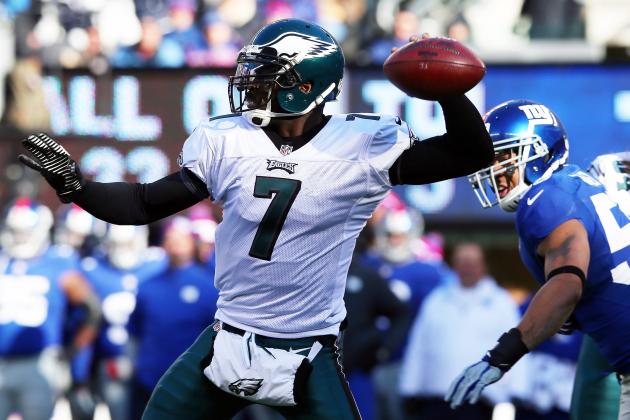 Elsa/Getty Images

You know the old saying. "If you have more than one quarterback, you don't have any." The Eagles' quarterback competition isn't like the old Joe Montana vs. Steve Young battle, where the loser would be sent to another team and immediately inserted as the starter.
No, this is an all-out quarterback competition in which any one of the three (technically, any of the five) could emerge as the starter.
Veteran Michael Vick has been the starter for the past three seasons, but he's heavily regressed over the past two years after turning in an MVP-caliber season in 2010.
Nick Foles was a rookie last season and made just six starts, mostly without the benefit of starting players, notably LeSean McCoy, DeSean Jackson and three-fifths of the offensive line.
Matt Barkley was drafted in the fourth round. He's considered the long shot to win the starting job, but as a quarterback specifically brought in by Kelly, he may have a better chance than most would think. He may be a future franchise quarterback, or he could be a complete bust.
We don't know yet.
Grade: D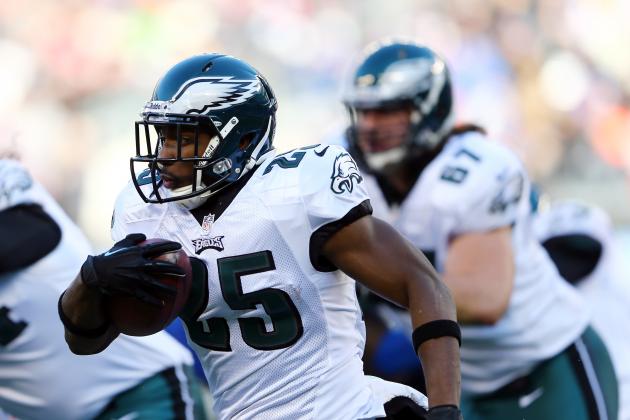 Elsa/Getty Images

Running back is arguably the strongest position on the team.
Veteran LeSean McCoy is one of the top halfbacks in the game, even though he had a down year in 2012 before missing the final six games of the year. He is expected to bounce back in 2013. Just two years ago, he scored 20 touchdowns and earned an All-Pro selection.
Last year's rookie, Bryce Brown, is the definition of a boom-or-bust player. He rushed for 347 yards and four scores in a pair of late-season starts, but he also lost four fumbles and needs to stop running side to side on every run.
Former first-round pick Felix Jones is looking to revive a disappointing career in Kelly's offensive system. He brings speed and versatility to the Eagles.
Grade: A-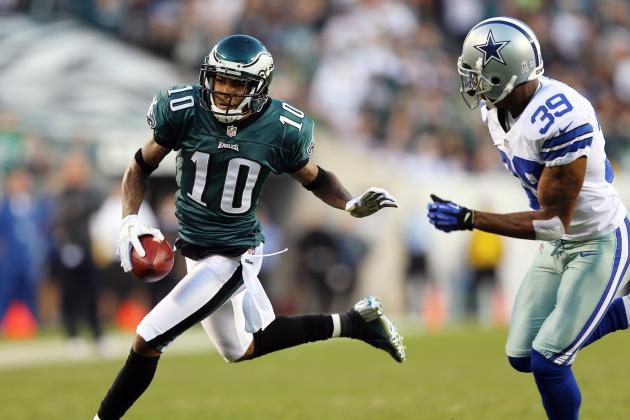 Elsa/Getty Images

The Eagles enter camp with 12 bodies at wide receiver, but only two players are guaranteed to make the team.
DeSean Jackson and Jeremy Maclin are both still in their mid-20s, and one or both could be primed for a breakout season in 2013. Then again, we've thought that about both of them for each of the past three or four seasons.
Jason Avant is a solid veteran, but he may not even make the final roster in 2013, depending on how Kelly feels about Damaris Johnson, who brings a lot more speed and upside to the slot receiver position than Avant.
Arrelious Benn and Riley Cooper are big receivers who may be able to contribute in the red zone and on special teams.
The rest of the players in camp are all unproven.
Grade: B+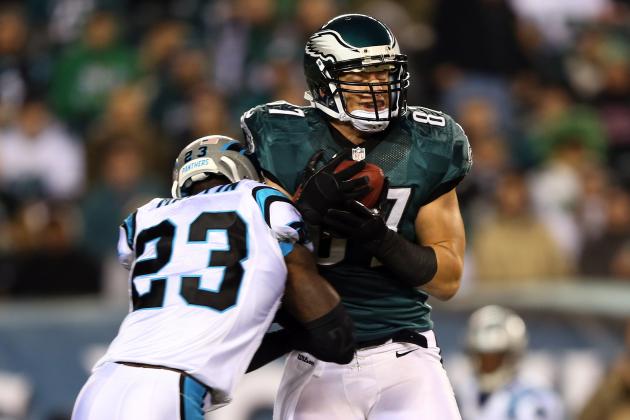 Elsa/Getty Images

Veteran Brent Celek has never been able to build off of the breakout season he had in 2009. Now he may be in danger of losing his starting job to Stanford rookie Zach Ertz, who was selected early in the second round of the draft.
Ertz is a big, physical player who has been compared to Jason Witten. The Eagles will love his ability in the red zone. He could be one of the game's top tight ends within a year or two.
James Casey is extremely versatile and can line up in the backfield, in the slot, at receiver or at tight end. He's the third tight end on the roster, but he will definitely make the team and is expected to be an immediate contributor in 2013.
Grade: A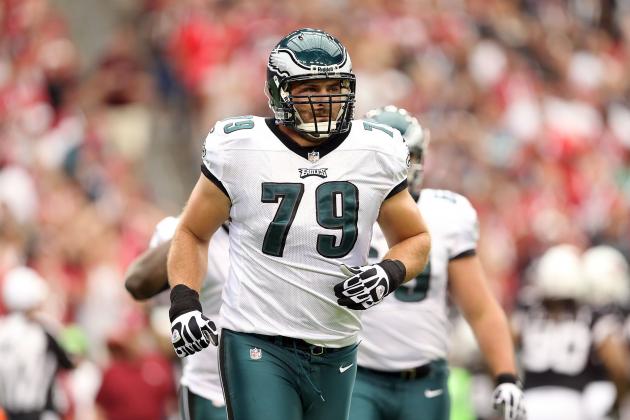 Christian Petersen/Getty Images

If everything goes right for the 2013 Eagles, their offensive line could be one of the best and most athletic the game has seen in a long time. That's no exaggeration.
But if everything goes wrong, the Eagles will be a complete mess, left unable to protect whoever is taking snaps behind center.
Jason Peters returns from a torn Achilles. He was one of the best tackles in the game in 2011, and he claims to be 100 percent healthy.
Evan Mathis was the best guard in the NFL in 2011 and 2012, per Pro Football Focus. But he turns 32 this season and had offseason ankle surgery.
Jason Kelce had a solid rookie season but missed almost all of 2012 with a torn ACL. He is expected to be completely healthy in 2013.
Veteran Todd Herremans switched positions—from right tackle to right guard—to make room for first-round draft pick Lane Johnson at right tackle. Johnson is the definition of a boom-or-bust player. He does have tremendous upside, though—perhaps more than Eric Fisher or Luke Joeckel, the top two tackles taken in the 2013 draft.
Grade: B+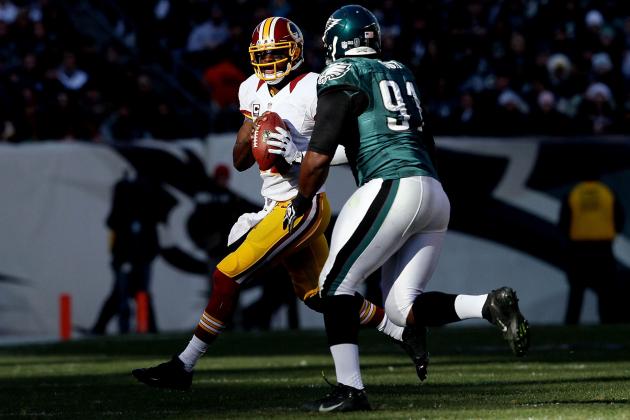 Alex Trautwig/Getty Images

Other than Fletcher Cox, last year's first-round draft pick who is expected to be a star this season, the defensive line is full of question marks.
The Eagles don't know who will be the other starting defensive end opposite Cox. It could be rookie Bennie Logan, Cedric Thornton, last year's second-round pick Vinny Curry or a number of other players.
At nose tackle, veteran Isaac Sopoaga graded out as one of the worst defensive tackles in the NFL in 2012, per Pro Football Focus (subscription required). Veteran Antonio Dixon has never played nose tackle before.
The Eagles are a Cox injury away from becoming a complete mess on the defensive line.
Grade: D
Elsa/Getty Images

The Eagles have five linebackers who are virtually guaranteed roster spots in 2013: DeMeco Ryans, Mychal Kendricks, Connor Barwin, Trent Cole and Brandon Graham. But nobody really knows what to expect from any of them, especially as the Eagles switch to a modified 3-4 defense.
Ryans played well in 2012 and has experience in a 3-4 defense. He should be the leader of the linebackers.
Kendricks could be a potential breakout candidate in 2013. He played well early in his rookie season but really faded down the stretch.
Barwin was given a $36 million contract by the Eagles, but his disappointing 2012 year, in which he collected just three sacks after picking up 11.5 the year before, is a cause for concern.
Cole is on the wrong side of 30 and suffered through the worst year of his career in 2012, recording just three sacks. He's also switching positions this year. I have very limited expectations for him and wouldn't be surprised at all if this is his last year in Philadelphia.
Graham could be the key to the defense. He had a tremendous breakout campaign in 2012, but he played in less than half the snaps and needs to show that he can deliver in a full year.
Grade: D+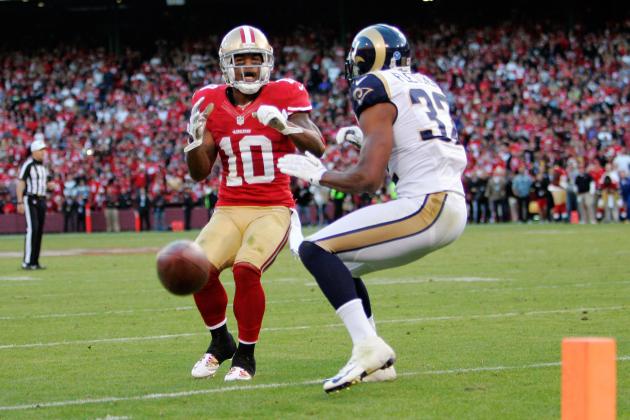 Brian Bahr/Getty Images

It would be hard for the Eagles to be worse in 2013 than they were in 2012, when veterans Nnamdi Asomugha and Dominique Rodgers-Cromartie both played their way out of Philly.
But both free-agent signings, Bradley Fletcher and Cary Williams, are a question mark heading into 2013. Fletcher was demoted halfway through 2012, but he did allow just a 55.6 passer rating for the year, one of the best marks in the game (subscription required). He's also very physical and a solid tackler.
Williams was repeatedly torched last season, but he's also one of the most physical corners in the game. His toughness could be a major asset on an Eagles defense that has lacked anything resembling toughness since Brian Dawkins departed following the 2008 season.
Brandon Boykin is one of the best nickel corners in the game and is poised for a breakout year in 2013 (subscription required). Rookie Jordan Poyer could be a steal in the draft.
Grade: D+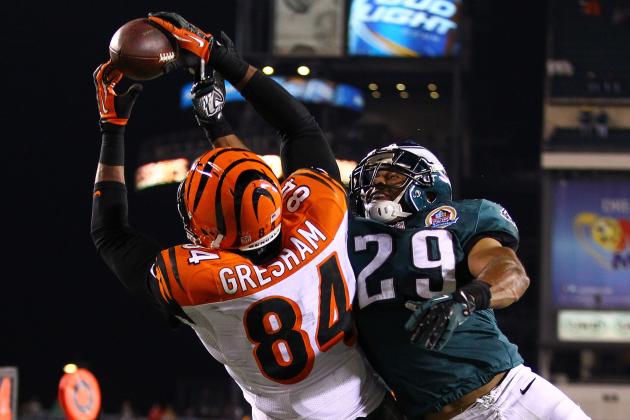 Al Bello/Getty Images

The safety position cannot possibly be worse in 2013 than it was in 2012.
Free-agent signings Kenny Phillips and Patrick Chung were brought in to man the starting spots, but Phillips is already having knee troubles. When healthy, he's one of the best in the game. The problem is that he's struggled with injuries throughout his whole career.
Last year's starters, Nate Allen and Kurt Coleman, are still on the roster. Allen would be an above-average backup if he makes the team, possibly even a breakout player if he wins a starting job. Rookie Earl Wolff will likely be on the team and could be a fan favorite if he can win a starting job.
Grade: D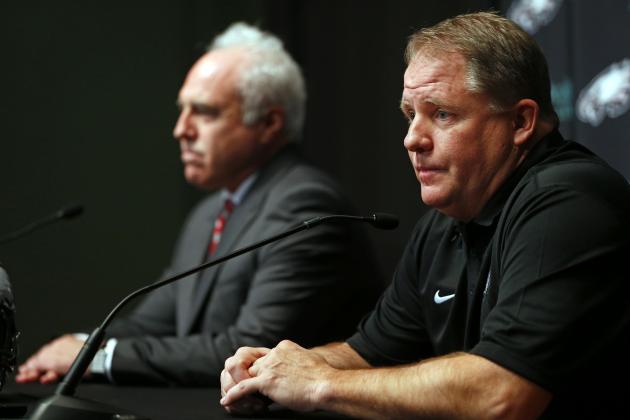 Rich Schultz/Getty Images

The Eagles are entirely an unknown heading into 2013. The roster has changed a lot from the 2012 team that finished 4-12, with losses in 11 of the final 12 games. The coaching staff is completely different, with only Duce Staley (running backs coach) and Ted Williams (tight ends coach) still around.
The offense could be a top-10 offense in the game if Kelly's college success carries over to the NFL. But first he needs to figure out who his starting quarterback is going to be.
As for the defensive side of the ball, the Eagles will likely be one of the bottom units in the game. New defensive coordinator Billy Davis doesn't have a solid track record, and it won't be easy for veteran players to transition to a new style of defense. The secondary in particular has the potential to be awful, although likely not as bad as last year, as no player stands out as a legitimate threat.
My prediction for the 2014 draft is either a pass-rusher (defensive end or linebacker) or a safety with the first-round pick. Regardless, I think the defense for the 2013 Eagles will almost certainly prevent the team from finishing with a winning record in the first year of the Chip Kelly era.
The Eagles won't be as bad as the 2012 bunch that scored just 280 and allowed 444, but they won't be the playoff team that some have boldly predicted.
Overall Grade: D+