Complete Report Card and Analysis Following WWE Raw for July 22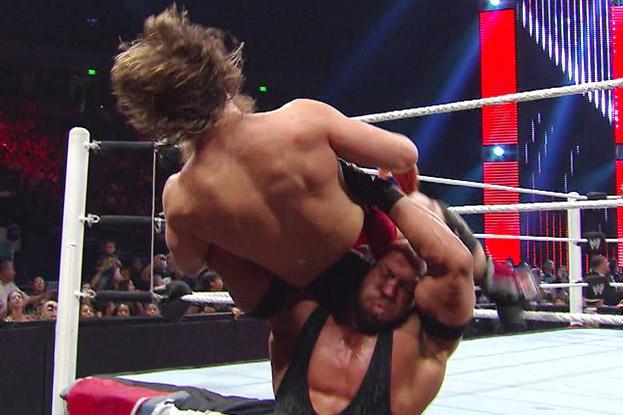 via WWE.com
The last month has been like a dream come true for the hardcore WWE fan. Daniel Bryan has been elevated to the main event. C.M Punk is back and dueling with Paul Heyman on the stick and Brock Lesnar in the ring. And The Shield continue to thrive as a midcard attraction.
It's a glorious time to be a wrestling fan—especially if you appreciate in-ring talent. And just when it seemed the WWE couldn't possibly further delight the wrestling intelligentsia, they deliver one of the most mind-boggling half hours in recent memory.
Daniel Bryan in the main event?
In three matches?
Including a long and evenly contested bout with indy darling Antonio Cesaro?
Someone pinch me.
It's like the WWE creative team reached into our collective souls and gave us our heart's desire—for free and with no catch.
That doesn't happen too often. I hope you appreciated it as much as I did.
Disagree with any of my grades? Let me know in the comments.
Begin Slideshow

»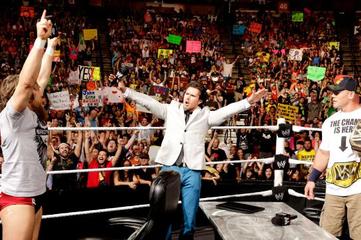 via WWE.com
Results
John Cena and Daniel Bryan officially sign a contract for SummerSlam. Cena gives a long, and I mean long, speech. Brad Maddox tries to cut Bryan off entirely. Maddox, you see, doesn't think Bryan deserves a title shot. He bad mouths the new title challenger and then books him in multiple matches on Raw to "prove himself."
Key Quotes
"There's no one more Texas than the sheriff of Monday Night Raw—me!"—Brad Maddox
"I listened to the WWE Universe, and the choice was really clear in my mind."—John Cena on choosing Daniel Bryan.
"Yes! Yes! Yes!"—Fans as Daniel Bryan pantomimes his famous dance.
"Daniel Bryan! Daniel Bryan!"—Fans are letting their opinion be heard.
"Easy, easy tight coat."—Cena to Maddox. It was an awfully tight coat.
"Daniel, I chose you for this match because this gentleman here and the idiots he works for sometimes miss all the talent in the world when it's staring them right in the beard."—Cena.
"Ability and passion make a WWE champion, not just size and strength."—Cena.
"I will prove at SummerSlam, even the best isn't good enough."—Cena.
"No! You don't get to interrupt me. I have waited my entire career for this opportunity. And I've proven I deserve this."—Bryan.
Memorable Moments
Bryan leading the crowd in a "Yes!" chant.
Brad Maddox becomes my hero by booking multiple Bryan matches in a single night. Had they all turned out to be against Great Khali, that would have been some solid trolling.
Grade
B
Analysis
How great is it to see Daniel Bryan getting this opportunity? Better than that—how great is it to see him getting this response? It's one thing to be over in Brooklyn. Lots of internet darlings get love in front of the hardcore hipster fans.
Getting the same response in Texas? From the average fan on an average night? That's special. This is Bryan's true breakout moment. And it can only get better when Vince McMahon himself is revealed as Bryan's nemesis behind the scenes. This one is going to be special.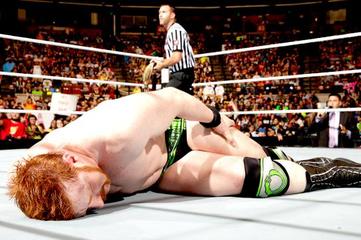 via WWE.com
Result
The newly turned Alberto Del Rio comes out, sans Rodriguez, to beat up on an injured Sheamus. He gets the win with a roll up after Sheamus's injured leg collapses under his own considerable weight.
Key Quotes
"This is going to be the renewal of an old rivalry from last year."—Michael Cole. Is that really an "old rivalry?" Ricky Steamboat vs. Ric Flair is an old rivalry. This is more like "a thing that happened last year."
"Never seen Alberto Del Rio better. Here's a guy who's a multi-time world champion, and I've never seen him better."—JBL.
"This isn't the Brooklyn Brawler he's facing."—JBL clarifying that it is, indeed, Del Rio and not Steve Lombardi.
Memorable Moment
Del Rio kicks Sheamus on the leg. Not a big deal? It is when you consider the giant bruise he's sporting courtesy of the Money in the Bank ladder match.
Grade
C+
Analysis
The story of the match is Sheamus's leg. How is he walking, let alone wrestling? Can he even do the Brogue Kick? Has he ever been outdoors? The questions are many and diverse.
The answers?
Yes, no, no.
This match stands in stark contrast to the idea that "longer is always better." I've always hated that idea anyway. Personal reasons. There was nothing wrong with this match. But a ton of average doesn't suddenly become good by virtue of going into a second segment.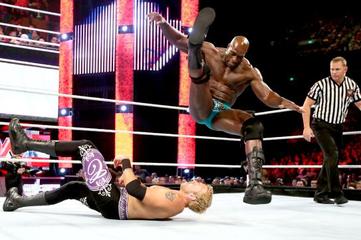 via WWE.com
Results
Teddy Long blames Booker T for the duo being replaced on SmackDown by Vickie Guerrero. What's a SmackDown?
Christian pinned Titus O'Neil with the Kill Switch.
Key Quotes
"I respect Mr. McMahon's decision...but I got to say I was a bit taken aback. A bit shocked at the situation."—Booker T.
"You would not believe the abuse I took while you were sitting at home with your feet propped up in a Lazy Boy chair."—Teddy Long.
"This Titus O'Neil is one of the greatest physical specimens I've ever seen."—Jerry Lawler.
"Just because a royal baby was born, I'm not the father."—"The King" Lawler. I see what he did there.
"You hope guys like this make it."—JBL on O'Neil.
Memorable Moment
O'Neil tosses Christian through the air like he was stuffed with feathers.
Grade
B-
Analysis
I am a big Titus O'Neil fan, but WWE kind of foreshadowed the finish here. The announcers talked up O'Neil the whole match, and Christian was in Ricky Morton mode the entire bout. There could only be one finish—Christian coming out on top.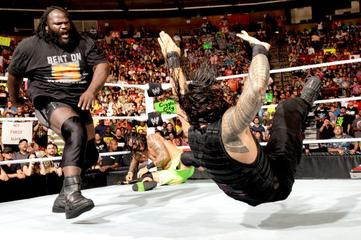 via WWE.com
Results
Ryback doesn't like average people. Josh Matthews is average. Do the math.
Mark Henry and The Usos clear the ring of The Shield. I smell a six-man tag coming.
Key Quotes
"I do. Like you, you little twerp."—Ryback confirming to Josh Matthews that he does enjoy intimidating people.
"People like you deserve to be intimidated by me."—Ryback
"My heart don't pump Kool Aid. I'm built from tough stuff."—Mark Henry
"I ain't going to sit out here and lull y'all to sleep. I'm wide awake. And if the Shield wants me? I'm right here."—Henry.
Memorable Moment
Read above. Henry's heart don't pump Kool Aid y'all.
Grade
C+
Analysis
Mark Henry and The Usos? This is a huge step backward for The Shield. In this business, you are who you feud with. And that makes The Shield midcarders. That's unfortunate.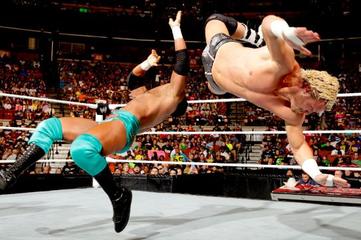 via WWE.com
Result
Dolph Ziggler pins Darren Young clean with the Zig Zag, then gets attacked from behind by "Big E" Langston.
Key Quotes
"You never know how that transition is going to work until it happens."—JBL on moving from tag competition to singles matches.
"We told you about the wrath of a woman scorned."—Jerry Lawler on A.J Lee and Langston attacking Ziggler.
Memorable Moment
Did you see that Ziggler dropkick?
Grade
C+
Analysis
The announcers tried to talk up Young the same way they discussed O'Neil, but it didn't feel real. Young is a goner, and everyone knows it.
Hopefully, they give Young Marty Jannety's number, so he can start preparing mentally for seeing his partner make it big while his own career languishes.
The match was just filler to get to the angle. Everyone in the building, well everyone but Ziggler, knew Lee and Langston would hit the ring. It was just a matter of when. But that's OK. Sometimes, the predictable course is the right one.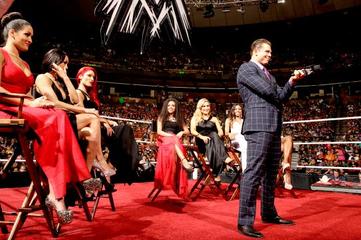 via WWE.com
Results
The Miz introduces the new E! show Total Divas.
Cody Rhodes pinned Fandango after interference from Damien Sandow backfired.
Key Quotes
"You know Jerry, I don't like how you're looking at me."—Eva Marie.
"I'm here to make a name for myself."—Eva. She proceeded to slap Lawler.
"You can call her Summer Rae. I call her Mrs. Fandango."—JBL.
"I am the uncrowned world heavyweight champion."—Damien Sandow.
"I taught him that."—Sandow after Rhodes hit a Zigglerian dropkick.
"As my tag team partner, Cody Rhodes had delusions of adequacy."—Sandow.
"How long have you been doing this?"—Sandow to Michael Cole. Hey, I was thinking that! He actually said it.
"I am the lord of literacy, the duke of decency, and, most importantly, the uncrowned champion."—Sandow after Cole asked him how many titles he had earned in WWE.
Memorable Moment
Sandow owning Michael Cole on the mic.
Grade
D (skit)
B- (match)
Analysis
I'm intrigued by Total Divas. But that segment did absolutely nothing to sell anyone on the show. What was the purpose behind bringing all the women to the ring? Were they running short on time? Surely that couldn't have been the actual plan could it?
Remember when Fandango was the hottest guy in the promotion, and fans were humming his theme music in the arena unprompted? How the mighty have fallen.
Sandow saved this segment from being deadly dull. Some wrestling progeny are Randy Orton or Kerry Von Erich. Others are Erik Watts or David Flair. Cody is more Erik Watts than Randy Orton. He just lacks a certain "it" factor you need to make it to the top.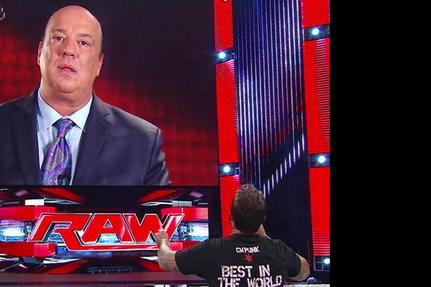 via WWE.com
Result
Heyman agrees to a match between Lesnar and Punk at SummerSlam.

Key Quotes
"Last week I got my ass handed to me by Brock Lesnar...he hit me with his best shot over and over and over again."—C.M Punk.
"I got up."—Punk.
"I feel like I was in a car accident. And you know what? I'm still standing...he can beat me down but he cannot keep me down."—Punk.
"Brock Lesnar's greatest weapon has and always will be about one thing—fear."—Punk.
"WWE.com here's your headline. WWE Magazine, here's your cover story. I am not afraid of Brock Lesnar. I am not afraid of Paul Heyman's monster."—Punk.
"Paul Heyman had a decision to make. He just made the wrong one."—Punk.
"This is my ring. I own it. I've proven it time and time again."—Punk.
I'm going to make you a promise, and this is a truth I am going to take to the grave. There will not be a third time."—Punk.
"Monsters were put on this Earth for one reason—to be slaughtered. If Brock Lesnar is the beast incarnate, I'm going to slay him...I want the best versus the beast."—Punk.
"I like it. It's clever marketing."—Paul Heyman.
"Is this what you're reduced to? You're going to stand there in the middle of the ring and play hero?"—Heyman.
"Show me a hero and I'll show you a coward who ran out of options or a fool who's just too stupid to stay down. What are you Punk? Are you a coward or a fool?"—Heyman.
"C.M. Punk, your challenge for SummerSlam is accepted. But please stop calling it the best versus the beast. Because you know the best is the beast. He's my client and my best friend in the world, Brock Lesnar."—Heyman.
Memorable Moment
Punk coins the clever phrase "The Best versus the Beast."
Grade
A
Analysis
News alert—internet wrestling dork loved Heyman and Punk talking! Shocking!
It was two master craftsmen at work. I'm intrigued by this match. The story they tell in the ring could be very interesting, or they could just do all the standard "big man versus little man" tropes. I'm betting Punk brings something new to the table though.
Undertaker was among the first to bring MMA-style submissions to the WWE. With his Gracie jiu-jitsu background, Punk could be the one to take the concept of legitimacy a step further.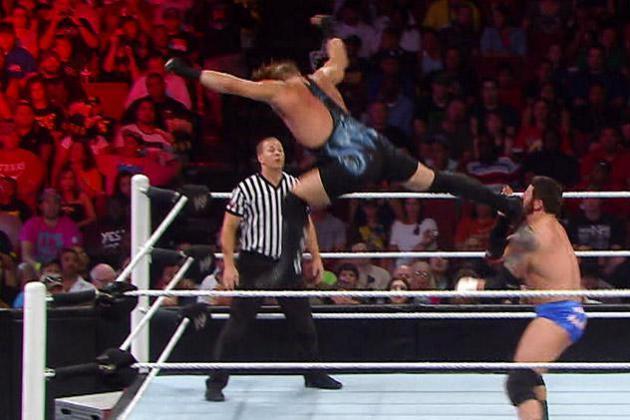 via WWE.com
Result
Rob Van Dam squashes Wade Barrett with the Five-Star Frog Splash.
Key Quotes
"RVD! RVD! RVD!"—Crowd responds to Van Dam.
"Wade Barrett loves it when he gets his mouth busted open."—JBL. You think?
Memorable Moments
Van Dam flies across the ring with the frog splash.
Grade
C+
Analysis
A couple of weeks in and I'm not yet convinced Van Dam is going to accomplish much in this run. He has never been the smartest worker in the world and no longer has the incredible athleticism to make up for it.
It's hard to tell much from a glorified squash like this, but I suspect Van Dam doesn't have a good, hard, 20-minute match in him at this point. At least not on a regular basis. Prove me wrong Rob!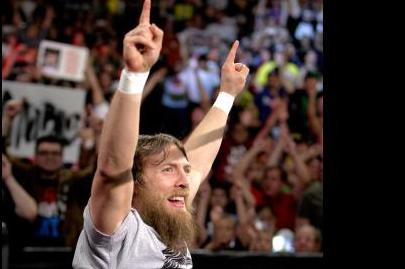 via WWE.com
Results
Bryan submits Jack Swagger with the Yes Lock.
Bryan pins Cesaro with a small package counter after an amazing match.
Bryan beats Ryback by disqualification after Ryback powerbombed him through a table. Cena made the save.
Key Quotes
"I'll be fine on my own."—Daniel Bryan.
"I just want you to make it to SummerSlam in one piece."—John Cena.
"Tonight, I'm going to fight. And I'm going to win." —Bryan.
"Good news Mr. Austin. You are not the father."—Zeb Colter on Stephen Austin, the founder of Austin, Texas.
"You're just like these people—not afraid of a handout."—Colter on Bryan's title shot.
"He better not be worried about his next opponent. He better be worried about Jack Swagger."—Jerry Lawler.
"OU sucks! OU sucks!"—Fans. Does Swagger get that chant anywhere in the world but Austin, Texas?
"The train to the future or the train to the dead end?"—Michael Cole, discussing who Brad Maddox will sign with. Did he just call Mr. McMahon a dead end?
"Never go eye-to-eye with a goat. You're going to get headbutted."—Lawler.
"This is awesome."—WWE fans.
"Why don't you stay down?"—Cesaro to Bryan.
"You are a little man in a big man's world."—Ryback to Bryan.
"Ryback has a point...that's a true statement. But that little man has a lot of heart and fight in him."—Lawler.
"After a half hour fight you want to put this man through a table? How about you try doing that to me? You and me in a tables match."—John Cena.
"Maybe a friend?"—Vince McMahon, suggesting a match for Bryan.
"Daniel Bryan versus Kane?"—Brad Maddox clarifying Vince's intent.
"You're damn right."—McMahon.
Memorable Moments
Cesaro hits Bryan with a flying European uppercut. It was almost enough for me to download the WWE App. Almost Michael Cole. Don't get too excited.
Dueling European uppercuts were better than pistols any time.
Ryback sends Bryan thudding to the floor with a vicious powerbomb.
Grade
C+ (Swagger)
A+ (Cesaro)
A (Ryback)
Analysis
Make no mistake—this was a big night for Daniel Bryan. As a performer, he's ready to be at the top of the promotion. Tonight proved that. The only question that remains—are WWE fans ready?
The brass will be watching the television rating closely to see how the final hour performed. If there isn't a big drop off, the sky is the limit for Bryan.
But let's not get distracted by the commercial appeal of Bryan as a main eventer. Or at least, it can be set aside for one night, and let's enjoy his performance as a work of art. His bout with Cesaro was among the best I've seen this year, and he followed it up with a really strong performance against Ryback.
This was one of the most memorable single nights anyone has ever had in a Raw ring. No one is a better total package than Daniel Bryan. I hope this is the start of something special.