7 Redskins Facing Injury Questions Heading into Training Camp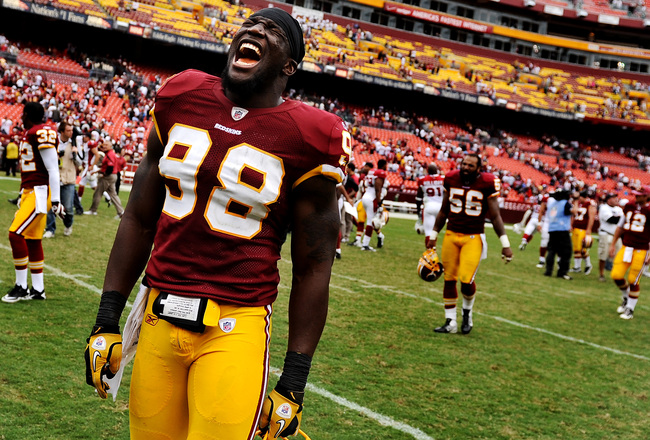 Patrick Smith/Getty Images
NFL training camp is here!
Questions loom about which injured players are ready for a bounce-back year and which are failing to progress as quickly through their rehab. Those questions are being asked in Richmond, Virginia for the first time in over a decade as the Washington Redskins open up camp with a slew of marquee players looking to get back on the field.
Robert Griffin III is the obvious headliner, and Redskins camp will be one to watch this year. Expect about 300 cameras taking pictures and SportsCenter clips every time Griffin steps foot on the field. While all the cameras will be focused on Griffin, there are a number of other key players back in action.
Here are seven Redskins working their way back from injury.
Pierre Garcon, WR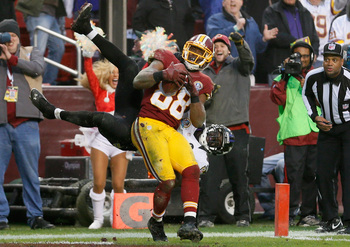 Rob Carr/Getty Images
Apart from Robert Griffin III, Pierre Garcon is the most dynamic playmaker the Redskins have.
After busting onto the scene in Week 1 of the 2012 campaign with four receptions for 109 yards, Garcon suffered a toe injury that continued to nag him throughout the remainder of the season.
Garcon returned to action full time Week 11 against the Philadelphia Eagles, but he admitted that his toe was not 100 percent. Garcon still displayed explosive speed, finishing the season averaging over 14 yards per reception.
Opting to forgo surgery to repair the ligament under his second toe, Garcon is hoping that the time off in between seasons will be enough to bring him back to full health. Griffin and Garcon are a deadly duo when they're on the field together, finishing 9-1 in regular season games in which Garcon was healthy.
Garcon's toe might not be the biggest issue during training camp, but he must remain healthy all season if he wants to show that he is the true No. 1 receiver the Redskins are paying him to be.
Robert Griffin III, QB
Win McNamee/Getty Images
Robert Griffin III. Heisman Trophy winner. Rookie of the year. RG3. However people refer to Robert Griffin III, it's always with a sense of respect and awe.
After taking the Redskins to the playoffs for the first time in five years, joy turned to devastation as Griffin's knee buckled on the loose sod of FedEx Field late in the Redskins' Divisional Round loss to the Seattle Seahawks.
Less than seven months later, it appears that Griffin has made a near-miraculous recovery. Griffin joined his teammates on the practice field Thursday, taking part in all drills with the exception of 11-on-11s.
While Kirk Cousins may be a solid quarterback prospect, it's clear that this is Griffin's team, and the Redskins will go only as far as Griffin can take them. Questions abound regarding play-calling, practice time, preseason games and much more.
Griffin is quite adept at the podium, but his actions speak for themselves in terms of his work ethic and drive to get back onto the field. While many questions remain unanswered, Griffin looks to silence critics and disprove doubters one play, one practice, one day at a time.
Fred Davis, TE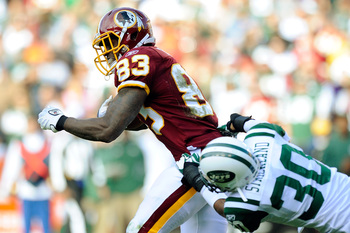 Patrick McDermott/Getty Images
Achilles is considered one of the greatest warriors in Greek mythology. Even legendary heroes, however, have their weak spots.
If Achilles was brought down by his heel, Fred Davis is fighting an uphill battle trying to overcome one of the most devastating and persistent injuries an athlete can face. Davis tore his Achilles tendon back in Week 7, and even though he was cleared for practice back in February, it remains to be seen whether or not he has completely recovered.
Achilles tears limit the explosiveness of a player and their ability to push off. Those abilities are crucial for a tight end who must block as well as run routes.
Davis says he's back to 100 percent. Entering another contract year, Davis hopes that he can get back to the high level of production he's used to.
While the Redskins have a plethora of interesting tight ends on their roster, Davis is the only one with the tools necessary to elevate this offense to even greater heights.
Brian Orakpo, OLB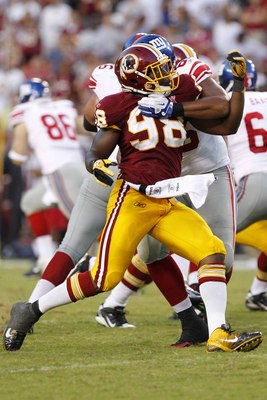 Geoff Burke-USA TODAY Sports
Brian Orakpo is "100, 200, 300" percent going into training camp this season.
Orakpo was sidelined for the rest of the season after tearing a pectoral muscle in Week 2 against the St. Louis Rams. The silver lining in being injured so early is that it allowed him ample time to recover for the upcoming 2013 season.

There are no excuses for Orakpo, who is heading into his first contract year in the NFL.
The Redskins' pass rush was anemic in 2012, registering 32 sacks for the season. Orakpo has averaged just under 10 sacks a season (not including last year) for his career. He hopes to not only get back to his previous level of production but become the star pass-rusher he is expected to be.
The Redskins made the playoffs last year, but if they wish to take another step forward, Orakpo must get back to doing what he does best: pressuring the quarterback.
Chase Minnifield, CB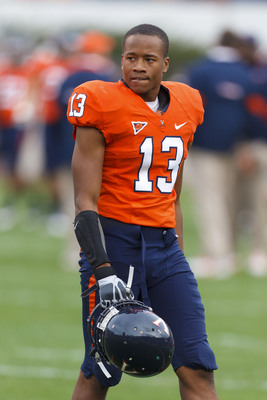 Jason O. Watson-USA TODAY Sports
Chase Minnifield is a talented cornerback prospect, but after two knee surgeries, he must prove himself in training camp if he wishes to remain on the 53-man roster.
The second of Minnifield's surgeries came 18 months ago when he tore an ACL at the conclusion of his senior season at Virginia, forcing him to miss all of what would have been his first NFL training camp. He also sat out the entirety of the 2012 regular season.
There are four locks at cornerback, with DeAngelo Hall, Josh Wilson, David Amerson and E.J. Biggers claiming the first four spots on the depth chart. It's likely that Richard Crawford will have the lead for the fifth spot due to his familiarity after a year in defensive coordinator Jim Haslett's system and his ability to contribute as a punt returner.
Minnifield has perhaps the most to prove of any player coming back from an injury. His roster spot and possibly his NFL career hangs in the balance as he hopes to contribute for the first time at a professional level.
Brandon Meriweather, S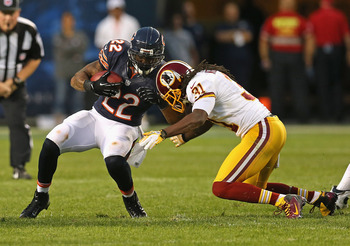 Jonathan Daniel/Getty Images
The biggest area of improvement for the Redskins this offseason was their secondary.
They drafted a corner and two safeties, all of whom hope to compete for starting jobs in training camp. The biggest boost, however, could come from a player who was already on the team.
Brandon Meriweather is a former first-round pick who made the Pro-Bowl twice before being cut by the New England Patriots. After a short stint with the Chicago Bears, in a system that didn't suit his talents, Meriweather found himself last season in a Redskins scheme that appeared to play to his strengths.
Thanks to a series of injuries, Meriweather's 2012 was nothing short of utter disappointment.
Meriweather initially sprained the MCL in his knee in early September. Preparing to make his Redskins debut in Week 4, a collision with Aldrick Robinson in warmups sent him back to the sidelines. He did manage to play most of Week 11 before an ACL tear put an end to his season once and for all.
Meriweather looks to finally be healthy entering training camp and is penciled in as the starting strong safety. Redskin fans are holding their breath, hoping that Meriweather can remain healthy and be as productive as he was during his limited time on the field last year.
Jordan Reed, TE
Geoff Burke-USA TODAY Sports
The third-round pick out of the University of Florida, Jordan Reed is an exciting young talent who fits the mold of the new-age tight end. He's athletic, shifty and considered to be a dynamic playmaker.
He also seems to have a few injuries from his time in Florida.
Jordan Reed did not participate in OTAs or minicamp due to a thigh injury that caused problems in his knee and quadriceps. It should be noted that Reed did not miss any time due to these injuries.
As the highest offensive draft pick this year, it will be worth keeping an eye on Reed to see how Mike and Kyle Shanahan use him in their innovative offensive play-calling.
Keep Reading

Washington Redskins: Like this team?