SF 49ers: Grading the Strength of Every Position Unit Heading into Camp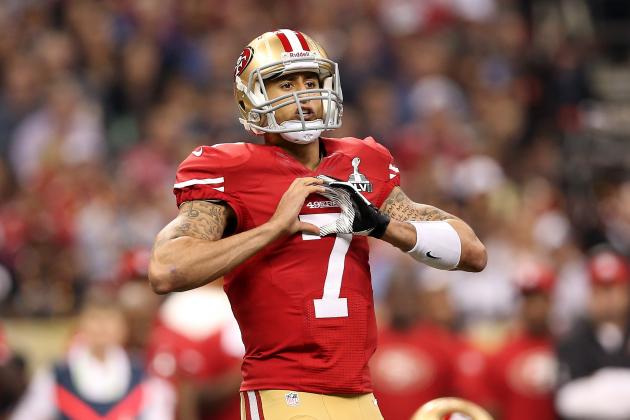 Christian Petersen/Getty Images
This is now Colin Kaepernick's offense. The 49ers will go as far as he can take them.
The San Francisco 49ers have made several changes to their roster since being defeated by the Baltimore Ravens in Super Bowl XLVII.
No longer with the 49ers are Alex Smith, Dashon Goldson, Randy Moss, Isaac Sopoaga, Ricky Jean-Francois, Delanie Walker and David Akers. All of these players contributed to the 49ers' success over the years.
The 49ers also welcome several new faces into the fold. In addition to their class of 2013 draftees, veterans Anquan Boldin, Glenn Dorsey, Adam Snyder, Colt McCoy, Eric Wright, Nnamdi Asomugha, Craig Dahl, Dan Skuta and Phil Dawson have joined the team.
The 49ers have one of the strongest and deepest rosters in the NFL. After their near miss last season, anything less than a Super Bowl victory will be a disappointment.
GM Trent Baalke and head coach Jim Harbaugh believe they have the talent to win it all this season. Let's take a closer look at the 49ers' current roster and assess the strengths and weaknesses of each positional unit as we prepare for training camp.
All stats are courtesy of pro-football-reference.com.
Begin Slideshow

»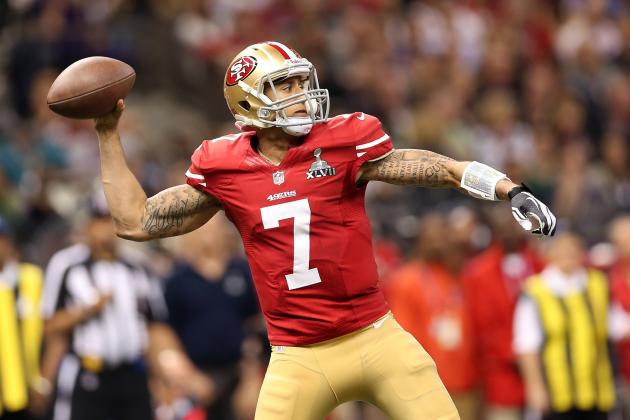 Christian Petersen/Getty Images
Colin Kaepernick can make big plays with his arm and his legs.
What a difference a year makes.
This time last year, Alex Smith was entrenched as the 49ers' quarterback and Colin Kaepernick was an untested backup. Fast forward to 2013, and now Kaepernick is at the controls, and Smith is playing for the Kansas City Chiefs.
The 49ers are in very good shape with Kaepernick at the helm. He proved last year that he can lead the team, as he guided the 49ers to the Super Bowl and came within five yards of a go-ahead touchdown late in the game.
Kaepernick has tremendous athleticism and can make big plays with his arm and his legs. He is also a hard worker and has gained a strong understanding of the 49ers' offense under Harbaugh and offensive coordinator Greg Roman.
Kaepernick started the final seven games of the season and the 49ers' three postseason games after replacing Alex Smith, who went down with a concussion. The 49ers' offense was transformed from a conservative, move-the-chains type of style to a much more dynamic unit with big play potential.
The only thing Kaepernick lacks is experience. However, under the guidance of Harbaugh and Roman, he will continue to learn quickly, and his ability will shine through.
Although very successful last season, the 49ers believe that Kaepernick has only scratched the surface of his amazing athleticism and potential. That is a scary thought for NFL defenses.
Behind Kaepernick is Colt McCoy, who the 49ers acquired from Cleveland. McCoy does not have the arm strength or athleticism of Kaepernick, but he is very smart and quite capable. McCoy, now entering his fourth NFL season, has a career completion rate of 58.3 percent.
Scott Tolzien and rookie B.J. Daniels will battle it out for the third quarterback job.
Quarterbacks grade: A-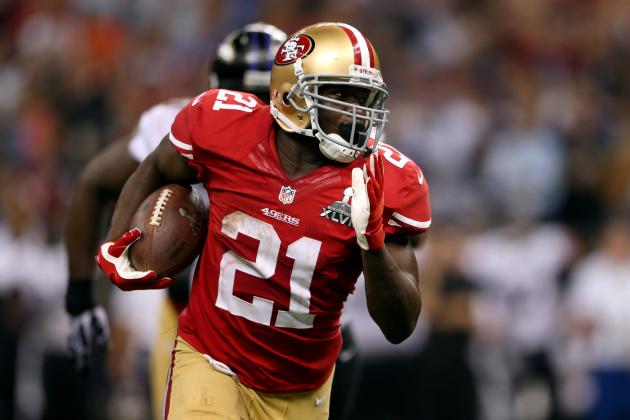 Mike Ehrmann/Getty Images
Frank Gore enters his ninth season in the NFL.
Frank Gore leads the 49ers' stable of running backs. He is 30 years of age and will be entering his ninth NFL season.
Gore is the 49ers' all-time leading rusher with 8,839 yards. He had an excellent year in 2012 with 1,214 yards rushing on 258 carries. His 4.7 yards-per-carry average was excellent.
In addition to being an outstanding runner, Gore is a tremendous blocker and also catches the ball well. He is the heart and soul of the 49ers' offense.
Gore's primary backup through the first 11 games of last season was Kendall Hunter. Unfortunately, he suffered a torn Achilles and was lost for the remaining five games of the regular season and the postseason.
Hunter had been doing a good job with about one-third of the carries of Gore. In 72 carries, Hunter had 371 yards, good for a 5.2 yards-per-carry average. Hunter's emergence as a very productive running back eased the load on Gore, which helped him stay fresher and healthier than he had been in several seasons.
Hunter is still not ready to play and has been placed on the Physically Unable to Perform (PUP) list. When he's ready to play, Hunter can be activated at any time during training camp.
LaMichael James took over for Hunter and played in the final four games of the season and the postseason. James carried the ball 27 times for 125 yards during the regular season. He was also the 49ers' main kickoff returner, with a 29.8 yards-per-return average.
The main concern with James is whether he can stay healthy for an entire season. At 5'8" and 194 pounds, James is small and also has a history of nagging injuries in college at the University of Oregon.
If Hunter and James can stay healthy, look for the 49ers to utilize them out of the backfield as receivers. Both are quick and elusive, making it very difficult for any linebacker to stay with them in the open field.
Bruce Miller is the 49ers' fullback and a good one. He came to the 49ers as a defensive lineman in college but was moved to the fullback position. Miller took to the position change and has proven to be a very reliable blocker. Miller also catches the ball well out of the backfield.
Anthony Dixon was on the squad last year but largely because of his play on special teams. He is being pushed for the final running back spot by Jewel Hampton.
The 49ers have added several good special teams players this offseason, which makes Dixon expendable. The battle between Hampton and Dixon for the final running back job will be one of the most interesting to watch in training camp.
The 49ers also drafted Marcus Lattimore, a highly touted running back from South Carolina. Lattimore is coming off a major knee injury and will likely be placed on Injured Reserve for the 2013 season.
While Gore would be given a top grade, there are question marks with his backups.
Running Backs grade: B+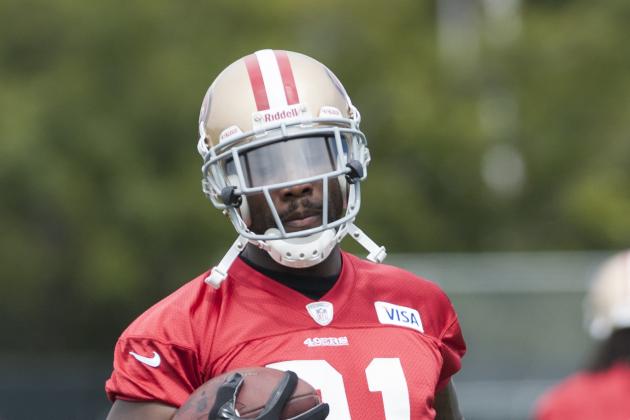 Ed Szczepanski-USA TODAY Sports
Anquan Boldin helped the Ravens defeat the 49ers in the Super Bowl.
The biggest area of uncertainty on the 49ers' roster is at wide receiver. The injury to Michael Crabtree, the 49ers' top receiver, has severely depleted this group. Crabtree suffered a torn Achilles, but is hoping to return late in the season.
The loss of Crabtree leaves a huge void in the 49ers' receiving corps. In 2012, Crabtree had 85 catches for 1,105 yards and nine touchdowns, all career highs.
The 49ers acquired Anquan Boldin from the Ravens, and he has already begun to make an impact. Boldin, who will be in his 11th NFL season, has been very helpful to the 49ers' young receivers.
Boldin is still a very productive receiver, as he proved in 2012. He had 65 receptions for 921 yards and four touchdowns.
Boldin riddled the 49ers' secondary in the Super Bowl with six catches for 104 yards and a touchdown.
However, after Boldin, the 49ers have major question marks at the wide receiver position. Veteran Mario Manningham is trying to come back from a devastating knee injury and is not likely to be ready to play until the middle of the season. Whether Manningham will ever return to his old form is questionable.
Kyle Williams is the only other 49er receiver with game experience in a San Francisco uniform. In 2012, Williams had 14 catches for 212 yards, but was lost for the season with a knee injury in the 49ers' 11th game of the year.
In three injury-plagued seasons, Williams has a total of 35 catches. He has shown some positive flashes, but his injury history makes him very difficult to count on. In college at Arizona State, Williams was unable to stay healthy, and the same problems have dogged him in San Francisco.
Ricardo Lockette is a promising young receiver with good size and speed. He worked extensively with 49ers' quarterback Colin Kaepernick this spring. Lockette played briefly with the Seahawks in 2011.
The 49ers' fourth-round selection in the 2013 draft was wide receiver Quinton Patton. He was extremely productive in his two seasons at Louisiana Tech.
In two seasons, Patton caught 183 passes for 2,594 yards and 24 touchdowns. Although not blessed with blazing speed, Patton has good hands and catches the ball very well. The 49ers are hoping he can contribute to the offense.
The wild card in the wide receiver mix is A.J. Jenkins, the 49ers' 2012 first-round draft pick. Jenkins was on the inactive list for almost every game and did not catch a single pass last season.
The 49ers lost Manningham and Williams during the course of last season, yet Jenkins was still not deemed ready to play. Randy Moss and the oft injured Ted Ginn were utilized ahead of Jenkins and even undrafted free agents Chad Hall and Joe Hastings were ahead of Jenkins.
2013 is a pivotal year for Jenkins. The 49ers need him to make a major step forward and contribute this year. Although it was too early to deem Jenkins a bust last year, it will be a different story for Jenkins this season. If he fails to contribute again, the bust label will be one step closer to reality.
The 49ers have several other receivers on the roster, including Hall, Chuck Jacobs, Charly Martin, Marlon Moore and Kassim Osgood. These receivers will get their chance to impress during training camp, but will be a long shot to make the final 53-man roster.
Wide Receivers grade: C-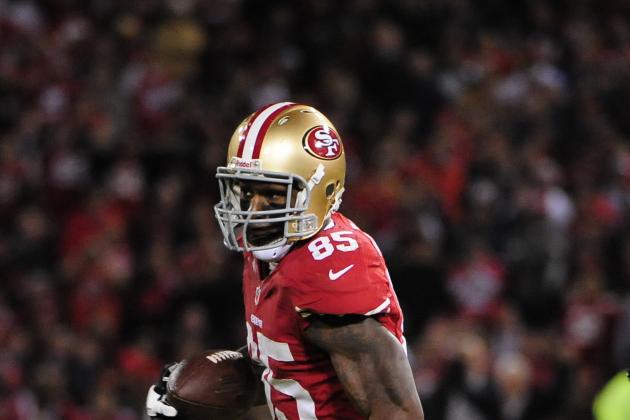 Kyle Terada-USA TODAY Sports
Vernon Davis had only 41 receptions in 2012.
Head coach Jim Harbaugh and offensive coordinator Greg Roman incorporate multiple tight end sets in the 49ers' offensive schemes.
Vernon Davis is the 49ers' starting tight end and he was a favorite target of Alex Smith. However, when Colin Kaepernick took over, the focus of the passing game became Michael Crabtree.
Davis and Kaepernick never seemed to develop a good chemistry, which resulted in Davis' lowest output since 2008. Davis caught only 41 passes for 548 yards and five touchdowns.
With the loss of Crabtree to injury, it will be critical for Kaepernick and Davis to click in the upcoming season.
Backup tight end Delanie Walker signed with the Tennessee Titans as a free agent. Walker was a good compliment to Davis, so the 49ers selected tight end Vance McDonald in the second round of the 2013 draft.
McDonald should step in and contribute as the 49ers' second tight end. He is a good pass receiver, but will need to develop his skills as a blocker.
Garrett Celek is the 49ers' third tight end and is a good blocker. He will be challenged by undrafted free agent MarQueis Gray, who is more likely to be a practice squad candidate.
Tight Ends grade: B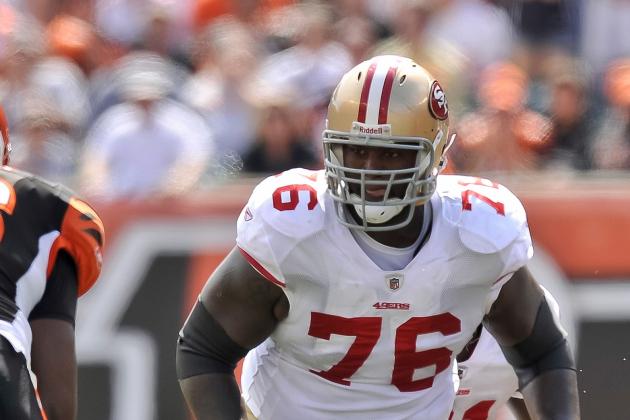 Jamie Sabau/Getty Images
Anthony Davis was rewarded with a five-year contract extension.
The San Francisco 49ers' five starting offensive linemen played every game of the 2013 season. That is exceptional good fortune and the odds of that happening again are extremely slim.
Joe Staley and Mike Iupati anchor the left side of the line. The left tackle, Staley, has been named to the Pro Bowl in each of the last two seasons.
At left guard, Iupati is one of the most devastating run blockers at his position. There were times when Iupati seemed to lose focus for a play or two. Those mistakes resulted in penalties and sacks. If Iupati can improve his consistency, he will be one of the top guards in the league.
Center Jonathan Goodwin is entering his 12th NFL campaign. He will be 35 years of age in December.
Goodwin has played all 16 regular season games in each of his last four seasons. He is a solid veteran and does a good job with the line calls and blocking schemes. Goodwin can sometimes be overpowered by bigger, stronger defensive tackles.
Alex Boone is a physical specimen at right guard. At 6'7" and 330 pounds, Boone is one of the biggest guards in the league. His emergence as a quality starter has helped stabilize the 49ers' offensive line.
Right tackle Anthony Davis has improved steadily in his three years as the 49ers' starting right tackle. He was rewarded with a five-year contract extension and appears to be on the verge of being a Pro Bowl selection.
The 49ers have veteran stars at every offensive line position. If they can again stay healthy, this is one of the best units in the league.
The only real question mark with the line is whether the depth is NFL caliber. The good news is the starters have stayed healthy, but the flip side is we really don't know how good the reserves are.
The one veteran commodity the 49ers have is Adam Snyder. He can fill in at any offensive line position and provides excellent depth.
The other reserves, Joe Looney, Daniel Kilgore, Carter Bykowski and Al Netter are all unproven.
Offensive Line grade: A-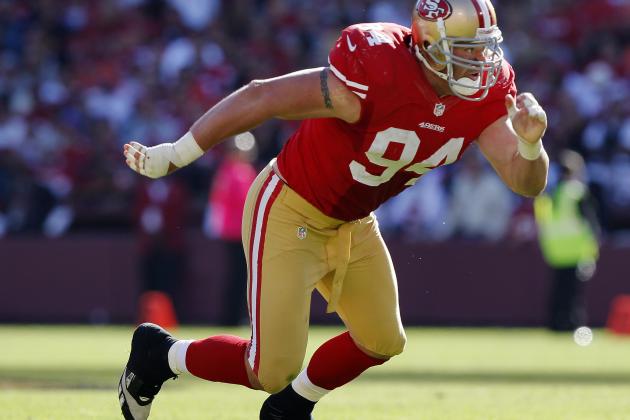 Brian Bahr/Getty Images
Justin Smith returns healthy for the 2013 season.
The San Francisco 49ers suffered from a lack of depth along their defensive line in 2012. GM Trent Baalke was focused on adding quality players to the defensive line this off season.
The key for the 49ers' line is the healthy return of Justin Smith. His presence helped Aldon Smith tremendously. It was no coincidence that when Justin went down with an injury in the 14th game of the regular season, Aldon did not have a sack after that.
Even when Justin returned for the postseason, he was hampered and opposing offenses were able to stifle Aldon. Justin will be 34 years of age in September, and his play is critical to the success of the 49ers' defensive line.
The 49ers replaced departed nose tackles Isaac Sopoaga and Ricky Jean-Francois with Glenn Dorsey. A former first-round draftee of the Chiefs, Dorsey is looking to fulfill the promise that made him the fifth overall draft pick in 2008.
Ray McDonald is the left defensive end and is a solid, though unspectacular player. In 2012, McDonald had only 2.5 sacks.
Ian Williams is 6'2" and 305 pounds. He will be 24 years of age in late August and is developing. Williams will backup Dorsey at the nose tackle position.
Veterans Demarcus Dobbs, Lamar Divens and Will Tukuafu will battle youngsters Tony Jerod-Eddie, Quinton Dial and Tank Carradine for backup roles on the 53-man roster.
Lawrence Okoye, the darling of the 2013 Scouting Combine, is unlikely to make the 53-man roster, but is a candidate for the eight-man practice squad.
Defensive Line grade: B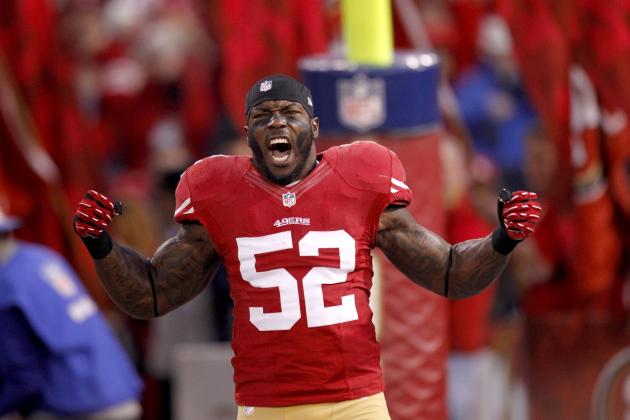 Cary Edmondson-USA TODAY Sports
Patrick Willis is a leader of the 49ers' defense.
The San Francisco 49ers have arguably the top inside linebacker tandem in pro football.
Patrick Willis is one of the leaders on the defense and is a six-time Pro Bowl selection. Willis is also a five-time First-Team All-Pro.
As great as Willis is, NaVorro Bowman might be even better. Bowman made his first Pro Bowl in 2012 and is a two-time First-Team All-Pro.
The pair combined for 181 tackles and 83 assists in 2012. Willis and Bowman are excellent tacklers and have the speed to defend from sideline-to-sideline.
The outside linebackers are Aldon Smith and Ahmad Brooks. Smith, who utilizes his great speed when rushing the passer, had 19.5 sacks in 2012. The key to a good pass defense is a strong pass rush. When Smith provides that, the 49ers' defense is excellent.
Ahmad Brooks is a steady, solid defender. He is strong against the run and can cover or rush the quarterback on passing downs.
Brooks was involved with a scuffle involving teammate Lamar Divens. Although charges were dropped, Brooks could still face penalties imposed by the league.
Parys Haralson is the first reserve at outside linebacker. He missed the entire season in 2012, as an injury put him out.
Corey Lemonier, Dan Skuta, Cam Johnson and Nick Moody will provide depth for the 49ers. Skuta and Moody should also be solid special teams players.
Linebackers grade: A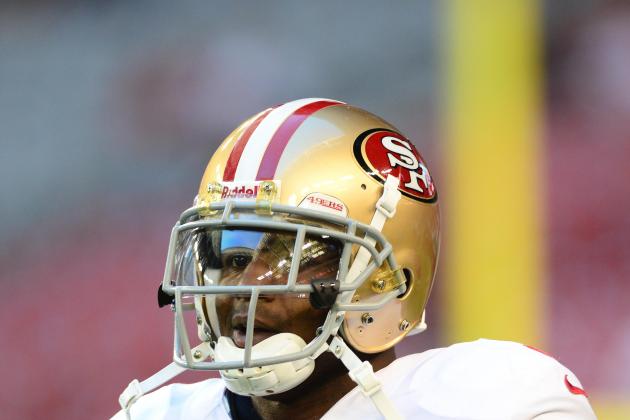 Mark J. Rebilas-USA TODAY Sports
Donte Whitner will provide valuable experience to the 49ers' secondary.
The 49ers have made several moves in order to bolster their secondary. They brought in Nnamdi Asomugha and Craig Dahl from other teams and selected safety Eric Reid with their first-round pick in the 2013 NFL draft.
Carlos Rogers and Tarell Brown started at cornerback last season and are poised to do so again, in 2013. Asomugha will challenge for one starting cornerback job, with the loser dropping into the 49ers' nickel or dime packages.
Chris Culliver played the nickel back spot last year, but there's no guarantee he will retain his job in 2013. Culliver has a world of talent, but he can be very inconsistent at times.
It will be very important for Culliver to tone down his trash talking, as he crossed the line from professionalism to jerk on several occasions.
Parish Cox, Tramaine Brock and rookies Marcus Cooper and Darryl Morris will vie for the remaining roster spots at the corner.
The biggest change in the 49ers' secondary is the departure of safety Dashon Goldson. He left in the free-agent market to join the Tampa Bay Buccaneers. The 49ers are hopeful that Reid will be able to step into the starting free safety opening.
Reid, who played his college ball at LSU, has good size and speed. The key will be if he has the instincts to be a starter this early in his career.
Reid will be helped by veteran Donte Whitner, who will man the strong safety position. Although Whitner is not a good coverage safety, he is very strong against the run.
In order for Whitner to be successful in coverage, the 49ers' pass rush must get to the quarterback and force him to throw the ball earlier than he wants. A strong pass rush will hide some of the deficiencies in the defensive backfield.
If Reid is not ready, Dahl will assume the other starting safety role.
C.J. Spillman, Trenton Robinson, Darcel McBath and Michael Thomas will battle for backup roles. Special teams play will also be a major factor on determining who wins those final roster spots.
The 49ers also made a trade for cornerback Eric Wright, but he failed his physical, and the trade was rescinded.
Defensive Backs grade: B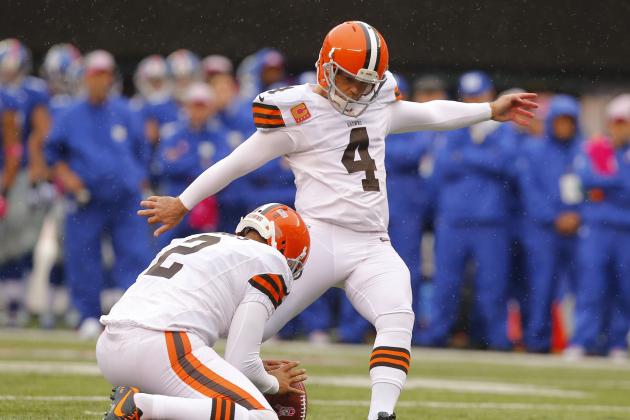 Jim O'Connor-USA TODAY Sports
Former Cleveland kicker Phil Dawson replaces David Akers.
The 49ers' special teams should be much improved in 2013. Phil Dawson, who made 29 of his 31 field goal attempts, was signed as a free agent. He also made his first Pro Bowl last season.
Dawson replaces David Akers, who was a major disappointment in 2012. Akers made just 29 of his 42 attempts.
Punter Andy Lee is one of the best in the game. He averaged 48.1 yards-per-punt and was a First-Team All-Pro in 2012.
LaMichael James handled kickoff returns well last season, with an average of 29.8 yards-per-return. He will get a chance to handle punt returns this year also but must prove that he can catch the ball.
Ted Ginn handled the punt return duties last year when he was healthy. However, injuries limited his play, and the return game suffered.
Kyle Williams may get another shot, although his ball security and decision making are problems. Rookie B.J. Daniels and Quinton Patton may also get a shot at returning punts.
Another big improvement should be the 49ers' coverage units. They acquired several players who should immediately bolster this area. Craig Dahl, Dan Skuta and Nick Moody, along with holdovers C.J. Spillman, Darcel McBath and Bruce Miller should form the foundation of a solid group.
The long snapper veteran Brian Jennings is one of the best in the business.
Special Teams grade: B+