Comparing Matthew Stafford with NFL's Best QBs 25-and-Under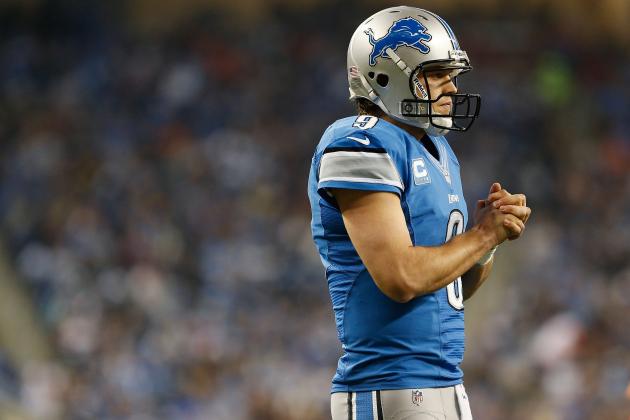 Gregory Shamus/Getty Images

Most NFL quarterbacks are still thinking about earning their rookie contracts at age 25.
Not Matthew Stafford.
The 25-year-old Detroit Lions quarterback just signed his first contract extension to the tune of $27.5 million guaranteed, according to Mike Florio at Pro Football Talk.
Any time a quarterback gets a contract anything, it's always major news and hotly contested about whether or it the money was "deserved." This extension will be no exception, especially considering how up and down Stafford's career has been through four seasons.
The deal keeps Stafford in Detroit until 2017 at an average rate of $15.3 million per year. This sounds like a lot (and it is), but the deal is actually a win for the Lions considering he was slated for over $20 million in each of his next two years.
Stafford is certainly on the hook now to show that he's worth the "pretty good but not elite" tier of quarterback money this contract gives him. According to Spotrac.com, Stafford's average salary is now sixth among quarterbacks, just below Tony Romo (fifth) but above Eli Manning (seventh).
But that's the wrong company to be comparing him to, isn't it? Those guys are entering their mid-30s and are already well-established in their own ways. Stafford may be salaried in company with some of the league's best, but in terms of age and league service, he's still a youngster.
So with the understanding that Stafford will have to play like an elite quarterback going forward, let's see how his career to this point stacks up against other quarterbacks in his 25-and-under peer group.
All statistics used courtesy of NFL.com, salary figures courtesy of Spotrac.com
Begin Slideshow

»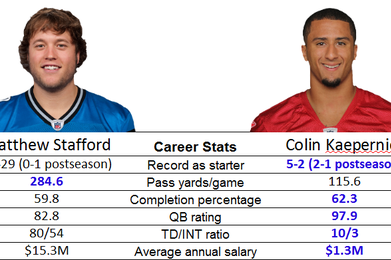 This is probably a good time to point out that I will be using stats based more on central tendency than overall numbers.
It's only fair since Stafford's four years of NFL experience dwarf that of anyone else in the under-25 camp, making comparisons of aggregated career stats almost useless (Stafford would win all categories basically by default).
That applies especially to Colin Kaepernick. Any comparison with Kaepernick has to be taken with a grain of salt since that's about how big his relative sample size is.
Kaepernick certainly tops Stafford in most areas, thanks mostly to an incredible run in the last half of the 2012 season in which Kaepernick looked practically untouchable. It's hard to say whether these numbers will be representative of Kaepernick's career numbers once defensive coordinators have a chance to break down his game and come up with a counter-strategy, but 2013 will certainly give us a good idea.
There's no denying that Kaepernick has talent and lots of it. Despite having less than half a full season's worth of starts under his belt, he's the youngest active player to have started a Super Bowl, and the stats that he posted to get there are certainly impressive...aside from his passing yards per game stat, which certainly paints him as a running quarterback.
Also, it's probably worth noting that despite his limited game experience, Kaepernick is nine months older than Stafford, making him both the least experienced and the oldest of the "25-and-under" crowd.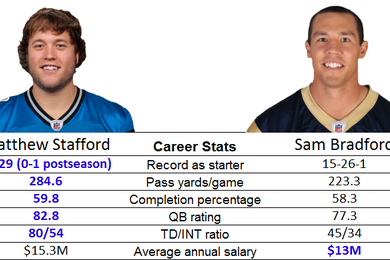 Matthew Stafford and Sam Bradford were taken first overall in consecutive years, and their contracts are from the last two years before the NFL finally got a handle on the absolutely out-of-control rookie contract spending.
This is why Stafford and Bradford have very comparable (high) contract figures despite Bradford being on that rookie contract.
Aside from salary and overall record, the numbers here are not very comparable. Stafford hasn't been great in key areas other than gross yardage, and he certainly isn't the most efficient quarterback in the league, but Bradford manages to be worse in every area.
Bradford hasn't slipped completely into "bust" territory just yet, but not improving on his performance to this point will send him there in a hurry—especially for a highly priced top overall pick.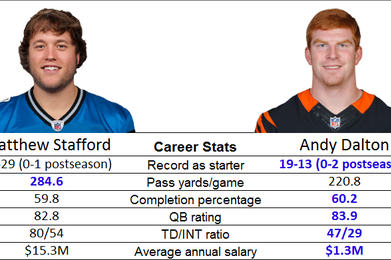 Andy Dalton is perhaps the most comparable quarterback to Stafford in terms of situation and production. Like Kaepernick and Bradford, he is older than Stafford but only by a matter of months.
Both quarterbacks came in expected to turn around abysmal franchises, both have made most of their living throwing to a single dominating receiver (to compensate for a poor running game), both made the playoffs as the sixth seed in their first full season as starter and both lost.
Even their stats are similar. Stafford has a considerable edge in passing yards, and Dalton has slight edges in every other area. The biggest statistical difference between Stafford and Dalton is what their teams did in 2012. Dalton's Bengals went 10-6 and made the playoffs, while Stafford's Lions went 4-12.
However, despite his team's improvement, many considered Dalton to have regressed in 2012, raising questions about his long-term viability.
At least the Bengals are only paying him roughly a 10th of what Stafford is making.
Matthew Stafford and Cam Newton are very different in ways that don't show up in this table.
Newton is extremely athletic, a gifted athlete who makes things happen with his legs regularly. Stafford can run a little, but he's not a burner—he just sort of rumbles.
I didn't add rushing statistics because I don't feel they're core to a quarterback's job (that's a different argument entirely), but suffice to say Newton wins basically all those categories.
However, Stafford beats Newton hands down in the intangibles category. In one corner we have Stafford, a guy who finished a 21-point comeback by throwing a time-expired game-winning touchdown pass with a separated shoulder. The toughness required to pull that off, both physical and mental, is extremely high.
In the other corner, we have Newton, who has developed a habit of sulking on the sidelines with a towel over his head when he isn't playing well, prompting teammates to confront him about his attitude. In a game the Panthers lost 36-7 to the New York Giants, Newton did his signature "Superman" touchdown celebration after a one-yard touchdown that made the score 23-7.
Which of these quarterbacks is more talented is a debatable question. Which one shows more leadership skills and mental acuity to the game is far less so.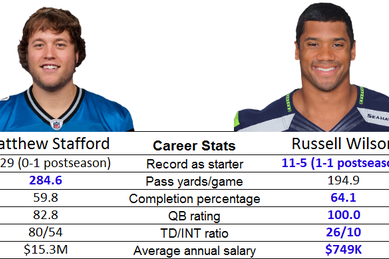 Russell Wilson, as well as the last couple players in this comparison, don't have an awful lot of NFL experience. They were all rookie starters, and so their stats are a result of a single season.
Mind you, all three had very good seasons. It's just that the NFL values consistency, and these guys haven't had a chance to show it off yet. So as with Colin Kaepernick, consider this with as much salt as you deem necessary.
Having gotten that disclaimer out of the way, it's hard to be anything but impressed with Wilson's first year in the NFL. Even though he had Marshawn Lynch to keep defenses honest, Wilson played good football all year long with particular skill in the area Stafford struggles in: efficiency.
By now, you should be noticing some trends. Stafford is the sixth-highest paid quarterback in the NFL, and—surprise surprise—none of the top five are in the under-25 range. In other words, Stafford makes more money than any of these guys. It shows up particularly in this case, as Wilson, a third-round pick in 2012, makes less than $1 million a year.
That's not nearly enough for a team who just found a savior at quarterback, but Wilson needs to worry about replicating his 2012 success before the contract talks even enter his mind. He can certainly do it, as he is one of only two players under age 25 to have started and won a playoff game (with Colin Kaepernick). He'll get his due eventually, and in the meantime, he's an incredible bargain.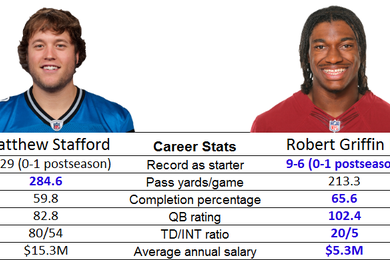 In 2012, Robert Griffin III threw down one of the most impressive rookie performances in NFL history.
He completed almost two-thirds of his passes and threw only five interceptions all year (though he supplemented that with 12 fumbles).
Stafford again holds the edge in passing yards and makes an awful lot more money. This is what rookie quarterback wages look like when they're not completely clownshoes crazy (see Stafford, Bradford).
But I digress. Griffin may well be the better quarterback at this juncture, but as with everyone, he has to show consistency. Stafford has been in the league four years and is still working to establish that consistency. Griffin will be no exception to the rule.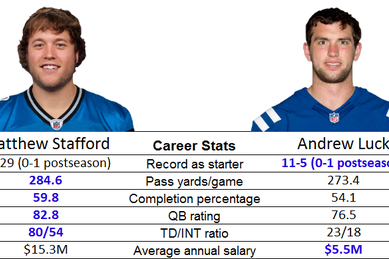 Like Stafford (and Bradford), Andrew Luck was a highly sought quarterback coming out of college. He was a can't-miss player in a league where "can't-miss" prospects miss more often than they hit.
The really odd thing about Luck is that unlike most of the other young quarterbacks listed here, he actually threw for a lot of yards. His 273.4 passing yards per game is still short of Stafford's historic mark but not by nearly as much as the other players in question (and Luck didn't even have to throw the ball an NFL record number of times).
But aside from sheer yardage, Luck didn't have a great 2012. His completion percentage, QB rating and even TD/INT ratio smell of a below-quarterback. Of course, just because Luck didn't have a breakout rookie season like most of the other players here doesn't mean he isn't still good.
It took all of one year for the Indianapolis Colts to get Luck on the team and immediately start winning games. Despite not being very statistically impressive, Luck has absolute buy-in within his locker room. That's not surprising considering the 2011 Colts were about as hopeless as the 2008 Lions, and Luck took them to the playoffs in his first professional season.
In other words, Luck is like the complete opposite of Cam Newton, the man who went No. 1 overall in the draft before him. His leadership and intangibles are top notch despite his personal stats being less than impressive.
Both Stafford and Luck could use time to become more efficient, but Luck has the excuse of being a rookie, Stafford doesn't.
Stafford, of course, also makes three times what Luck makes, which throws the comparison off a bit, but you should be used to that by now.