Top 10 Footballers I Love To Hate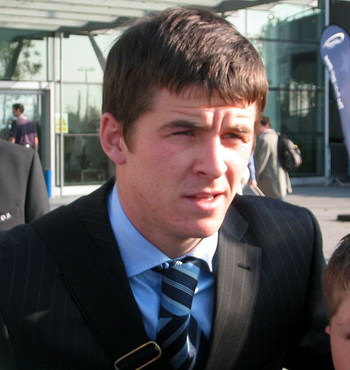 To complete my slideshow trilogy, I round it off with probably the most subjective of lists possible. Being careful not to wander into the realms of defamation in this slideshow will be a tough and exciting challenge for me (which I will probably fail).
We all have our favourite footballers we love to pick on. Whether they be donkeys, fascists, divers, mercenaries, yobs, complete nuts...we've seen it all in football. But every so often some men stand out among others in their deplorability and in the negative feelings they bring out in people.
Where some make the odd gesture, spit, or dive, these men make it a virtue to do these things as consistently as possible over a period not of games, but of seasons.
This list is dedicated to these men.
No. 10: Gabriel Heinze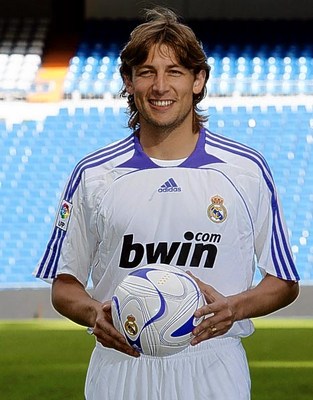 AKA.........................................'The Angel'
Gabriel Heinze is certainly no angel. But of all the players on this list Heinze is the one that I deliberated the most over. One must not forget his excellent stints at PSG and Manchester United (winning the Matt Busby player of the year award 04-05) or his performances for his national team, Argentina, winning an Olympic Gold in 2004.
But at Real Madrid, Heinze has more often then not, frequently dissappointed. Although one must realise Real Madrid isn't exactly a defender's dream move (Walter Samuel, Pepe, Jonathan Woodgate...we salute you) Henize can only blame himself for many erratic performances over the past two seasons.
The difference between last and this season for RM fans is of course that RM have won nothing this year and fans would be hard pressed not to blame lumbering full-back Heinze if pushed.
Heinze is remarkable as a defender in that he always seems to foul in the exact wrong areas of the pitch. Going forward, unlike at Man United, he has looked awkward and cumbersome. It's impossible to say what could've happened if he had been allowed to join Liverpool instead but suffice to say he has been really frustrating to watch in the white of Real so far. And his mouth just keeps flapping and flapping.......
Rap Sheet:
-Sold as Manchester United captain to Real Madrid (having captained Man U against Chelsea and West Ham in his last two appearences for the club).
-Liverpool 4 RM 0: he was shocking.
-Genral hustling of the referee in games for throw ins etc is really annoying to watch.
-Gives free kicks away like Chupa Chups at Halloween to kids.
-Handed in transfer request in order to join Liverpool, unforgiveable for most Red Devil fans.
-General clumsiness and atempted cynical play (which always backfires)
No. 9: Nicklas Bendtner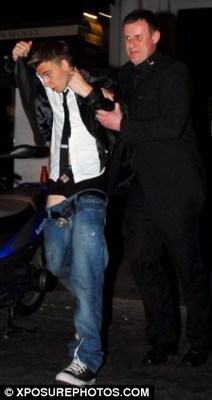 AKA....................................'The Danish Dope'
Nicklas is a true rarity in football. He is the best natural non-finisher of the ball I have ever seen. A quick look at his shots/goals ratio after any typical Arsenal game should prove this. His 36/131 appearences isn't exactly top four striker material either.
Bendtner is a godsend to opposition defenders. Some of the clearances he makes would make Maldini proud and no matter how many chances you give him, you can be guaranteed he'll do his best to miss.
Even his own teammates (notably Adebayor) have questioned his striking ability. No matter what, Spurs fans hope to see Bendtner continue to play for their club for sometime longer into the forseeable future.
Rap Sheet:
-Sent-off in 1st PL appearence at Everton.
-Scores own goal in 5-1 loss to Tottenham, 2007.
-Has bust up with strike partner Adebayor, Adebayor accuses Bendtner of being Tottenham mole.
-Photographed leaving nightclub with pants down after 3-1 loss to Man U, apologises to fans for not having pants up.
-General stupidity shown in post match comments.
No. 8: Jose Antonio Reyes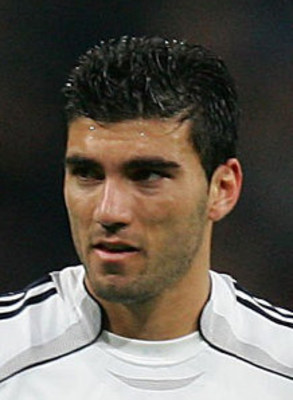 AKA................................................'3 minute man', 'A mercenary's mercenary'
Reyes is a an all too sadly common occurence in football in a post-Bosman world. After leaving hometown club Sevilla in 2004 at the tender age of 19 (mercenaries get younger and younger every year nowadays huh?), Reyes would go on to play for Arsenal, Real Madrid, crosstown rivals Atletico Madrid and now, Benfica.
Where he'll end up next is literally down to the highest bidder but on a serious note, Reyes' career has gone downhill very fast from the promise he showed at Sevilla and Arsenal.
A former Spanish international, by the time Spain got around to actually being a force in football he was not involved and only a wise guy would bet on him making any appearances at the 2010 World Cup either as left winger or forward.
Reyes, similar to Michael Owen is clearly suffering from mercenaries disease making bad career moves in return for paychecks.
Maybe the main reason he gets onto this list however is his status as a serial whinger. After claiming there were "bad people" at Arsenal he signed a six year deal at Arsenal in 2005. He promptly left the next summer to Real Madrid anyway! There's just no satisfying some people.
Rap Sheet:
-Leaves Sevilla at 19 for Arsenal in 2005. Like Fabregas, becomes a poster boy for a worrying trend in football as one of many young players flocking to England for absurd wages at such an unproven age. (Remember for every Cesc Fabregas, there's an Amaury Bischoff people)
-COPE Radio in Spain make prank call pretending to be Real Madrid to Reyes. Reyes declares homesickness and talks about 'bad people' at Arsenal cue embarrassment for Arsene Wenger and the club.
-Signs six-year deal and then asks not to play against Dinamo Zagreb a year later fearing being cup tied.
-Signs for Atletico and has shocking 1st season.
-General shifty unlikeable fella.
No. 7: Alexander Doni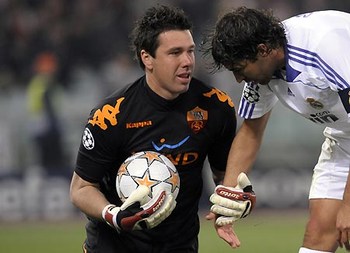 AKA......................................................'The Brazilian Buffoon'
As a Roma fan my patience has sadly run out with one of the most incompetent goalkeepers currently playing in Serie A. Doni, sadly falls into the "donkey" category of players in this list although by all accounts he is a professional and likeable character in the media/dressing room.
7-1. Old Trafford, 2007. One of the lowest points in A.S Roma's professional history and what club captain Francesco Totti personally called the 'worst moment in his career'. One of the most overlooked facts in the game was the horrendous positioning and overall performance of Doni in Roma's goal. it was an embarrassment and a disgraceful performance that went unnoticed.
Since then Doni, has proven to be one of worst goalkeepers at positioning himself in my living memory. Okay, perhaps I notice this more because I want Roma to win their games but playing with Doni in goal has now become a handicap.
The penalty shootout performance in this year's CL was a nadir. Visually nervous, many commentators/pundits at the time were moved to remark that it was one of the worst performances by a goalkeeper in a PK shootout that they had seen. If Amelia doesn't arrive in the summer, it may be better for all to just play with no goalkeeper and 11 outfield players (is this possible?)
Rap Sheet:
-Manchester United 7, Roma 1
-Arsenal Roma PK shootout 2009, Doni looked like he thought a shootout actually involved firearms.
-Season 2008-09, finally 'found out' as 2nd rate goalkeeper, loses place in Brazil 1st team to Julio Cesar.
-Concedes four goals in Roman Derby, club directors begin search for new goalkeeper. Suffers 'bout of flu' for following game against Lecce.
No. 6: Glenn Whelan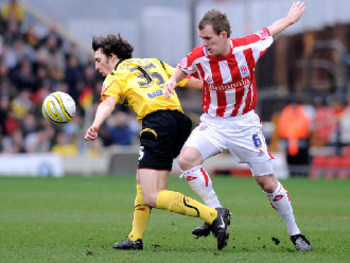 AKA......................................'the little train that could'
Another team I support, another donkey. This time it's Ireland's midfield 'enforcer' Glenn Whelan, also current Stoke City 13th choice midfielder...things could be worse for us, remember Gary Doherty, Tottenham fans out there?
He was an Irish international.
Glenn Whelan isn't just your average DM donkey, he represents everything that gives me a headache about Giovanni Trappatoni's Ireland regin thus far. Where the likes of Andy Reid and Stephen Ireland could handily play at international level, the Don prefers to pick not one, but two midfield water carriers in his ambitious aim to replicate Greece (c. 2004).
Whelan is so hopelessly inept at international (or Premiership level for that matter), it frequently makes me want to have a mid-life crises 20 years prematurely as I question the fact he could become a professional footballer and top level international whereas I sadly couldn't.
The sooner this guy gets injured the better I say, hopefully Trap's hand will be forced into a finding more creative solutions to Ireland's 1st eleven.
Rap Sheet:
-Transfer Listed by Paul Sturrock as a player for, wait for it, Sheffield Wednesday in the English 3rd level of football.
-Becomes anonymous during his various international 'performances' against Georgia, Montenegro and Bulgaria.
-Plays for Stoke City
-Is incapable of playing the ball forward accurately.
-Has admitted he really wanted to become an astronaut instead of a footballer as a kid.
No. 5: Lucas Leiva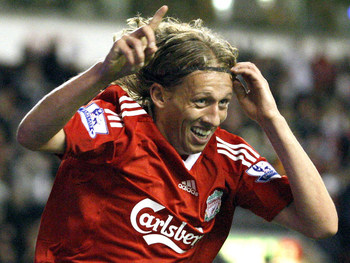 AKA...................................'The only Brazilian Donkey this side of Roque Junior'
In the 70 odd appearances Lucas has made in the Liverpool team since his move from Gremio I have seen nothing, and I repeat nothing that makes me understand why somebody would pay £6m for the guy.
Performance against Newcastle this season aside (my mother would have scored against Newcastle that day), Lucas has done nothing to endear himself to the Kop in terms of performances. so far we've found out he can't head, can't shoot, can't pass and can't dribble with the ball and only does an average job without it. Is this good enough for Liverpool?, well he still is only 22 I suppose.
"I am looking forward to seeing him score goals for Liverpool in the future and [we] believe he has the mentality and the character you need to do well in England" -Rafa Benitez, 26/7/07. So far he has scored four goals and has looked out of his depth when filling in for one of Mascherano, Alonso and of course, Gerrard. The dip in quality is apparent when he plays.
Rap Sheet:
-Generally looks like an idiot
-Sent off against Everton this season in FA cup semi-final
-Gives away penalty in 1-1 draw with Wigan, severely denting Liverpool's title hopes and encourages Manchester United to keep clawing back points.
-Sent off at Olympics for tackle on Mascherano - revealing inherent jealousy for a teammate that can control the ball
-Since joining Liverpool he and his club have won nothing except the Premier League Reserve Team title 2008
No. 4: Didier Drogba
AKA...............................'Big Diddy', 'A Pain in the Head', 'Africa's Best Comedian'
The charge 'bringing the game into disrepute' was invented for Didier Drogba.
After wagging his finger and clearly shouting 'A F*n Disgrace' in front of millions (billions?) of viewers a couple of nights ago I was reminded why I should go ahead and do this list.
Drogba has perfected diving almost to the point of an art form. In any game he's involved in you are liable to see at least two five minute long stoppages where Drogba lies on the ground doing a dramatic (and I must admit, absorbing) rendition of what its like to have just found out your family was eaten by a hungry crocodile.
He has become so good at diving even his own manager, Guus Hiddink substituted him in that controversial tie, fearing he was actually injured.
Didier Drogba is not someone that I 'hate' as opposed to the others on this list, but he certainly someone I can imagine eventually coming to love to hate. His behaviour is comical. He would make a fine villain in any 1920s silent movie (bring back silent movies just for him I say).
The ironic thing about 'Drogs' is that he's actually an awesome player when staying on his feet. Unfortunately he finds this impossible to do.
Rap Sheet:
-His wikipedia entry has the following entry '....where he impressed the coach with his professional attitude'
-In 2006 in a BBC interview he reportedly said "Sometimes I dive, sometimes I stand". This is a blatant lie. He always dives.
-Released an autobiography with a Jose Mourinho penned foreword - this is the single funniest foreword in a book known to man.
-2008: Rafael Benitez compiles four year dossier on Drogba's various dives. Time restraints such as being manager of a professional football team sadly prevented him from compiling a 31 year dossier.
-Sent off in CL final for slapping Vidic, previously he had been caught on camera elbowing Vidic twice in previous games in 2006 and 2008. He does not like Vidic.
-Put in the worst performance by a striker in modern times under Scolari as Chelsea lost to Man U at Old Trafford earlier in the season. He does not like Scolari.
-Yellow carded AFTER CL 2009 semi-final by referee Tom Ovrebo. Drogba becomes a madman after the final whistle and continually harasses the ref. He does not like Tom Ovrebo.
No. 3: Harry Kewell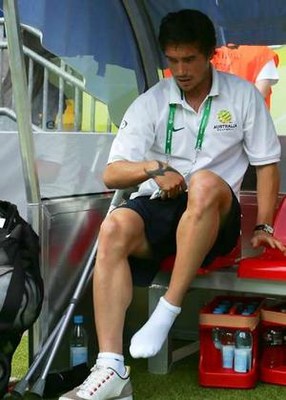 AKA.....................................'Kewell the Jewel', 'The Wizard of Oz'
'Permenantly injured until European Cup finals come around': The story of Harry Kewell's career at Liverpool is comical for its transparent contempt at the great club and its supporters.
When he signed on for the club for £5m in 2004 it was hailed as the best deal of the summer by Liverpool fans and when he left for Galatasary in 2008 it was hailed as the best deal of the summer by Liverpool fans. (What is it with Liverpool and hiring 'bad boys' anyway?: Bellamy, Diouf, Pennant, Cisse...)
The story of the 2004 transfer itself did not endear him to Leeds fans. £2m of the £5m fee went to his unregistered agent Bernie Mandic leaving near bankrupt club Leeds (still suffering today) only £3m to help towards clearing their debt. As any observer at the time was well aware, he was clearly worth more than even £5m at the time.
Although Kewell was to fail to live up to even the £5m tag at Liverpool, amazingly he was offered a new contract at his 'boyhood club' shortly before he left for, let's face it, financial reasons to Galatasaray.
Once again, he earned disdain from Leeds supporters for this move as memories of two Leeds fans deaths at the hands of Galatasaray supporters were still fresh.
By all accounts Kewell has played well for Gala when fit and is adored by supporters. Let's hope this love tale doesn't end acrimoniously like his previous two love-ins.
As a footballer, Gala supporters are probably the one group you would not want to 'p*ss off' in layman's terms.
Rap Sheet:
-Married to annoying soap star.
-Fit only for big games.
-In 2004 he gave a BBC interview were he condemned Leeds medical staff and players for not treating him properly.
-A few weeks later he left Leeds for Liverpool in one of the most controversial transfers in Premiership history.
-Sued Gary Lineker for defemation of character. I could be next.
-Summer 2008: Turns down AS Roma.
No. 2: El Hadji Diouf
AKA........................................'Serial Killer', 'The Camel'
In a previous article someone specifically took offence when I called Diouf a 'contemptuous retard'. I still stand to be corrected.
Diouf is a rarity among footballers. In fact, even among adults. He is a 10-year-old boy trapped in a 28-year-old professional footballer's body. Whereas Tom Hanks could undo his wish, sadly 'Dioufy' cannot.
51 goals in 336 games in France and England makes you question why the likes of Liverpool, Bolton, Sunderland and now Blackburn keep recycling this man onto our tv sets. World Cup 2002 aside what has Diouf actually accomplished?

Rap Sheet:
-Sold by Sochaux after insolent behaviour.
-Involved in car crash while at Rennes, he had no driving licence.
-Famously spat at Celtic fans while at Liverpool.
-Spat at West Ham fan while playing a Premiership game.
-Spat on Middlesborough fans while on loan at Bolton.
-Spat on Portsmouth model professional player Arjan De Zeeuw.
(see a trend here?)
-Castigated by Roy Keane after caught partying before games, Roy Keane later regretted 'buying players for the sake of it' in his quieter days after leaving Sunderland. Whoever could he mean?
No. 1: Joey Barton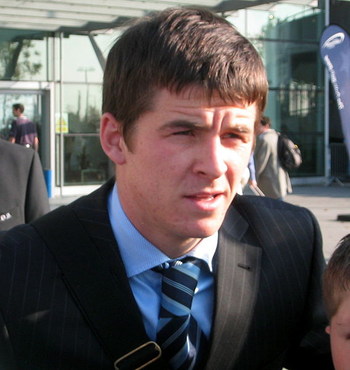 AKA..................................................'The Train Crash'
Where do I start?! Of all the players on this list, this is the player I find most difficult to describe without resorting to bad language.
Joey Barton is the poster boy for everything that's wrong with young millionaire footballers out of control. No matter how many chances he's been given to redeem himself he manages to let everyone down around him time and again to the point of absurdity. Its almost ridiculous at this point.
Barton in any other walk of life would probably be on a long jail term for one thing or another (not that he's exactly shy of going to prison). Perhaps in old age, it will only dawn on him then the terrible example he gave to children and aspiring footballers around the world through his behaviour on and off the pitch whilst being a player for Man City and Newcastle United respectively.
In short: A complete and utter yob.
Rap Sheet: (whatever you do while you read this, DO NOT hold your breath)
-Received his 1st red card while the match wasn't even in progress at half time during the classic Man City - Tottenham FA cup tie in 2004.
-Sparked a 10 man brawl at Doncaster in a friendly after hacking a player down in a friendly for Man City.
-May, 2005, ran over pedestrian while driving (badly) and broke his leg.
-Stubbed out a cigar in Man City youth team player's eye at a Xmas party.
-Assaulted a 15 year old boy in Thailand while on pre-season tour.
-Handed in transfer request in Jan, 2006 after the club stuck by him through all this crap - later rewarded with 4 year deal.
-Sep, 2006: Barton caught mooning fans after game. Only hilarious thing he's done sadly.
-On first call up to England squad has spat/feud with Lampard. As likely to be called up again as I am.
-Banned by speaking to the media by manager Stuart Pearce after labelling teammates as 'substandard'. Pots and kettles around Britian protested Barton was taking the mick.
-Assaulted Ousamane Dabo in training session at Man City. 4 month prsion sentence followed.
-Kung fu kicked Dickson Etuhu in groin during Tyne-Wear Derby.
-6 mth sentence for Dec, 2007 assault. Reveals alcohol problems.
-5 days ago: 2 footed lunge on Xabi Alonso at Anfield. Indefinitely suspended from club following confrontation with Alan Shearer and Iain Dowie.
Future Employment prospects: Liverpool player, enforcer, thug, bare-knuckle pit boxer, knacker yard operator, hooligan gang member, matrial arts instructor.
Keep Reading