The One Trade Deadline Deal the Seattle Mariners Have to Make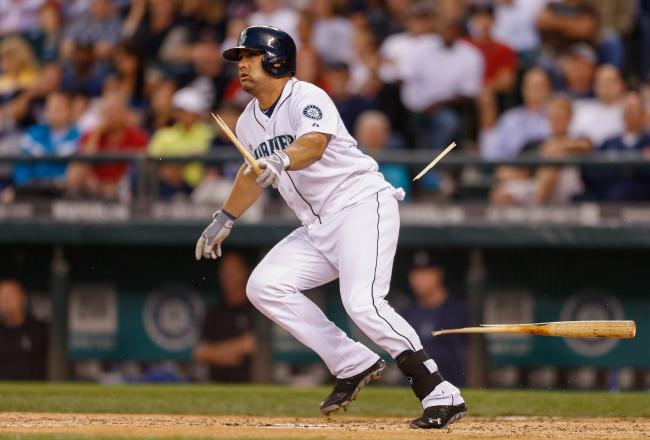 Otto Greule Jr/Getty Images
The Seattle Mariners have some decisions to make. Do they make deals at the MLB trade deadline, or do they stand pat and see what this team can do in the last few months of the season?
Dilemmas, dilemmas.
At least there won't be any of the ridiculous yearly columns about how the Mariners should trade Felix Hernandez to a team like the New York Yankees or the Boston Red Sox.
Do the Mariners have to make deals? Is that some sort of league requirement? When you look at how a team like the Mariners is perceived in baseball circles, there seems to be this automatic assumption that the "have-nots" should dump their most valuable veterans and get pieces for "the future."
In other words, the Mariners should continue to accept their role as a farm team for the free-spending franchises at the top of the baseball food chain.
If you are the Seattle Mariners, when does the future arrive? At what point does the team get to retain their veterans and actually become buyers at the trade deadline?
Granted, the Mariners are still far back in the standings. Despite winning eight of the last nine games, Seattle is still 11 games behind the Oakland A's in the American League West. This isn't 1995, and a comeback is not likely to happen.
This brings us to the most likely individual to be traded. That player? Kendrys Morales.
Why trade Kendrys Morales? Simple.
Morales probably represents your best opportunity to get a package of prospects. He isn't necessarily the most coveted player on the market, but anyone hitting .280 with power is going to draw some interest. If the feeling is that Morales won't re-sign with Seattle, you think about moving him and getting more than a compensatory draft pick when he signs with another team.
Should the Mariners trade Kendrys Morales?
Granted, Morales is not necessarily going to get a particularly lucrative package, simply because he may be a short-term rental for whichever franchise would acquire him. Teams are not often anxious to give away their best prospects if the player is going to walk away in a few months.
There are certainly other candidates to be traded. Raul Ibanez, Oliver Perez, Jason Bay, Brendan Ryan, Endy Chavez, Aaron Harang and Michael Morse come to mind. The problem with trading any of these players is that they may not command a particularly high price.
Injuries, age and lack of productivity would probably land Seattle a low-level minor leaguer in return for any of these players. Or, the Mariners could get the coveted "player to be named later." Forgive me if that doesn't get me particularly excited.
Also, no one is going to take Franklin Gutierrez. Not with that medical file.
Of course, there is always the possibility that the Mariners could stick with what they have and stand pat. After all, the team is playing better, the youngsters are starting to look more comfortable in the starting lineup, and the Mariners have a nice blend of prospects and veterans.
Why not take this team for a ride and see where it goes?
Is it guaranteed that the Mariners will not be able to re-sign Morales in the offseason? The Mariners showed a willingness to go after Josh Hamilton, and Morales would undoubtedly be cheaper. Why not lock Morales up for three years? In addition, wouldn't it be possible for Seattle to bring Ibanez back for another season?
The Mariners will continue to be put in the "sellers" column as the trade deadline approaches, particularly if they fall farther back in the standings. To many people in the baseball world, it will make sense for the Mariners to unload players like Morales and Ibanez. However, that doesn't mean that the Mariners are going to behave as expected.
What if the Mariners stuck with what they have? Would that be so crazy? At some point this team has to start looking like a contender. Maybe that starts with keeping a few veterans at the deadline rather than going through the yearly ritual of having a sale.
This article is
What is the duplicate article?
Why is this article offensive?
Where is this article plagiarized from?
Why is this article poorly edited?

Seattle Mariners: Like this team?