UFC on Fox 8: Who's on the Hot Seat for the Johnson vs. Moraga Fight Card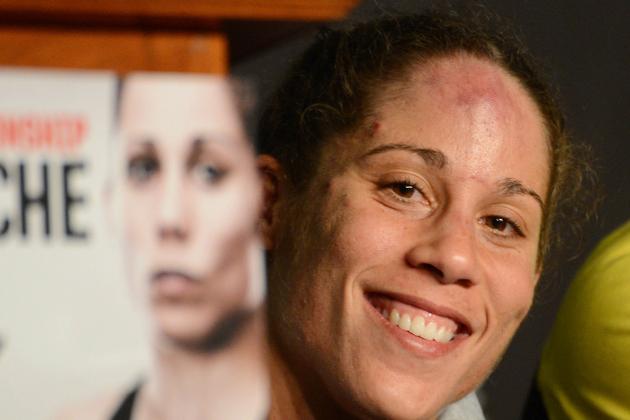 Jayne Kamin-Oncea-USA TODAY Sports

The last time the UFC was in Seattle, lightweight champion Benson Henderson managed to fend off the attack (and middle finger salute) of Nate Diaz, retaining his title with a five-round unanimous decision. When the UFC returns to the Key Arena on July 27, flyweight champion Demetrious Johnson will look to be the second champion in a row to defend his belt in the Emerald City, when he faces John Moraga in the main event of UFC on Fox 8.
A total of 12 fights will take place on the fight card. Do you want to know who will be under the most pressure heading into the event? Read on.
Begin Slideshow

»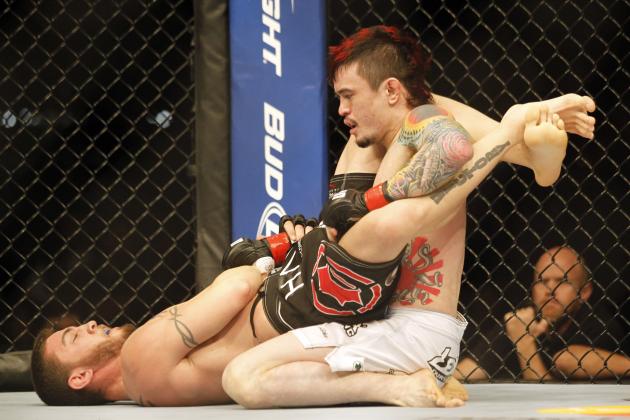 Joe Nicholson-USA TODAY Sports

I don't know what John Albert did get on the wrong side of the UFC matchmaking team, but it seems like he has accomplished that feat. Albert debuted with the UFC with a win over Dustin Pague in December 2011 and was then more or less given a sink-or-swim path through the bantamweight division.
Albert's three fights in 2012 have all ended via first-round submission defeat, and they have all come against stiff competition, Ivan Menjivar, Erik Perez and most recently Scott Jorgensen.
Albert will get a bit of a reprieve when he faces Yaotzin Meza at UFC on Fox 8. Meza is 0-1 in the UFC, and like Albert he was given no break in that fight, his UFC debut, as he was matched up against Chad Mendes.
Albert needs to get back in the win column in Seattle.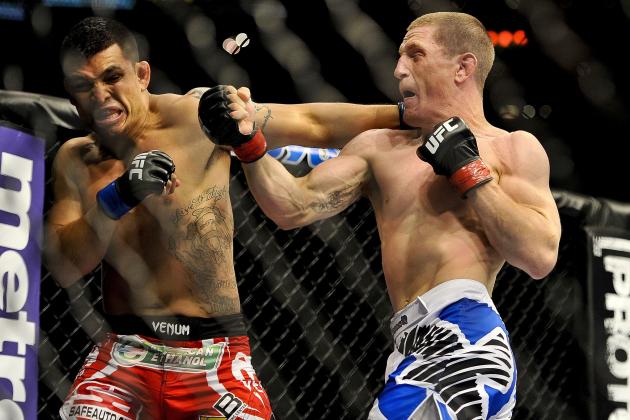 Paul Abell-USA TODAY Sports

Since winning season 6 of The Ultimate Fighter, Mac Danzig has struggled. He followed his TUF victory with a win over Mark Bocek, but since then Danzig has been unable to string two consecutive victories together. Overall, Danzig is 5-6 in the UFC and coming off a split decision loss to Takanori Gomi.
Danzig will be facing Melvin Guillard at UFC on Fox 8. Guillard had a five-fight winning streak end at UFC 136, when Joe Lauzon submitted him in 47 seconds. Including that loss, Guillard is 1-4 in his last five bouts, including a defeat where he came in overweight.
If you're looking for the fight where the two competitors are under the most pressure to keep their UFC employment, this is the one to watch.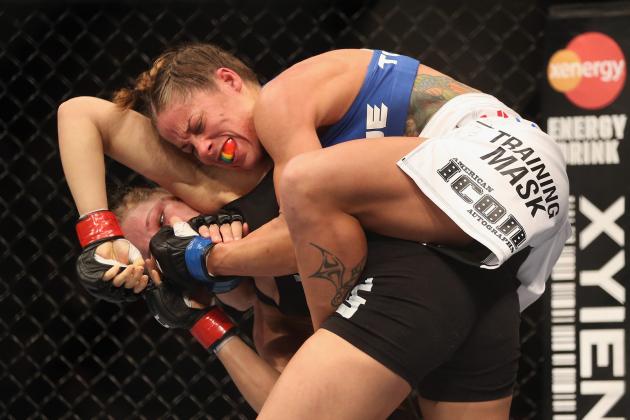 Jeff Gross/Getty Images

From UFC title shot to facing a replacement opponent; that's the reality that Liz Carmouche finds herself in heading into UFC on Fox 8. Carmouche had been scheduled to face Miesha Tate on the July 27 card, but an injury to Cat Zingano had the UFC plucking Tate from the card to coach opposite UFC champion Ronda Rousey on The Ultimate Fighter.
That change was good luck for Tate, but very bad luck for Carmouche.
Carmouche is in a no-win situation here. Defeat Jessica Andrade in Seattle, and so what? Lose to Andrade, and her stock will drop precipitously. True, the UFC women's bantamweight division is not stacked, but losing to a replacement fighter will slow Carmouche's trip back to title contention.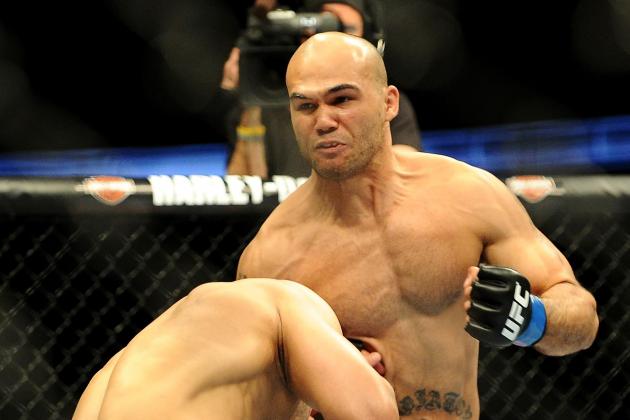 Jayne Kamin-Oncea-USA TODAY Sports

It's hard to believe that Robbie Lawler is only 31. After all, he's been fighting as a professional since 2001, putting together a record of 20-9-0-1 over that time.
Lawler's original stint with the UFC ran from May 2002 through October 2004. During that run he went 4-3. After that seven-fight stretch came to an end, Lawler fought for several promotions before signing with Strikeforce, where he went 3-5. When the UFC absorbed that promotion, Lawler made the move, deciding to drop to welterweight for his second stint with the promotion.
Lawler made the most of his second chance, earning "Knockout of the Night" honors by TKO'ing Josh Koscheck in the first round at UFC 157. The victory moved Lawler directly into the top-10 rankings in the UFC's welterweight division.
The win over Koscheck and his top-10 ranking have put a target on Lawler's chest, one that Bobby Voelker, coming in as a late replacement, will have his sights on.
The pressure will be on Lawler in this fight. Lose to Voelker, and he'll almost certainly slip from the top 10 in the division. Win, and he'll more than likely solidify his grasp on a top-10 spot.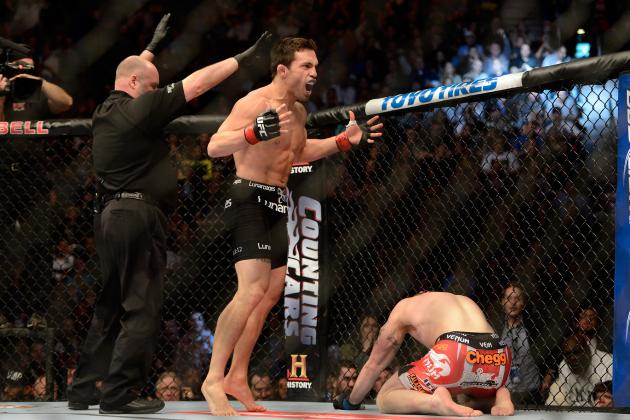 Eric Bolte-USA TODAY Sports

The Mac Danzig versus Melvin Guillard bout may determine which fighter stays in the UFC, but the stakes are higher in this one, as the Rory MacDonald versus Jake Ellenberger fight may determine who gets the next shot at the UFC welterweight title.
MacDonald is seemingly the golden boy of the division, anointed the next GSP by many, he is 14-1 in his career, with his only loss being a late third round TKO to Carlos Condit. He's currently riding a four-fight winning streak.
Ellenberger (29-6) has two losses in his ten-fight UFC career, dropping a split decision to Condit and a come from behind KO loss to Martin Kampmann. Ellenberger has won his last two fights.
A loss won't drop either of these fighters out of the top 10 in the welterweight division, but a win will have UFC matchmakers thinking about putting that fighter in against the winner of the upcoming bout between champion Georges St-Pierre and Johny Hendricks.