Portland Trail Blazers: 6 Takeaways from Blazers' Summer League Play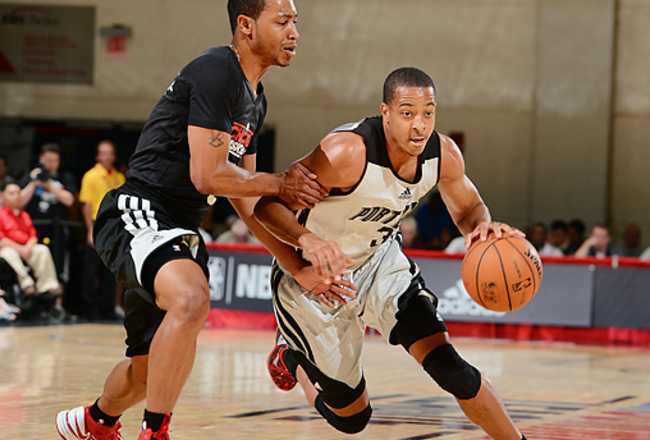 CJ McCollum was the Blazers' first-round pick from this year's draft.

It was a mixed bag for the Portland Trail Blazers in the Las Vegas Summer League.
All eyes were on first-round pick C.J. McCollum and whether he could live up to the billing as potentially the next Damian Lillard.
Questions arose whether returning Blazers Meyers Leonard, Victor Claver, Joel Freeland and Will Barton could show significant improvement in their games and dominate Summer League competition after an NBA season under their belt.
Portland finished a disappointing 1-5 in Vegas, bowing out in the consolation round of the tournament with a 72-66 loss to the Minnesota Timberwolves.
Its lone victory came in the first round with a 70-69 win over the Atlanta Hawks behind Barton's game-winner in OT.
With the training camp more than two months away, here are the storylines to take away into a long offseason.
C.J. McCollum Is the Real Deal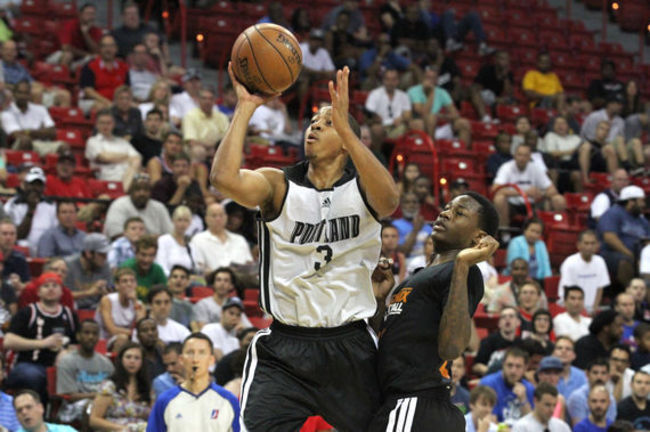 CJ McCollum averaged 21 points per game in this year's Summer League.

The comparisons will go on endlessly throughout next season.
Can C.J. McCollum become the next Damian Lillard? The Lehigh product didn't prove otherwise as he averaged 21.0 points, 4.0 rebounds and 3.4 assists over five games.
By comparison, Lillard averaged 26.5 points, 4.0 rebounds and 5.3 assists over four summer games last year en route to being named co-MVP with Memphis' Josh Selby.
Like Lillard, McCollum showed poise and an ability to play at his own pace. He blew by opponents with the dribble drive and was capable of finishing at the rim. He displayed an average shooting touch, however, going 36.6 percent from the field and just 31 percent from beyond the arc.
But McCollum definitely proved he was one of the top players in Vegas. He will provide Portland a huge lift off the bench behind Lillard and Wesley Matthews. The dynamic will be interesting to watch, and McCollum could eventually displace Matthews in the lineup.
A McCallum-Lillard backcourt is the one fans will want, but how much will we get to see of it?
Meyers Leonard Still Needs Work Defensively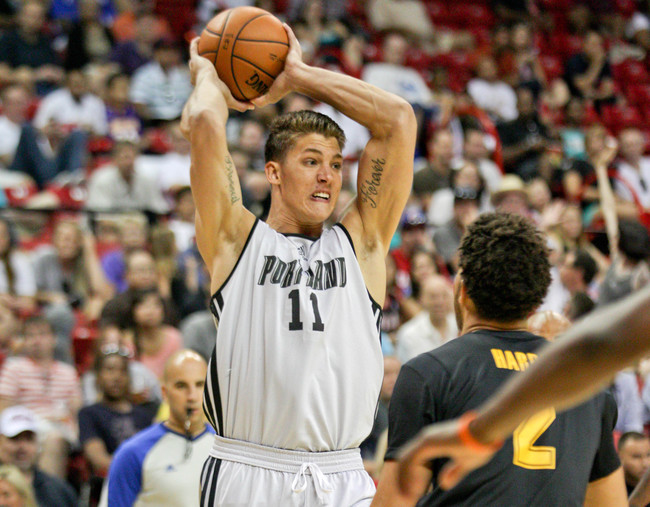 Stephen R. Sylvanie-USA TODAY Sp
No, Meyers Leonard was not expected to become a franchise-changing big man in the way that Greg Oden was supposed to be.
No one has questioned Leonard's offensive ability.
For the 21-year-old to take that next step and cement himself as the Blazers' center of the future, however, Leonard's defense will need work over the next few years.
Leonard has above-average athleticism for someone his size at 7-foot-1 and 250 pounds. He can jump out of the gym. His shooting stroke is impressive with the ability to nail jumpers from 15 to 18 feet. He shot 52.1 percent from the field and 87.5 percent from the free-throw line at Vegas.
But like last season, he still finds himself caught out of defensive position and rather than intimidate players to cause misses at the rim, plays usually result in a foul.
Leonard had 13 fouls in his first two summer games, but to his credit, had just nine over the last three contests. The Blazers expect to have enough firepower offensively next season and will have a solid tandem at center with Leonard and new addition Robin Lopez.
We may be expecting too much out of Leonard in asking him to become a player he isn't. But right now, one of Portland's top priorities is finding a rim protector next to All-Star LaMarcus Aldridge to keep him happy.
Thomas Robinson Was a Very Nice Pickup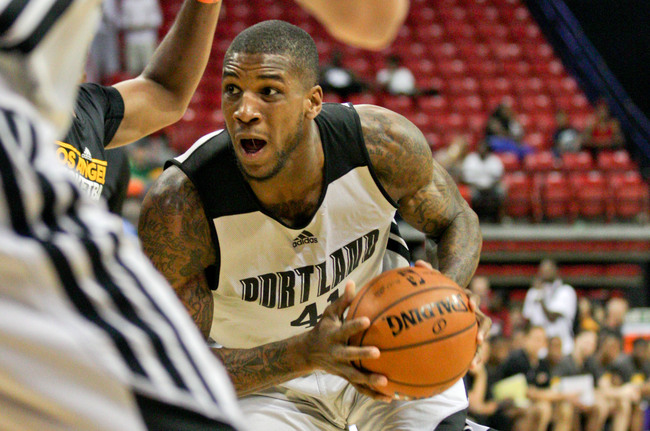 Stephen R. Sylvanie-USA TODAY Sp
It wasn't long ago Thomas Robinson was considered a hot prospect. In fact, it was just last year.
But since then, the Kansas product's stock has plummeted after being traded twice since being nabbed at No. 5 in the 2012 draft by the Sacramento Kings—one pick ahead of Lillard.
Robinson was acquired by the Blazers at a cheap price—two second-round picks and rights to two foreign players. He will be given every chance to succeed in Portland as a backup to Aldridge.
After a rough start in Vegas, Robinson found his niche as an energy player. He finished averaging a double-double with 10.4 points and 12.8 rebounds over five games, including a franchise Summer League record 18 boards against Chicago.
His shooting touch was a struggle as he was just 37.7 percent from the field.
But with his size (6-foot-10, 237 pounds), strength and athleticism, Robinson could definitely fill the void left by the departing J.J. Hickson—who signed as a free agent with Denver—as the energy guy.
Robinson also received a huge endorsement from his former Houston Rockets teammate James Harden in an interview with Chris Haynes of CSNNW.com:
He knows what his job is, he knows what he's great at and he does it to the best of his ability. T-Rob is a very hard worker, an excellent rebounder and he's definitely skilled for someone of his size. I have no doubt about it that he'll turn his career around in Portland.
His arrival means the Blazers now own three of the top 11 picks from last year's draft with Robinson, Lillard and Leonard.
Will Barton Shows Promise but Could Be an Odd Man out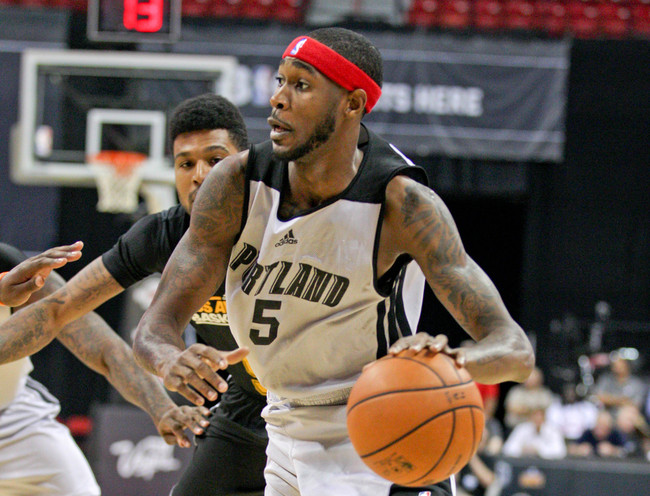 Stephen R. Sylvanie-USA TODAY Sp
Talent has never been a problem for Will Barton.
The second-year guard came on late last season for the Blazers when the playoffs were out of reach. He averaged 12.6 points, 5.8 rebounds and 3.0 assists in the month of April.
He separated himself from the pack as the Blazers' second-leading scorer in Vegas, averaging 14.5 points to go along with 6.5 rebounds over four games.
Barton came up clutch to give the Blazers' their lone victory in the Summer League with a baseline jumper in overtime over the Hawks.
But with Portland having Lillard, Matthews and McCollum playing the majority of minutes in the backcourt, where will his playing time come from? Veteran point guard Earl Watson was also brought in to play spot minutes.
The Blazers also drafted Cal guard Allen Crabbe in the second round for his outside shooting—an area that isn't one of Barton's strengths.
Barton has potential to be a solid NBA player, but playing time could be hard to come by when this upcoming season rolls around.
Victor Claver and Joel Freeland Still Need Work
The developments of Victor Claver and Joel Freeland were a couple key storylines to watch heading into Vegas.
Of the two, Claver has shown the most promise with his size (6-foot-9 and 224 pounds) and ability to put the ball on the floor. The Spain native has provided glimpses of his potential, including a 10-point, 11-rebound effort against the Bulls in Vegas, but has been wildly inconsistent with his shooting stroke.
Like Barton, Claver could find playing time hard to come by with Nicolas Batum and new addition Dorell Wright ahead of him at the small forward position.
Freeland has struggled to find his niche. The hope was for him to become an energy player off the bench, but that role looks like it may be filled by Thomas Robinson.
One of Freeland's biggest strengths is his ability to nail the outside jumper, but will need to improve his defense and rebounding to become a long-term fit in Portland.
The Blazers' Bench Will Be Significantly Better Next Season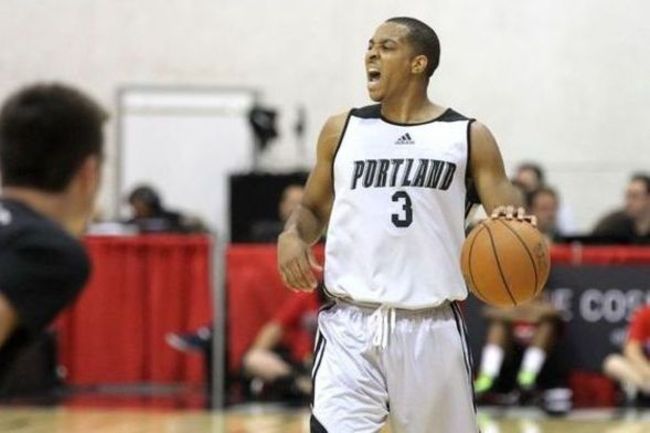 The drafting of C.J. McCollum immediately improved the Blazers' bench significantly over last season. He probably would have been Portland's top reserve in 2012-13 if he had been in the league.
With McCollum, Meyers Leonard, Thomas Robinson and Will Barton showing promise in Vegas, the Blazers added sharpshooter Dorell Wright and veteran Earl Watson. Allen Crabbe, Victor Claver and Joel Freeland will also have chances to contribute.
It already beats the likes of Sasha Pavlovic, Luke Babbitt, Nolan Smith and Jared Jeffries as reserves.
Portland had unquestionably the worst bench in the NBA last season, averaging a dead-last 18.5 points as a unit (via HoopsStats.com). Head coach Terry Stotts will finally have options off the bench to give rest to his starters, which had four players average 34 minutes or more.
Lillard, Batum and Aldridge were all in the top 10 in average minutes played per game in the NBA. Lillard played the most minutes in the league at 3,167—48 more than the player behind him in Kevin Durant.
Most fans lamented that if the Blazers had any sort of a bench last season, the playoffs would've been within reach. Now, Portland's bench has improved a great deal, and the expectation should be a huge leap from its 33-49 record in 2012-13 and contending for a postseason berth.
Keep Reading

Portland Trail Blazers: Like this team?