UCLA Football: Position-by-Position Fall Preview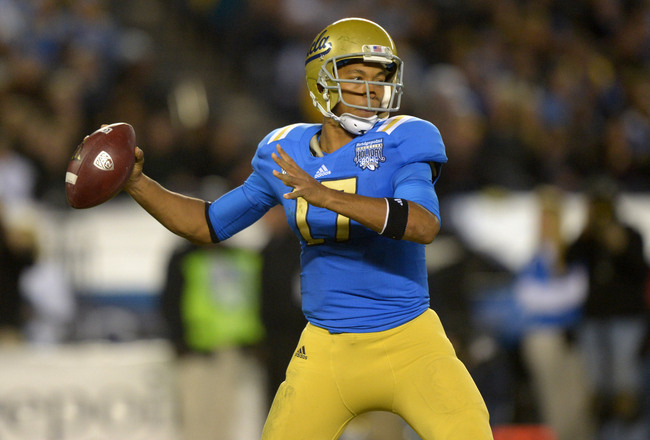 Quarterback Brett Hundley
USA TODAY Sports
With fall practice about two weeks away, it'd be prudent to take a look at the UCLA Bruins from a positional standpoint.
Head coach Jim Mora's bunch will have to replace a considerable amount of offensive firepower from a season ago. All-everything tailback Johnathan Franklin graduated and was drafted in the fourth round by the Green Bay Packers, while tight end Joe Fauria signed a free-agent deal with the Detroit Lions.
Additionally, offensive lineman Jeff Baca and punter Jeff Locke were both selected by the Minnesota Vikings. On the defensive side of the ball, the entire starting secondary graduated. Defensive end Datone Jones also left for the NFL and was drafted in the first round by the Packers.
With that said, a litany of new faces will have to play prominent roles in 2013. Mora hopes that the Bruins can progress with a young roster and even improve from the 9-5 record a season ago.
Here is your position-by-position fall preview for the UCLA Bruins.
Quarterback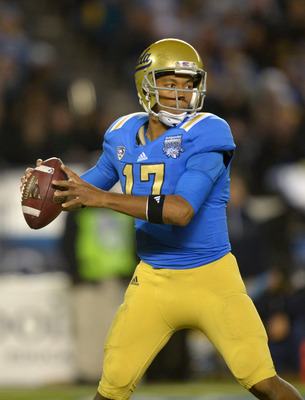 Brett Hundley competing against Baylor
USA TODAY Sports
Brett Hundley is the unquestioned starting quarterback in 2013.
As a freshman, he passed for 3,745 yards and 29 touchdowns. He displayed immense maturity for such a young player and truly gave UCLA a dynamic option at the position for the first time since seemingly Cade McNown.
Now a redshirt sophomore, he'll hope to take the next step in becoming an elite quarterback. According to CBS Sports' Bruce Feldman, Hundley has packed on 20 pounds from the end of last season. He's also down to 8 percent body fat. Teammate Devin Lucien feels as if Hundley is truly driven to become great.
The question is, who will be Hundley's backup?
The two incumbent options include redshirt freshman T.J. Millweard and fellow redshirt freshman Jerry Neuheisel.
Neuheisel (much like his father was) is a heady, intelligent player who lacks physical tools. He'd probably be solid in a pinch, but wouldn't necessarily be the best option should Hundley be out for an extended period of time. Weak arm strength and a slight frame are two major concerns with Neuheisel.
Millweard is physically bigger than Neuheisel and has a better arm. However, his arm strength isn't outstanding by any means. Of the two, Millweard would probably get the call in the event of a long-term injury to Hundley.
The massive wild card in the equation is incoming freshman Asiantii Woulard.
A native of Orlando, Woulard won the prestigious Elite 11 competition last season. He's got above-average arm strength and speed, but perhaps most impressive, he's got a real knack for retaining information and comprehending the requisite nuances of the position.
It'll be very fascinating to see how he performs during fall camp in San Bernardino. He's unquestionably the most talented option behind Hundley. In a perfect world, Mora and offensive coordinator Noel Mazzone would love to redshirt him.
If a major injury to Hundley does happen early in the season, Mora could opt to roll the proverbial dice and throw Woulard into the fire.
Running Back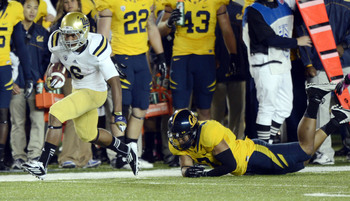 James eluding a Cal defender
Bob Stanton-USA TODAY Sports
With Franklin's departure to the NFL, the Bruins lose more than just 2,000 yards of total offense and 15 touchdowns. Franklin was the unquestioned leader of the football team. He was a charismatic, inspirational figure who garnered a great deal of respect.
Without Franklin in the fold, the Bruins will most likely rely upon a running-back-by-committee scenario. That is, unless one back can separate from the pack.
The two most experienced backs on the roster include Jordon James and Damien Thigpen.
Thigpen was the second-string tailback to Franklin last season. He was perhaps the fastest member of the team and possessed elite quickness. Unfortunately, he suffered a torn ACL against Southern Cal. Without Thigpen, it changed the way that UCLA's offense ran. He was a vital special teams player and was very good at catching passes out of the backfield.
He should be able to participate in fall camp. It's unlikely—barring an Adrian Peterson-type recovery—that he'll be the same player right away. He'll most likely be a change-of-pace back and not take on the full load of a starting back.
James had a somewhat disappointing 2012 season. To be fair, he was plagued by injury and wasn't fully healthy for the majority of the season. When healthy, Bruin fans have seen glimpses of his ability. He's got great agility and good speed as well. He'll most likely enter camp as the top option at the position.
Aside from the aforementioned duo, the Bruins also have Paul Perkins, Malcolm Jones, Steven Manfro and incoming freshman Craig Lee.
Perkins redshirted last season as a freshman. He's impressed on the scout team and actually reminds people a bit of a young Johnathan Franklin. It's not necessarily feasible to believe he'll take the reins of the starting job, but he should contend for playing time.
Manfro is a hybrid running back/wide receiver. While he could see some time in the backfield, he'll most likely play as a wideout.
Jones is an interesting case. The former Gatorade High School Player of the Year left the program after the season opener against Rice. He decided to come back and has dedicated himself to getting in top shape. While he might not start, he'll play the role as the big back on the roster.
Lee is perhaps the most talented tailback on the roster. He's got good size and impressive top-end speed. Again, it's not a slam dunk to assume Lee will instantly come in and start. Regardless, his talent is undeniable.
The situation at tailback should be one of the most intriguing subplots heading into the fall.
Wide Receiver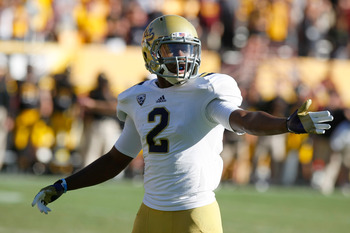 WR Devin Fuller
Rick Scuteri-USA TODAY Sports
Noel Mazzone's spread, uptempo offense requires a stable of quality depth from the wide receiver corps.
While the Bruins have four talented options that will play a lot, there's not a ton of depth behind the quartet. Senior Shaq Evans is the most experienced member of the bunch. He led the team with 60 receptions and 877 yards receiving last year. While not a deep threat per se, he's a very good blocker and route-runner.
The sophomore threesome of Devin Lucien, Devin Fuller and Jordan Payton has the chance to be one of the better receiving trio's in the conference.
Payton is the most physical receiver on the team. He's got extremely good hands and uses his body almost like a power forward boxing out on a rebound. Payton is also very polished in regard to his route running.
Fuller could be in line for a serious breakout season. He's very inexperienced at the position, but he's made major strides from last season. He possesses outstanding quickness and can get in and out of his breaks quite well. He could end up being a nightmare for defenders in the slot.
Lucien could be the most innately talented receiver on the team. He's physically bigger than Fuller and is more athletic than Payton.
Lucien's leaping prowess truly makes him UCLA's best option as a game-breaker. He's demonstrated on multiple occasions the ability to jump up over defenders and snag the football out of the air. Lucien has great body control and can seemingly contort his body in an acrobatic manner like it's nothing.
The options following the aforementioned quartet are pretty slim. Ricky Marvray has decided to transfer, while Kenny Walker recently suffered season-ending surgery to his back.
UCLA did sign three receivers in Eldridge Massington, Jalen Ortiz and Darren Andrews. Massington enrolled early, in part to help with his recovery from an ACL injury suffered in high school. He's not fully back yet, and it's unknown as to what his role will be this season.
Both Ortiz and Andrews are smaller, shifty types of receivers. Ortiz can play both as a running back and receiver, while Andrews figures to be featured prominently in the slot. Andrews instantly injects loads of speed to a corps in need of some.
Walk-ons Logan Sweet and Tyler Scott will also provide depth as bigger options.
Tight End
Darius Bell against Colorado
Ron Chenoy-USA TODAY Sports
The Bruins will have to replace a big target—literally and figuratively—with the graduation of 6'7" Joe Fauria. Fauria was UCLA's best option in the red zone. It was a case where Hundley would just have to toss the ball up toward the back pylon, and Fauria would literally sky over any defender to snag the ball.
Without Fauria, UCLA will most likely start Darius Bell at the "Y."
Bell, a former quarterback, stands only 5'11". He doesn't have the prototypical size or speed for the position. What he does have, though, are good hands. Much like Payton, he also uses his body extremely well to shield off defenders. With his skill set, look for Bell to exploit the center of the field on slants and crossing patterns.
The other prominent returning option at the position is sophomore Ian Taubler. At 6'4", 252 pounds, he's physically more in the mold of a traditional tight end. Last season as a true freshman, he got considerable playing time—mostly as a blocker.
Taubler is very similar to Nate Iese. Both played tight end and defensive end in high school. With the current depth at their respective positions, one could envision Taubler switching over to defensive end and Iese possibly playing as a tight end.
Iese is a fantastic but raw athlete. His upside at the position is truly immense. He could provide the Bruins with a downfield dimension not present currently at the "Y" position.
Regardless if a possible switch does come to fruition, the Bruins will surely rely upon incoming freshman Thomas Duarte.
A talented prospect from Mater Dei High School, Duarte is more in the mold of an Aaron Hernandez/Chris Cooley-type of receiver. At 6'3", 240 pounds, he's big enough to cause problems for safeties and cornerbacks, but he's also fast enough to give linebackers fits.
It would be a major surprise to see Duarte not play a significant role as a freshman.
The other option on the team is John Young. Young has been plagued with injuries throughout his entire tenure as a Bruin. At this point, it's not realistic to think Young can contribute anything more than a few plays here and there.
Offensive Line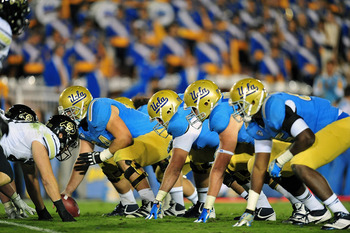 UCLA's offensive line
Gary A. Vasquez-USA TODAY Sports
Brett Hundley was sacked an eye-popping 52 times for minus-347 yards last season. That's an average of 3.7 times per game, where Hundley was unceremoniously slammed to the turf.
If the Bruins are to have success, and if Hundley is to stay upright and healthy, that trend absolutely cannot continue in 2012.
Continuity is something that's plagued UCLA's offensive line for a decade. Whether it be injuries, ineligibility, a lack of talent or whatever the circumstance may be, play by the unit has been below-par, to say the least.
In this offseason alone, UCLA said goodbye to linemen Alberto Cid and Alexandru Ceachir.
In 2012, offensive line coach Adrian Klemm started three freshmen, a returning senior and an offensive lineman who had been away from the game the past two years. All in all, the unit was solid, if unspectacular.
Xavier Su'a-Filo demonstrated that he's one of the best lineman in the country. Playing guard last year, he plowed the way open for Franklin to have lots of success. Su'a-Filo is not only mobile but also very technically gifted.
Now sophomores, center Jake Brendel, tackle Simon Goines and tackle Torian White all return. In reality, Brendel is the only member to be a sure thing to start in '13. He's grown leaps and bounds from a physical standpoint, and is a very smart football player.
Goines and White will be challenged by the seven offensive linemen signed by Klemm in February. Of the group, expect guards Caleb Benenoch and Alex Redmond to play significant roles.
The rotation will depend upon where Su'a-Filo plays. Should he shift to left tackle, it could mean two incoming freshmen will start at the guard positions. Incoming freshmen Christian Morris, Scott Quessenberry and Poasi Moala will probably all garner second-string roles with solid fall camps.
In addition, sophomore Ben Wysocki will be in the mix for a starting spot at guard. Redshirt freshman Carl Hulick figures to battle Quessenberry for the center position behind Brendel.
Klemm will again have to rely upon a young mix of athletes. It will be a unit littered with sophomores and freshmen throughout. However, having Su'a-Filo in the fold will help tremendously. He's the unabated lynchpin of the group.
Also, the experience gained by Goines, White and Brendel a season ago should be extremely helpful going forward.
Defensive Line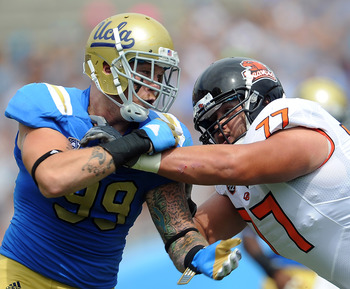 Cassius Marsh rushing the QB
Jayne Kamin-Oncea-USA TODAY Sports
The defensive line group should be one of the most talented on UCLA's football team.
Cassius Marsh will return as the most experienced member. Now a senior, expect him to creep out from under Datone Jones' shadow and have a breakout season of his own. He certainly has the ability to become a force off of the edge.
In terms of backing up Marsh, look for freshman Kylie Fitts to potentially see time.
At nose tackle, a battle is ensuing between incumbent starter Seali'i Epenesa and challenger Ellis McCarthy. Epenesa has been a somewhat unappreciated entity. The senior doesn't put up gaudy numbers, but he provides UCLA with a rock up front. He often holds up two offensive linemen while the linebackers flood the gaps and make the tackles.
McCarthy is a mountain of a man at 6'4", 330 pounds. The former 5-star prospect, per Rivals, was slowed by injuries last season. Now a true sophomore, he's finally healthy—hoping to live up to the massive hype he brought from high school.
The two should be battling for that starting spot all camp. Conventional wisdom would suggest that the returning starter would be able to hold on to the spot. That might not be the case here due to the amount of talent McCarthy brings to the table. Backing up the two will be redshirt freshman Eli Ankou and incoming freshman Kenneth Clark.
Owamagbe Odighizuwa was the odds-on favorite to replace Datone Jones. Also a former 5-star prospect, per Rivals, "Owa" is built like a Greek god. He has all the measurables you'd want in a prototypical defensive end. The light was seemingly turning on for the Portland native by the end of last season.
Unfortunately for UCLA fans, "Owa" underwent hip surgery for a frayed rotator cuff. It's uncertain right now as to whether he'll be able to play in 2013. He does have a redshirt year, so he could sit out and get healthy for the 2014 season.
In order to combat the injury, outside linebacker Keenan Graham was moved to end. In addition, UNC transfer Brandon Willis and redshirt freshman Jeremy Castro will be options.
The biggest wild card will be incoming freshman Eddie Vanderdoes. After the lengthy saga in relation to Notre Dame, Vanderdoes has finally enrolled in Westwood. At this point, it's not known whether or not he'll be eligible to play this season.
In the event that he can participate, he'll instantly become a factor. With his ability, he could theoretically start opposite Marsh at the vacant defensive line spot.
Linebacker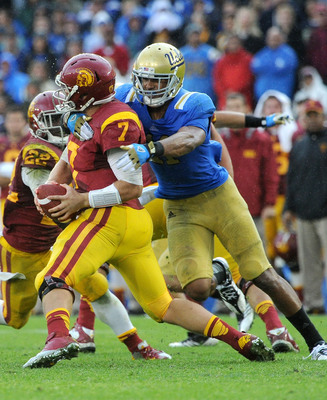 Anthony Barr getting after Matt Barkley
Jayne Kamin-Oncea-USA TODAY Sports
The linebacker corps is one of the most talented in the conference. It could be one of the best nationally as well. UCLA has three linebackers who are on the Butkus Award Watch List.
Anthony Barr delighted the football program by deciding to return to school. In the process, he gave up the reality of being a first-round draft choice. It's a smart move from the standpoint that Barr only has one year of experience at the position.
He's still incredibly raw and is learning the nuances of the position from linebackers coach and former NFL veteran Jeff Ulbrich.
It's scary to think how good he can become. With less than a year at the position, Barr was second in the nation with 13.5 sacks and also had 21.5 tackles for loss. Per NFL Draft 365, at the junior timing day in June, Barr ran a 4.47 40 time—at 6'4", 245 pounds.
Combine his willingness to learn with his physical tools, and Barr is looking at being a potential top draft pick in 2014.
Eric Kendricks returns to man the middle of UCLA's 3-4 defense. He led the conference last season with 150 tackles. He's always around the ball and has great pursuit sideline-to-sideline.
Jordan Zumwalt is a rangy, athletic option who will play next to Kendricks in the middle. As a senior, he'll look to improve his draft stock. He's got the tools to be an impact player on the next level, should his skills continue to develop.
The outside 'backer spot opposite Barr is up for grabs at this point. Both Aaron Wallace and Kenny Orjioke are returning options. Neither has a lot of experience, but both are big and very athletically gifted.
There could be a scenario in which both see good amounts of playing time. The "loser" of the competition could be the main reserve to Barr.
Of the newcomers at the position, both Myles Jack and Deon Hollins look like contenders. Jack is a physical specimen who could even play running back in special packages. Hollins is cat-quick off the edge and could be a force on third-down situations.
In the middle, redshirt freshman Aaron Porter, redshirt senior Isaiah Bowens, redshirt junior Ryan Hofmeister and incoming freshman Isaac Savaiinaea will be in the mix.
Secondary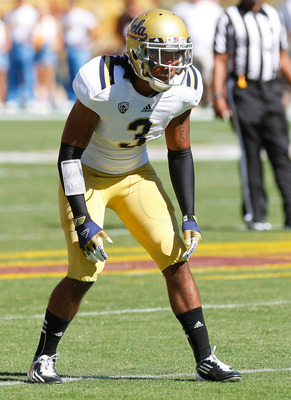 Randall Goforth played extensively as a freshman last season.
Rick Scuteri-USA TODAY Sports
The secondary is bar none the biggest question mark heading into the fall camp.
UCLA will have to replace it's entire starting four from a year ago. The current members of the secondary aren't incredibly experienced, and a majority of them have been battling injuries for the past couple seasons.
Of the returning options, Randall Goforth looks like the surest bet to start. He played a decent amount at safety last year as a true freshman. There were times where he definitely looked like a freshman. However, his instincts for such a young player were impressive. He wasn't afraid to come up in the box and smack someone in the mouth.
He's versatile enough that he could play either as a safety or a corner, depending on where depth is needed the most.
After an impressive spring camp, it seems as if Anthony Jefferson can finally contest for playing time this year. He's a long, slender athlete with good athletic ability. He's been plagued by injury throughout his time in Westwood, but his upside is undeniable.
Also at corner is Ishmael Adams. The Oaks Christian product looked to be the starting nickelback last season as a true freshman. He ultimately had to succumb to shoulder surgery and was forced to miss the majority of last season.
Now healthy, he's expected to be in the running for a starting spot at corner. Fabian Moreau also expects to provide depth at corner. He's probably the best athlete of any returner at the position and possesses good size. Moreau is new to the position and needs more polishing before he can be considered a concrete option.
At safety, expect Stan McKay and the now-healthy Dietrich Riley to battle it out for the "mini" 'backer, or hybrid safety/linebacker spot. When UCLA sets up in the nickel, defensive coordinator Lou Spanos likes to get more speed out on the field. Speedy senior Brandon Sermons will also offer depth at safety and on special teams.
UCLA signed an ultra-talented secondary class in 2013. The likes of Tyler Foreman, Tahaan Goodman, Johnny Johnson and Priest Willis all figure to see action this season as true freshmen.
Johnson is a shorter, compact corner, but he makes up for his lack of size with great cover ability. He's also a very physical player and is somewhat reminiscent of former Bruins great Ricky Manning.
Willis might be the most talented of the bunch. He's an elite athlete with great anticipatory skills. He can also play as a safety and as a corner. He'll most likely start off as a corner due to the lack of depth. Willis isn't enrolled as of now, but figures to be by the start of fall camp.
Both Goodman and Foreman enter as safeties. Foreman is the more physical prospect, while Goodman is rangier and more athletic. Both are talented enough not only to see time as freshmen, but also conceivably start.
UCLA will start the year with an extremely green secondary. There will undoubtedly be a period of adjustment for the younger players, and mistakes will be made. While the lack of experience is apparent, the talent level should be in some respects better than it was a year ago.
Special Teams
Ka'imi Fairbairn attempting a field goal versus Stanford
Kirby Lee-USA TODAY Sports
There will be a bit of an adjustment for the special teams unit this season.
Stalwart punter Jeff Locke has graduated. Locke was regarded as one of the top punters nationally for the past few years. He was clinical in his pinning of the opponents deep in their own territory. Seemingly multiple times a contest, Locke was able to switch field position for the Bruins.
His departure signals the arrival of incoming freshman Sean Covington. Like Locke, Covington is a lefty. It'd be difficult to envision Covington replicating the success Locke had right out of the gate. However, UCLA would be thrilled with Covington performing at a solid clip.
Kicker Ka'imi Fairbairn had an up-and-down freshman season. In his first collegiate game, he had three extra points blocked. In following weeks, his confidence was in a somewhat fragile state.
Fairbairn seemed like a different player in the second half of the season. He was truly buoyed by the support of Mora and the team. Now a sophomore, he should be able to take the next step in becoming a more consistent kicker.
UCLA hasn't had a game-breaker in the return game since Maurice Jones-Drew. Finding a threat from the return game will be paramount in San Bernardino. It's likely that the staff will experiment with a number of candidates in order to find suitable fits.
It wouldn't be a shock to see freshmen Darren Andrews and Jalen Ortiz get a shot at returning kicks. Shaq Evans figures to be in the mix on punt returns, as does Damien Thigpen, Steven Manfro, Randall Goforth, Devin Fuller and others.
Keep Reading

UCLA Football: Like this team?