5 Teams That Rajon Rondo Would Transform into Legit NBA Title Contender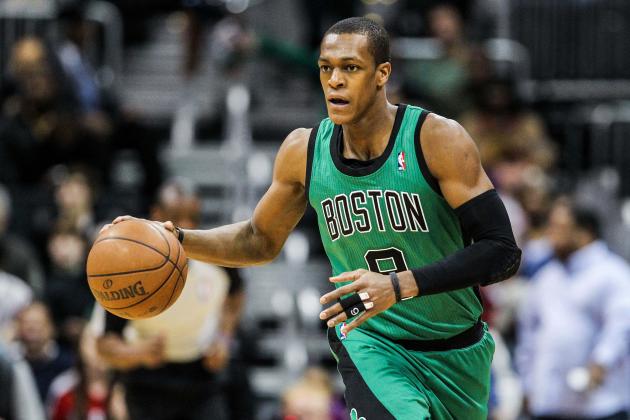 USA TODAY Sports

Rajon Rondo isn't untouchable.
Beginning the long journey back to contention, the Boston Celtics don't have to hold on to their leading man.
Retaining the 27-year-old gives them someone to build around, but also comes with its stipulations. Working his way back from a partial ACL tear, Rondo isn't necessarily the face of the future.
In less than three years, he'll be 30. What if the Celtics aren't ready to contend by then?
Assuming he's healthy, he'll still be dropping dimes at a high level in a few years. The bulk of the prime of his career, however, will have been spent enduring losing, a not-so-glorious sensation he's never been consistently exposed to.
Staring an extensive rebuild in the face, Rondo and the Celtics could decide to part ways. According to Ken Berger of CBS Sports, teams have already come calling in hopes that's what Boston will decide to do.
But Danny Ainge won't simply give the four-time All-Star away. He capitalized off the Paul Pierce and Kevin Garnett's departures to the best of his ability, and if it comes to that, he will do the same with Rondo.
Boston isn't in a position to furnish its roster with a superstar not prepared to stick out the next two to four years either. A natural desire to win could steer the Celtics toward trading Rondo.
And if they do, there will be a covey of teams ready and willing to usher in a Rondo era of their own, in hopes that he could transform them into the most dangerous of title contenders.
Begin Slideshow

»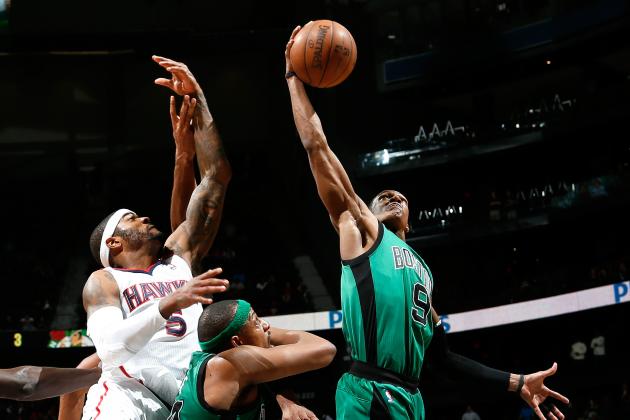 Kevin C. Cox/Getty Images

To be clear, this one is conditional on more things than you may want to count.
Despite what Joe Dumars says, the Detroit Pistons are interested in Rondo. That's a fact. Berger previously confirmed that talks had taken place, so Dumars isn't fooling anyone.
Actually acquiring Rondo won't be a cinch, though. The Celtics are likely to want Andre Drummond, who Dumars deemed untouchable. Detroit has also been reluctant to entertain offers for Greg Monroe.
For our purposes, that works. The Pistons only become contenders with Rondo if they don't give up Monroe and Drummond. No exceptions.
To make that happen, Boston would have to suddenly become smitten by the expiring contracts of Rodney Stuckey and Charlie Villanueva, and then the Pistons would have to secure the rights to some future first rounders to send the Celtics' way. Finding a taker, or creating room, for the onerous contracts of Brandon Bass or Gerald Wallace would likely be a must as well.
Were the Pistons able to do that, were they able to keep their core intact while adding Rondo, they would be contenders.
Watching Monroe and Drummond play the pick-and-roll game with Rondo gives them an obvious advantage. Just as pressing a need is pairing Josh Smith alongside a point guard who can use his dribble penetration to get him open looks from the outside. The only way he succeeds at the 3-spot is if he begins to knock down his jumpers, and being the erratic shooter that he is, the more open he is, the better.
Rondo and Smith have also played together before, prior to their NBA days. And when the point guard was still under the illusion that Boston had money/was trying to contend immediately, he apparently asked Danny Ainge to make a play for Smith.
Seeing these two together, next to Drummond and Monroe, would just feel right. Perhaps it wouldn't make them a lock to come out of the East, but it certainly puts them in the conversation.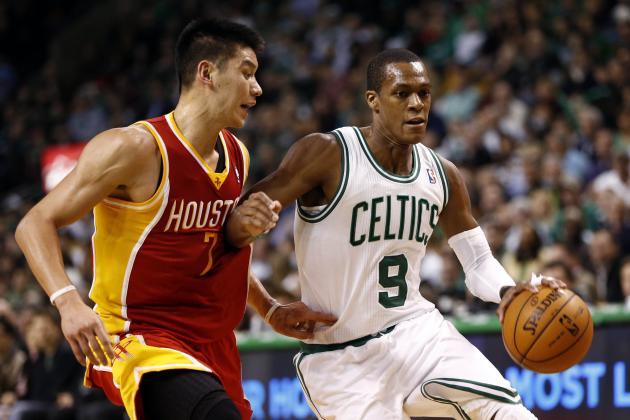 USA TODAY Sports

Place Rondo alongside Dwight Howard, James Harden, Chandler Parsons and what do you have? A title contender.
As is, the Houston Rockets aren't coming out of the Western Conference. Harden, Howard and Parsons are a great start, but they're just that, the beginning of something.
Houston needs a point guard to help tie everything it has assembled together. Neither Jeremy Lin nor Aaron Brooks is going to cut it. And Patrick Beverley won't either (not yet).
Before Howard even signed on the dotted line, Berger reported that the Rockets were open to shopping Lin, along with Omer Asik. Critical input from Superman and the Bearded wonder aside, I doubt that's changed.
Housing both Asik and Howard is redundant and Lin isn't at the point of his career where he's capable of directing a team towards a championship. He may never be.
Using Lin and Asik as bait alone is unlikely to get a deal done, but the Rockets still have plenty of other young assets. Involving a third and possibly fourth team to satiate Boston's need for additional draft picks and financial relief by pawning Lin and Asik off on them would be a route worth exploring.
Admittedly, latching onto Rondo would be a gamble. Like Lin, he's a ball-dominating point man, a style that conflicts with that of Harden's. Unable to play off the ball, Rondo then wouldn't seem like the ideal acquisition.
Still, Harden himself isn't incapable of playing off the rock. Adjusting his tendencies to better suit those of Rondo's would bode well for a three-point shooting team like the Rockets that stands to benefit from Rondo's incisive on-ball maneuvers. You're not going to find anyone else available who is better qualified to run the pick-and-roll attack either.
Finally, the Rockets are still built to run. Rondo didn't—and still doesn't—have a fast-break able supporting cast in Boston. In Houston, he would be in charge of squad where running isn't only encouraged, it's possible.
Given that opportunity, it's safe to say Rondo would push the Rockets into the very territory they've been lusting after since trading for Harden.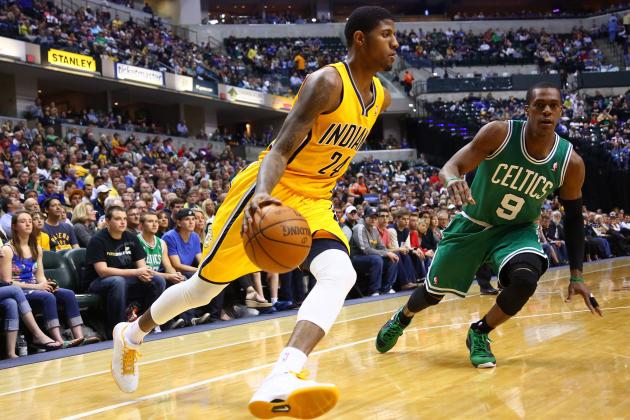 Michael Hickey-USA TODAY Sports

The Indiana Pacers are one elite point guard away from becoming even more of a title threat than they already are.
Indy is still void of a true go-to floor general. Paul George, George Hill and even Lance Stephenson—none of whom are traditional playmakers—are expected to facilitate what is an oft-anemic offense. Rondo would elevate the Pacers' already lofty ceiling even further.
Trading for him would dictate the Pacers hand over some future draft picks, perhaps Lance Stephenson and Danny Granger's expiring contract would have to be involved as well. Yet again, finding a taker, or creating enough room for Wallace or Bass' or Courtney Lee's contract would be a likely course of action.
Should dealing for Rondo prove feasible, Indiana would absolutely have to pounce at the opportunity.
Roy Hibbert still hasn't had the opportunity to work with a pick-and-roll savvy floor general and Indiana's sub-par transition offense in general needs the posthaste stance Rondo provides in the open court.
Bringing him in also alleviates the playmaking burdens George and Hill are currently carrying. Late in the fourth quarter, game on the line, they shouldn't be asked to act as primary offensive catalyst. The ball should be in the hands of someone more accustomed to guiding his teammates, someone who can cut through the paint easier than them, like a knife through butter.
Someone like Rondo.
Greg M. Cooper-USA TODAY Sports

File this under "never going to, but absolutely should, happen."
Carmelo Anthony wanted the New York Knicks to trade for Rondo. Apparently, he forgot that it takes two teams tango and trade.
Nothing the Knicks have is going to entice Ainge and the Celtics. Any package they propose will begin with Iman Shumpert and Tyson Chandler, and end with Boston being reduced to teary fits of laughter.
Fault 'Melo for (allegedly) making such a request, but not his logic. Clearly he wants the Knicks to procure a superior point guard, so at least he's well aware of what New York needs.
Raymond Felton isn't leading the Knicks to a championship anytime soon. Or ever, for that matter. Pablo Prigioni is a full-court pressing stud, who can play on or off the ball, but at 36, he's not the lone answer.
Rondo could be.
When watching the Knicks, it becomes easy to see that even before defense and an infusion of youth, they need someone with some offensive cahunas, a leader that can pick and choose who gets the ball in what spots. Basically, they need someone to balance 'Melo's touches with the rest of the team's.
Felton doesn't have that kind of take-charge attitude or courage. Nor does he hold that type of clout. Rondo is an All-Star, and though he can't spot up and knock down threes, he gives the Knicks an offensive weapon that they actually need (sorry, Bargs).
Few point guards could make the most of Chandler's limited offensive skill set and Amar'e Stoudemire's degenerative knees while also preventing J.R. Smith and Anthony from shooting in harmful excess like only they know how.
Right now, the greatest obstacle standing between the Knicks and a title, not-named LeBron James, is themselves. Rondo is different, he presents a change of pace. Just so happens that's what New York now needs most.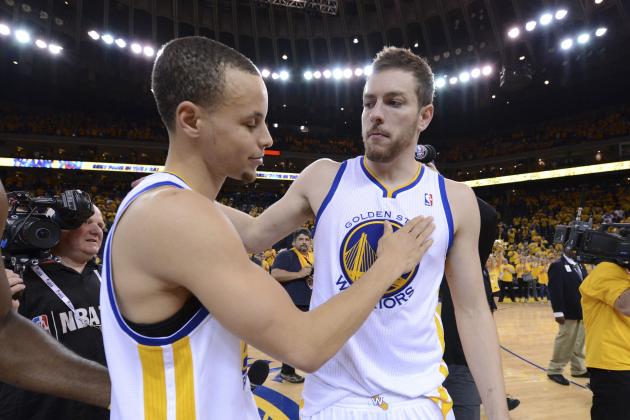 Kyle Terada-USA TODAY Sports

Yes, we're going here.
Stephen Curry and the Golden State Warriors are already contenders, but Rondo has the potential to make them better. Much better.
Dealing for him isn't as whimsical as it seems either. Golden State can offer one of Harrison Barnes and Klay Thompson, and has a rather large trade exception ($11 million) from shipping Richard Jefferson to the Utah Jazz it can utilize. Throw in some draft picks with the caveat the Warriors may have to go through with their decision to shop David Lee elsewhere (financial reasons), and you've got yourself an overture the Celtics aren't going to scoff at.
Like any other superstar-included trade, snagging Rondo is not without its risks. Broken-record style, he isn't a proficient shooter, and is of little value off the ball when Andre Iguodala or Curry are on it.
But Iggy and Curry don't present such limitations. They're versatile enough to vacillate between playmaker and off-ball scorer.
Picture, if you will, a backcourt tandem of Curry and Rondo. Two of the games premier playmakers, working together, the former of which would be expected to shoot even more.
Opposing defenses beware.
I like Rondo in Golden State for his ability to extract every last bit of offensive potential out of bigs like Andrew Bogut, Marreese Speights and Festus Ezeli as well. He's great at creating space in the post for others, and runs pick-and-rolls to perfection.
As is, the Warriors will do just fine. Figure them for the Pacific Division crown (I sure do).
Then know that with Rondo, they'd be better than fine. Better than potential division champs.
Better than anyone could presently foresee.