NFL Players Reportedly to Undergo Blood Testing for HGH Study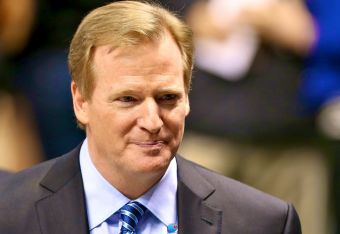 The NFL is taking a big step toward preventing the future use of performance-enhancing drugs.
Tom Pelissero of USA Today shared the following:

NFL players will be required to provide blood samples during training camp physicals for a study on human growth hormone, according to emails the players' association sent to its members that were obtained by USA TODAY Sports.

The population study will be used to determine what a "normal" HGH level is for an NFL player as negotiations continue on several other issues, including discipline for those caught with increased HGH levels, before testing is implemented across the league.
UPDATE: Thursday, Aug. 22
According Howard Fendrich of the Associated Press (via Yahoo! Sports), Congress could eventually intervene due to the alleged intransigence of the players' union against testing:
Saying the NFL Players Association is ''holding HGH testing hostage'' after more than two years of squabbling with the league, the top Democrat on the House Oversight and Government Reform Committee warned Thursday that Congress could get involved.

In a statement emailed by his office to The Associated Press, Rep. Elijah Cummings of Maryland said the union ''continues to disregard its promise to implement HGH testing.''

He added: ''Continuing to block HGH testing in this way essentially will force Congress to intervene, which nobody wants.''
UPDATE: Thursday, Aug. 22
NFLPA's George Attalah has responded to Adolpho Birch's HGH comments:
"The only case of buyer's remorse is the attached letter that the NFL agreed to weeks ago. Our signature is on it. Sign it, like you agreed to, and we start drawing blood from players immediately. Your refusal to sign it confirms that the only thing you care about is power."
UPDATE: Thursday, Aug. 22
Bleacher Report's Mike Freeman provides NFL's Adolpho Birch's statement on HGH testing:
The HGH hits the fan. Statement from NFL's Adolpho Birch, torching the union: "NFL players two years ago overwhelmingly agreed to HGH ...

— mike freeman (@mikefreemanNFL) August 22, 2013
"testing and to continuing the commissioner's longstanding disciplinary authority in cases where a player is found to have violated...

— mike freeman (@mikefreemanNFL) August 22, 2013
the law by a judge or jury. The union's latest demand has nothing to do with appeals from positive drug tests, nothing to do with...

— mike freeman (@mikefreemanNFL) August 22, 2013
keeping players safe from dangerous substances. It is simply a case of buyer's remorse, and an effort to renegotiate part of a long-term...

— mike freeman (@mikefreemanNFL) August 22, 2013
agreement that they have now decided they don't like."

— mike freeman (@mikefreemanNFL) August 22, 2013
UPDATE: Thursday, Aug. 22
Tom Pelissero of USA Today has an update on the NFL's plans to test for HGH and Roger Goodell's role in the appeals process:
With time running out on plans to begin human growth hormone testing at the start of the regular season, NFL Players Association president Domonique Foxworth on Thursday urged the league to abandon its stance on commissioner Roger Goodell's role in the appeals process.

The league already has agreed to send appeals of positive drug tests to a third-party officer with experience in drug-testing matters. But the NFL has been adamant that Goodell should retain authority on appeals of punishment for violations that don't involve a positive test or violation of the law.
UPDATE: Wednesday, Aug. 14
Tom Pelissero of USA Today has the latest on the NFL's plans to test for HGH use among its players:
Dozens of former NFL players will be administered human growth hormone as the NFL and its players union try to determine the impact of use on players' HGH levels, three people with knowledge of the plan told USA TODAY Sports on Wednesday.

The people spoke on the condition of anonymity because the study has not been announced publicly.
UPDATE: Monday, Aug. 12
From Mike Freeman of Bleacher Report:
NFL team player rep tells me: "I'd say 95 percent of all players want HGH testing. The only guys that don't are the cheats."

— mike freeman (@mikefreemanNFL) August 12, 2013
UPDATE: Monday, Aug. 12
Fox Sports' Mike Garafolo has the latest on HGH testing in the NFL:
Source tells @FOXSports1 the NFLPA has signed off on HGH population study and sent to NFL for final approval. Should be finalized soon.

— Mike Garafolo (@MikeGarafolo) August 12, 2013
UPDATE: Wednesday, July 24, by Brandon Galvin
NFL.com's Albert Breer and Andrea Kremer have the latest on the NFL and HGH testing:
The NFL and NFL Players Association will stage an important negotiating session Wednesday in Washington, D.C., to continue their work toward an agreement on implement testing for human growth hormone, according to a source apprised of the meeting...

... Earlier this week, a source characterized the sides as "much further along" than they have been at any point since the NFL and NFLPA agreed to work toward HGH testing in 2011, when the collective bargaining agreement was signed.

There are three categories of key issues that need to be ironed out before a deal on testing can be finalized: procedural, economic and due process/appeals. Among key procedural questions: How often will the players be tested, how will the samples be taken, how will they be stored, as well as destroyed? Also, the chain of custody for the samples must be determined.

Each HGH testing kit costs $2,200, so it needs to be discussed who will foot the bill...

... Confidentiality also is a point of discussion. The blood samples will be identified by numbers, with each series of numbers corresponding to a player name. It must be determined who has access to those results.

Some players feel blind-sided by these tests, but HGH typically leaves the body in 48 hours, so the players will have plenty of notice before the first round of testing.
UPDATE: Monday, July 22, by Brandon Galvin
ESPN's Adam Schefter has the latest on the NFL's HGH study:
Despite a Population Study, no NFL players are expected to be suspended for HGH use this season, per sources.

— Adam Schefter (@AdamSchefter) July 22, 2013
While these samples cannot be used for suspensions against specific players, it will be instrumental in creating future testing around the league. At this point, there is nothing in place to catch players using HGH.
In the past four seasons, the NFL has suspended over 50 players for positive tests on various performance-enhancing drugs, according to Mike Sando of ESPN. As noted in the report, many of these violations were for Adderall, a drug used to increase focus.
Will Hill of the New York Giants was the latest to be suspended after missing four games last year for the same reason.

However, the inability to test for HGH has left an unknown number of players with the ability to cheat the system without getting caught.
Mike Freeman of CBS Sports quotes the NFL's senior vice president of law and labor policy, Adolpho Birch, who said, "This highlights the problems we've had with (the union) on HGH testing. It's a blind spot."
Although there is still nothing solid in place, this latest study will hopefully bring about some useful changes in this area.
The only way to maintain a clean league is to keep out the people using items on the banned list. However, that cannot be done until those who are abusing the illegal drugs are identified.
By studying the blood samples of every player, the NFL is taking a big step toward accomplishing that goal.
Follow Rob Goldberg on Twitter for the latest breaking news and analysis.
This article is
What is the duplicate article?
Why is this article offensive?
Where is this article plagiarized from?
Why is this article poorly edited?