Washington Redskins star quarterback Robert Griffin III has announced that he's been cleared for practice.
Griffin took to Twitter to break the news himself on Monday, thanking fans for their support and alluding to the team's impending training camp in Richmond:
Doctors cleared me to practice. Coach is going to ease me in. Thank you for your support & See you in Richmond

— Robert Griffin III (@RGIII) July 22, 2013
The Washington Post's Mike Jones and 106.7 The Fan's Grant Paulsen provided additional updates on the Redskins quarterback's status:
RGIII will go through all 7-on-7 work in practices but not much team stuff right away source says.

— Mike Jones (@MikeJonesWaPo) July 22, 2013
Source: Robert Griffin will not start training camp on the PUP list. He will be eased in to the normal practice routine, though.

— Grant Paulsen (@granthpaulsen) July 22, 2013
In revealing the encouraging development in his rehabilitation process, the signal-caller did note that head coach Mike Shanahan would ease him onto the field.
That makes sense, considering Shanahan was at the center of controversy in leaving a banged-up Griffin in the game during this past year's postseason home contest against the Seattle Seahawks.
The No. 2 overall pick in the 2012 draft was clearly hobbled early on when the Redskins took a 14-0 lead and eventually left the game with a devastating knee injury.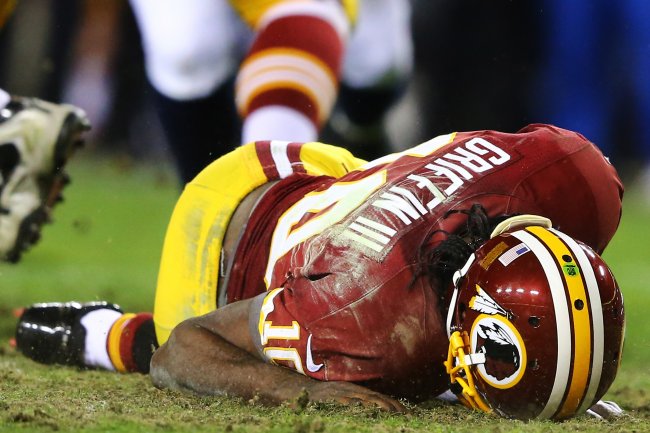 Al Bello/Getty Images
The NFC East division champions wound up walking off their own FedExField with a 24-14 loss in the Wild Card Round.
After completely tearing his ACL and LCL, requiring offseason surgery and an estimated recovery time of six to eight months, it appears Griffin is right on schedule with regard to the time frame.
His bold advertisement with Adidas entitled "All in for Week 1" is proving to be prophetic in light of this news.
When should Robert Griffin III get his first game action?
As part of one of the best rookie quarterback classes in recent memory, Griffin was immediately the starter in Washington and was the catalyst for the No. 1 rushing offense in the NFL. Griffin ran for 815 yards and seven touchdowns, forming a dynamic combo with breakout first-year running back Alfred Morris.
In terms of throwing the ball, though, it was almost even better for Griffin, as he threw for 3,200 yards and 20 touchdowns to just five interceptions and had a passer rating of 102.4.
Expectations are sure to be high in Washington for the 2013 season, even with Griffin coming off a severe knee injury.