Best Potential Free-Agent Landing Spots for Veteran Center Marcus Camby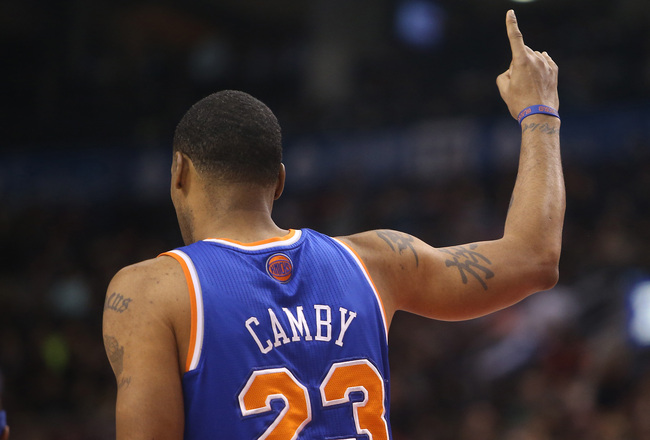 Tom Szczerbowski-USA TODAY Sport
That finger that Marcus Camby is holding up might as well symbolize the number of years that he has left in the Association. On the brink of becoming the 22nd player in the sport's history to hit 40 while on an NBA roster, the big man is looking for a new team, and he'll likely do so on a one-year deal.
According to Fox Sports' Chris Tomasson, he's narrowed the candidates down to three teams: the Miami Heat, Houston Rockets and Chicago Bulls. This comes on the heels of clearing waivers during a tumultuous offseason, and Camby will likely make his decision by the end of the week.
While he began the offseason as a member of the New York Knicks, boasting a contract that paid him guaranteed money this year and non-guaranteed cash in 2014-15, Camby was sent to the Toronto Raptors as part of the trade that brought Andrea Bargnani to Madison Square Garden. That didn't last long, as the Raptors chose to waive him, making the 39-year-old an unrestricted free agent once he cleared the waivers.
That's happened, and now Camby gets to choose where he plays next.
Let's break down the best landing spots.
What Camby Still Brings to the Table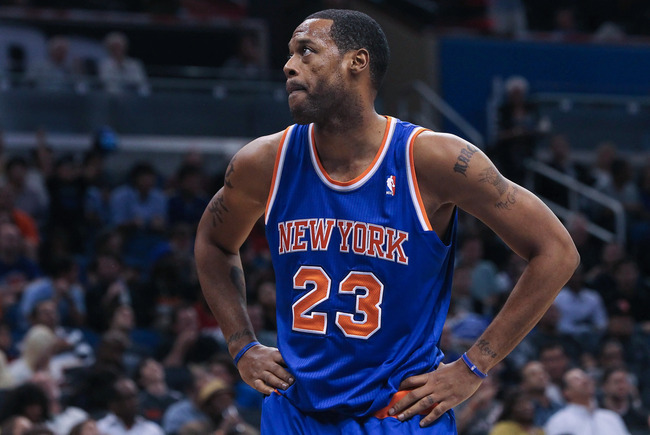 Kim Klement-USA TODAY Sports
Once Camby signs on with a new team, he'll become the second-oldest player in the Association, trailing only Steve Nash. However, he hasn't aged quite as gracefully as the Canadian point guard hoping to rebound from a lackluster first season with the Los Angeles Lakers.
During the 2012-13 season, Camby played just 10.4 minutes per game for the Knicks. He averaged only 1.8 points, 3.3 rebounds and 0.6 assists per game while shooting 32.1 percent from the field, limiting his value to defense more so than ever before.
That said, Camby remains a great defender. Per Synergy Sports (subscription required), the big man held opponents to 0.84 points per possession, which is by no means a poor mark. He excelled guarding post-up plays more than anything else, using his physicality to his advantage even in the clutches of old age.
While he only guarded 24 post ups in 2012-13—not quite enough to qualify for the leaderboards—Camby held opponents to 3-of-15 shooting, allowing 0.46 points per possession on those plays.
That's what his value will be limited to as he breaks past the 40-year barrier.
The big man will be a solid interior defender and a great per-minute rebounder, but that's about all you can expect at this stage of his career.
4. Oklahoma City Thunder
USA TODAY Sports
While the Oklahoma City Thunder weren't technically on Tomasson's list, Camby would still be a great fit on the roster.
General manager Sam Presti has made it quite clear that he likes having defensive centers in the fold, as that's the only explanation for Kendrick Perkins still being with the team. However, Perkins' value is extremely limited, and he should be subject to a serious decline in playing time as the team moves forward with its young pieces.
Hasheem Thabeet and Steven Adams serve as the primary backups, and while Thabeet has started to prove his defensive value more and more, Adams is as inexperienced as they get. The Pittsburgh product needs a great deal of seasoning before he's ready to bang around with NBA bigs and help out a title-contending team.
Camby would be the ideal third center off the bench, particularly because his skills complement Thabeet's perfectly. While the former Knick thrives banging around down on the blocks, the true 7-footer is at his best guarding spot-up shooters and big men who try going to work in isolation sets.
With two elite defensive backups, the Thunder could allow them to find the court depending on the matchups, ensuring that there's never a defensive drop-off in the frontcourt.
3. Houston Rockets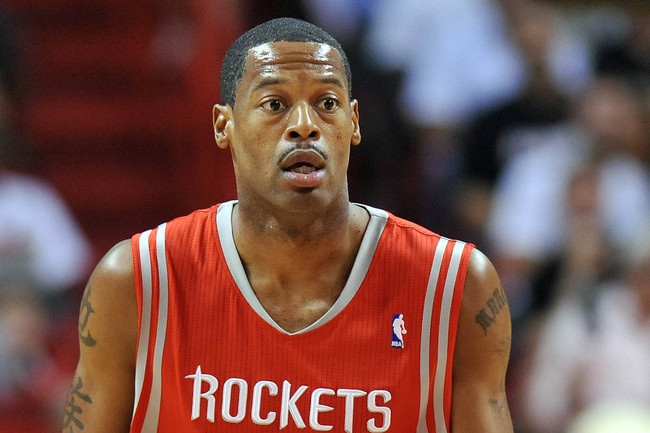 Steve Mitchell-USA TODAY Sports
Now we move into the realm of teams that are considered finalists for Camby's services. Maybe the 19 games he played in Houston during the 2011-12 campaign just left him craving more.
Don't expect the Rockets to end up as the official landing spot, though, largely because there wouldn't be any room for the big man in Houston. This changes if general manager Daryl Morey decides to trade Omer Asik for some smaller talent, but there's been no indication he's willing to do so.
As it stands, Houston has Asik as the primary backup center, and he'll be filling in for Dwight Howard. There is no team in the NBA that can match that one-two defensive punch at the 5.
So, where exactly do the minutes come from for Camby in this situation?
Even if he's only looking to play 10 minutes per contest again, that still leaves only 38 minutes for Howard and Asik to split at center. It's already going to be tough enough getting them to happily share the full 48, so adding in a third cog would be asking for trouble.
It would be different if the Rockets had two offensively oriented centers and were hoping to add a defensive presence, but that isn't exactly the case. Last I checked, Howard and Asik were two of the best point-stopping bigs in professional basketball.
Houston would work for Camby, but only if neither of the other two rumored landing spots comes to fruition.
2. Chicago Bulls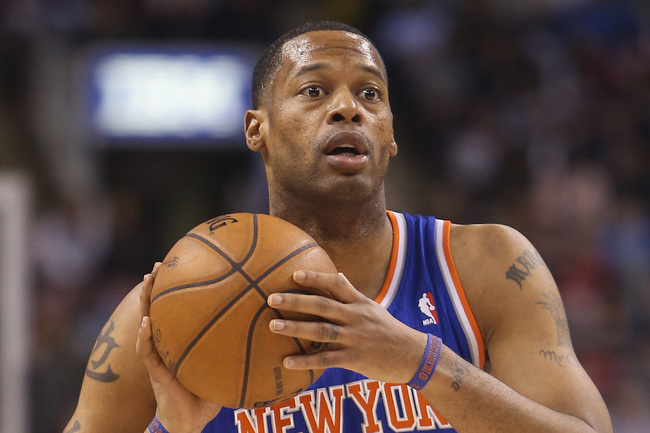 Tom Szczerbowski-USA TODAY Sport
The Bulls are still searching for that defensive stopper to come off the bench and spell Joakim Noah, as they lost their established option when Asik left for the allures of Houston.
Camby could very well be that guy, as the void is currently being filled by Nazr Mohammed. While the incumbent big man is a capable defender, he's also aging and doesn't fill in the gaps in Noah's defense quite like Camby would.
According to Synergy Sports (subscription required), Mohammed is actually a better overall defender than the man in question. He allowed 0.79 points per possession during the last go-around with Chicago, 0.05 better than Camby.
However, guarding post ups is his weakness. It was against spot-up shooters that Mohammed truly made his mark, holding opponents to just 11-of-41 shooting in those situations. Only two players allowed fewer than his 0.56 points per possession in that category.
We've already established that the interior defense is Camby's strength, and he'd be able to help against some tougher matchups in limited action.
Noah is an elite rim-protector, and he's quite good in post-up situations, but that's not his true strength. Instead, the Florida product thrives most when he's allowed to remain a versatile defender, wreaking havoc with his ability to switch over to help and recover quickly.
Having a true post defender like Camby would take some of the pressure off Noah and allow him to focus even more heavily on his elite strengths.
1. Miami Heat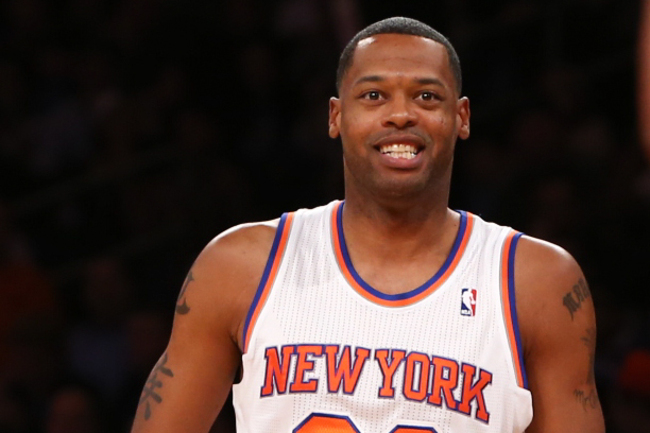 Debby Wong-USA TODAY Sports
This is easily the most mutually beneficial situation.
Camby would be able to play more minutes in Miami than anywhere else, and he'd have a shot at chasing a ring. That latter part would technically be true in any of the other three landing spots, but the Heat have won back-to-back titles and don't look poised to experience any sort of drop-off in performance.
The big man has played in the NBA Finals before, but he's never experienced the euphoric feeling associated with holding up the coveted Larry O'Brien Trophy. No one would hold it against him if he chased that emotion at this stage of his career.
As for Miami, there are only three centers on the roster: Chris Bosh, Chris Andersen and Joel Anthony.
Bosh's true position isn't even center, but that's where he's played the majority of his minutes lately. According to 82games.com, he used 59 percent of the Heat's available minutes at the 5 and only 2 percent at the 4.
It's crucial that Miami continues to add size and power on the inside, especially since it seems likely that the Heat will inevitably face off against the Indiana Pacers, Brooklyn Nets or Chicago Bulls in the playoffs. All three of those squads have two traditional big men that they won't hesitate to use in a matchup with the currently undersized defending champions.
For both parties, Camby taking his talents to South Beach would be a major positive. It's the No. 1 landing spot, and it's separated from the field by a rather large margin.
Keep Reading