Under-the-Radar Training Camp Battles You Need to Know About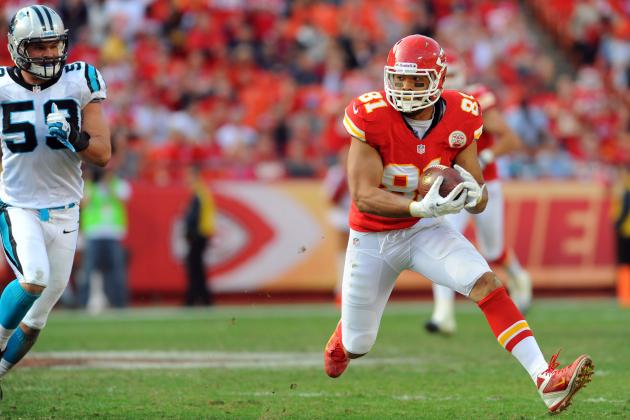 Denny Medley-USA TODAY Sports
Kansas City Chiefs TE Tony Moeaki is in a battle for his job this summer and it's as important to his team as the Patriots' WR battles are to them.
NFL training camps begin for most teams this week, marking the start of positional battles both great and small.
We all know that the New York Jets are embroiled in a major competition between quarterbacks Mark Sanchez and Geno Smith, but what about the seemingly lesser battles being waged around the league?
Though these battles may not be headline-grabbers, especially in the first few days of camp, they are still as important as some of the better-known competitions going on throughout pro football. Situational players and backups mean as much to their respective 53-man rosters as starters; after all, an injury can change a depth chart in an instant.
It's important teams get all of their positional decisions correct, because the devil is most certainly in the details.
Here are 10 training-camp battles that may be flying under the radar but are no less crucial to their respective teams this offseason.
Begin Slideshow

»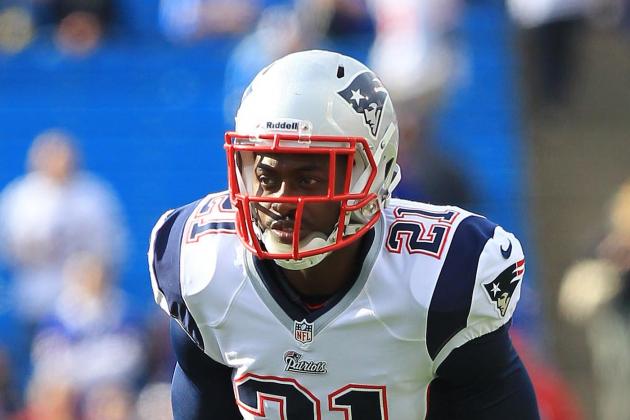 Kevin Hoffman-USA TODAY Sports
Ras-I Dowling will be fighting for nickel corner duties this year.
With a potential suspension looming for New England Patriots second-year cornerback Alfonzo Dennard, the team has a few decisions it needs to make during training camp about its secondary, particularly at nickel cornerback.
Presently, the battle appears poised to be waged by Ras-I Dowling and rookie Logan Ryan, while Devin McCourty, Aqib Talib, Kyle Arrington and others jockey for position at the outside. Though those higher-profile positions will get a lot of attention this summer, the nickel position is just as important, despite the fact the man who wins it won't be on the field for every play.
The Patriots know better than any other team how dangerous an effective slot receiver can be and how important it is to find a specialist in the secondary who can cover and stop one.
A further bonus for either Dowling or Ryan: Should Dennard get suspended, they'll likely get a bit of work on the outside.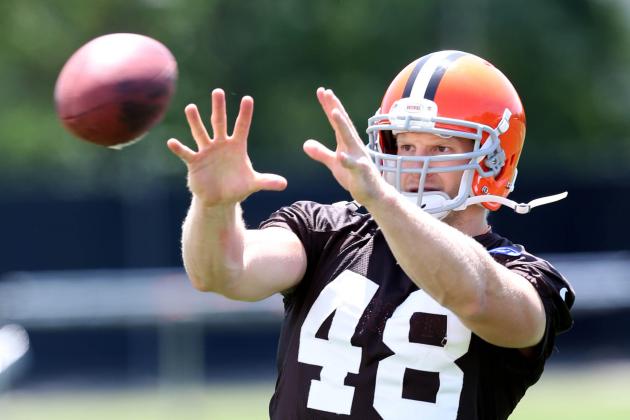 Ron Schwane-USA TODAY Sports
Owen Marecic was targeted four times last season, with no catches.
Not many NFL teams still employ a blocking fullback for their run game, but the Cleveland Browns appear to be one that is still interested in the position. Presently, there are two players duking it out for the honor: Owen Marecic and 2012 draft pick Brad Smelley.
Smelley, technically considered a tight end on Cleveland's roster, spent the majority of his rookie season on the practice squad. Marecic played just 114 snaps last season, with 56 of those as a run-blocker, according to Pro Football Focus (subscription required).
Though fullback wasn't a priority position to the old Browns coaching regime, current offensive coordinator Norv Turner appears to have other plans, making this an important battle for a Browns team hoping to heavily feature top running back Trent Richardson this season.
Though additional blocking talent—both in the run game as well as in pass protection—is welcome, having a second fullback on the team doesn't make good use of a roster spot. With fewer spots around the league open for a fullback, Marecic and Smelley could potentially be fighting for the continuance of their football careers and not just their job with the Browns.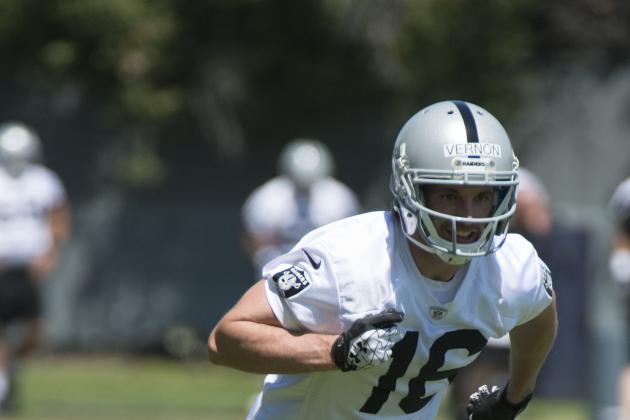 Kyle Terada-USA TODAY Sports
Can undrafted rookie Conner Vernon continue to stand out in training camp?
Receiving weapons—the Oakland Raiders need them, especially reliable ones. Now that Darrius Heyward-Bey has moved on, the Raiders have to figure out their new wide receiver depth chart and hope that the injury bug doesn't come calling yet again.
Denarius Moore and Rod Streater seem to be the favorites at wideout, but the slot-receiver position still needs to be ironed out. The battle for the job at training camp this year will come down to the oft-injured Jacoby Ford, second-year player Juron Criner and undrafted rookie Conner Vernon.
Ford has missed time the past two seasons with injuries, the latest being Lisfranc surgery to his foot from which he is apparently fully recovered. Criner had 16 catches for 151 yards and a touchdown as a rookie, but the state of the Raiders' receiving corps is such that he could see much more time this year. The undrafted Vernon stood out in OTAs, but once pads come on in training camp, he could continue to shine or he could struggle.
The Raiders desperately need to find ways to move the ball better this year. Expected starting quarterback Matt Flynn doesn't have much experience in the league, so the Raiders must surround him with reliable receiving targets.
The fight between Vernon, Criner and Ford might be a small one from those on the outside looking in, but the outcome will have a lot to do with Flynn's—and by extension, Oakland's—success this year.
The battle for the starting-kicking job for the Detroit Lions is one of experience versus youth, and the winner of it will have to fill the formidable shoes of the retired Jason Hanson.
Their options presently are David Akers, a veteran entering his 16th year who went from an amazing 2011 season with the San Francisco 49ers to being an overwhelming disappointment in 2012, and Havard "Kickalicious" Rugland, a trick-kicking Internet sensation from Norway who apparently has the leg and mental presence to compete on the NFL level.
Akers fell out of favor in San Francisco quickly. He went from making 84.6 percent of his field goals in 2011, including seven of 50 or more yards, to making just 69 percent of his attempts in 2012. He's never struggled so mightily during his time as a full-time kicker in the NFL, and it's likely that the Lions are hoping last season was a fluke and not a sign that Akers is suffering from a case of the yips that he cannot overcome.
The Lions are at a crossroads at the kicker position. They can stick with Akers this year and at least have the security of knowing that a veteran will be doing the job, albeit one who may be on a serious decline and could opt to leave the league sooner than later. Or, they can go with Rugland, who will likely be given a lot of high-pressure opportunities during camp and the preseason in order to confirm he can handle the position.
With the kicker getting anywhere between 40 and 50 chances to add three points to his team's total this season, the Lions cannot consider this position an afterthought. It may not be the biggest training-camp battle in the league, but for the Lions, it's extremely important.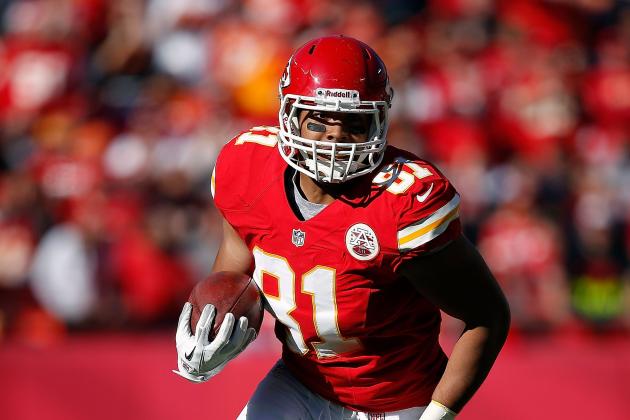 Jamie Squire/Getty Images
Chiefs tight end Tony Moeaki's job is nowhere near safe right now.
The Kansas City Chiefs hope to have a much-improved passing offense this year after bringing on quarterback Alex Smith, who will be working with new head coach Andy Reid.
Though the focus has been on Smith's ability to move the ball down the field and his chemistry with starting receiver Dwayne Bowe, the big competition for Smith's eventual attention is presently between their tight ends.
Incumbent Tony Moeaki will be trying to fend off free-agent-signing Anthony Fasano, formerly of the Miami Dolphins, as well as 2013 third-round draft pick Travis Kelce. Moeaki, however, underwent an offseason knee scope and has a number of injuries in his history; his days as a Chiefs starter could be over.
Kelce is a very talented all-around tight end, but he is a major character risk; the hope is that his collegiate issues don't carry over to the NFL, but the Chiefs will nonetheless be gambling somewhat if they name him the starter.
Fasano, too, is a well-rounded tight end with both blocking and receiving skills, but his upside is lower than the rookie's, though still much higher than Moeaki's.
Barring any off-field issues, Kelce is clearly the future of the tight-end position in Kansas City, but in the modern NFL, just one tight end isn't enough. Two of these three players should be getting significant playing time this year; now the battle begins to find out who becomes the odd man out.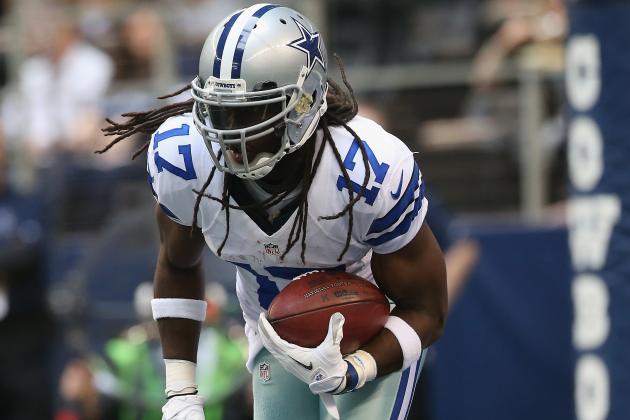 Ronald Martinez/Getty Images
Can Dwayne Harris emerge as a true No. 3 receiver for the Cowboys this year?
The Dallas Cowboys are searching for a receiver to join starters Miles Austin and Dez Bryant. Their quest for a No. 3 receiver is the stuff of legend, and the hope is that this year they can find the right man for the job.
The fight comes down to Dwayne Harris, Cole Beasley, Danny Coale and rookie Terrance Williams, with Harris currently possessing the edge.
Whoever wins the job will need to be versatile—in two-receiver sets, Austin will be on the outside with Bryant, but according to ESPN, he'll likely move to the slot when there are three receivers on the field, so the ideal candidate has to add blocking responsibilities to his traditional receiving duties.
That is why Harris seems best-suited for the job, though Williams' stock is rapidly rising—the Dallas Morning News' Jon Machota thinks Williams will ultimately win out. According to the Cowboy's official site, Harris is reportedly improving steadily when it comes to his route-running and reliability catching the ball, despite pulling in only 17 of the 27 passes thrown his way last year.
Neither Coale nor Beasley can be counted out, either, despite the former coming off of a November ACL tear. The two are presently on the roster bubble, making this training camp potentially their final opportunity to remain with the Cowboys.
The Cowboys' offense relies heavily on the passing game, but they still have yet to find a workable, long-term solution at No. 3 receiver.
Though not the most important position, generally speaking, it's a major hole Dallas has struggled to fill. Whoever wins this job will get a significant amount of playing time, let alone targets, and will help contribute to quarterback Tony Romo's success or failure.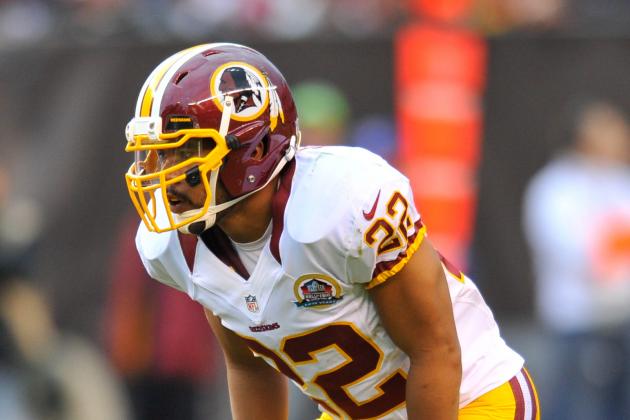 USA TODAY Sports
Will Evan Royster again be the Redskins' No. 2 running back?
We're all aware that the Washington Redskins' run game flows primarily through two players—quarterback Robert Griffin III and running back Alfred Morris. But things can change quickly, especially at the running-back position—one injury and the depth chart needs to be restructured.
That's why it's important that the Redskins find the right player to back up and spell Morris this year.
Contenders for the No. 2-running-back job include Roy Helu Jr., Evan Royster, Chris Thompson, Jawan Jamison and Keiland Williams. Royster was Morris' backup last year, but notched only 88 yards on 23 carries along with two rushing scores. Ideally, the Redskins would like someone capable of better production to pair with Morris.
Helu had only two carries for two yards last year, his season cut short by toe and Achilles' tendon injuries. Thompson, a rookie selected in the fifth round of this year's draft, will see his first practices of the year in training camp, as he's been recovering from an ACL tear.
Jamison, another rookie, will have to fight not just for the backup job, but also for a roster spot; it's possible that he, along with Thompson, could be on the practice squad this season. Williams is more of a fullback, best-suited for blocking duties and some short-yardage carries.
Ultimately, Helu and Royster have the upper hand among the running backs competing to back up Morris in Washington, but the Redskins need to keep their options open this summer. Having the vast majority of their run production wrapped up in two players is a dangerous gamble to take, considering the risk of injury (or, in Griffin's case, reinjury).
For a team that runs the ball as often as the Redskins, the matter of the No. 2 running back cannot be taken lightly.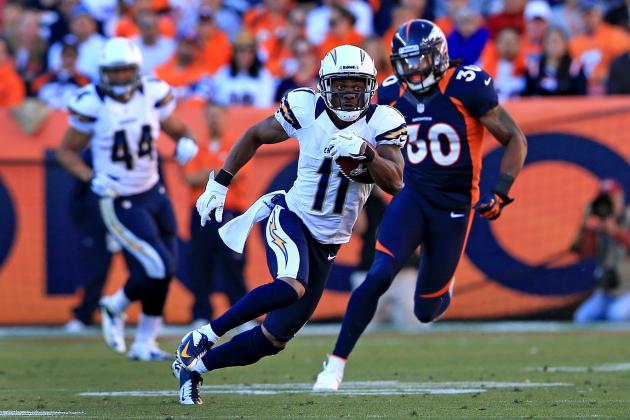 Doug Pensinger/Getty Images
To stick in San Diego, Eddie Royal needs to prove he can be the man on kick and punt returns.
Last season, a whopping eight San Diego Chargers returned punts and kicks. They included offensive players like Eddie Royal and Micheal Spurlock and defenders such as Eric Weddle and Antoine Cason. It seemed like they could not figure out the best player or two to run the ball out, and the result was mediocre return yardage—957 from kickoffs and 320 from punts.
The goal this year is to get star players like Weddle away from the high-risk world of returning punts and kicks while also establishing stability at the position.
In training camp, the list of players trying out for the job should be much shorter than the eight who ultimately took turns at returns in 2012, and hopefully, it will stay that way for the duration of the season.
Presently, Royal seems poised to compete along with receiver Richard Goodman (the Chargers' 2012 leader in kickoff return yardage) and rookie Keenan Allen. Securing this job may be the only way that Royal remains on the Chargers' roster unless they have expanded plans for him as a slot receiver, while a return job is a good way for Allen to get his feet wet on an NFL field while he continues to learn the intricacies of his position.
Though a training-camp battle for a kick and punt returner is about as under-the-radar as it gets, that does not mean it's a position of low importance. The adage about football being a game of inches doesn't just relate to what happens on the four downs of a team's offensive possession—it's also about getting great field position to begin with.
The Chargers struggled in this area last year partially because they didn't have one or two players who made the return game their own. Finding someone reliable to do this job will greatly improve their special teams and make the offense's work easier.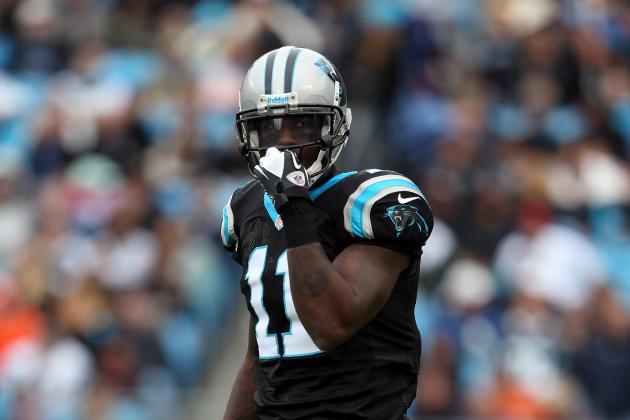 Streeter Lecka/Getty Images
Brandon LaFell didn't make the most of his opportunities last year, and now Domenik Hixon is in town to push him.
When you think of the Carolina Panthers' offense, the mind instantly goes to quarterback Cam Newton, wide receiver Steve Smith, tight end Greg Olsen, a solid run game and little else.
The dearth of true receiving talent for Newton's passes resulted in a down year for the Panthers' passing game last year—no one emerged as a threat beyond Olsen and Smith, and they became a bit predictable as a result.
This year, two players will be battling during training camp for the job of the Panthers' No. 2 receiver—Brandon LaFell and free-agent-addition Domenik Hixon, most recently of the New York Giants.
Both posted similar numbers in 2012; LaFell, with the Panthers, had 44 receptions on 69 targets for 677 yards and four scores, while Hixon had 39 catches on 58 targets, for 567 yards and two touchdowns.
However, Hixon's numbers make more sense, considering he was behind the likes of Victor Cruz and Hakeem Nicks. LaFell has little excuse for a less-than-stellar stat line in as good a situation as he was in, which is why Hixon is on the roster pushing him for his job.
Without more and varied receiving targets, Newton is hamstrung. He either has to force passes to the well-covered Smith and Olsen or else the Panthers' offense must run the ball more. Neither maximizes Newton's talents nor keeps them from becoming one-dimensional.
Hixon and LaFell might not be household names, but the competition they are in at training camp could make or break the Panthers' ability to take an offensive step forward this year.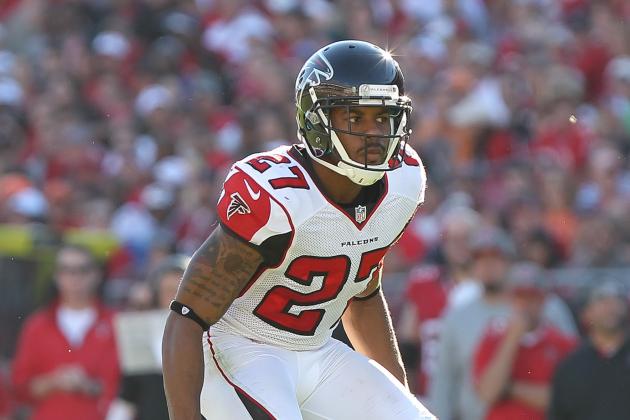 Kim Klement-USA TODAY Sports
Having played just seven regular-season snaps last year, Falcons linebacker Robert James doesn't have a safe roster spot yet.
The Atlanta Falcons aren't known for rotating their linebackers very much, resulting in just five playing snaps last season.
However, depth is a concern, especially if the injury bug bites Sean Witherspoon or another of their starters this year, and the battle for these spots appears ready to get quite hot in the coming weeks.
Mike Peterson and Robert James were the Falcons' primary depth linebackers last year, but Peterson wasn't re-signed as a free agent, leaving his spot up for grabs. Fighting for it are Brian Banks, who returned to the NFL this year after being released from prison on a wrongful conviction, along with Pat Schiller and rookies Joplo Bartu, Nick Clancy and Paul Worrilow.
James, too, doesn't have a fully secure roster spot; while he did fill in for Witherspoon, it was just for one game and seven snaps, according to Pro Football Focus (subscription required), while Peterson took over for the bulk of Witherspoon's absence.
Banks' story, along with the Falcons' need for linebacker depth, makes this training-camp battle a compelling one. With so many young, inexperienced players fighting for no more than two roster spots, it will be interesting to see who rises to the challenge of the NFL and who gets sent to the practice squad—or, worse, released.