The NHL's 10 Most Exciting Goal-Scoring Prospects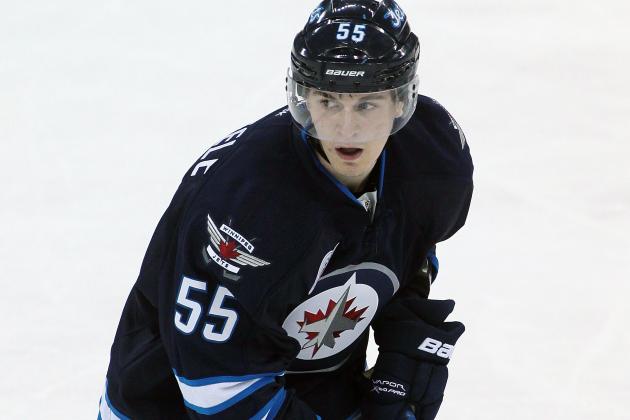 Marianne Helm/Getty Images

Since the implementation of the salary cap in 2005, there has been an increased importance placed on young players who are able to produce outstanding results within their first full year or two in the NHL. A guy who produces 40 or 50 points while being paid a minimal entry-level salary can put a team over the top en route to a Stanley Cup.
The Chicago Blackhawks had Brandon Saad this season. In 2012, the emergence of Slava Voynov and Alec Martinez gave the Los Angeles Kings two indomitable top-six defensemen. Tyler Seguin gave the Boston Bruins a spark when he was inserted into the lineup in 2011.
Young players who are able to step in and produce points are crucial when it comes to taking runs at the Stanley Cup in today's NHL.
Poised and ready to make an impact are several outstanding goal-scoring prospects.
For the sake of this slideshow, any player who has played in more than 25 NHL games is no longer considered a prospect and is not eligible for this list.
All stats appear courtesy of hockeydb.com unless otherwise noted.
Begin Slideshow

»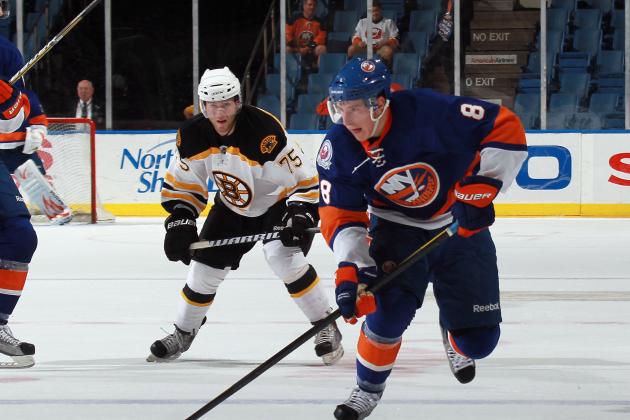 Bruce Bennett/Getty Images

New York Islanders fans should be looking forward to the arrival of Ryan Strome in 2014. After dominating the OHL for four seasons, he made his pro debut with the Bridgeport Sound Tigers in the AHL last year and didn't appear out of place.
He posted seven points in 10 games with Bridgeport and could find himself on the wing alongside John Tavares to start the season.
While Strome is a capable and smart setup man, he also garners a little extra space for himself out on the ice because defensemen must respect his shot. He scored at least 30 goals in back-to-back-to-back seasons in the OHL and is one of the better goal-scoring prospects not yet in the NHL.
Bruce Bennett/Getty Images

If not for the whole "Russian factor" (hereby referred to as the Ilya Kovalchuk dread), it's very likely that Valeri Nichushkin would have been drafted higher in 2013. The Dallas Stars nabbed him at 10th overall, landing themselves one of the most outstanding young goal scorers available at the draft.
A power forward cut from the same cloth as Evgeni Malkin, Nichushkin is a bull with the puck and makes no mistake when it comes to putting it on net.
He stands at 6'4'' and weighs in at over 200 pounds while playing a very North American brand of hockey, so fans could see him in the NHL as soon as this October. If he makes his debut, he'll be an early Calder Trophy favorite because of his tenacity and goal-scoring prowess.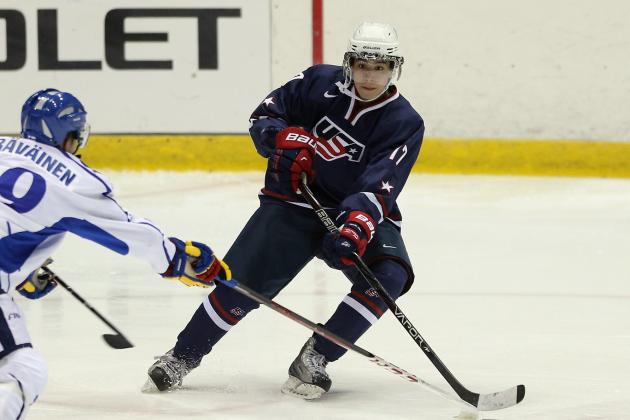 Bruce Bennett/Getty Images

Some players just have an unteachable knack for finding holes and seams out on the ice. John Gaudreau is a prime example of a guy who just finds himself in the right position most of the time and has proven capable of finishing a majority of his chances.
One of the most outstanding pure goal scorers not currently in the NHL, Gaudreau has not allowed his 5'7'', 150-pound frame to prevent him from piling up goals at every level of play.
He posted back-to-back 21-goal seasons for Boston College over the last two seasons—made more impressive by the fact that he played in nine fewer games in 2013 than he did in 2012.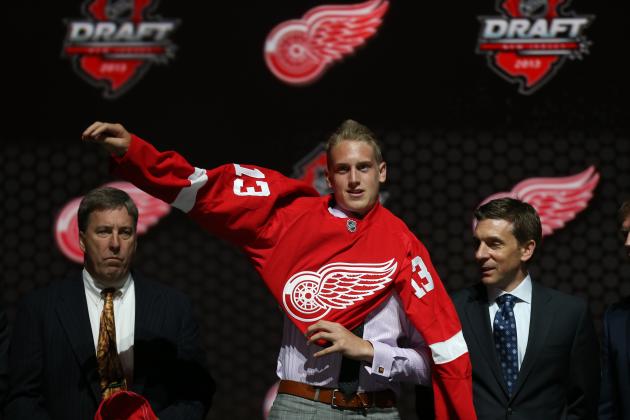 Bruce Bennett/Getty Images

The Detroit Red Wings were able to select goal-scoring wizard Anthony Mantha with the 20th selection at the 2013 draft, mostly because of questions surrounding his effort level.
While some teams were likely scared off by that knock in his scouting report, the Wings were clearly intrigued by a guy who put up 50 goals in the QMJHL despite taking some nights off. After all, you can teach a player to be a professional on a nightly basis. You can't teach the scoring touch needed to net 50 goals in 67 games in the Q.
Not the best skater out there, Mantha makes his chances happen by slowing the game down and dictating the pace with which his team enters the zone. When his patience results in chances, it's rare to see Mantha misfire.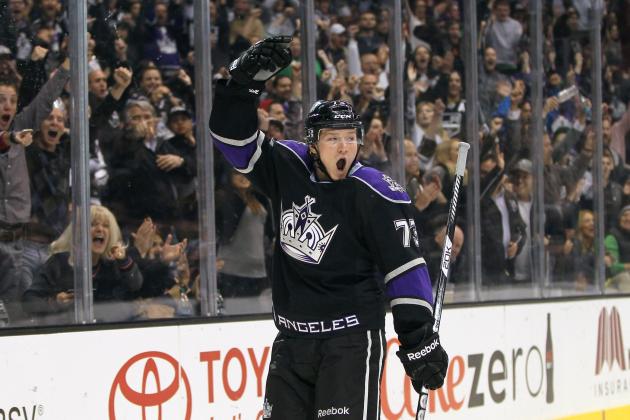 Victor Decolongon/Getty Images

After being drafted in 2010, some questions about Tyler Toffoli's ability to translate his game to the pro level started to bubble over. Since then, all he's done is score at a prolific rate as a junior player and a pro at the AHL level.
In 2011, he returned to the OHL after being drafted and posted 52 goals and 100 points for the Ottawa 67's. Toffoli assumed a big role for the Manchester Monarchs in the AHL last season and didn't disappoint.
He scored 28 goals in in 58 games during his first stint as a pro, earning a call-up to the Kings to boot. With players like Toffoli in the system, L.A. is set up to be successful for a long while.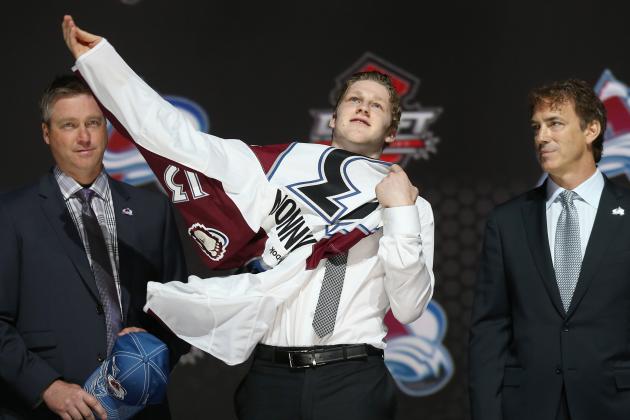 Bruce Bennett/Getty Images

Some comparisons between rookies and retired NHL stars are almost taboo. For instance, you never hear anyone say that a player is as smart of Wayne Gretzky or as mentally tough as Patrick Roy.
With his incredible speed and acceleration, Nathan MacKinnon's stride has drawn comparisons to Pavel Bure, Adrian Dater of the Denver Post reports—a side-by-side that's as off limits and holy as any.
The teenager didn't wither under the glaring spotlight that comes with being one of the top-ranked players heading into a draft year. Instead, MacKinnon seemingly found another gear entirely toward the end of his second QMJHL season.
He scored 32 goals in 44 games despite being the focal point of defenses all year long and could mature into one of the most entertaining scorers in the NHL in due time.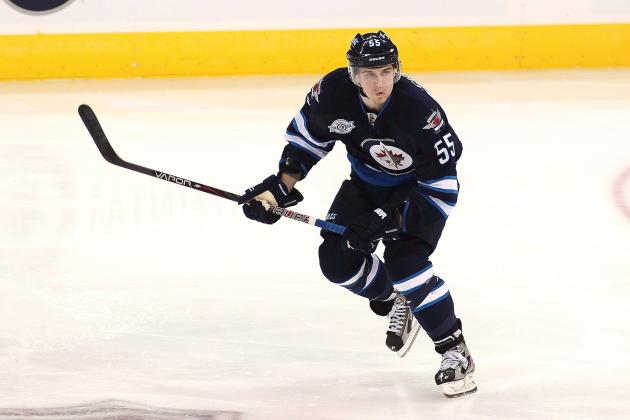 Marianne Helm/Getty Images

Mark Scheifele has been one of the most interesting prospects over the last few seasons. The Winnipeg Jets made him the first ever draft pick of this new incarnation of the team, but the franchise just hasn't felt comfortable moving forward with Scheifele at the NHL level yet.
Upon being returned to the junior level, he dominated like a player of his caliber should. Scheifele has shown a commitment to improving and could at last make the jump to the pros in 2014.
When he does crack the Jets lineup, he'll be expected to put up some goals for a team that has struggled to score recently. Scheifele was nearly a goal-per-game player with the Barrie Colts in 2013, posting 39 goals in 45 games, good for first in team scoring despite playing five less games than the runner-up.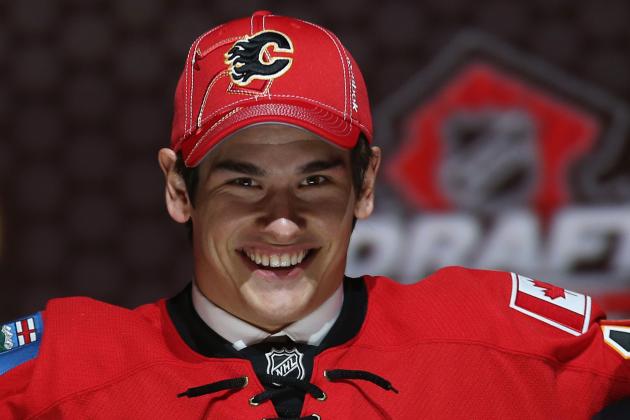 Bruce Bennett/Getty Images

The Calgary Flames drafted Sean Monahan with hopes that he could finally become the No. 1 center the team has lacked for the better part of two decades. He's a remarkably energetic two-way player who isn't nearly as flashy as some of the more dazzling prospects around.
What he lacks in flair, Monahan more than makes up for with results.
He plays a simple north-south game that results in buckets of goals. Monahan was far and away the top player on a poor Ottawa 67's team in 2013 and thrived despite skating with an opposing shadow on him at all times.
The Flames hope he can continue his scoring ways once he reaches the NHL level. Monahan broke the 30-goal barrier in back-to-back seasons while playing in the OHL and has proven capable of scoring with the best of them.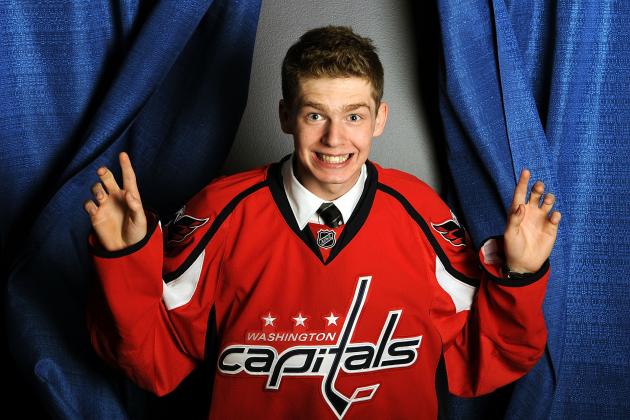 Harry How/Getty Images

Evgeny Kuznetsov could finally play his first game in the NHL in 2014. Even if his debut gets pushed back one more season, there's little doubt that the Washington Capitals' prospect is among the best goal scorers not currently in the league.
Why else would the KHL, according to russianmachineneverbreaks.com, pay him around $10 million to stick around for another two years?
Kuznetsov is a rock star in Russia, and he has the skills needed to be just as prolific in North America. He's a smart player with a lot of attitude and has been close to a 20-goal scorer over the last three seasons with Chelyabinsk Traktor.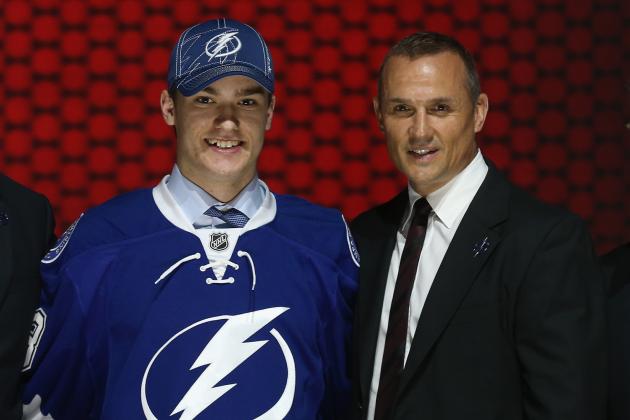 Bruce Bennett/Getty Images

It's ironic that the Tampa Bay Lightning drafted Jonathan Drouin, since the kid plays with so much electricity and energy out on the ice.
Arguably the best goal-scoring player that was available at the 2013 draft, Drouin can do things with the puck that most players can only dream about. He can stick-handle in a phone booth and is very difficult to contain after his first three steps.
Tack on an outstanding shot and great worth ethic, and Drouin is one of the most exciting goal-scoring prospects not currently in the NHL. The Lightning are already one of the best offensive teams in the NHL, and in adding Drouin, they only got stronger in that regard.