NHL Players One Flaw Away from Being Superstars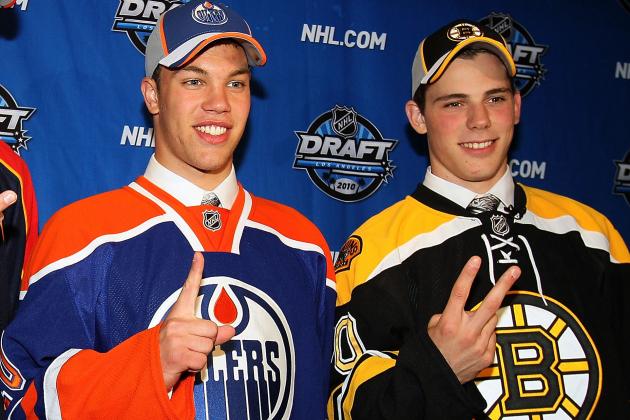 Jeff Gross/Getty Images

To reach superstar status in the NHL, a player must consistently perform at an elite level and have no major weaknesses in his game at either end of the ice.
The amount of youthful talent in the NHL right now is quite impressive.
It's become a young man's game, as high draft picks are now frequently asked to make a strong impact at the pro level very early in their careers.
Let's take a look at a few incredible young players who must correct one flaw to become legitimate NHL superstars.
Begin Slideshow

»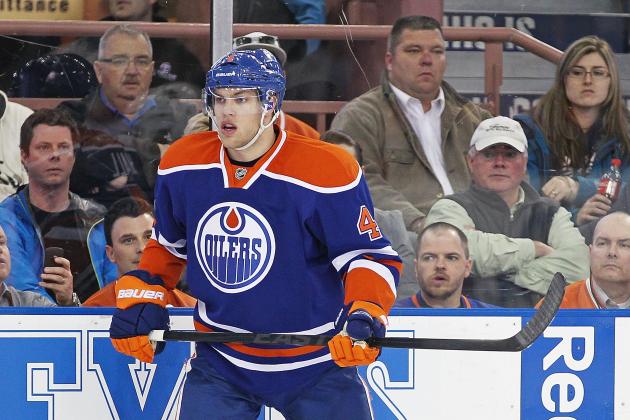 Perry Nelson/Getty Images

Taylor Hall proved why he was a No. 1 overall draft pick last season by tallying 50 points (16 goals, 34 assists) in 45 games, three points away from his career high of 53 points scored in 61 games the year before.
The key part of Hall's remarkable season was his durability, which is the aspect of his game that he must continue to improve upon in 2013-14 if he wishes to live up to his potential.
The Edmonton Oilers winger missed 17 games in his rookie season and 21 in his sophomore year, which hurt his development and the team's ability to contend for a playoff spot.
If staying away from fights and toning down his aggression (just a little bit) is required for him to avoid injuries, then so be it. Hall's importance to the team is greater than any other on the Oilers.
Hall missed only three games in the shortened 2013 season and was able to dominate offensively with his power-forward style of hockey, while also taking on a leadership role as an alternate captain.
If he stays healthy on a consistent basis next year, Hall will score at a point-per-game rate and become one of the league's best wingers.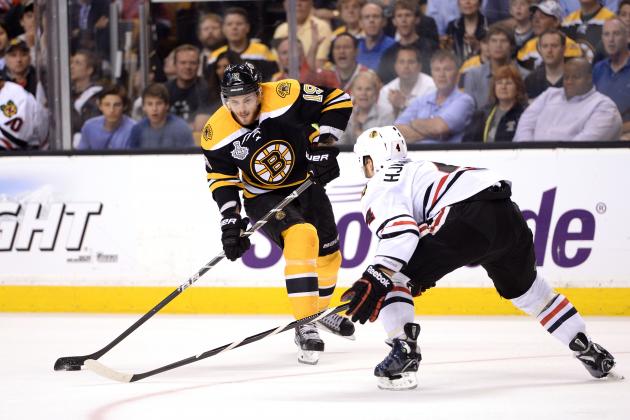 Harry How/Getty Images

Tyler Seguin has an opportunity to enjoy a breakout season in 2013-14 as a member of the Dallas Stars, a team that will play a more open, offensive style of hockey than the 21-year-old's former club.
Seguin wasn't a good fit in Boston because of his weak defensive skills and lack of aggression, but the major flaw in his game is an inability to perform at a high level in the Stanley Cup playoffs.
As the No. 1 center and possible face of the franchise in Dallas for the foreseeable future, Seguin will need to greatly improve his postseason performance to reach superstar status.
Aside from a great Game 2 of the 2011 Eastern Conference Final and the overtime-winning goal in Game 6 of Round 1 in 2011-12, Seguin has been a major disappointment when it matters most.
He tallied just 12 points in his final 40 playoff games with the Bruins. In 13 career Stanley Cup Final games, Seguin has failed to score a single goal and didn't find the back of the net in Boston's last 11 playoff games of 2013.
Seguin has the talent needed to be an elite scorer who tallies 80-100 points consistently, but he won't become a top 10 or top five player unless his postseason play improves.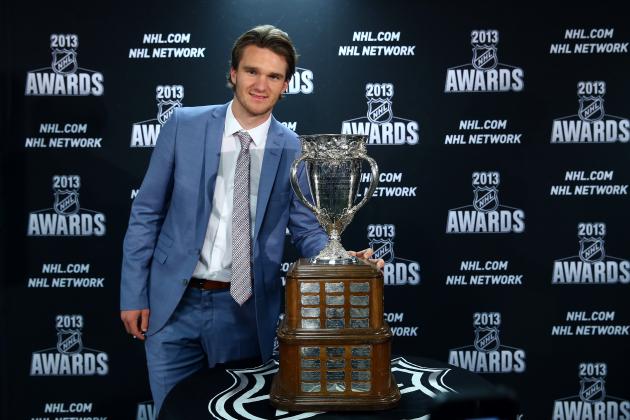 Bruce Bennett/Getty Images

Jonathan Huberdeau was awarded the Calder Trophy as the league's most outstanding rookie last season.
This was a great development for the Florida Panthers, a team that desperately needs a superstar type of player to be the face of the franchise, while generating fan interest and selling more tickets.
He's a rare talent that has the skills to combine elite goal scoring and the vision, hands, hockey IQ and playmaking ability needed to make the players around him more productive.
One small flaw in his game is his defensive aptitude. He's not going to win puck battles against stronger players, and his awareness in the defensive zone is not where it should be.
With that said, it's very rare that young scorers come into the NHL with a polished game in their own end.
As Huberdeau adds strength and works on his defensive abilities, he will become a well-rounded player capable of playing in any kind of game situation for the Panthers.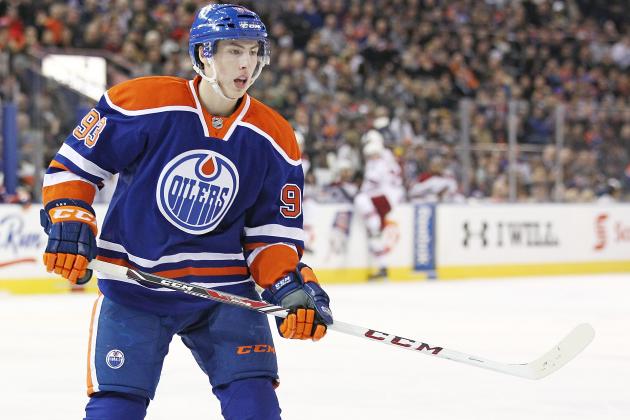 Perry Nelson/Getty Images

Ryan Nugent-Hopkins led all rookies in scoring during his first NHL campaign, but injuries and a lack of consistency prevented him from having a strong sophomore season.
The Edmonton Oilers center is a gifted playmaker with impressive passing skills, hands, awareness and skating ability. There's no reason for Nugent-Hopkins to tally less than 65 points in a full, healthy season.
Since he lacks the size and strength needed to stay healthy and perform at a high level for a full season, it's important that Nugent-Hopkins adds some muscle in the offseason. He missed 20 games in his rookie season and eight last year, which has created some concerns about his durability.
To be a No. 1 center at the NHL level and fulfill the defensive responsibilities of the position, Nugent-Hopkins must become a stronger player to win puck battles and score the dirty goals in traffic.
The former No. 1 overall pick has all of the talent required to be a great two-way center, he just needs to develop NHL-caliber strength to take the next step in his development.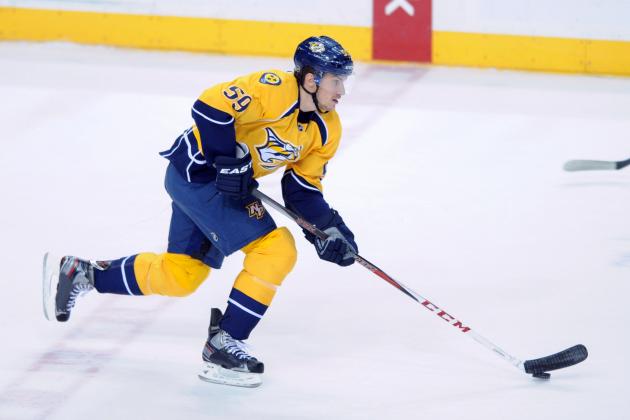 Randy Sartin-USA TODAY Sports

Roman Josi isn't a household NHL star, but the Nashville Predators defenseman is well on his way to becoming one of the league's top players at the position.
Much like his predecessor Ryan Suter, the 23-year-old is a gifted offensive defenseman who provides scoring from the blue line with a power shot from the point, strong puck-moving skills and smooth skating.
But to become a well-rounded defenseman, Josi has to be more physical in his own zone.
The best shutdown defensemen, including Josi's teammate and captain Shea Weber, use their strength and size to win puck battles along the boards, clear traffic from the net and wear down opposing forwards with huge hits.
Josi would greatly benefit from playing with more aggression in the defensive zone, which would make him a much tougher defenseman to play against.
If his defensive skills improve and he shows a higher level of physicality in all three zones, Josi will develop into a top-tier two-way defenseman who excels against the league's top scorers.
Nicholas Goss is an NHL Lead Writer at Bleacher Report. He was also a credentialed writer at the 2011 and 2013 Stanley Cup Final, as well as the 2013 NHL draft.