The first round of the 2013 World Matchplay is nearly complete, and we've already seen a few outstanding performances from the top names in the sport.
Phil Taylor is the guy to beat in this year's tournament, as he's won more titles than anyone in the history of the World Matchplay. He's already moved on to the second round, and after a couple of matches, the entire second round will be set. Will anyone be able to defeat him this year, or will he win his sixth straight championship?
As first-round play continues on Monday, here's a look at the second-round match you cannot afford to miss and the player you must keep an eye on.
Upcoming Schedule

| | | |
| --- | --- | --- |
| Round | Date | Matchup |
| First Round | Monday, July 22 | Newton vs. Caven |
| First Round | Monday, July 22 | Hamilton vs. Baxter |
| First Round | Monday, July 22 | Thornton vs. White |
| First Round | Monday, July 22 | Lewis vs. R. Huybrechts |
| Second Round | Tuesday, July 23 | van Barneveld vs. Pipe |
| Second Round | Tuesday, July 23 | Whitlock vs. Painter |
| Second Round | Tuesday, July 23 | Taylor vs. Jenkins |
| Second Round | Tuesday, July 23 | Wade vs. Anderson |
| Second Round | Wednesday, July 24 | Hamilton/Baxter vs. Thornton/White |
| Second Round | Wednesday, July 24 | Lewis/Huybrechts vs. Dolan |
| Second Round | Wednesday, July 24 | van Gerwen vs. Wright |
| Second Round | Wednesday, July 24 | Newton/Caven vs. Chisnall |
Professional Darts Corporation
Second-Round Match to Watch: James Wade vs. Gary Anderson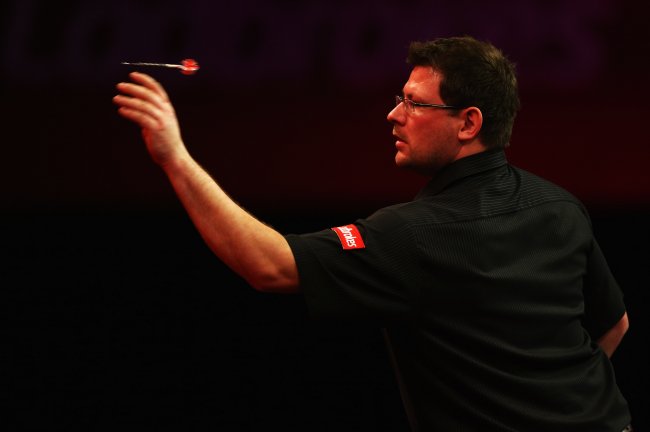 Paul Gilham/Getty Images
James Wade is one of the top contenders in this year's tournament, and he's one of few to ever have much success. Wade is one of the six players to ever win the competition, as he took home the title back in 2007. He has lost in the final match four times and has finished in second place in each of the last two years.
Wade was nearly upended in the first round against John Part, one of the 16 qualifiers. He escaped an early exit with a 10-8 victory, but that doesn't mean he's out of the water just yet. In the second round, Wade will be taking on Gary Anderson, who was very impressive in the opener.
Anderson, another qualifier, upset Mervyn King, the No. 13 seed in the bracket. While many of the first-round fixtures were close, there was no question Anderson was the better play. He ousted King with a 10-5 beating. Here's what he said after the win, according to the Professional Darts Corporation:
At times it felt pretty good and the trebles were going in and the finishing was fine, but at the back end of the game I started to struggle a bit. I was telling myself not to throw it away, and I got there in the end.

My practise has been going brilliant, so if they can get a bit better on stage I'll be a lot happier. James is very steady and you know what you're going to get against him, so I'll have to dig in.
Can Anderson make it back-to-back upsets, or will Wade come out victorious with his hopes of winning a second World Matchplay Championship still intact?
Player to Watch: Phil Taylor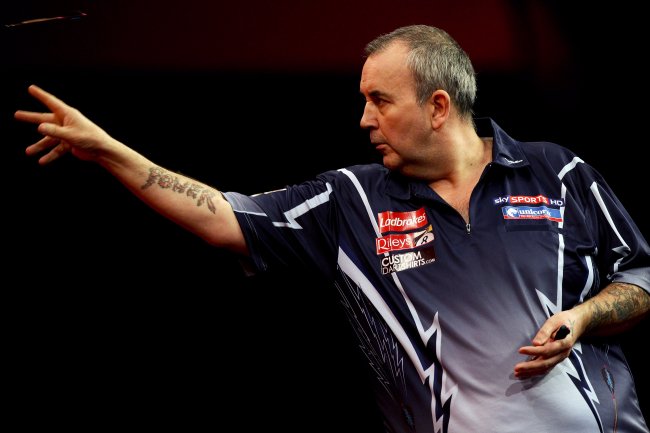 Ben Hoskins/Getty Images
Who else but the 13-time champion?
Phil Taylor has owned this tournament throughout his career. The guy has won the championship 68.4 percent of the time. The person with the second-most titles at the World Matchplay has only two (Rod Harrington). It isn't going to be surprising to anyone if Taylor wipes the floor with the competition again this year.
Some players entered the tournament with nerves, but not Taylor. He was flawless in his opening-round match against Stuart Kellett. Taylor advanced to the second round with an easy 10-1 victory. Taylor told the PDC it was a "great first round" and "it was more comfortable than I thought it would be."
Taylor is set to take on Terry Jenkins next. Jenkins, the No. 16 seed, just beat Andy Smith by a score of 10-3 in the first round. Taylor said Jenkins "will test me in the second round." He really shouldn't have any issues advancing, though, and he probably won't really be tested until the semifinals or finals, if at all.
With Taylor's impressive victory in the first round, it's going to be very difficult to beat him. It may be a bit early to crown him the champion for the sixth straight year and for the 14th time ever, but his chances definitely look promising.