Ranking the Baltimore Ravens' Top Fantasy Football Players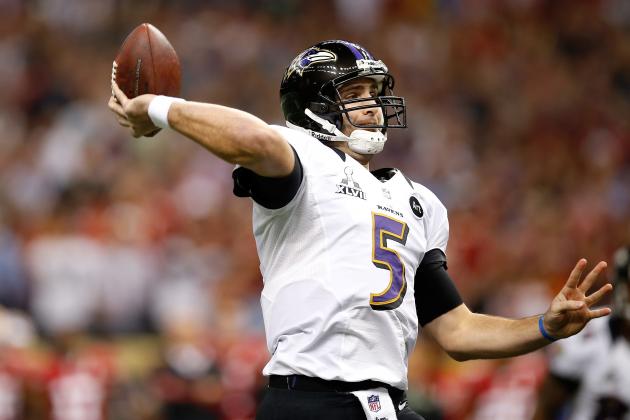 Chris Graythen/Getty Images

Coming off of a Super Bowl victory, you wouldn't think that the Baltimore Ravens offense would have so many questions heading into the 2013 NFL season.
Who will replace Anquan Boldin? Is Joe Flacco actually elite now? Does Bernard Pierce's presence mean Ray Rice's best days are behind him?
With fantasy football drafts coming up soon, here is a ranking of the top fantasy football players on the Ravens for next year.
Begin Slideshow

»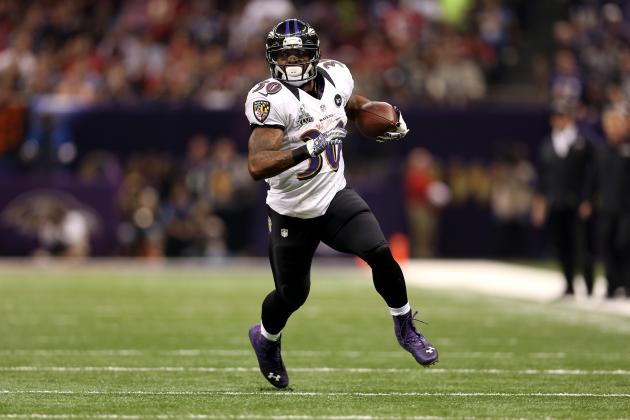 Christian Petersen/Getty Images

Heading into the 2012 season, no one was really sure who else was going to get carries in the Baltimore Ravens backfield besides Ray Rice. In the past, the Ravens had solid veteran backup running backs to spell Rice some time, including Willis McGahee and Ricky Williams.
Bernard Pierce saw very little action at the beginning of his rookie season, but once Jim Caldwell took over as offensive coordinator, he became a huge part of the Ravens offense. In his last six games of the season, including the playoffs, Pierce had two games where he went over 100 rushing yards. Throughout the postseason, Pierce also recorded another 39 carries for over 200 rushing yards.
Not too bad for a backup running back in his rookie season.
Entering his second season with the team, expect Pierce to continue this type of production. Rice is still the main guy in the backfield, but expect Pierce to get at least 10 carries per game. Caldwell showed last year that he is not afraid to play Pierce at any moment in a game and will continue to use him often.
Look to draft Pierce in one of the final rounds of your upcoming fantasy football drafts.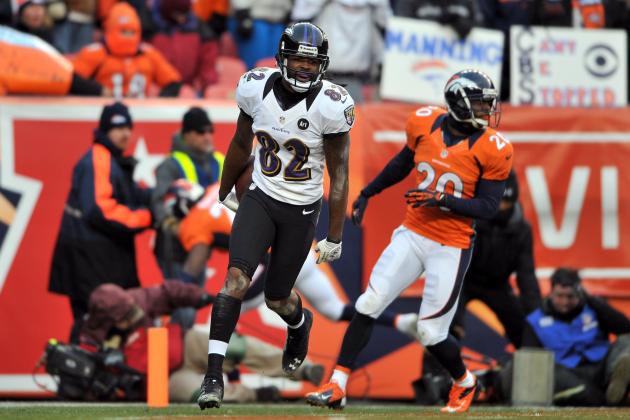 Dustin Bradford/Getty Images

You are probably wondering how Torrey Smith could be ranked No. 4 on this list now that Anquan Boldin is gone. Smith is going to continue to improve, but I don't see him beating out Dennis Pitta as Joe Flacco's favorite target.
In his second season with the Baltimore Ravens, Smith put up nearly identical numbers as he did in his rookie season, finishing with 49 receptions for 855 yards and eight touchdowns. With Boldin gone, Smith's numbers are going to improve, but I would not expect a drastic change.
Smith is a great deep threat. There may be games where Smith will have only two catches, but both of them could easily go for at least 50 yards each. Despite the fact that Smith can put up double-digit fantasy points any week with a limited amount of touches, it's also the reason why it is hard to trust him on a weekly basis. During the 2012 regular season, Smith had less than five receptions in 12 games. When you draft a fantasy receiver, you want him to be getting targeted nearly every time his team throws the ball. This isn't going to happen with Smith, though, because he is not a possession receiver.
Smith still has plenty of fantasy value. He is a low-end No. 3 receiver and would make a terrific No. 4 option. There is no reason why Smith shouldn't have 900 receiving yards and eight touchdowns in 2013.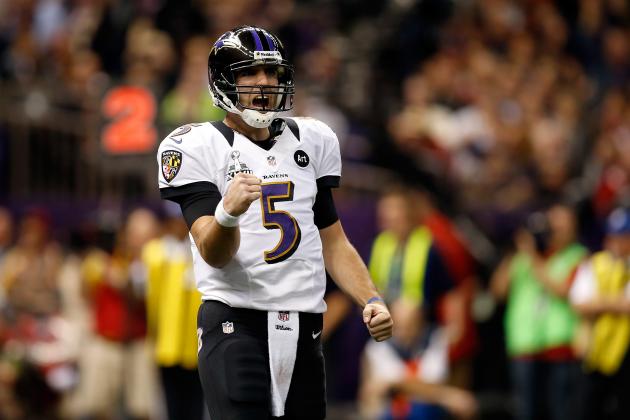 Chris Graythen/Getty Images

In 2012, NFL fans saw two completely different Joe Flaccos. In his first 13 games under ex-offensive coordinator Cam Cameron, we saw the typical, inconsistent Flacco. One weekend Flacco would look like a stud (against New England in Week 3), and the next weekend he would look atrocious (against Houston in Week 7).
However, what most fans don't realize is that once Jim Caldwell took over as offensive coordinator, Flacco consistently played at high level to the point where he led the Baltimore Ravens to a Super Bowl championship. In his six games under Caldwell, including the playoffs (excluding Week 17 where he only played in the first quarter), Flacco threw for 15 touchdown passes and 1,703 yards. In every one of those games, Flacco threw for at least two touchdown passes and never threw for less than 240 yards.
The fact of the matter is, Caldwell's play-calling has taken Flacco to the next level. Heading into 2013, most fantasy football owners are going to continue to pass on Flacco until the middle-to-late rounds, but they are making a mistake. Don't let his inconsistent playing days with Cameron fool you. They are in the past. Flacco is a completely different quarterback now, and he will prove it in 2013. Expect him to throw for at least 4,000 yards and around 30 touchdown passes.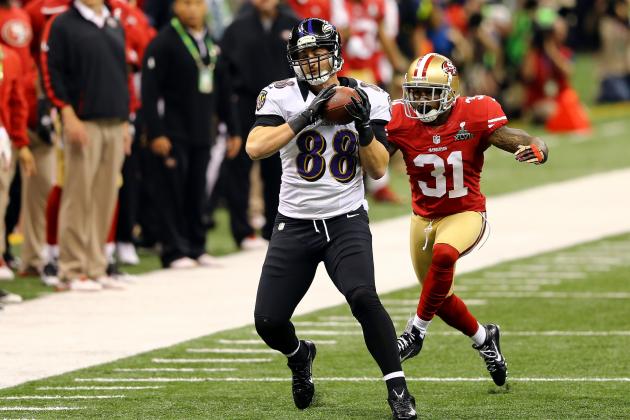 Al Bello/Getty Images

There may not be more hype surrounding a player entering the 2013 fantasy football season than Dennis Pitta.
In 2012, Pitta had a breakout season and became one of Joe Flacco's top targets, recording more than 60 receptions for over 600 receiving yards and seven touchdowns. What was more impressive was how much Flacco trusted Pitta throughout the postseason. After Anquan Boldin, Pitta was clearly Flacco's favorite target and had three touchdowns throughout the playoffs.
With Boldin gone now, Pitta is now going to be Flacco's go-to guy. All signs are pointing to Pitta becoming a top-five fantasy football tight end. He is the Baltimore Ravens' only experienced possession receiver. Both Jacoby Jones and Torrey Smith are speedy vertical threats. Flacco is going to be targeting Pitta nearly every time he's looking to find a receiver on a shorter route. When the Ravens are in the red zone, you can almost guarantee that Pitta is going to be the first guy who Flacco targets.
Pitta is going to be a star in 2013, and there is no doubt that he will have at least 800 receiving yards and around 10 touchdowns.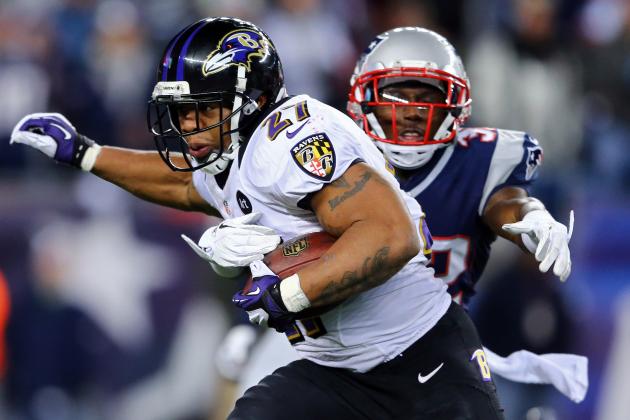 Al Bello/Getty Images

Say whatever you want, but Ray Rice is still the work horse of the Baltimore Ravens offense. Many other fantasy football experts have his stock taking a hit, but I just do not see it.
Rice does it all for the Ravens.
Not only is Rice guaranteed 15-20 carries per game, but he is arguably the best pass-catching running back in the NFL. Just ask the San Diego Chargers what they think of Rice as a receiver out of the backfield. I'm sure they vividly remember what he did to them on 4th-and-29. You don't get the phrase "Hey Diddle Diddle Ray Rice Up the Middle" for no reason. The man is an absolute beast when it comes to fantasy football.
Sure the Ravens gave Joe Flacco a huge contract, but do you think all of a sudden that means they are going to forget what kind of playmaker Rice is? No. The Ravens offense is successful because of the perfect balance they have between the run and the pass. Don't think that Bernard Pierce is going to take away Rice's carries either. Sure, Pierce will get 10 touches per game, but Rice is still going to be getting plenty of touches.
Rice is definitely a top-five fantasy running back still, possibly even top-three. There is no reason why he shouldn't be off the draft board by the middle of the first round.