Boise State Football: Broncos' Position-by-Position Fall Practice Preview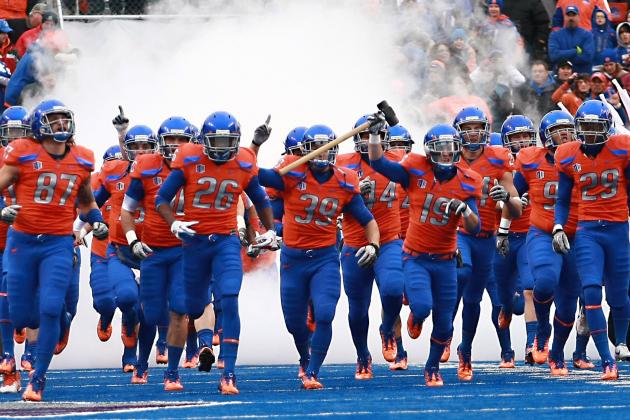 Brian Losness-USA TODAY Sports

Boise State will begin fall practice on August 5th. They will do so with the same kind of goals and expectations they do every season.
Last season there were some big question marks going into the fall. Quarterback, backup running backs, most of the defense and special teams were all a mystery.
However, it all panned out, and an 11-2 record later, the Broncos are still silencing critics.
In 2013 the question marks are smaller, but they remain nonetheless. The quest to find backup running backs is a seemingly never ending battle, but Boise State is getting a reputation for producing quality rushers.
This season the offensive line and defensive secondary are two of the bigger unknowns. There is considerable talent on the roster in those positions, but can they step it up and get the job done?
Let's look at those possibilities and other key position battles going into fall practice for Boise State.
Begin Slideshow

»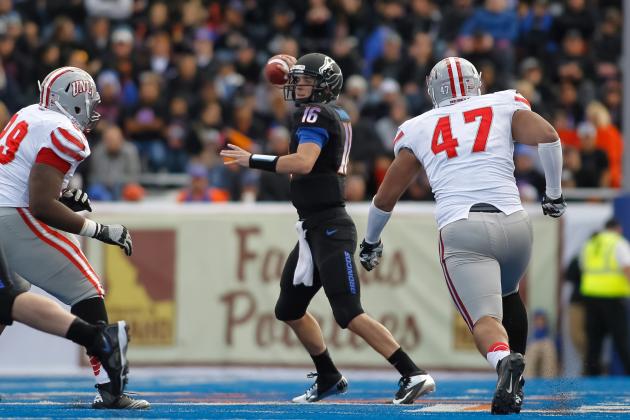 Otto Kitsinger III/Getty Images

There is little doubt of who will be the 2013 starting quarterback for Boise State. Barring any unforeseen injury or circumstances, Joe Southwick will be leading the Broncos in his senior season.
His backup will be either Grant Hedrick or Nick Patti. However, the coaches may utilize the player that isn't the official backup in an active role.
Grant Hedrick found his way into games last season to run option or wildcat type plays. That may happen again this season. However, you may also see young Mr. Patti depending on which one wins the backup spot.
Hedrick looked good in the spring game. He tends to try too hard at times, and turnovers can be a result. That happened last season and in the spring game.
Hedrick is a junior, and you know that he will be trying hard to put himself in a position for his senior season when the quarterback competition will be open once again.
If he tries too hard, it could be a problem. If he relaxes and trusts his football instincts, he may be in a good position to lead Boise State in 2014. However, Nick Patti will be doing all he can to lift his stock as well.
The battle of the backups will be the quarterback story this fall for the Broncos.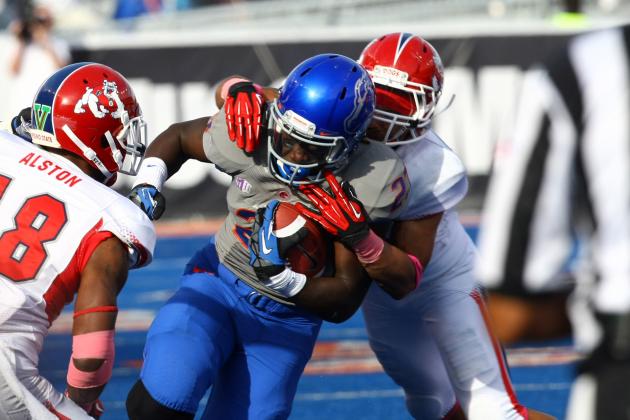 Brian Losness-USA TODAY Sports

Boise State fans are excited to see Jay Ajayi as the starting running back for the Broncos in 2013.
Ajayi is the clear starter going into fall camp, and just like quarterback, the battle this fall in Broncos camp will be for the backup spot.
Leading candidate and JUCO transfer Derrick Thomas looked very good in the spring. He made a big impression during the blue and orange spring game, and at 6' and 207 pounds, Thomas looks a lot like Ajayi.
These two could be a very powerful one-two combination if they stay healthy.
Thomas runs like Ajayi but has enough of a difference in style to bring contrast. However, he is not the only running back on the roster that will get carries.
Redshirt freshman Charles Bertoli also impressed this spring, and sophomore Jack Fields is a talented running back that has some game-time experience.
Redshirt freshman Devan Demas is another player Boise State fans have been excited to see, and he could make a bit of noise in fall camp.
Many fans will be waiting to hear how true freshman Aaron Baltazar does in camp as well. He will most likely be redshirted, but it will still be interesting to see how he performs.
Walk-on Jamal Hart rounds out the running backs but don't be surprised if Shane Williams-Rhodes, who is listed as a wide receiver, is utilized in the run game somehow.
Overall, the running game should be a huge strength for the Broncos if everything works out the way it looks like it could.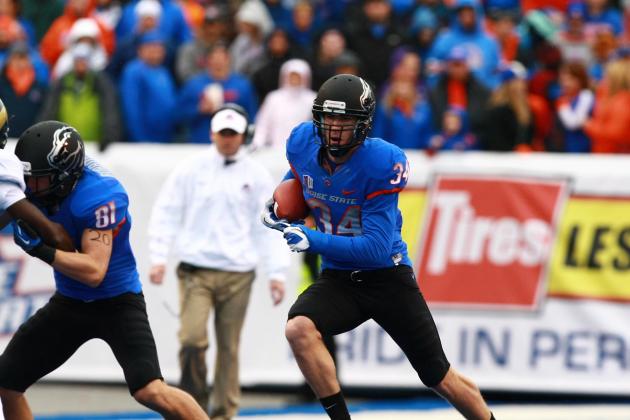 Brian Losness-USA TODAY Sports

This fall there a lot of wide receivers and tight ends that will be battling it out in Bronco camp. It is certainly a nice problem to have if you are a Boise State coach or fan.
Starters at wide receiver will most likely be senior Kirby Moore and junior Matt Miller. But, seniors Aaron Burks and Geraldo Boldewijn will be doing everything possible to get their playing time.
Moore and Miller are consistent, go-to guys when Boise needs first down yardage, but Burks and Boldewijn can be utilized to stretch the field with their speed.
The four of them are a potent unit, and with a senior quarterback, the passing game at Boise State looks to be very strong.
Add to that Shane Williams-Rhodes, and opponents are going to be pulling their hair out trying to cover the weapons Boise State puts on the field.
At tight end, the Broncos look to be solid also.
Gabe Linehan, if he stays healthy, is a very good tight end. Unfortunately, injuries have limited him the last two seasons. Meanwhile, backing him up is a very capable Holden Huff, who stepped up last season and did an excellent job.
Overall, wide receiver and tight end look very good for the Broncos. It should be quite a show.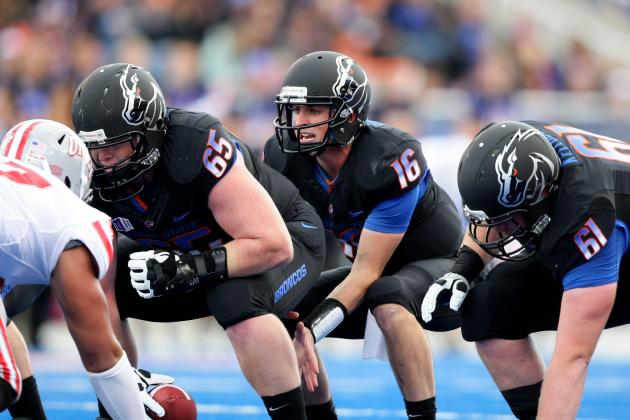 Brian Losness-USA TODAY Sports

Offensive line is a bit of question mark for the Broncos going into fall practice. With just two returning starters, the Broncos will have several new faces up front.
Senior center Matt Paradis returns as does left tackle Charles Leno Jr. However, if you are only going to have two returning offensive lineman, center and left tackle are the ones you want. That bodes well for the Broncos as they build around them.
Last season Spencer Gerke started six games for Boise State, and he is back as well. He started two times at left guard and four times at right guard, which gives coaches some options depending on the supporting players that step up.
As far as the possibilities go, there are a number of big guys that could step up to fill the other two starting spots.
Seniors Jake Broyles and Chris Tozer, sophomores Marcus Henry and Rees Odhiambo, redshirt freshmen Travis Averill, Mario Yakoo and Steven Baggett and a handful of others will battle for playing time.
With center, left tackle and one guard in place, the Broncos have the talent to fill the other two positions and give the line some depth.
The more you look at this question mark, the smaller it becomes.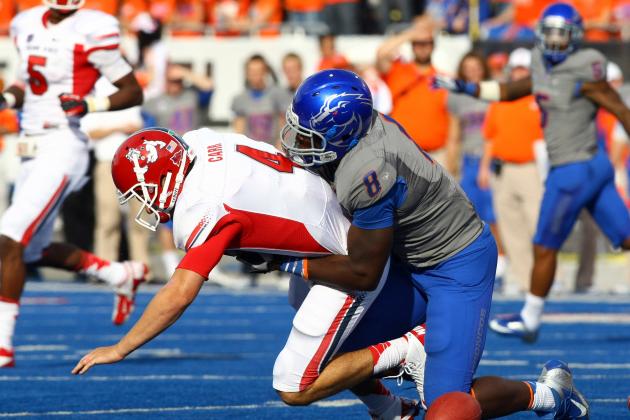 Brian Losness-USA TODAY Sports

Defensive line was a key strength last season for the Broncos. Although at first glance it may look like it could be thin in 2013, it should be a strength once again.
Demarcus Lawrence will no doubt be the starter at one end, but with the departure of Sam Ukwuachu, the other spot is wide open.
Senior Kharyee Marshall and junior Beau Martin will be doing all they can to prove they can fill that spot. Martin actually started the first game of the season last year at end before Ukwuachu stepped up, and he can also play tackle.
Competition will also come from redshirt freshman Sam McCaskill and junior Tyler Horn. McCaskill was impressive this spring, and Horn is a versatile player.
Ricky Tjong-A-Tjoe is a key returning starter at tackle, and he will be joined most likely by a JUCO transfer who lit it up in the spring.
Tutulupeatau "Deuce" Mataele looks like a very good candidate to win a starting tackle spot. In the spring game he looked dominant at times, and his game film should make any Bronco fan very excited.
Sophomore Armand Nance and another JUCO transfer named Justin Taimatuia could make their presence known as well.
All-in-all, the line looks to be in good shape. Injuries are the only thing that could cause problems as the season progresses.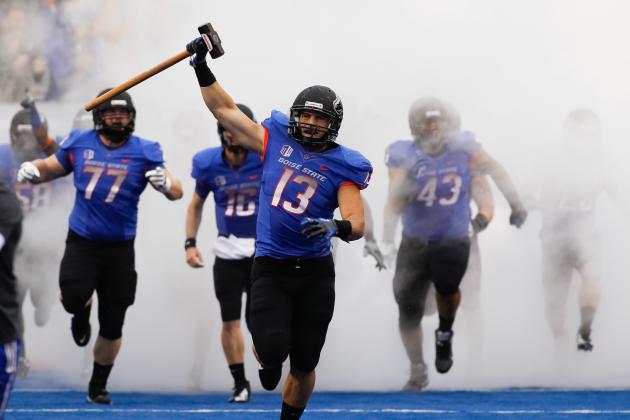 Otto Kitsinger III/Getty Images

Boise State will have two new starting linebackers in 2013. For most teams, that would be a concern. However, not for the Broncos.
Sophomore Tyler Gray and junior Blake Renaud are two players that have proven they can play linebacker for Boise State. Both of them played in every game last season as key backups, and that should translate to success as starters.
They will also get some serious help at backup.
Senior Dustin Kamper, junior Travis Saxton, redshirt freshmen Ben Weaver and Andrew Pint and true freshmen Darren Lee, Tanner Vallejo and Joe Martarano will all be vying for minutes.
Of those, Bronco fans are probably most excited to see if Martarano can make an impact in his first season with the Broncos.
The battle in fall camp will be for pecking order. It should be a lot of fun to watch.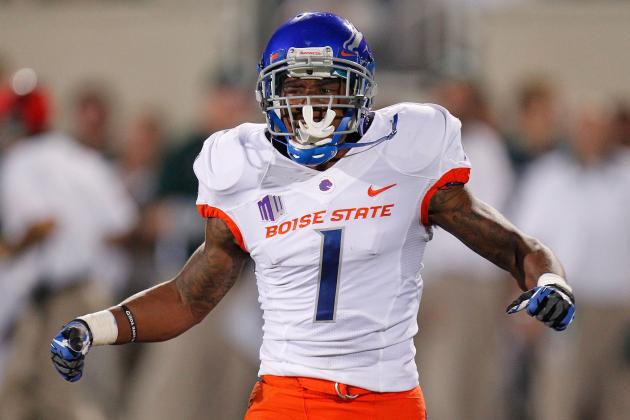 Gregory Shamus/Getty Images

There are at least six players that have a chance at a starting cornerback spot in 2013 for the Broncos.
Redshirt freshman Chaz Anderson, sophomore Donte Deayon, juniors Bryan Douglas, Deon'tae Florence and JUCO transfers Cleshawn Page and Mercy Maston.
Nickel should be solid with senior Jonathan Brown and junior Corey Bell. However, don't be surprised if true freshman Mat Boesen makes a rumble in fall camp.
Boesen was impressive in high school and showed quite a bit of athletic ability as a tight end, as well as a very good high school wrestler.
Boesen is 6'4" and 220 pounds coming into camp. Compared to Brown at 5'10" and 205 pounds and Bell at 5'11" and 208 pounds, Boesen is more along the Shea McClellin frame.
At safety the Broncos are solid with junior Jeremy Ioane, and either sophomore Taylor Loffler or Darian Thomspon.
Sophomore Dillon Lukehart, senior Ebo Makinde, redshirt freshman Chanceller James and true freshman Thomas Sperbeck will be competing for playing time as backup.
Also, with the number of players at corner, don't be surprised if one or two of those players get a test at safety.
Overall, the secondary of Boise State has a load of talent but much of it unproven. It will be one of the key fall practice competitions to keep an eye on.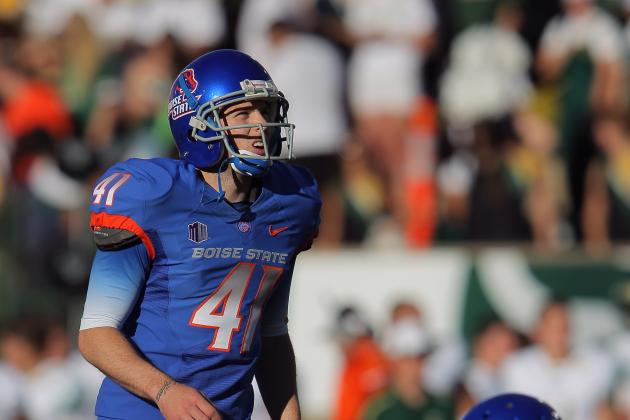 Doug Pensinger/Getty Images

Boise State has a solid punter and kickoff guy in senior Trevor Harman.
They should also get good coverage on punts and kickoffs, as they usually do, San Diego State game aside. And in the area of punt returns and kickoff returns, Shane Williams-Rhodes and others should bring excitement and results.
However, the area of field goals is a question mark going into the fall once again.
JUCO transfer Tyler Rausa was brought in to bring consistency and distance to field goals. However, he didn't overly impress this spring, and junior Dan Goodale actually outperformed him in the spring game.
It will be interesting to see who wins the starting job this fall. Broncos fans are hoping that whoever it is they will be accurate, consistent and have a decent amount of leg.
Of course that's what coaches are looking for as well, and if neither Goodale nor Rausa pan out, the option are limited.
Redshirt freshman Sean Wale is a better punter than field goal kicker, but if the other two flounder, he might be called on to kick a few in practice.
In the end, you have to think that Rausa rises to the occasion. He has the talent, and the fall practice competition should give him the push he needs.