Illinois Basketball: Predicting Fighting Illini's Top 5 Scorers for 2013-14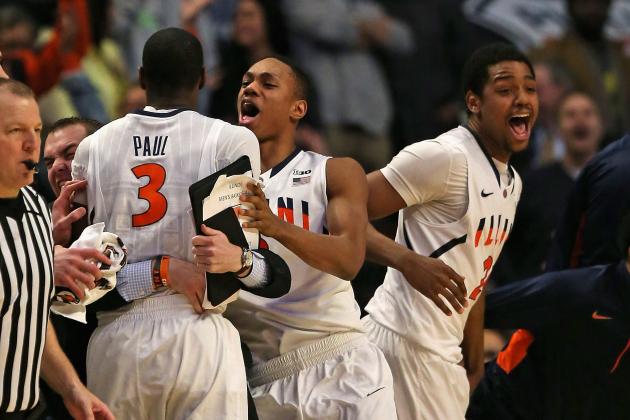 Jonathan Daniel/Getty Images

John Groce's Fighting Illini got a taste of success during the 2012-13 season, leaving hopes of a bright future amongst the Illini nation. Of the Illini's top five scorers last year, four came from the 2009 recruiting class.
Brandon Paul, D.J. Richardson, Joseph Bertrand and Tyler Griffey all fall into that category, while sophomore Tracy Abrams finished third on the team in points per game. Abrams and redshirt senior Bertrand return, along with a talented freshman class and a handful of transfer players, as the Illini look to continue their success this winter.
Begin Slideshow

»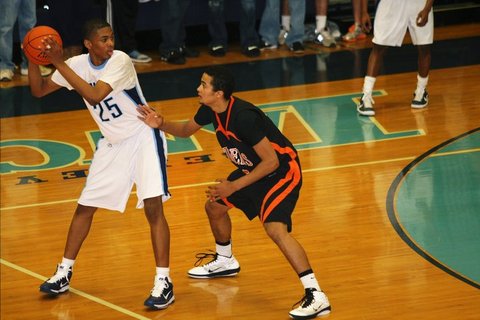 Of the Illini's five incoming freshmen, Hill's arrival is arguably the most highly anticipated. Hill comes to Champaign from Belleville, Illinois where he averaged 23.8 points as a high school junior. Hill is a lanky 6'5" and 190 pounds and has a game similar to NBA superstar Kevin Durant's.
Hill will establish himself as a scorer from the small forward position immediately, regardless of his starter or reserve status. Fellow freshman and former Simeon star Kendrick Nunn could also make a splash alongside Hill on the wing.
Prediction: 7.7 PPG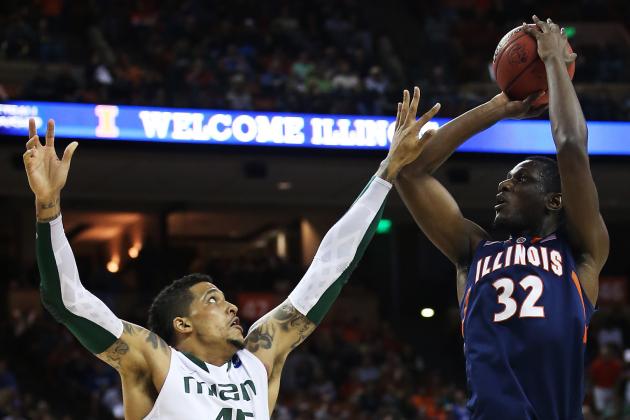 Ronald Martinez/Getty Images

As a sophomore, the 6'11" Egwu averaged 6.5 points. He scored in double figures six times throughout the season, though those six feats were all spread throughout the year. Egwu's best game of 2012-13 was his last one, a 63-59 loss at the hands of Miami, where Egwu double-doubled with a 12-point, 12-rebound effort.
Egwu has a nice mid-range stroke for a center and receives his fair share of open dunks, but he's still raw offensively in the sense that his back-to-the-basket game is nonexistent at times. The Illini will still be a guard-reliant team offensively this season. Egwu is rumored to have put on weight since the end of last year, which should help him establish his spot in the paint.
Prediction: 9.0 PPG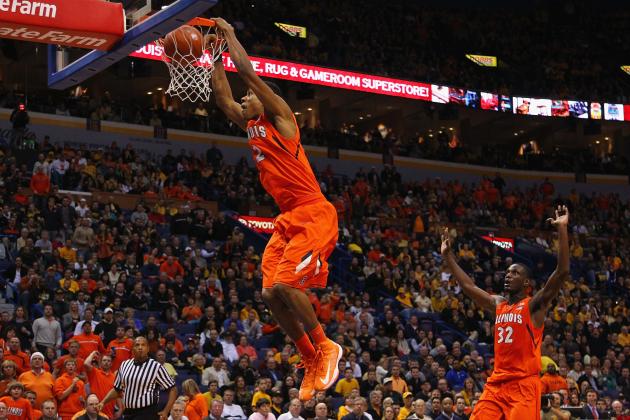 Dilip Vishwanat/Getty Images

After four seasons in Champaign, Bertrand has provided many highlight-reel dunks and examples of athleticism. What he hasn't provided is consistency, though that can be attributed to a nagging shoulder injury that limited him last season. Bertrand had shoulder surgery done and is now only one of three returning scholarship players on the roster, the other two being Egwu and Tracy Abrams.
Bertrand averaged 7.3 points as a redshirt junior and 6.5 as a redshirt sophomore. That figure took a dip late in the season, as Bertrand only scored in double figures once during the final 12-game span. Bertrand is nearly automatic on his mid-range baseline jump shots and uses the jump stop well when attacking the rack. Because of his athleticism, Bertrand still has an outside shot at the NBA with a successful upcoming year.
Prediction: 10.0 PPG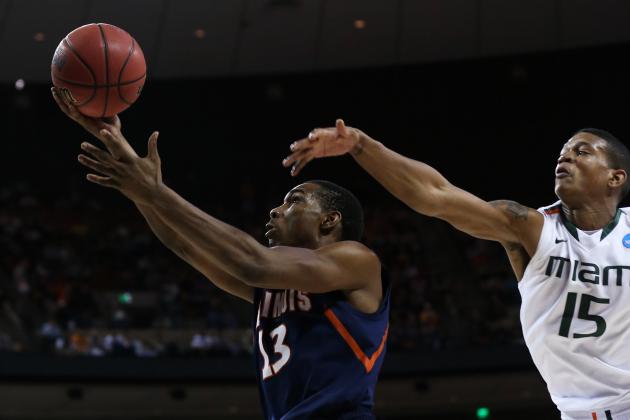 Stephen Dunn/Getty Images

Abrams averaged 10.6 points a year ago as the team's third option. Abrams' role will increase as a junior as both Paul and Richardson have graduated, though his scoring may not take a huge jump. Abrams shot under 40 percent from the field and 28 percent from three-point land, but should truly focus his game on facilitating the offense and sharing the basketball.
Illinois was one of the nation's worst assist-per-basket teams in 2012-13 and Abrams only averaged 3.4 assists as a 28.7-minute-per-night starting point guard. While Abrams will still get his points, this Illini team will need to be more well-rounded and deep with their scorers, while not solely relying on the long ball.
Prediction: 11.4 PPG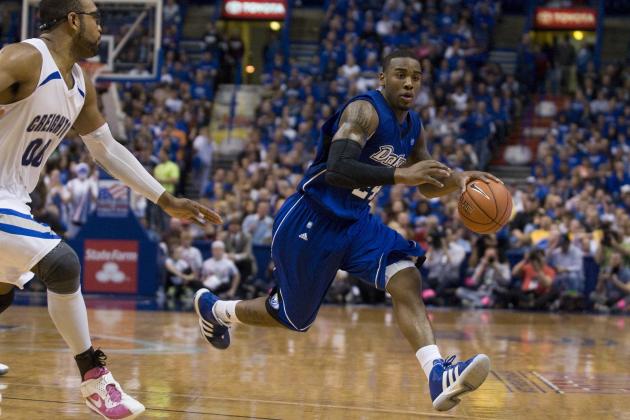 Jeff Curry-USA TODAY Sports

As a sophomore in 2011-12, Rice averaged 16.8 points for the Drake Bulldogs of the Missouri Valley Conference. Rice, a Champaign product, sat the 2012-13 season due to a transfer redshirt, but is ready to bring his talents to the Big Ten court now as a redshirt junior. While it may seem crazy to expect Rice to immediately lead the Illini in scoring, having seen Rice play firsthand as a prep star, he'll play harder than anyone on the court.
Rice averaged 6.3 free-throw attempts as a sophomore, converting on 71 percent of his tosses. He shot 44 percent from the field but only 24 percent from long range. Rice is a slasher on the wing, but at 6'4" and 240 pounds, could even see time at power forward if coach Groce decides to use four of his talented backcourt players alongside one from his slim frontline.
Prediction: 13.8 PPG