Rookie, Undrafted Free-Agent Watch for Denver Broncos Training Camp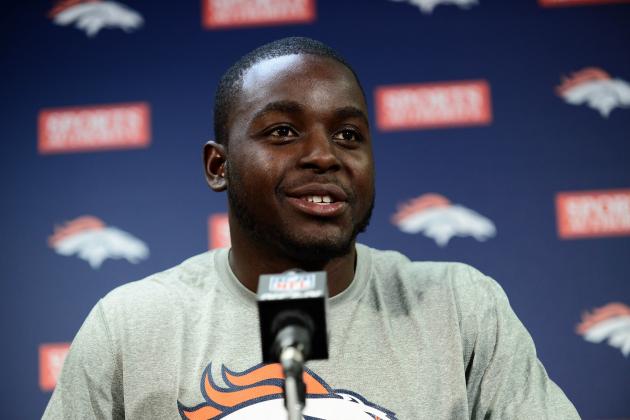 Ron Chenoy-USA TODAY Sports

In April, the Denver Broncos selected seven rookies in the NFL draft and added 14 more undrafted free agents, bringing in a total of 21 rookies for the summer.
On Thursday, those rookies and their veteran teammates will hit the field for training camp.
The team's draft class is highlighted by its first two selections—defensive tackle Sylvester Williams and running back Montee Ball, both of whom are expected to make an impact this season.
The Broncos already have a solid core team, so the rookies will only be added depth—none of them will be forced to handle a huge role right way, as they won't need to.
With that said, the Broncos will be looking for production from their rooks. Let's take a look at them.
Begin Slideshow

»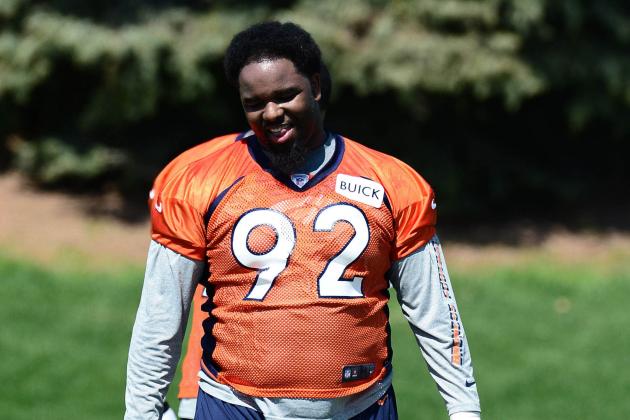 Ron Chenoy-USA TODAY Sports

College: North Carolina
Draft Status: Round 1
Height: 6'3''
Weight: 313
College Production: A two-year starter, Williams totaled 96 tackles, 20.5 tackles for loss and 8.5 sacks during his time as a Tar Heel.
Analysis: Williams comes to Denver ready to contribute right away at defensive tackle.
He won't have to be a starter right off the bat (Kevin Vickerson and Terrance Knighton will handle those duties), but he can be a rotational player to both help stop the run and get after the quarterback.
Williams probably won't rack up sacks in Year 1, but he has the potential to be a solid defensive lineman in Denver for years to come.
Ron Chenoy-USA TODAY Sports

College: Wisconsin
Draft Status: Round 2
Height: 5'10''
Weight: 214
College Production: During his four years with the Badgers, Ball carried the ball 924 times for 5,140 yards and 77 rushing touchdowns (an NCAA record), adding 598 receiving yards and six more receiving scores to his totals.

Analysis: Ball comes to Denver ready to make an impact right away on offense.
At Wisconsin, Ball carried the ball early and often. In Denver, he won't have to with quarterback Peyton Manning spreading the ball around to a host of weapons.
The Broncos won't have to lean on Ball and will be able to casually work him into the offense. When he does get opportunities, expect him to run away with them and win the starting job by midseason.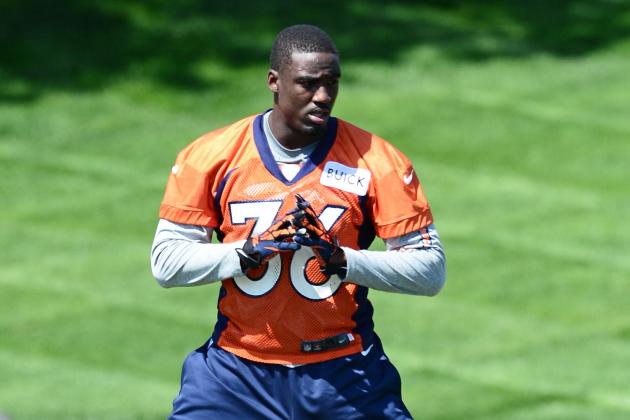 Ron Chenoy-USA TODAY Sports

College: South Florida
Draft Status: Round 3
Height: 5'10''
Weight: 195
College Production: A four-year player, Webster recorded 190 tackles, two sacks and three interceptions while at South Florida. Listed as a defensive back, Webster played like a safety at the cornerback position.
Analysis: Originally dubbed a reach by many pundits early on, Webster may turn out to have been a fine pick.
He will instantly provide depth in the secondary and is versatile and physical enough to be moved around. Webster plays bigger than he really is, and he uses his strength to his advantage.
If the team needs to, they can move him to safety or nickel corner. In the meantime, he'll be learning under one of the best in Champ Bailey this summer.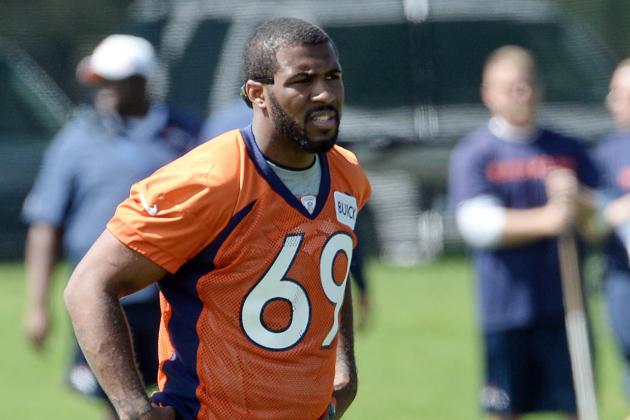 Ron Chenoy-USA TODAY Sports

College: Western Kentucky
Draft Status: Round 5
Height: 6'5''
Weight: 250
College Production: In four seasons at WKU, Smith registered 135 tackles, 41 tackles for loss and 24 sacks, specializing in rushing the passer.
Analysis: If he can stay healthy, Smith has the potential to be the steal of the draft.
After totaling 12.5 sacks in 2012, Smith had to undergo surgery and miss the end of the season. If he can fully recover, he brings a lot to the table as a pass-rusher.
Notching 18.5 tackles for loss as a senior, Smith specializes in getting in the backfield and causing trouble. If he continues to wreak havoc over the summer, he will easily earn himself a rotational role in Denver's defense as a rookie.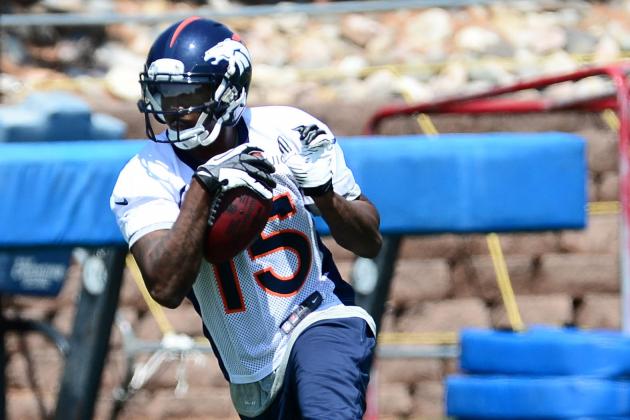 Ron Chenoy-USA TODAY Sports

College: Georgia
Draft Status: Round 5
Height: 6'0"
Weight: 189
College Production: During his five years at Georgia (he redshirted as a freshman), King caught 136 passes for 2,602 yards and 21 touchdowns.
Analysis: There's a new No. 15 in Denver, and this one isn't left-handed.
King faces an uphill battle to see the field much as a rookie with three star receivers (Demaryius Thomas, Eric Decker and Wes Welker) ahead of him on the depth chart. Unfortunately for King, Denver runs mostly three-wide receiver sets, which means barring an injury, his chances of seeing a lot of action this fall are slim to none.
But the Broncos can groom King and save him for down the road (either one of Thomas or Decker may walk in free agency one day, and Welker won't last forever). If he's content to sit and learn, King could potentially pair up with Brock Osweiler to lead the team in a few years from now.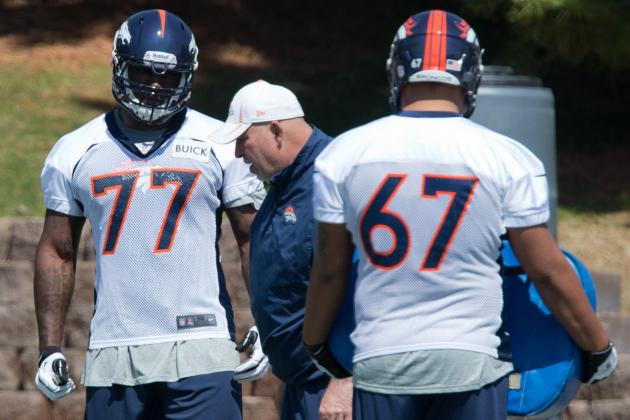 Justin Edmonds/Getty Images

College: Virginia Tech
Draft Status: Round 6
Height: 6'4"
Weight: 306
College Production: Painter went to Virginia Tech as a defensive tackle and left as an offensive lineman after being converted to offensive tackle.
Analysis: The Broncos have little need for an offensive tackle at the moment (Ryan Clady and Orlando Franklin have the tackle positions locked down), but Painter provides nice depth.
Like King, Painter can be groomed into a future starter or, at the very least, remain a valuable backup for the team for several years to come.
Ron Chenoy-USA TODAY Sports

College: Miami (OH)
Draft Status: Round 7
Height: 6'3''
Weight: 231
College Production: During four years at Miami, Dysert completed 63.8 percent of his passes for 12,013 yards and 73 touchdowns.
Analysis: Going into training camp, Dysert is the team's No. 3 quarterback, below Peyton Manning and Brock Osweiler and just above Ryan Katz on the depth chart.
Dysert will compete with Katz for the No. 3 QB gig, but even if he wins the spot, he is not guaranteed to make the final roster (Denver may choose to carry only two QBs). No matter Denver's decision on the number of QBs they will carry, Dysert is all but guaranteed to at least make the practice squad.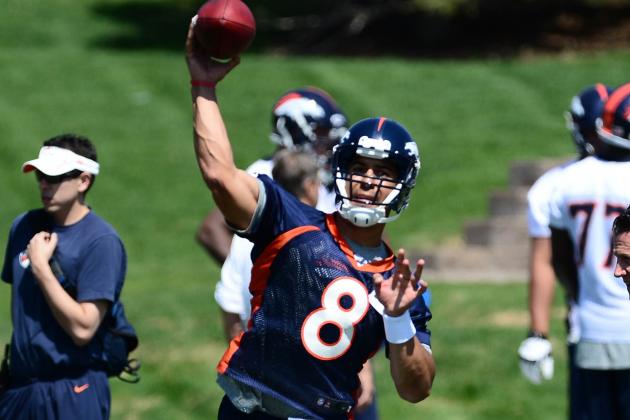 Ron Chenoy-USA TODAY Sports

Below is the list of the team's undrafted rookies:
| | | | | |
| --- | --- | --- | --- | --- |
| Player | Pos. | Ht. | Wt. | School |
| C.J. Anderson | RB | 5-8 | 224 | California |
| Kemonte' Bateman | WR | 6-1 | 185 | New Mexico State |
| Ryan Doerr | P | 6-3 | 189 | Kansas State |
| Manase Foketi | G | 6-5 | 325 | Kansas State |
| Aaron Hester | CB | 6-1 | 207 | UCLA |
| Ryan Katz | QB | 6-1 | 210 | San Diego State |
| Uona Kaveinga | LB | 5-11 | 243 | BYU |
| Gary Mason Jr. | DE | 6-4 | 255 | Baylor |
| Quincy McDuffie | WR | 5-10 | 178 | Central Florida |
| Lerentee McCray | LB | 6-3 | 249 | Florida |
| Ross Rasner | S | 6-0 | 212 | Arkansas |
| Lucas Reed | TE | 6-6 | 250 | New Mexico |
| Doug Rippy | LB | 6-3 | 245 | Colorado |
| Lamaar Thomas | WR | 6-0 | 185 | New Mexico |
| John Youboty | DE | 6-4 | 252 | Temple |
Analysis: The most notable players on the Broncos' UDFA list are Ryan Katz, Lerentee McCray and Kemonte' Bateman, all three of whom will fight for, at the very least, practice squad spots this summer.
Katz will be competing with fellow rookie Zac Dysert to win the No. 3 quarterback gig, and McCray will be fighting to earn a special teams spot and eventually work into a rotational role on defense.
Bateman has simply shown a lot of potential and will be competing with Lamaar Thomas, Quincy McDuffie and a host of other young receivers to impress the team's coaching staff this summer.