South Carolina Football: Position-by-Position Fall Practice Preview
Marvin Gentry-USA TODAY Sports

As the fall practice season approaches, South Carolina and its staff prepare for a year of college football with high expectations.
Head coach Steve Spurrier, his staff and the fans are all ready for the team to have a truly breakout season that results in an illustrious SEC title.
The Gamecocks have the star power to pull off such a feat as well as the talent. The only question mark is the depth at certain positions and overcoming some inexperience.
All in all, South Carolina has a great team that can accomplish great things in 2013.
Here is a position-by-position breakdown of the South Carolina Gamecocks as they head into fall practice.
Begin Slideshow

»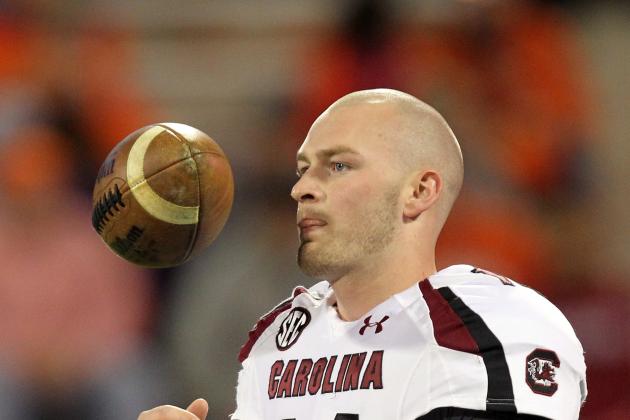 Streeter Lecka/Getty Images

The Gamecocks are stacked for this season and the future at quarterback.
Connor Shaw leads the way as he enters his senior year. He has been efficient as a passer and as a runner, making him the perfect dual-threat in Spurrier's offense.
Shaw's backup or "quarterback who splits time," Dylan Thompson, has an NFL-ready arm and is a dominant passer. Thompson wants his playing time and deserves some, though he has another year to go.
Down the depth chart, things get interesting for the Gamecocks. Brendan Nosovitch is a redshirt freshman with another strong arm like Thompson's, who also has some good mobility. A strong fall practice performance could bode well for his future.
The real future of the Gamecocks' quarterback position could lie with Connor Mitch, a highly touted freshman. Mitch is the real deal—look for him to continue to impress in fall practice.
South Carolina is loaded at the quarterback position, and all of these guys continue to impress coaches in practice.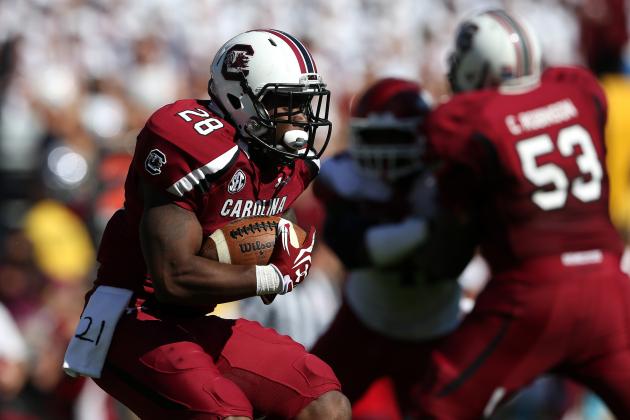 Streeter Lecka/Getty Images

South Carolina has five running backs listed on the roster right now.
Mike Davis is the man who separated himself from the field as the successor to Marcus Lattimore. Davis is explosive in a north-south running game, but he can also make moves and is deadly in the open field.
He is the premier back in this offense and will be the workhorse this season.
Brandon Wilds has played well in practices and has some in-game experience. Though he is the backup.
Wilds is a power runner who bursts with strength through the gaps in the line as a true power back.
Shon Carson is the player to watch. Carson is a baseball player who has missed time due to baseball season and injuries over the past two years. He is a speed demon and could become a strong option in both running sets and as a receiver.
As for the youngsters, Kendric Salley and Devin Potter round out the position. Salley has looked good at times, but he still needs the experience of a solid fall practice to really work his way higher on the depth chart. Potter also needs to improve through practice and is an incoming freshman walk-on. Everyone loves a good walk-on to root for.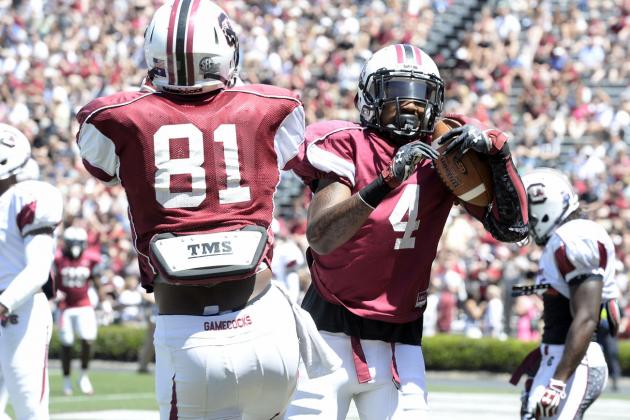 Curtis Wilson-USA TODAY Sports

The Gamecocks do not lack wide receivers, though they do need one player to emerge as the No. 1 target through fall practice.
Bruce Ellington and Shaq Roland appear to be the prime options to become the lead receiver in the offense. Ellington is a player who wants a leadership role with the team and is a solid option. Roland is the complete package of a wide receiver who can do it all.
Roland is the all-purpose, balanced wideout, and for this reason, his talent could make him the go-to guy for whichever quarterback is in.
Damiere Byrd is a player to watch for with his lightning-quick speed. He can absolutely take the top off of defenses with his blazing acceleration and track-star speed.
Nick Jones can work the slot and needs a good fall practice to secure his spot on some playing time.
K.J. Brent is a longer-bodied target with height, which could create some matchup issues.
The man in question is Shamier Jeffery. The younger brother of former Gamecocks star Alshon Jeffery, Shamier had a strong spring where he was in consideration of a starting spot. While he has tapered off a bit, he is one good fall practice season away from some serious playing time.
There may be questions of where players fit together at the wide receiver position, but there is no lack of depth here. A lot can change at wide receiver during fall practice.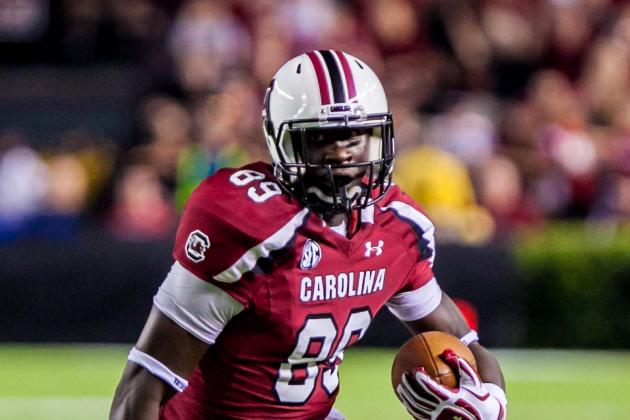 Jeff Blake-USA TODAY Sports

Tight end could be one of the Gamecocks' best positions.
Meet Rory "Busta" Anderson and Jerell Adams.
They are huge.
They are fast.
They have great hands.
It does not get much better than that combination for tight ends.
Spurrier is adamant about getting his two athletic tight ends extremely involved in the offense.
Anderson and Adams are deadly as wide receivers who cannot be covered by linebackers, safeties or corners. They pose too big of matchup differences, and their spring practice proved it.
This fall practice season, these two should continue to terrorize the defense.
Don't forget about Drew Owens; he is actually the biggest of the bunch and the third tight end on the roster. Owens is impressive in all ways, much like Anderson and Adams.
Fall practice will be great for these three to continue to build chemistry with the offense.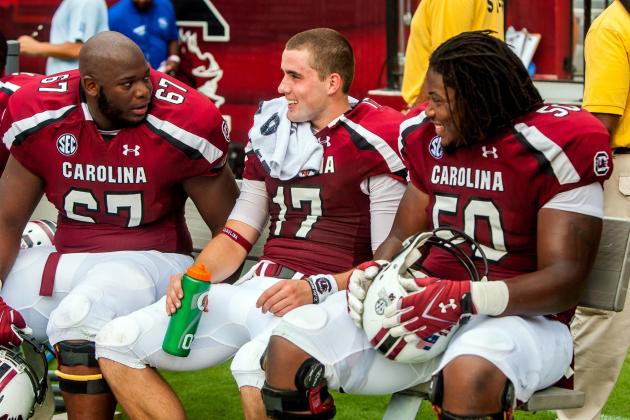 Jeff Blake-USA TODAY Sports

South Carolina's offensive line is young, but it's big and talented.
Brandon Shell and A.J. Cann lead the way. They are ideal big blocking linemen, and the SEC has recognized them both for their great play.
Incoming freshman D.J. Park is a physical monster on the line. He will more than likely redshirt, but he is a player to continue to watch in fall practice because he is a great future piece on the offensive line.
Cody Waldrop, Corey Robinson and Mike Matulis round out some other parts of the offensive line and are strong forces there.
The Stadnik twins, Clayton and Brock, provide solid depth and options, too.
Another player to watch is Mason Zandi. He is young but a huge physical specimen.
Shell and Cann anchor this line, but there is a lot to be happy with on the Gamecocks offensive line. They can run block and pass block very well and should hold their own in the SEC.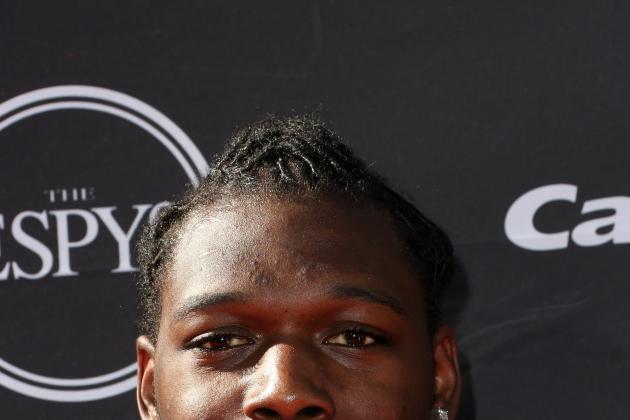 Frederick M. Brown/Getty Images

Two words.
Jadeveon Clowney.
Clowney is the star, game changer and beast on the defensive line.
Outside of Clowney, the Gamecocks are loaded.
Kelcy Quarles and J.T. Surratt stand strong in the interior of the defensive line. Quarles is a good pass-rushing defensive tackle. Both are menaces up front for opposing offensive lines.
Gerald Dixon Jr. will substitute in for these two and is another big, strong player to work in the trenches.
Chaz Sutton plays opposite Clowney and will be a very good pass-rusher and containment player.
South Carolina's defensive line is also deep.
Darius English and Mason Harris are also good pass-rushers, ready to breakthrough in the fall practice to get onto the field more often.
The defensive line is full of talent. With some fall practice to get them all fully into form, this bunch could terrorize opposing offenses in 2013.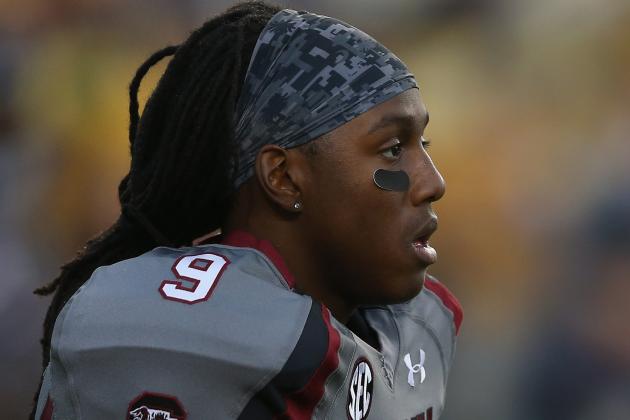 Ronald Martinez/Getty Images

Linebacker has been the biggest question mark for South Carolina during this offseason.
Are they too young? Who will step up?
First off, the talent is there.
Second, they need experience.
Fall practice will provide that.
Kaiwan Lewis and Cedrick Cooper hold down the middle of the defense, though T.J. Holloman is a defensive mastermind who is like an on-field coach. These three have big potential to improve a lot during fall practice and throughout the season.
The "Spur" linebacker position is a hybrid spot that qualifies as a extra defensive back, yet the Gamecocks appear to be set here.
Sharrod Golightly will get the starting nod, but Jordan Diggs can still gain some ground with a good fall practice performance. Golighlty won the spring battle, yet Diggs can still increase his playing time.
Further down the depth chart, watch for incoming freshman Larenz Bryant at fall practice. He is the future of the linebackers and will be eager to make an impact early on in fall practice.
Kelvin Rainey is also an intriguing player after he made the transition from tight end. He is improving quickly and has the potential to be an impact player by using his offensive experience to shut down offenses.
Marcquis Roberts is another exciting player who is young and versatile.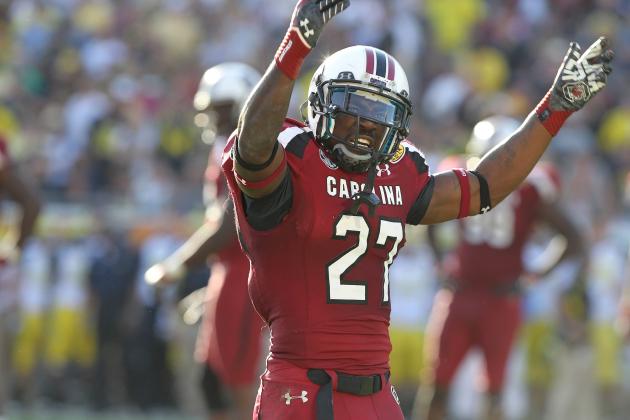 Kim Klement-USA TODAY Sports

The defensive backs were another area of concern, but that should be a thing of the past, especially if some players have solid fall practice showings.
Cornerback Victor Hampton is the leader of the position. He is the lockdown player and the team's best cover-corner.
Playing opposite of him is Jimmy Legree. Legree is more than a solid No. 2 cornerback—this kid can play.
Behind these two are a bunch of corners who need to improve in fall practice in order to keep up with SEC offenses during the season.
Ahmad Christian, Ronnie Martin and Sidney Rhodes are the other three who have potential to work their way into a good amount of playing time in extra defensive back sets, if needed.
As for safeties, South Carolina needs Kadetrix Marcus or T.J. Gurley to step up as the main free safety. Both have the potential to start, but Gurley is the budding young player who could lock up the position barring his recovery from knee surgery.
Chris Moody is the other free safety on the roster, but the other two are leaps and bounds ahead of him.
At strong safety, the No. 1 player is Brison Williams. The junior is a veteran player in the secondary and should be a team leader in the fall.
Behind Williams, Chaz Elder is the kid to watch. Elder had a great spring showing and is determined to increase his role with the Gamecocks.
Kyle Fleetwood is competing with Elder, but Elder is an intriguing player to watch in fall practice.

(Via GamecocksOnline.com)
Nick St. Germain is a scholarship kicker who redshirted his freshman year, but he has a good leg for the team to work with.
St. Germain is in a position battle with Landon Ard, who currently has the edge as the starting place-kicker. Both of these guys are good options for kickers.
Punters Patrick Fish and Tyler Hull are also battling to be the team's main punter.
The return game is still up in the air as many different players could emerge as the best players for the job, pending fall practice.
Ellington, Byrd and Hampton are just some of the guys who could be returning kicks this fall.
The special teams slots still have the most competition of any position battle remaining for South Carolina.