Detroit Lions: Grading the Strength of Every Position Unit Heading into Camp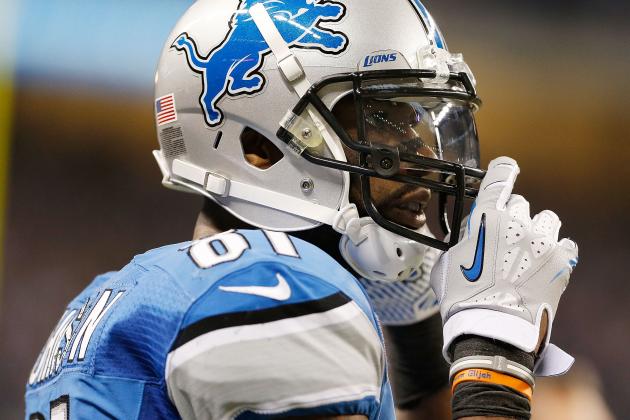 Gregory Shamus/Getty Images

The Detroit Lions are about to kick off another training camp, and, as usual, there is hope and high expectations all around. It will be happy-happy-fun time in Allen Park for the next few weeks, but make no mistake, the Lions have big questions to answer before the start of the regular season.
Training camp will determine which players the Lions' coaching staff think can help them the most. Position battles will be won, rookies will prove if they're NFL-ready, and veterans will get healthy.
Fans will find out which players will start and play significant roles every Sunday.
The Lions lost a number of veterans and replaced them with unproven players with a lot of potential. So it all comes down to this: Will the Lions be a better team this year than last?
For instance, if Jason Fox beats out Corey Hilliard for the right-tackle job, it doesn't mean he'll be an upgrade over Gosder Cherulis. It also doesn't mean the offensive line as a unit will be better than last year.
A lot will be clarified in camp and the regular season, but if we want to know how much they've improved, we have to know where they started. In other words, it's worth looking at the overall strength of every position going in to camp.
Here are grades for every Lions' position unit, pre-training camp edition.
Begin Slideshow

»
USA TODAY Sports

The Lions' special teams were much maligned last year—and deservedly so. In Weeks 3 and 4, the coverage unit allowed four return touchdowns, and Stefan Logan was a non factor the whole year.
The Lions' punting game was even worse. Nick Harris was a shadow of his former self and had the Lions ranked dead last in the NFL in net yards per punt, according to ESPN.
This year is a new beginning. John Bonamego is in charge and brings a reputation as a high-energy motivator who gets the most out of his players. The Lions also added Montell Owens, a coverage ace and former Pro Bowler, who played under Bonamego in Jacksonville last season.
Owens will upgrade the coverage unit immediately.
The Lions also have a number of second-year special teams players—Jonte Green, Ronell Lewis, Tahir Whitehead—whose inexperience showed in coverage last season. They have a year under their belt, and their play should improve this season.
The return game should improve as well. Logan is gone, and whoever replaces him will be an upgrade. That is particularly true if that returner is Steven Miller who has dynamic speed and athleticism.
As for the kicking/punting game, Harris will be replaced by fifth-round pick Sam Martin. Bonamego recently told detroitlions.com's Tim Twentyman that, "Great punters are very hard to find...if you want one you pretty much have to be willing to draft one."
That's supported by the fact that nine out of 10 of the top punters in the NFL were draft picks; three of them as high as the third round!
So the Lions weren't as off-base as some people thought drafting Martin was. He has a huge leg, and he will give them an edge in the battle for field position.
Finally, it would be hard for the Lions to adequately replace future Hall of Famer Jason Hanson. However, the Lions certainly tried. David Akers is a future Hall of Famer, too, and if he's healthy, he could equal Hanson's production and more.
GRADE: B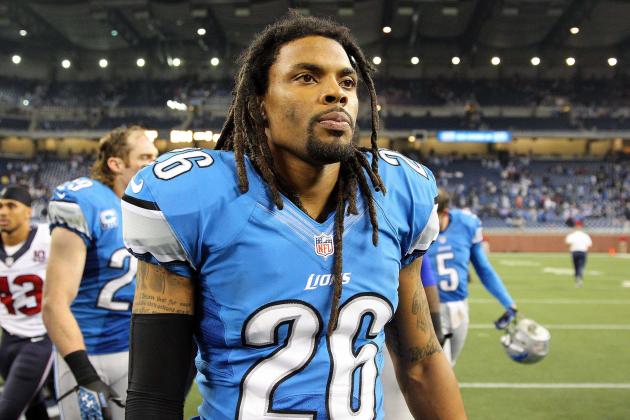 Mike Carter-USA TODAY Sports

Keep in mind that I'm writing this slide assuming that Louis Delmas will be healthy enough to participate in training camp and start Week 1 of the regular season.
In June, Delmas told ESPN radio, via Mlive.com, that he was "88 to 90 percent" and that he planned on going through camp and starting the season 100 percent.
As Lions' fans know all to well, assuming the health of Delmas is a big gamble; however, that is the latest information we have to go on.
Delmas appears to be on track to start the regular season healthy. With him and free-agent addition Glover Quin, the Lions have one of the best safety tandems in the NFL.
If Delmas goes down, yet again, at least Quin is there to provide some stability. The Lions still have solid depth at the position with 12-year veteran Chris Hope, Don Carey, Ricardo Silva and Amari Spievey.
Depth is key, and that is why the Lions are better off at safety than they were a year ago.
GRADE: B+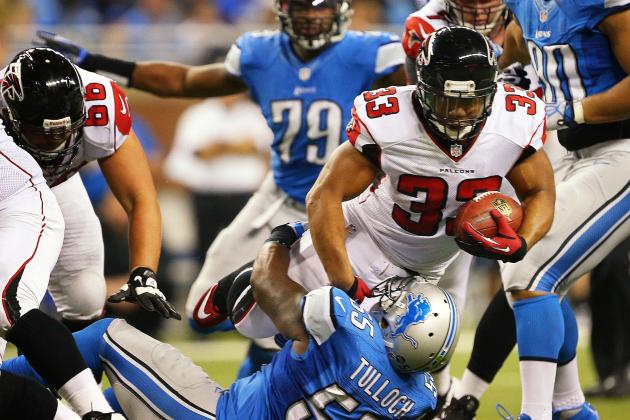 Mike Carter-USA TODAY Sports

The Lions did little to improve their linebacking unit this offseason, and no, drafting Brandon Hepburn in the seventh round does not qualify as an improvement.
Stephen Tulloch and DeAndre Levy will be back, and they are both very good starters.
However, the Lions let Justin Durant walk during free agency and chose to devote his money to special teamer Ashlee Palmer. In fact, the Lions gave Palmer more money. So conventional wisdom suggests that he is the heir apparent to take over for Durant.
The coaches obviously like Palmer and feel like he will be able to fill Durant's shoes, but there will still be a competition. Tahir Whitehead and Travis Lewis are two second-year players who are vying for the staring spot.
It will be one of the more interesting battles of training camp, but in the end, are any of those players a surefire upgrade over Durant?
The answer is no. At least they knew what they had with Durant. Palmer, Whitehead and Lewis are unknowns who lack starting experience in the NFL. They have potential, but that's it.
Grade: C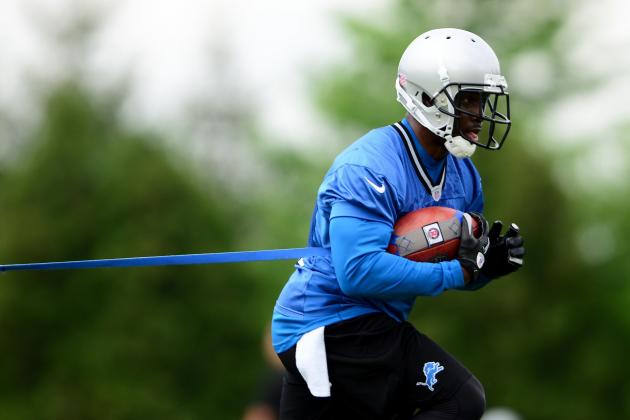 USA TODAY Sports

One word: Reggie Bush.
The Lions were looking for dual-threat rusher who could give them the big-play potential they desperately needed last season, and Bush fits like a glove.
He will fill the role formerly occupied by Jahvid Best because, let's face it, Joique Bell and Mikel Leshoure cannot.
Both have their talents and strengths, but neither can take the football 50 yards on any given play.
Bush is the real deal, and he gives the Lions a legitimate possibility of having a 1,000-yard rusher for the first time in nine years.
His pass-catching ability is more important, though, as his presence will take some of the heat off Calvin Johnson. He'll be used frequently in the screen game or simply as a checkdown when everyone else is covered.
The aforementioned Bell and Leshoure will still be valuable contributors. Bell had a breakout year and could be just as useful this season in the same change-of-pace role. Leshoure is the short-yardage mauler who excels in goal-line situations.
If he regains the speed burst that the Lions drafted him for, he could develop into much more than a short-yardage option.
Combined, these three give the Lions a very strong backfield, and with Montell Owens, Theo Riddick and Steven Miller waiting in the wings, the Lions could be on the verge of a very special season running the football.
GRADE: A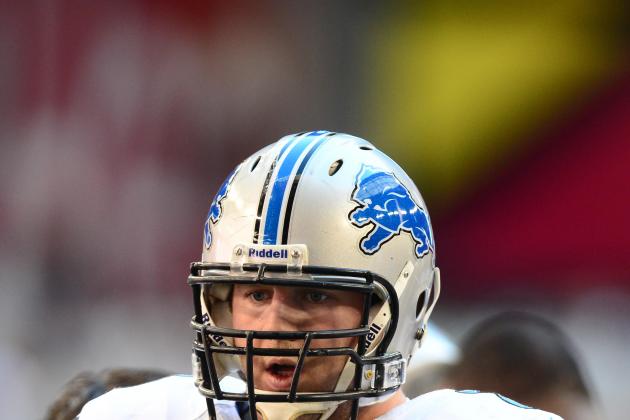 Mark J. Rebilas-USA TODAY Sports

Even if the Lions were returning all their starters from last year, fans would complain about the offensive line, and the Lions would be criticized for not making changes.
Well, the Lions made changes, and now the biggest factor between success and failure in 2013 might be the performance of their new-look line.
Rob Sims and Dominic Raiola are the only returning veterans, and both are solid, if not spectacular, players. Their biggest contribution this year might be their leadership and ability to bring their young linemates together.
Every other position on the offensive line is a question. Rookie Larry Warford and Jason Fox will likely start at right guard and right tackle, respectfully. Both have zero starting experience.
Second-year pro Riley Reiff will take over for retired Jeff Backus at left tackle, and even though that's the position he was drafted to play, there's some anxiety about handing the job over to a player with no experience.
It's understandable, but keep in mind, he'll frequently have a tight end to help block opposing pass-rushers.
The right tackle should be more of a concern. Fox, or Corey Hilliard depending on who wins that battle, will be one-on-one more often than Reiff. The right tackle's ability to shut down the rush from the right side will be key.
This unit is young, inexperienced and they've never played together as a unit, but the Lions need them to gel by the time Week 1 comes around.
Grade: C-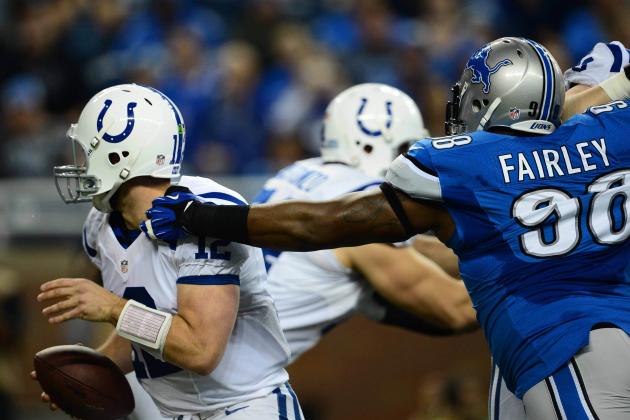 Andrew Weber-USA TODAY Sports

Defensive tackle is arguably the strongest position on the Lions' roster this season. Unfortunately, depth is an issue. Regardless of depth, Ndamukong Suh and Nick Fairley are elite talents and capable of dominating the line of scrimmage.
Last season was the first time they played together for any length of time, and the results were impressive. Suh appeared in his second Pro Bowl, and Nick Fairley looked every bit as good.
In fact, Kevin Patra of NFL.com thinks Fairley is better than Suh and predicts he will make his first Pro Bowl in 2013.
Lions' fans shouldn't quibble about who is better, though. Who cares? They have two elite DTs who aren't even in the prime of their careers to anchor their defensive front.
Depth is still a concern. If one of them gets injured, the Lions will be in trouble. They added veteran C.J. Mosley who is a solid run-stopper and defensive ends Jason Jones and Israel Idonije who will play tackle in certain defensive situations.
However, the Lions need another proven veteran to be the fourth rotational player with Mosley, Suh and Fairley.
Perhaps, that's why they brought free-agent DT Justin Bannan in for a visit Monday, according to Mlive.com. Pro Football Focus rated Bannan as one of the top DTs in the NFL last season (h/t Justin Rogers of MLive.com) against the run.
He could definitely help the Lions, if they're able to sign him.
GRADE: A-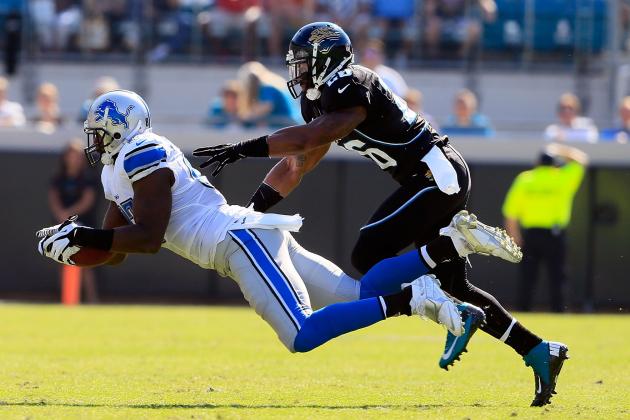 Sam Greenwood/Getty Images

The Lions' top two tight ends, Brandon Pettigrew and Tony Scheffler, combined for 1,071 yards receiving and four touchdowns last season.
Compared to other NFL tight ends, those numbers were paltry. Last season, five other tight ends equaled or exceeded Pettigrew and Scheffler's combined touchdown total, and Jason Witten was only 32 yards shy of their yardage all by himself.
The Lions certainly need, and expect, much more from their tight ends, particularly Pettigrew. They invested a first-round pick on him four years ago, and, so far, he's grossly underperformed.
However, he's the best the Lions have, and he does have the potential to be a top-flight TE. He's one of the few in the league that is equally skilled as a receiver and blocker. He simply needs to improve his consistency catching the football and holding on to it after the catch.
Becoming a reliable weapon in the red zone wouldn't hurt either.
Michael Williams and Joseph Fauria are two rookies who could favorably impact the Lions as well. Williams will play the role Will Heller perfected as a blocker and occasional red-zone threat.
Fauria is the wild card. The undrafted free agent has potential to be an elite offensive weapon. He could unseat Scheffler for a roster spot. Then again, he could flame out during training camp as well.
GRADE: C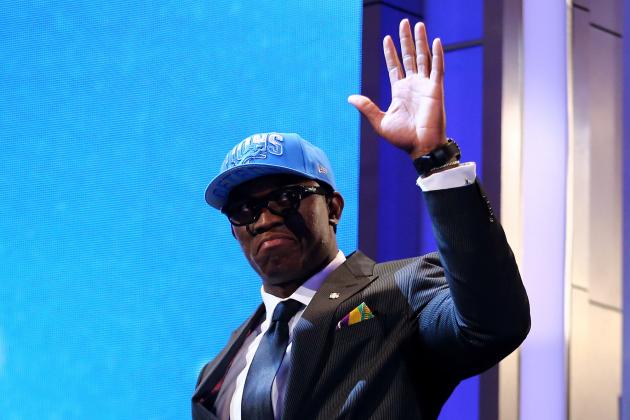 Al Bello/Getty Images

If my grades were based on potential, the Lions' defensive ends would get an "A+" because they've got tons of it.
Ezekiel Ansah and Devin Taylor were drafted this year and have the length and athleticism to become outstanding pass-rushers. However, they are raw, and their lack of experience could hinder their success this season.
Ronnell Lewis is another player with potential, but little experience. As a rookie, he only saw one snap on defense and was primarily used on special teams.
He isn't a prototypical NFL pass-rusher, but what Lewis lacks in size and speed, he makes up for in aggressiveness and brute force.
ESPN's Aaron Shatz included Lewis on his list of top NFL breakout prospects for 2013, according to ESPN Insider (subscription required).
The Lions were wise to complement their youthful core of pass-rushers with several veterans as well. Willie Young was re-signed, and Jason Jones and Israel Idonije were signed as free agents. These are solid veterans and should be able to pick up the slack if the youngsters don't produce.
Jones could emerge as a legitimate replacement for Cliff Avril. He will take advantage of playing next to Suh and Fairley and could be due for a career year.
GRADE: C
Leon Halip/Getty Images

Calvin Johnson is the best wide receiver on the planet, and as long as he's healthy—and playing at a high level—the Lions will have a reliable threat in the passing game.
He's proven he can dominate even when opposing defenses key in on him with two or three guys.
He can do it, but that doesn't mean it's the best way for the Lions to win games. They need a legitimate No. 2 receiver to complement Johnson, and right now, that player isn't on their roster.
Justin Rogers of MLive.com reports that, according to Jason La Canfora, the Lions looked at a trio of veteran receivers on Monday, but with all due respect to Steve Breaston, Chaz Schilens and Laurent Robinson, they're not it either.
The Lions don't have a true No. 2., and the fact is, they lack depth at the position.
Nate Burleson and Ryan Broyles are coming off serious injuries, and while Burleson will be ready for Week 1, there's no guarantee that Broyles will be. If not, then Mike Thomas could be leaned on heavily.
That doesn't bode well for Detroit.
Patrick Edwards is the wild card. The undrafted free agent in 2012 spent his rookie year on the practice squad, but has drawn rave reviews from Burleson this offseason, according to The Detroit News. He could emerge as a reliable option on the outside if given the opportunity.
GRADE: B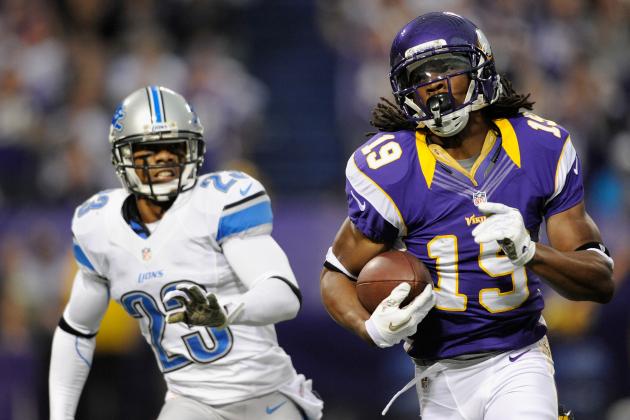 Hannah Foslien/Getty Images

Much like the defensive end position, the Lions are extremely young at cornerback. They've done well by drafting four corners over the past three years, but that means they lack a lot of experience.
Chris Houston and Ron Bartell are the lone veterans.
Houston is a lock to start, and Bartell will provide veteran leadership. He'll compete for the starting job, but ultimately, that will go to one of the Lions' younger players, who have much greater upside.
Darius Slay and Dwight Bentley are the favorites. Bentley won the starting job last season, his rookie year, and Slay is an athletic freak with big-play potential.
Both represent the future of the position for the Lions, and both will play a big role—regardless of who wins the starting job.
Relying on youth brings risk, but the Lions don't have a choice. The defense failed to generate turnovers last season, and Slay and Bentley give them the best chance to improve upon that.
The Lions have good depth at the position, but, again, they're young. Jonte Green and Chris Greenwood are second-year players, but Green is the only one with any real experience. He was solid in fill-in duty last season.
Greenwood is the wild card. The Division III alum missed his entire rookie year with an abdominal injury, but the Lions love his combination of size and speed. This will be his first training camp in pads, so he needs to prove that he can compete at the NFL level.
GRADE: C+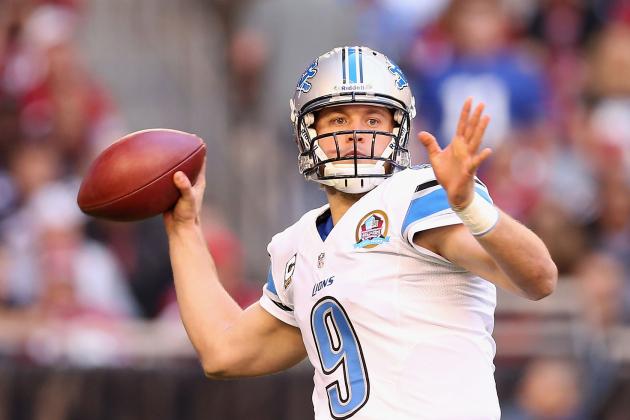 Christian Petersen/Getty Images

The Lions will carry three quarterbacks this year, but let's face it, if anyone other than Matthew Stafford is on the field, the Lions' chance of victory significantly decreases.
Shaun Hill is a great backup and is capable of managing a game and pulling out a win, but he doesn't have the half the natural ability of Stafford.
The Lions need Stafford to stay healthy, as he's done the past two seasons, but they also need him to return to his 2011 form. Last year, he threw the ball 700-plus times and nearly racked up 5,000 yards for the second straight year.
However, his completion percentage and touchdowns were down significantly. It's not surprisingly because so were the Lions' wins.
The Lions' success is intrinsically tied to Stafford's success, much more than any other player on the field, as the quarterback who makes sense. However, the Lions rely on Stafford more than most because so much of their offense is built around the pass.
With a young and inexperienced offensive line, the Lions will also need Stafford to correct the mistakes that plagued him last season. Particular areas in need of improvement are his footwork, accuracy, pocket awareness and ability to read defenses and call audibles.
ESPN's Mark Schlereth and CBS Sports' Rich Gannon recently commented, via USA Today, on Stafford's footwork saying that he has become lazy because the Lions run out of the shotgun so much. They blame bad footwork on the majority of bad passes Stafford throws.
Of course, there are numerous analysts who say Stafford's mechanics are bad, too. Weeks could be spent dissecting all the possible reasons for Stafford's regression in 2012, but why waste time? It all comes down to wins.
If Stafford stumbles and side-arms his way to 11 wins next year, no one will complain. He's already gotten the Lions into the playoffs, and there's no reason he can't do it again.
GRADE: B+