Detroit Red Wings: Progress Report on Top 5 Prospects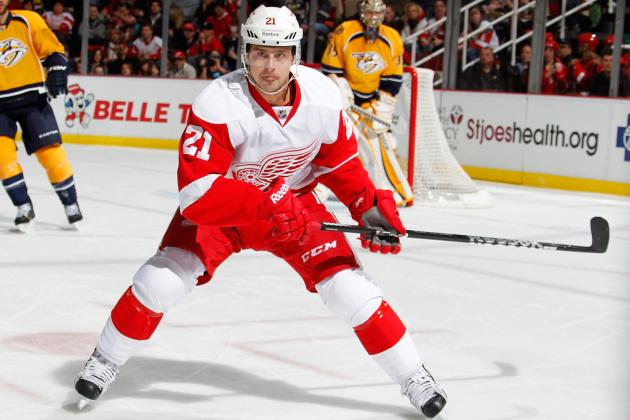 Gregory Shamus/Getty Images

The Detroit Red Wings prospect pool is deeper than ever. Detroit's failure to win the Stanley Cup in 2013 wasn't dwelt upon much because the Grand Rapids Griffins brought home the the AHL's Calder Cup this season.
The Red Wings' prospects not only impressed fans as well as management in the Griffins' Calder Cup this season, but also sat at or near the top of the AHL for the bulk of the season.
The recent success of Detroit's minor league affiliate, although not necessarily translating into NHL success, leads to a number of discussions.
So which Red Wings' prospects are tearing it up the most? Here are the progress reports on the top five Red Wings' prospects.
"Top prospect" in this regard means a player that would likely not make the Red Wings' NHL roster at the start of this upcoming season, but still a great potential call-up if an injury were to occur.
Begin Slideshow

»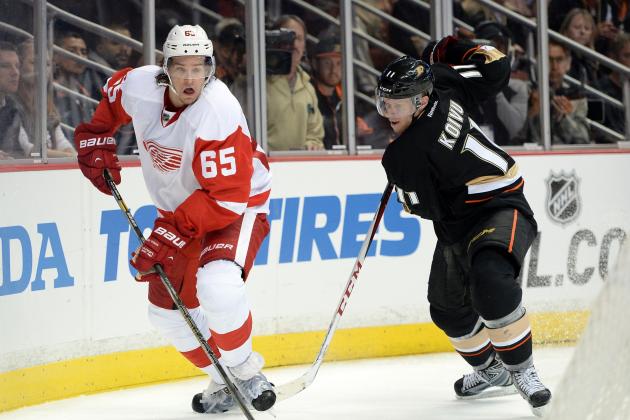 Harry How/Getty Images

For the sake of argument—and to simplify this article—assumptions must be made about which younger, inexperienced players are a "lock" to make the Red Wings' NHL roster.
Forwards: The Red Wings are still trying to lock up Gustav Nyquist and Joakim Andersson as they are restricted free agents. But with their performances down the stretch and into the playoffs, it would be a surprise if they didn't end up on the Red Wings' roster.
Defense: The Red Wings picked up Danny DeKeyser partway through the season last year and he provided some pretty solid minutes on the second and third pairing. DeKeyser, like Nyquist and Andersson, should also be considered a lock to start with the Red Wings. Brendan Smith also received a new contract that should keep him on the NHL side of the equation while with the Red Wings.
Analysis: The Red Wings have quite a few forwards and defensemen in their mid-to-late 20s and early 30s. This leads them to not having too many spots open for younger players to come in which creates a log jam, especially among the forwards. The subsequent slides will address the players who are stuck in this log jam.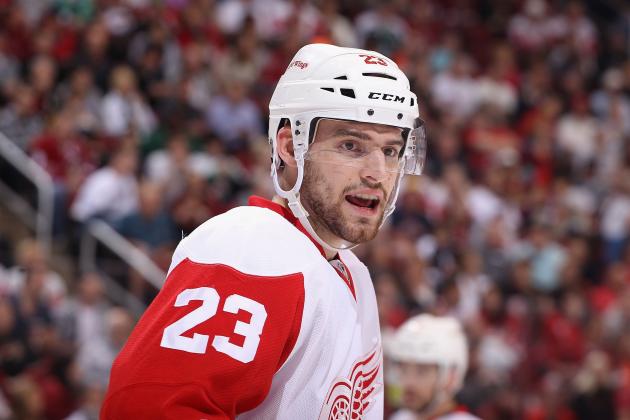 Christian Petersen/Getty Images

Brian Lashoff is 23 years old and signed a three-year extension to stay in Detroit this past season. CapGeek.com has the AAV of the contract being $725,000 per season.
Lashoff is a solid defenseman, but is indecisive at times and sometimes gets muscled off the puck when trying to move the puck from behind his own net.
NHL.com lists Lashoff as being 6'3" and 212 pounds, but it seems at times that he plays smaller than his size would indicate.
Lashoff right now could draw comparisons to a Jonathan Ericsson maybe two or three years ago. Ericsson played smaller than he was, often shying away from hits instead of delivering them. Lashoff hasn't fled from the contact, dishing out 44 hits over 31 games, but his play behind his own net needs some work.
Because he will likely start the season in the AHL, if the Red Wings go with the other six defensemen they have signed to contracts, he is still considered by many to be a "prospect" because he can improve a lot this coming season.
Calle Jarnkrok comes in at fourth on this list due to his talent score on HockeysFuture.com. Jarnkrok score of "7.5" on Hockey's Future represents the highest of any prospect that will appear on this slideshow with the exception of Petr Mrazek and Tomas Tatar.
Jarnkrok played a full season with Brynas of Sweden's Elitserien League in 2012-13. He finished with 42 points in 53 games and later moved on to play with the Grand Rapids Griffins of the AHL, posting three points in nine games.
The 22-year-old Swede will play with the Griffins for the full season, giving him his first real opportunity to shine on North American ice.
With Jarnkrok's sweet pair of hands and excellent vision, the 2010 draft pick will have an opportunity to help the Griffins repeat as Calder Cup champions.
At a "7.0," Tomas Jurco might not rated as high as Calle Jarnkrok on HockeysFuture, but he has the skill set and the experience to play a big part on the Red Wings some day soon.
Jurco has the hands of someone like a Pavel Datsyuk, but with more of a YouTube-like flair (see the video above).
The 20-year-old Slovakian native played his first full season with the Grand Rapids Griffins, helping out with 28 points in 74 games. Jurco stepped up in the playoffs with 16 points in 24 games, coming home with a Calder Cup trophy as well.
Jurco is already NHL ready in size at 6'2" and 193 pounds, so it is just a matter of time before he joins the Red Wings on a more full time basis. Perhaps in two years time he could be vying for a starting job in Detroit.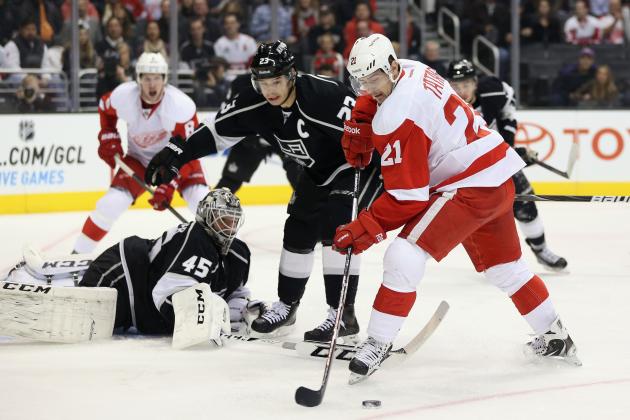 Jeff Gross/Getty Images

Tomas Tatar played 18 games with the Red Wings this season, bringing his career totals up to 27 NHL contests.
He put up just four goals and seven points this season with Detroit, but for a 22-year-old drafted late in the second round of 2009, that's pretty good.
Tatar put up 49 points in 61 AHL contests this season with the Griffins, but his real statistics eye-opener came in the AHL playoffs. While en route to a Calder Cup championship, Tatar put up 16 goals and five assists for 21 points in 24 playoff games.
While he may disappear on the ice from time to time while playing in the NHL, Tatar has showed his capability to come up big for his team when it matters most.
If he can show that the greatness he showed in the AHL playoffs last season wasn't a fluke, he could be playing for the Red Wings come October.
Tatar is in the final year of his entry-level deal and will be a restricted free agent next year, per CapGeek.com. While he might not be the most talked about name among prospects right now, Tatar definitely generated some buzz with his play for the Griffins in the 2013 playoffs.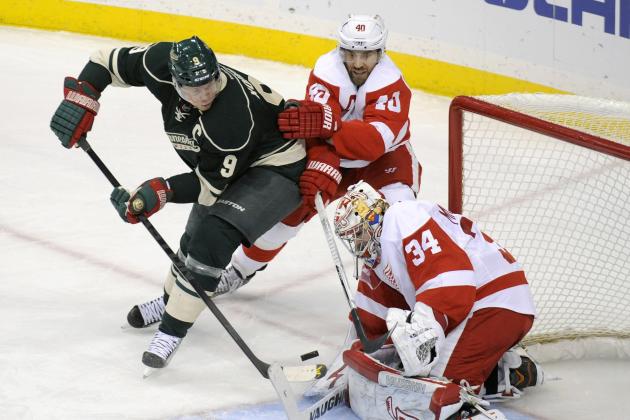 Hannah Foslien/Getty Images

Plain and simple, the Grand Rapids Griffins wouldn't have won the Calder Cup, much less made the playoffs, without the play of Petr Mrazek.
Mrazek is a goaltender that fans could learn to love very quickly if he ever ends up as the Red Wings' starting goalie. The 20-year-old phenomenon won a Calder Cup with the Grand Rapids Griffins after he replaced Jordan Pearce and Tom McCollum as the full-time starting goalie.
Mrazek's AHL win totals aren't overly impressive at 23-16-4, but he has a sparkling 2.33 GAA and a respectable 91.6 save percentage. In the playoffs, Mrazek was 15-9 with an identical save percentage and a 2.31 GAA and four shutouts.
His "8.0" ranking for Red Wings' prospects on HockeysFuture.com is the highest of any prospect not named Gustav Nyquist.
He has extremely high potential with his calm, cool demeanor in the net. Despite his calmness, Mrazek fights to make each and every save, often sprawling out like former Red Wings goaltender and fellow Czech, Dominik Hasek.
Mrazek isn't necessarily orthodox in making his saves, but that doesn't stop him from making saves when it matters most and giving his team a chance to stay in the game.
He will at least be the Red Wings' backup goaltender at some point not too far in the future, but the Red Wings management will likely want to get him some playing time in the AHL before being called up on a permanent basis.
All statistics via NHL.com, CapGeek.com or HockeysFuture.com.
For more article updates, Follow @Isaac_Smith91