Gonzalo Higuain Transfer Rumours: Latest Gossip Surrounding Real Madrid Star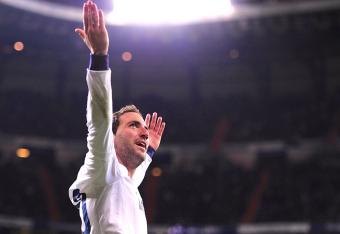 Judging by the most recent transfer rumors, Gonzalo Higuain won't be wearing a Real Madrid shirt for much longer.
UPDATE: Wednesday, July 24, by Sam Westmoreland
It's official; Higuain is joining Napoli, according to team president Aurelio de Laurentiis. CNN Correspondent Tancredi Palmeri confirmed the Italian's news and provided a translation.
Higuain e Reina hanno superato le visite mediche e presto si aggregheranno al gruppo

— AurelioDeLaurentiis (@ADeLaurentiis) July 24, 2013
Napoli president tweeting that Higuain and Reina have passed medicals and will soon join the team

— Tancredi Palmeri (@tancredipalmeri) July 24, 2013
UPDATE: Tuesday, July 23, at 5:02 p.m ET by Kyle Vassalo
Dylan Fahy of The Independent provides details on Higuain's deal:
Sky Italia reveal Gonzalo Higuaín set for €4.5m a season on three-year deal at #Napoli - holds onto 50% of image rights for first two.

— Dylan Fahy (@dylan_fahy) July 23, 2013
AS.com has an update on Napoli's pursuit of Gonzalo Higuain.
Gonzalo Higuaín is about to become a Napoli player with the Italian club reaching a deal with Real Madrid to buy the striker for 37 million euros plus another potential three million more in bonuses. Higuaín will earn six million a year, one more than he is currently on at Real Madrid. An official announcement is expected soon.




UPDATE: Monday, July 22, by Tom Kinslow
Sky Italia has an update on the saga surrounding Gonzalo Higuain (via Tancredi Palmeri of CNN)
Arsenal have not raise the bid for Higuain cause to match Real Madrid's request they want first to qualify to Champions (via Sky Italy)

— Tancredi Palmeri (@tancredipalmeri) July 22, 2013
Of course, if you're judging by transfer rumors, the talented Argentinian international would have been sold by Los Blancos a couple of weeks ago.
Still, while Higuain has been smack dab in the middle of rumors since the opening of the transfer window three weeks ago (and earlier), talk is beginning to heat up more than ever.
The most recent buzz is Real Madrid's reported acceptance of a bid from Italian club Napoli.
Italian newspaper Corriere dello Sport, per Marca, originally broke the story:
Real Madrid has finally found a club for Gonzalo Higuaín. Serie A side Napoli has agreed a €35 million deal for the Argentine striker, according to the Sunday edition of Italian newspaper 'Corriere dello Sport'.

All that is needed to seal the deal is for the player to agree to the move. The Argentine agreed a deal with Arsenal a few weeks ago, but the Londoners' €27m bid did not meet Madrid's valuation of the player.
Thirty-five million Euros, for those wondering, comes out to just about 30 million pounds (£).
Not so fast, though.
New Real Madrid manager Carlo Ancelotti was quick to squash that rumor at a post-match press conference, per Sky Sports:
"Not true, I don't have any news about this," said Ancelotti at the post-match press conference when asked to confirm whether a deal had been agreed with the Italian club.

"I think that now we have to speak about Higuain as a Real Madrid player. He is a fantastic player and a fantastic striker who took one minute to score tonight."

"I spoke to him this week. He is a Real Madrid player and until we have news we have to consider him as a Real Madrid player and I would like him to stay with us."
Even if Ancelotti is fibbing and the Spanish side actually has accepted an offer from Napoli, that doesn't necessarily mean Higuain is definitely making a move to join last season's Serie A runner-up.
According to the Mirror's John Cross, Higuain wants to give Arsenal a chance to make a bid:
Real Madrid striker Gonzalo Higuain has stalled on a move to Napoli - in the hope Arsenal come back in.

Higuain asked for 48 hours to think over whether to join Napoli after Rafa Benitez's new club had a £30million bid accepted for the Argentine World Cup star.

It is believed Higuain would still prefer moving to Arsenal but his potential switch to the Emirates went cold after Real Madrid suddenly "moved the goalposts" and increased the price from £24m to £32m.
Of course, if the rumors that Arsenal has shifted its attention toward Liverpool striker Luis Suarez are true (via the Mirror), Higuain may be waiting for nothing.
This is a lot to take in, and it certainly will be compelling to see what happens next.
Higuain may not be the fastest or most flashy striker around, but his positioning and finishing are both world-class, as he netted 16 goals in 28 La Liga appearances last season. And according to WhoScored's Twitter account, there was only one player in the league who was a more efficient finisher:
Gonzalo Higuaín: Of every player with 10+ La Liga goals, only Messi (57.5%) had a better on target conversion than Higuaín (55.2%) last year

— WhoScored.com (@WhoScored) July 19, 2013
The 25-year-old, who has scored over 100 goals with Real Madrid since joining the Spanish side in 2007, would be a welcome addition for any top club—and he will come with a significantly cheaper price tag than Suarez.
We'll be sure to keep you updated on his status, as this story surely isn't close to being finalized.
This article is
What is the duplicate article?
Why is this article offensive?
Where is this article plagiarized from?
Why is this article poorly edited?