Winners and Losers from San Antonio Spurs Summer League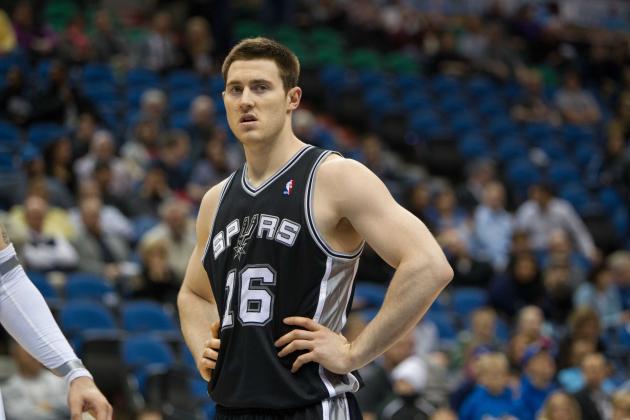 Brace Hemmelgarn-USA TODAY Sports
Center Aron Baynes really played well during the summer league.
When it comes to developing under-the-radar players, there are few organizations better than the San Antonio Spurs, which is exactly what the NBA's Vegas Summer League provides—a chance to cultivate young talent.
Whether it's second-round picks like Manu Ginobili and DeJuan Blair or an undrafted free agent like Gary Neal, the Spurs are always finding hidden gems who fit their system. It could be that this year's summer league team is no different.
San Antonio had a few players who seemingly came out of nowhere to provide big production during the summer circuit. Likewise, the team also had some players with previous NBA experience who struggled in Las Vegas.
Here are the winners and losers from the San Antonio Spurs summer league.
Summer league stats come via NBA.com and can be found here.
All roster and contract information comes via Hoops World.
Begin Slideshow

»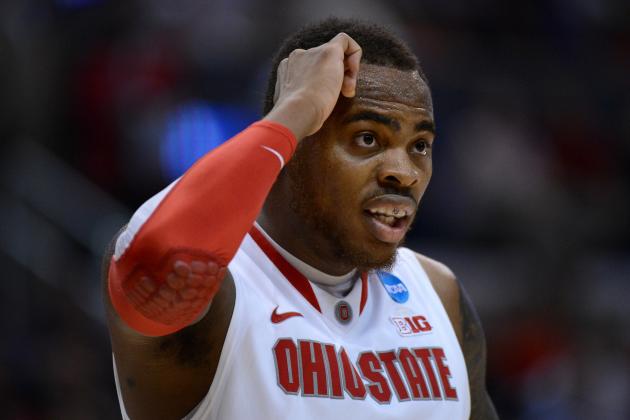 Harry How/Getty Images
Deshaun Thomas, a rookie from Ohio State, played well in Vegas.
Deshaun Thomas was the Spurs' second-round pick in the 2013 draft, taken with the 58th selection. For a player who lasted so long in the draft, Thomas sure had a productive run in the summer league.
The small forward showed good skills on the offensive end, pacing the team in scoring with 12.4 points per game. He also showed solid efficiency, hitting 41.4 percent of his field-goal attempts and a steady 37.5 percent of his three-point attempts.
Beyond that, the rookie averaged 5.0 rebounds and only committed seven turnovers in 143 minutes of game action.
With 15 players currently under contract, it'll be difficult for Thomas to make the regular-season roster. But we could see the youngster later in the season if he continues to develop.
Marcus Denmon was a second-round pick in the 2012 draft. He failed to appear in an NBA game during his rookie season, and the trend could continue based on his showing in the summer league.
Denmon started the summer league on a roll. He averaged 14.3 points and 4.3 assists on 42.1 percent shooting from the field and 42.8 percent from downtown during the first three games. However, those totals dropped considerably to 5.5 points and 0.5 assists on 28.5 percent shooting overall and 20 percent from three-point range over the past two contests.
That he had such a solid showing to start the circuit is a good sign for Denmon. But disappearing like he did in the past two games could be an ominous sign. Regardless of how he performed, it was going to be difficult for Denmon to make the team. In order to do so, he really had to force the issue—he certainly didn't do that.
After signing with the OKC Thunder as an undrafted free agent, then ultimately getting waived by the team, Hollis Thompson spent last season with the Tulsa 66ers of the NBA Developmental League.
Thompson averaged 8.1 points and 3.8 points in the D-League. Now, the forward's trying to parlay that experience into an NBA roster spot. While making the Spurs is a long shot for him, Thompson sure put his best foot forward in the summer league.
He was extremely consistent in Vegas, averaging 10.2 points and 5.4 assists. Perhaps most encouraging was his 48.6 percent shooting from the field and 45.5 percent from three-point range.
As a small forward, Thompson needed to show better range on his shot. The 28.8 percent he shot from three-point range in the D-League won't cut it. Yet his ability to knock down threes in the summer league could be a sign of an improved outside shot.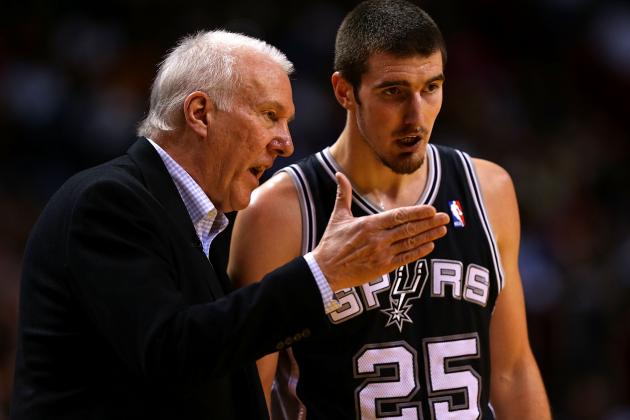 Mike Ehrmann/Getty Images
Nando De Colo had issues with ball security in the summer league.
Nando De Colo was a second-round pick in 2009 but made his NBA debut last season. Now entering his second NBA campaign, De Colo already has a guaranteed contract for 2013-14.
Given his play last season, making the team is a formality for De Colo. But considering his NBA experience, he certainly didn't have the best showing in the summer league.
For De Colo, it wasn't really his production that was lacking; averaging 11.4 points and 4.0 assists per game is pretty good. The issue was his efficiency.
His 34 percent field-goal percentage and 22 percent three-point percentage were both subpar—especially considering the 43.6 percent from the field and 37.8 percent from downtown he posted last season. With his overall body of work, it's a safe assumption that his shooting woes were likely a reflection of a small five-game sample size.
Yet his 4.0-to-3.3 assist-to-turnover ratio was pretty bad. The same goes for his 1.8 steals-to-4.3 personal fouls per game. Those are the little things that De Colo really should be much better at, particularly with his experience compared to most players in the summer league.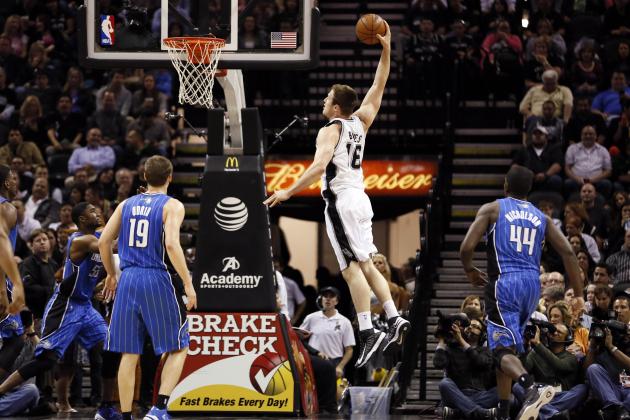 USA TODAY Sports
Aron Baynes probably had the best showing of any Spurs player in Vegas.
Like De Colo, Aron Baynes made his NBA debut last season. Also like De Colo, Baynes has a guaranteed contract for 2013-14. However, that's where the similarities between the two stop, as Baynes had an excellent showing during the summer league.
The center averaged a double-double with 12.0 points and 10.5 rebounds per game. Not to mention 4.4 of his 10.5 rebounds came off of the offensive glass. On top of that, the 26-year-old posted a .468 field-goal percentage and averaged 1.3 blocks per game. And he did all of that with just 26.3 minutes to work with.
This is the type of performance expected out of a seasoned player like Baynes. With experience playing in the Euro leagues and a couple of tours with the Australian national team, Baynes had more to draw from than your typical summer league player, and it showed.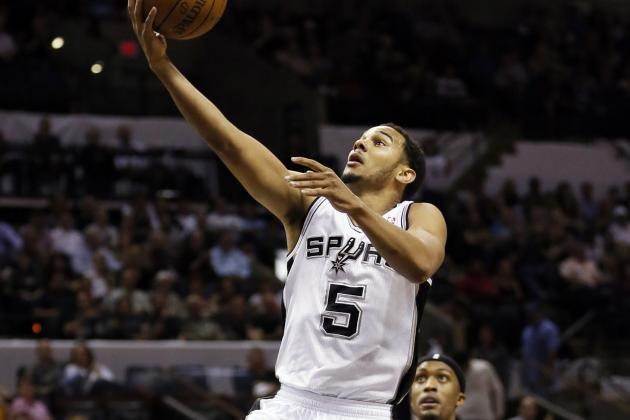 USA TODAY Sports
Cory Joseph had issues with ball security and finding his outside shot.
Cory Joesph is a former first-round pick with two years of NBA service under his belt. The point guard even started nine regular-season games for San Antonio in 2012-13. But even with his resume, Joseph wasn't able to dominate the summer competition.
At first glance, Joseph's numbers actually don't look too bad—in fact, they look pretty good. He averaged 10.3 points and a team-high 4.5 assists per game. However, there were some glaring weaknesses in his performance.
For one, while he did average 4.5 assists per game, he also had 3.3 turnovers. Perhaps most ominous was his three-point percentage of 27.3 percent.
In his two seasons, the point guard has only hit 25 percent of his three-point attempts. That's a far cry from the .447 three-point percentage he's posted in 40 D-League games. Given his success in a larger sample size, it's clear Joseph has a sweeter stroke than he's shown in NBA and summer league action.
With a guaranteed contract for next season, Joseph isn't in much jeopardy of getting cut. But he's also not seizing the opportunities he's had. If he wants to avoid another relegation to the D-League, he'll need to capitalize on his chances.
Follow me on Twitter: @SimRisso