Wisconsin Football: Position-by-Position Fall Practice Preview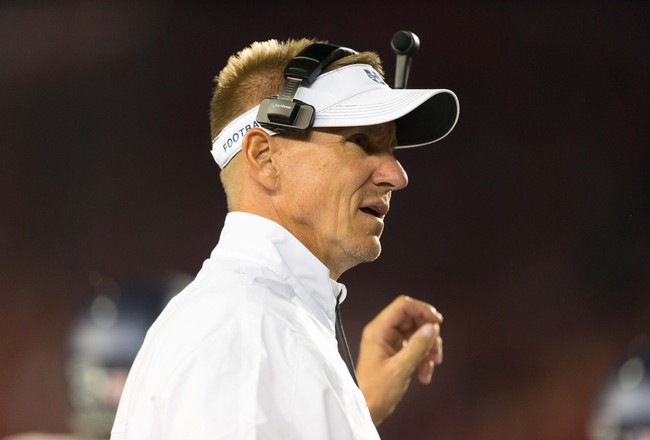 Jeff Hanisch-USA TODAY Sports
First-year Wisconsin football head coach Gary Andersen likes to keep things close to the vest.
For all we know, there are still several positions that are unsettled entering fall camp. Spring practice didn't really appear to solve any questions we had, and as a result of the spring game being televised, Andersen decided he'd rather not unveil the read option while running a very bland and basic 3-4 defense.
That means we'll have to wait until the end of August to see these new schemes in action, perhaps even longer considering the Badgers' first two opponents—Massachusetts and Tennessee Tech.
So which positions are up for grabs? Who will be playing where? And what can we expect from each position during the 2013 season? Those are all very good questions—questions we'll do our best to answer as Wisconsin gears up for its first fall practice session with Andersen at the helm.
Quarterback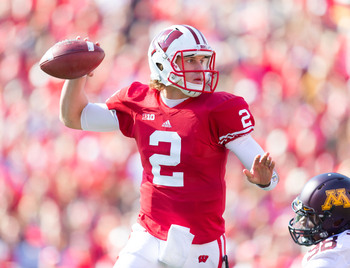 Jeff Hanisch-USA TODAY Sports
Projected starter: Joel Stave
For the second consecutive season, there are three players in the mix for the starting quarterback position, and two of those players came up short in that same battle last fall—Joel Stave and Curt Phillips.
The newcomer is junior college recruit Tanner McEvoy, who was considered one of the best dual-threat quarterbacks at the JUCO level. McEvoy joined the team this summer, so we have yet to see him practice in a Badger uniform.
Following the spring game, it appeared that Stave had a leg up on Phillips, and because of the huge unknown that is McEvoy, that's why we will give Stave the nod for now. Should Stave wind up as the starter on opening week, we can expect to see someone with a calm demeanor who limits his mistakes and throws a beautiful deep ball.
We know he can win based on what he accomplished last season. It's just a matter of whether or not Stave can bring that winning attitude to 2013—and beat out McEvoy and Phillips.
Running Back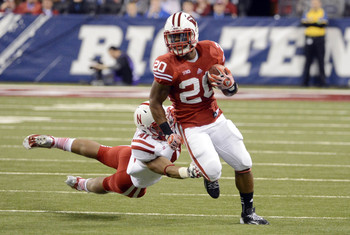 Richard Mackson-USA TODAY Sports
Projected starter: James White
Just because White will begin 2013 as the Badgers' starting tailback doesn't mean he will be an every-down back. Far from it, in fact, as long as Melvin Gordon is around.
White, a former 1,000-yard rusher, has paid his dues over his first three years in Madison, and he will be rewarded with an opportunity to start. The only concern is that White, primarily used as a backup his whole career, won't be able to handle the load that comes with being a starter.
That's where Melvin Gordon steps in. We can't be certain that Gordon is the second coming of Montee Ball based on one 200-yard outburst, but he has the talent to be special and fans are excited to see what he can bring to the table in a larger role.
At fullback, Derek Watt should be the starter for the second straight season. He can catch the ball out of the backfield and should have a prevalent role as long as Wisconsin sticks to the power running game.
Wide Receiver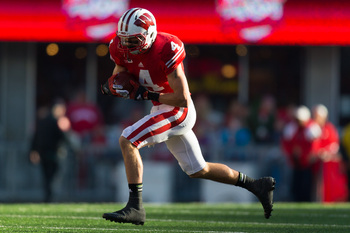 Jeff Hanisch-USA TODAY Sports
Projected starters: Jared Abbrederis, Jordan Fredrick
Of the five positional units on Wisconsin's offense, wide receiver is likely the weakest despite having perhaps the most explosive offensive weapon in Jared Abbrederis. The only problem is that after Abbrederis, there isn't much.
As a redshirt freshman, Fredrick was the No. 2 receiver, and until someone else steps up, he will retain that distinction entering the season. Two receiver commits from the class of 2013, Jazz Peavy and Robert Wheelwright, could get a long look during fall camp.
We can also expect to see plenty of Kenzel Doe, who can make plays in the return game and fulfills the role of slot receiver. There are others with potential in Wisconsin's wide receiver corps, but guys like A.J. Jordan and Marquis Mason are only able to show flashes, not consistency.
Tight End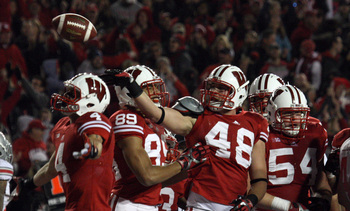 Mary Langenfeld-USA TODAY Sports
Projected starters: Jacob Pedersen, Brian Wozniak
The Badgers are deep at tight end with the return of top NFL prospect Jacob Pedersen and another senior in Brian Wozniak.
There is little doubt that they will be the two tight ends who see a majority of the reps, and they compliment each other well, with Pedersen offering Wisconsin a big threat in the passing game and Wozniak providing excellent blocking while also having the ability to catch the football.
The third option at tight end is Sam Arneson, who is considered to be more of a downfield threat. Tight end is certainly considered to be one of more reliable positions for Wisconsin because of its depth, experience and talent, so there won't be much to see here during fall practice.
Offensive Line
Brace Hemmelgarn-USA TODAY Sports
Projected starters: Ryan Groy, Dallas Lewallen, Dan Voltz, Kyle Costigan, Rob Havenstein
One of the more interesting developments during the offseason has been Andersen's decision to move Ryan Groy, a natural interior lineman, to left tackle, but the senior has plenty of starting experience and is perhaps the most trusted offensive lineman on the roster.
Voltz, a redshirt freshman, was a former top recruit and will be handed the starting center responsibilities. Costigan was essentially the every-week starter at right guard in 2012, so signs point to him assuming that role once again. The same goes for Rob Havenstein at right tackle, although his size has made him a liability at holding the edge.
Left guard is really the one position to keep an eye on during fall camp, as Lewallen has dealt with injuries in the past. Tyler Marz and Zac Matthias will be fighting to earn a starting job on the line, but for now, it looks like the offensive line is almost set in stone.
Defensive Line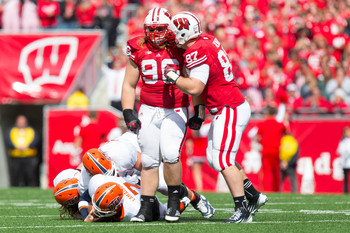 Jeff Hanisch-USA TODAY Sports
Projected starters: Ethan Hemer, Beau Allen, Brendan Kelly
When spring practice wrapped up, it seemed apparent that Kelly would be one of the players making the transition from defensive end to outside linebacker with the switch from a 4-3 to a 3-4 formation, and Pat Muldoon would assume a starting role on the line.
But according to Benjamin Worgull from Badger Nation, Kelly will be used primarily as a defensive end, his natural position, along with Ethan Hemer, while Beau Allen, as expected, would be the nose tackle.
This is the word of one of Andersen's players and not Andersen himself, but this currently leaves Muldoon as someone who will have to rotate in rather than get the starting nod. Plenty could still happen during fall camp, but as with the offensive line, the front three on defense looks locked and loaded.
Linebackers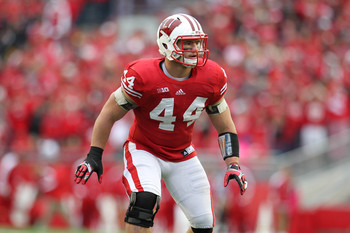 Brace Hemmelgarn-USA TODAY Sports
Projected starters: Vince Biegel, Chris Borland, Ethan Armstrong, Tyler Dippel
Because Kelly and Tyler Dippel were out with injuries during spring practice, the assumption had to be made that both would be adjusting to linebacker. With Kelly allegedly remaining on the line, that opens the door for Dippel, who led the team in sacks last season, to start in 2013.
The middle linebacker spots are held by Borland and Armstrong, who both started last season. Armstrong will move inside following the switch to a 3-4, and he and Borland could be considered one of the most tenacious linebacker duos in the country.
That leaves one more spot, a position battle that should be fun to watch as fall practice progresses. Redshirt freshman Vince Biegel had a solid spring and started in the spring game, and others like Jesse Hayes, Conor O'Neill and Joe Schobert are also in the mix.
One thing is certain—Wisconsin will have a very experienced front seven regardless of whether or not Biegel earns a starting job.
Defensive Backs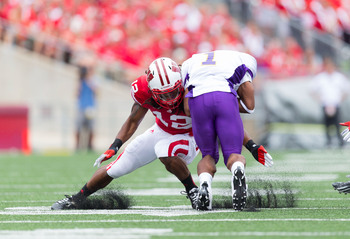 Jeff Hanisch-USA TODAY Sports
Projected starters: Darius Hillary, Dezmen Southward, T.J. Reynard, Peniel Jean
Why we even make an effort to project the starters in the secondary is a head-scratcher—it's truly a complete mess of a situation entering fall practice.
The only sure thing is that Dezmen Southward will start at safety, but both Donnell Vercher (denied admission) and Reggie Mitchell (transfer) were each projected at one time to start next to Southward, which will obviously not be happening anymore.
Just like Mitchell, Jeffrey Lewis is making the switch from offense to defense, and it will be interesting to see what kind of progress he's able to make during fall camp. Michael Trotter and Michael Caputo should also get a look, but fortunately for Andersen, another JUCO recruit in T.J. Reynard should be able to step in and contribute.
The Badgers lost both of their starting cornerbacks from a year ago, and unless true freshman Sojourn Shelton is able to continue progressing at a supernatural rate, it will probably be Hillary and Jean becoming the new starters, with Shelton looking at a role as nickel corner.
Special Teams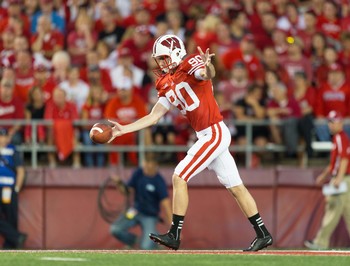 Jeff Hanisch-USA TODAY Sports
Projected starters: Kyle French (kicker), Drew Meyer (punter), Jared Abbrederis (returner), Melvin Gordon (returner), Kenzel Doe (returner)
When a place kicker ran onto the field last season for the Badgers, whether it was Kyle French or Jack Russell, nobody really had any faith that the ball was going through the uprights. But French did a better job overall, and there shouldn't be much of a preseason competition here.
Nor will there be at punter—Drew Meyer is the man for the job based on his solid freshman season.
Melvin Gordon should return kicks, but there hasn't been a true indication of who will be back for punts. It could be either Doe or Abbrederis, and we could also see Doe alongside Gordon for kickoffs. All three are dangerous in the return game, so we'll see what direction Andersen chooses to head this fall.
Keep Reading

Wisconsin Badgers Football: Like this team?