Malaysia XI vs. Chelsea: 5 Things We Learned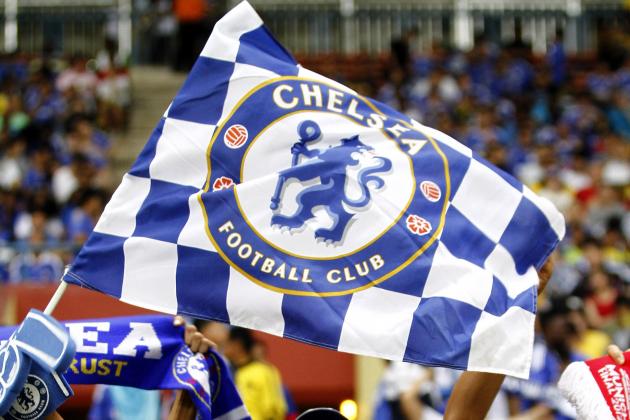 Stanley Chou/Getty Images

Chelsea made it two wins from two in their preseason tour of Asia as they beat a Malaysia XI 4-1 in Kuala Lumpur.
Long-term trialist Bertrand Traore opened the scoring within five minutes as he calmly side-footed Kevin de Bruyne's pass into the bottom corner. De Bruyne grabbed the second goal of the match for himself with an excellent half-volley straight down the middle of the goal before he was forced to retire through injury.
Romelu Lukaku made it 3-0 just before halftime as he showed that his offside awareness has greatly improved, beating the Malaysian trap to latch onto an Islam Feruz through ball.
With nine changes at halftime and the humidity increasing, the second half was a more subdued affair. Victor Moses managed to grab the fourth goal late on, before the Malaysian side nicked a consolation goal right at the death.
Here are five lessons Chelsea fans can take from this preseason friendly.
Begin Slideshow

»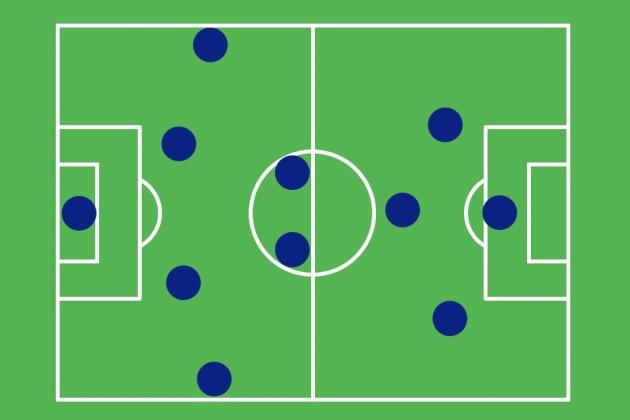 In the seemingly endless buildup to Jose Mourinho's return to the day-to-day work of managing Chelsea Football Club, one of the main questions surrounded his tactics. He has a reputation for being flexible with his formations, and there were many who expected a return to the classic 4-4-2 lineup.
However, he has so far stuck firm to the 4-2-3-1, although he has given players the freedom to roam within that system. Although a lot could change between now and August, it appears likely that Mourinho will continue with plan A as long as it brings success.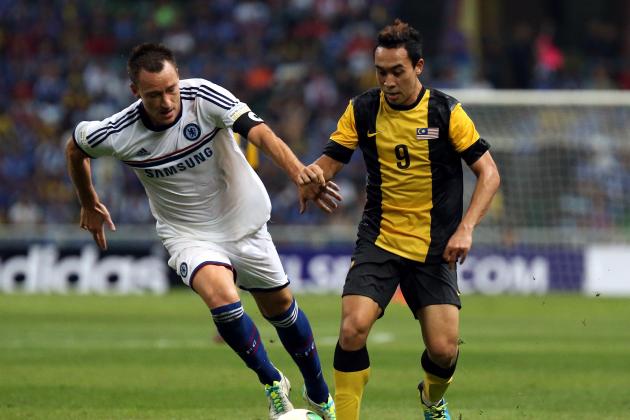 Stanley Chou/Getty Images
Gary Cahill
With the rumours about Chelsea's pursuit of Wayne Rooney having been verified by Mourinho himself this past week, it is clear that he feels the club needs an alternative striker. However, events on this tour so far may have made him rethink this policy.
Romelu Lukaku has improved greatly since his loan spell at West Bromwich Albion, and the development of the technical aspects of his game make him the first-choice frontman at the moment.
Fernando Torres is yet to join up with the squad, but there is every chance that he could be revitalised by Mourinho. Demba Ba is a useful squad player, and Victor Moses is able to play up front in emergencies. Add the opportunities presented by those players to the prolific attacking midfielders, and it seems folly to continue chasing a striker when the defence needs some serious work.
Mourinho spoke recently of the balance between youth and experience. The trouble is, Chelsea's back four can't seem to find that equilibrium. John Terry will not be able to play every game next season, and Branislav Ivanovic will be deployed primarily at right-back. That leaves David Luiz and Gary Cahill as the senior centre-half pairing, which is a sobering thought for Chelsea fans.
The addition of a proven centre-half like either of Borussia Dortmund's pairing of Mats Hummels and Neven Subotic would significantly strengthen Chelsea's back line, and could enable them to emulate Mourinho's record breaking 2004-05 squad.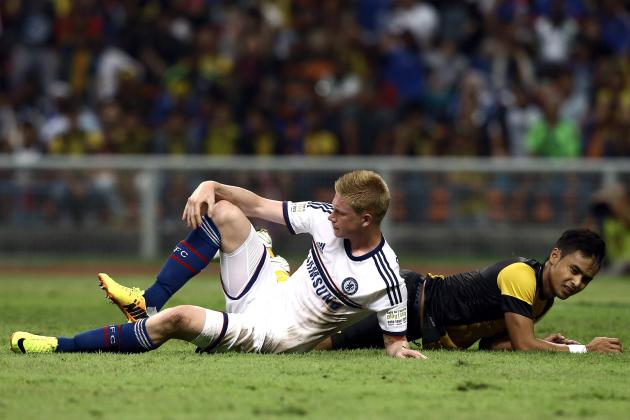 Stanley Chou/Getty Images
Chelsea will be hoping that Kevin de Bruyne's ankle injury is relatively minor.
The 2012-13 Chelsea squad was all about Juan Mata, Eden Hazard and Oscar. The Three Amigos produced some sublime footballing displays in their first season together, but with Hazard on his own in Asia, some of the fringe players in the squad have had a chance to shine.
Kevin de Bruyne was the prospect many fans were looking forward to seeing in action on this tour. Having spent last season on loan at Werder Bremen, the young Belgian has continued his impressive form so far on this tour.
De Bruyne made one goal and scored another in the 33 minutes he spent on the pitch in the first half. He was forced off after he landed awkwardly whilst scoring his goal; however, per BBC Sport, Jose Mourinho has said it is far less serious than initially feared.
This is excellent news for the squad, as the absence of the other two amigos has given him a chance to shine. Chelsea have found themselves lacking depth in terms of their central attacking midfielders, which forced Juan Mata and Oscar to play over 60 games last season. If de Bruyne continues to impress on this tour as he has so far, he will certainly be playing regular first-team football for Chelsea in 2013-14.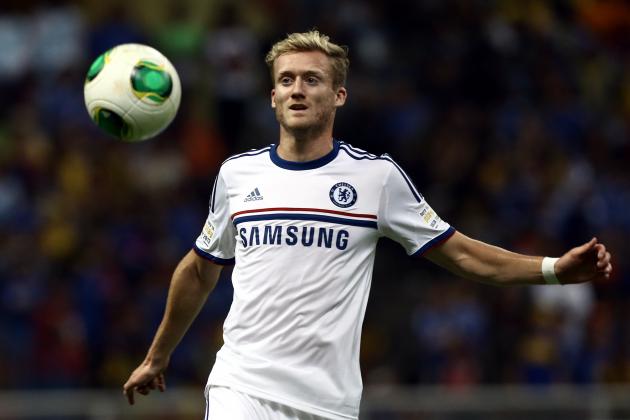 Stanley Chou/Getty Images
Andre Schurrle
There was no doubt Chelsea had a first-class starting 11 in the 2012-13 season. However, as the games piled up and the squad was stretched, it became clear that there was not the same strength running throughout the squad. With Nathan Ake the exception, the majority of the youngsters who had remained at the club were not ready for first-team action, and the older players were past their prime.
The additions of Andre Schurrle and Marco van Ginkel, coupled with the arrival of Jose Mourinho, have made for fierce competition for places on this preseason tour. Kevin de Bruyne and Romelu Lukaku have shown improvement following their loan spells, and Wallace appears ready to compete for a role at right-back.
Even the under-18s are making an impact, with Islam Feruz notching up his first assist for the senior side and 17-year-old trialist Bertrand Traore scoring the opener.
Once the Confederations Cup players join up with the squad in America, The Happy One will be delighted with the difficulty of the decisions he will face, as such a high level of quality throughout the squad certainly bodes well for the 2013-14 campaign.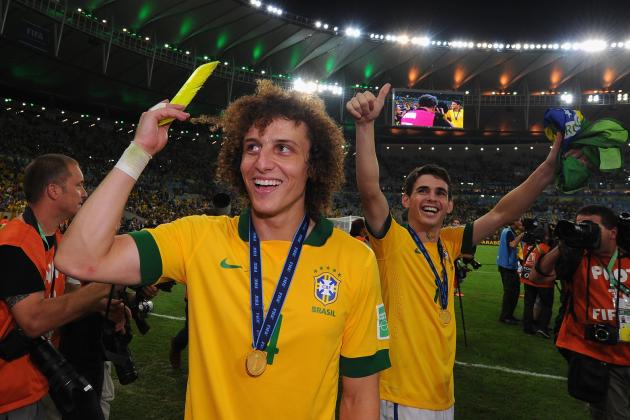 Michael Regan/Getty Images
David Luiz
The dominant scoreline of this game and the team performance in the 1-0 win over Singha All-Stars has given Chelsea fans plenty to smile about. So much so, in fact, that it is easy to forget the players who are still on holiday. Player of the Year Juan Mata is enjoying a well-deserved rest, as are David Luiz, Fernando Torres, Cesar Azpilicueta and Oscar.
Considering how crucial those five players were for Chelsea last year, it is easy to conclude that as good as this preseason tour has been so far, the best of this Chelsea squad remains to be seen.