10 Most Underrated Offensive Recruits in Class of 2014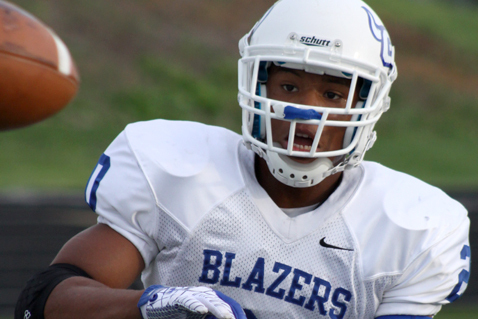 247Sports
College football has become an exciting sport to watch because of the evolution of offenses. The Wing-T and wishbone attacks that ruled past generations have been overtaken by the West Coast offense, Don Coryell system and various versions of the spread offense.
Offensive football players have also evolved, as recruits on this side of the ball receive more attention than their defensive counterparts. For the 2014 class, running back Leonard Fournette, offensive tackle Cameron Robinson, quarterback David Cornwell and receiver prospect Speedy Noil command the spotlight.
However, an offensive lineman in Wisconsin may have the skill to be a great left tackle. A running back in California has the potential to dominate the Pac-12, and a versatile player from Mississippi has the speed to be a dangerous offensive threat in the SEC.
Player evaluations are based on review of tape at Scout.com, Rivals, 247Sports and ESPNU.


Begin Slideshow

»
Gerald Owens, who is committed to Michigan State, is one of the top big running backs in the country. He is a load to handle for defenders, as he runs with good power and strength.
Owens, who is 6'1" and 245 pounds, rushed for more than 1,700 yards and scored 26 TDs in 2012. He is capable of attacking a defense as a downhill runner, shows deceptive quickness through alleys and has the ability to break tackles.
However, Owens is also a versatile player, as he can play fullback, tight end and H-Back on offense. He may not be a traditional running back for the Spartans, but Owens will help Mark Dantonio's program score more touchdowns.
Every coach in America wants to get faster and quicker on offense. Deionte Gaines offers the skills for a coach to reach that goal, as the Florida receiver is spectacular with the football in his hands.
Gaines, who is 5'8" and 157 pounds, has been overlooked on the recruiting trail because of his size. Yet, he has the potential to be a solid slot receiver along with possessing great abilities as a returner. Gaines has good release quickness, separates quickly out of his breaks and has good run-after-catch skills.
If Gaines were taller, he would receive more recruiting attention. Arizona is one of his four offers, per 247Sports.
According to a December story by Zach Clark of Buckeyeempire.com, Mikale Wilbon missed a part of his junior season due to a knee injury. He was limited to just 863 yards and 12 TDs in 2012, after rushing for 1,634 yards and 14 TDs in 2011.
A decrease in statistical production last season may have led to Wilbon's low ranking, as the talented runner sits at No. 352 in the 247Sports composite rankings.
Wilbon's talent warrants a higher ranking, as he is a 5'9", 195-pound running back with good quickness. He can get out of traffic in short areas, has deceptive tackle-breaking ability and has the speed to make big plays.
Vanderbilt is getting an underrated offensive talent in Wilbon.
Wisconsin has a history of producing great offensive linemen, including Pro Bowl left tackle Joe Thomas of the Cleveland Browns. Although Jaden Gault may never reach Thomas' stature, he still has the skills to be a great blocker in Madison.
Gault, who is 6'7" and 285 pounds, could be a good left tackle. He has great pass-blocking skills, quick feet and a strong punch. Gault moves well when engaged with a rusher, can anchor versus bull-rushers and will bury a defender when he can.
He can execute several blocks in the running game and shows the ability to latch onto a defender to steer him away from the ball. Left tackles are hard to find on the recruiting trail, but Gault may be a solid candidate for the position.
To have a great offensive reign in the Pac-12, a recruit must have great speed and quickness. Rahshead Johnson is a receiver from California who possesses both of those traits.
Johnson, who is committed to Washington, is a dangerous threat to a defense anytime he steps on the field. The 5'11", 165-pounder can launch off the line, has the toughness to not be bullied by bigger cornerbacks and shoots out of his breaks to create separation.
He can get on top of a defense with speed and has the run-after-catch skills to work his way to the end zone. Steve Sarkisian will love coaching Johnson.
Although D.K. Buford is listed as a running back in the 247Sports composite rankings, he will have a versatile role at Ole Miss. Buford, who is 5'10" and 190 pounds, has excellent speed and agility.
He is a dynamic player who can make an impact as a runner and receiver. Buford could be moved permanently to receiver in Oxford, as his ability to cut on a dime when running routes, catch the football and make big plays will impress head coach Hugh Freeze.
However, he also has the explosiveness to dart through alleys as a runner.
He is ranked No. 295 in the 247Sports composite rankings, but with his combination of quickness, athleticism, speed and versatility, Buford is a better player than given credit for at this stage.
Nick Wilson is a talented running back who is committed to Arizona. He is 5'11" and 196 pounds and will add more power to Rich Rodriguez's rushing attack.
Wilson, who is from California, has good vision and patience as a runner. He can slide to backside holes, has the quickness to explode through them and will challenge a defender at the point of attack. Wilson can run through an arm tackle, find space on the perimeter and flash the speed to race upfield for a big gain.
He gets lost in the shadow of other running backs such as Leonard Fournette, Dalvin Cook, Joseph Yearby, Elijah Hood and Sony Michel.
However, Wilson is a good player in his own right.
Traevohn Wrench is an underrated running back who has rushed for more than 2,000 yards in each of his last two seasons. He is a talented player who can impact the game in several different ways.
Wrench, who is 6'0" and 180 pounds, can run between the tackles or on the outside. He has the strength and power to attack the middle of a defense, and he will only get stronger while at Kansas. Wrench also is capable of turning the corner on a defense, eluding defenders and skating to the end zone.
He flashes solid hands and a high ceiling as a receiver. Wrench is a tremendous sleeper prospect to keep an eye on.
Big receivers with speed are always a priority on the recruiting trail. However, with players at the position such as Ermon Lane, Josh Malone, Malachi Dupre, Trevion Thompson, Derek Kief and Allen Lazard, it is easy to get lost in the shuffle.
However, Dallis Todd is a big receiver who has the ability to stand out. He is 6'5", 210 pounds and has explosive speed. Todd has good release quickness, can avoid defenders underneath and has the length to pluck balls outside his frame.
Todd is a terror in the red zone, as he can attack the football at its highest point and has the body control to keep his feet inbounds.
He is committed to Oklahoma, where he should become a star.
Curtis Samuel is one of the quickest players in the 2014 class. He has fantastic agility and the speed to make many exciting plays.
Samuel, who is 6'0" and 185 pounds, is excellent in space. He can be used in a variety of ways, such as at running back, wide receiver, slot receiver and as a returner.
If Samuel does not become an every-down running back in college, he still should be able to play at a high level as a third-down/change-of-pace back or strictly as a receiver.
His speed, solid instincts, quickness and ability to make explosive plays on offense warrant a higher ranking than the 206th slot he has in the 247Sports composite rankings.
Edwin Weathersby is the College Football Recruiting Analyst for Bleacher Report. He has worked in scouting/player personnel departments for three professional football teams, including the New York Giants and Cleveland Browns.