Great Britain's Chris Froome soaked in the glory as he strolled down the famed Champs-Elysees, heading to the podium in Paris to officially be declared the winner of the 2013 Tour de France.
BREAKING: Chris Froome rides over the line with Team Sky team-mates to win 100th edition of the Tour de France.

— Eurosport.com EN (@EurosportCom_EN) July 21, 2013
The 28-year-old won the event with a strong showing in the early stages and held on with consistent riding throughout the weeks.
As usual, Stage 21 of the Tour de France was nothing more than a formality and elongated victory lap. This time, it was Froome's turn to sip the champagne.
Froome sips champagne for the cameras pic.twitter.com/YI7KnJUK76

— the Inner Ring (@inrng) July 21, 2013
His overall time of 83 hours, 56 minutes and 40 seconds was simply magnificent, and he edged young Colombian hero Nairo Quintana, the second-place finisher, by a total of 00:04:20.
While everyone knows Froome is going to cash in big for efforts, let's take a look at exactly how much the cycling superstar will take home, plus highlight the various other prizes and rewards from the race.
*Prize information from LeTour.com and BikeRadar.com
Overall Standings (courtesy of NBC Sports)
| Place | Name | Time | Time Gap | Team |
| --- | --- | --- | --- | --- |
| 1 | Christopher FROOME | 83:56:40 | 00:00:00 | SKY |
| 2 | Nairo Alexander QUINTANA ROJAS | 84:01:00 | 00:04:20 | MOV |
| 3 | Joaquim RODRIGUEZ OLIVER | 84:01:44 | 00:05:04 | KAT |
| 4 | Alberto CONTADOR | 84:03:07 | 00:06:27 | TST |
| 5 | Roman KREUZIGER | 84:04:07 | 00:07:27 | TST |
| 6 | Bauke MOLLEMA | 84:08:22 | 00:11:42 | BEL |
| 7 | Jakob FUGLSANG | 84:08:57 | 00:12:17 | AST |
| 8 | Alejandro VALVERDE | 84:12:06 | 00:15:26 | MOV |
| 9 | Daniel NAVARRO | 84:12:32 | 00:15:52 | COF |
| 10 | Andrew TALANSKY | 84:14:19 | 00:17:39 | GRS |
Prizes and Winners
Yellow Jersey: Chris Froome
Froome nabbed the maillot jaune early on and didn't relinquish it for the remainder of the 100th riding of the Tour de France.
The individual who holds the lowest aggregate time after each stage dons the yellow jersey. Froome grabbed it early on and maintained the prestigious garb for the remainder of the race.
Is Froome going to win multiple Tour de France events?
He is going to be handsomely rewarded, as the British star is in line for a €450,000 payday for completing all 21 stages with the lowest total time—although most winners tend to share this with their teammates who made it possible.
While that may not sound like much, he will make an untold amount from sponsors and the publicity generated from becoming a champion after this 3,403.5-kilometer journey.
Second place goes to Nairo Quintana, who hauls in €200,000, and Joaquim Rodriguez will snag €100,000 as a reward for being the third-place finisher.
Prize money: €450,000 for the overall winner
Green Jersey: Peter Sagan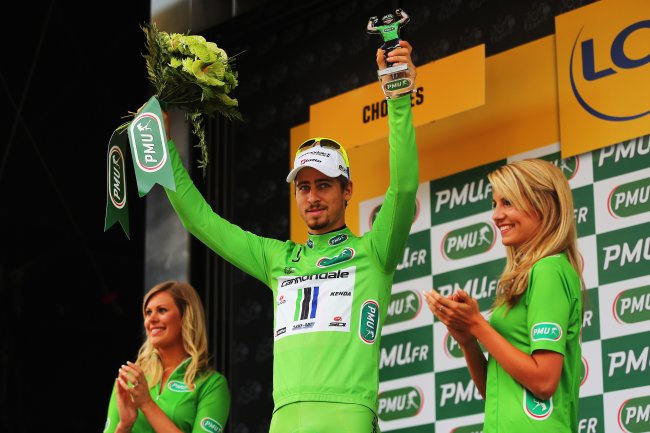 Bryn Lennon/Getty Images
This is awarded to the winner of the points competition, a separate challenge that sprinters often participate in at various stages.
Winners are rewarded tiered points for outpacing the field on sprint stages, mountain stages and time-trial stages.
Green beard for Sagan who is celebrating his second consecutive points jersey win in as many #TdF appearances. pic.twitter.com/xeFnw6tT2x

— Sophie Smith (@SophieSmith86) July 21, 2013
Peter Sagan ran away with the competition in 2013, popping a wheelie at one point to celebrate his dominant 99-point lead a few days ago.
For his efforts, Sagan gets €25,000 and continued respect as one of the best up-and-coming riders in the world.
Prize money: €25,000 for the overall winner.
The Red Polka Dot Jersey: Nairo Quintana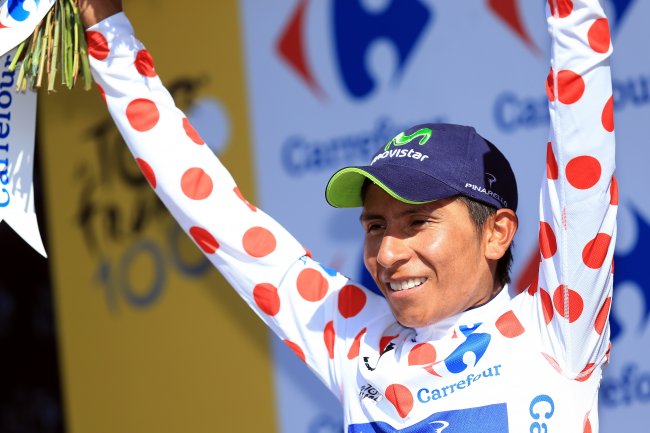 Doug Pensinger/Getty Images
This jersey is given to the best climber, meaning riders who excel on the hills and mountains portions of the race.
Competitors can gain points in this category by leading the pack through the mountainous terrain.
There are a number of different rewards offered, including double points on the summit finish days and extra points for HC rated—meaning extremely intense—climbs.
The maillot a pois rouges belongs to Nairo Quintana in 2013 for his overall amazing performance.
Quintana finished in second place overall, will be remembered as the King of the Mountain and earned the best young rider award—which he can show off with a white jersey.
Prize Money: €25,000 prize for overall winner.
Best climber & youth: Quintana (MOV), points: Sagan (CAN) and best team: Saxo-Tinkoff #tdf

— ProcyclingLive (@procyclinglive) July 21, 2013
White Jersey: Nairo Quintana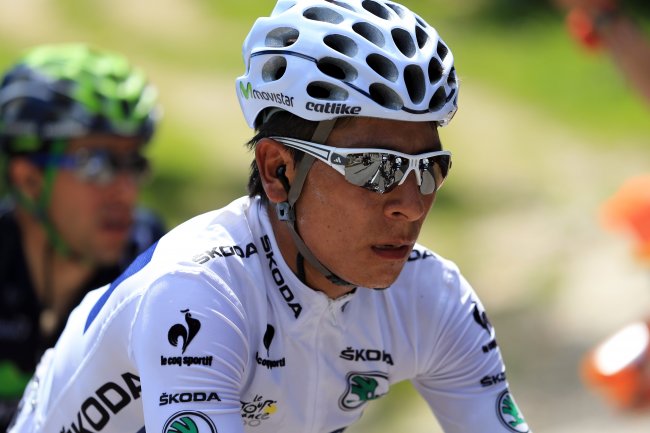 Doug Pensinger/Getty Images
The 23-year-old Quintana earns this jersey for finishing just behind Froome and proving that he's certainly a top contender to watch in the coming years.
This diminutive Colombian star specializes in climbing and other physically intense portions of the Tour, so it shouldn't come as a surprise that he won both the polka dot and white jersey for his great trek through the many mountains and hills that mark this course.
Prize money: €20,000 for the overall winner
Combativity Award: Christophe Riblon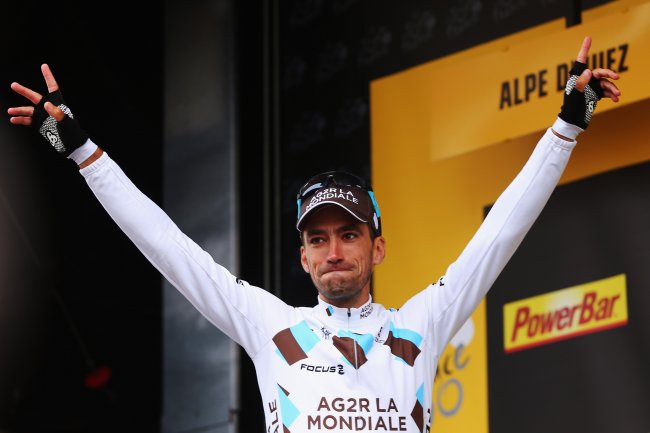 Bryn Lennon/Getty Images
The most aggressive rider is chosen by a panel of eight experts, based on the rider's ability to break away from the peloton.
While time spent in those breakaways is a key factor used to determine who wins the combativity prize, there is a bit of subjectivity involved.
Christophe Riblon claimed the prize this year for his assertive style of riding.
Prize money: €20,000 for the overall winner.
Team Classification: Team Saxo-Tinkoff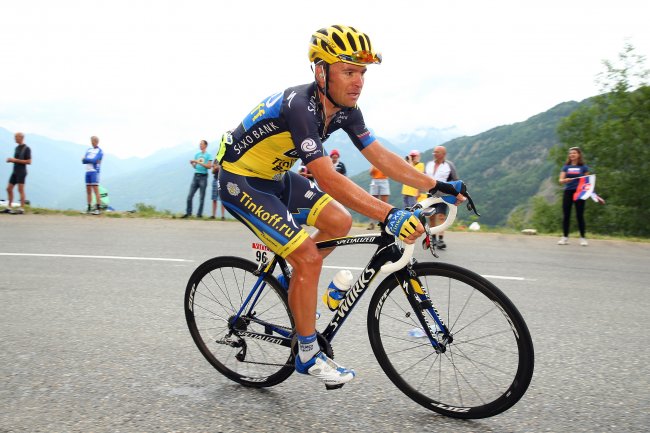 Bryn Lennon/Getty Images
This prize is based on adding up the times from the top three finishers of each team for each stage.
The lowest total time at the end of the 21 stages of the Tour de France is named the winner.
Team Saxo-Tinkoff was the top crew this year and will grab a handful of Euros for their combined excellence.
Prize money: €50,000 for the winning team.