Each NFC North Team's Most Important Player Under Age 25 for 2013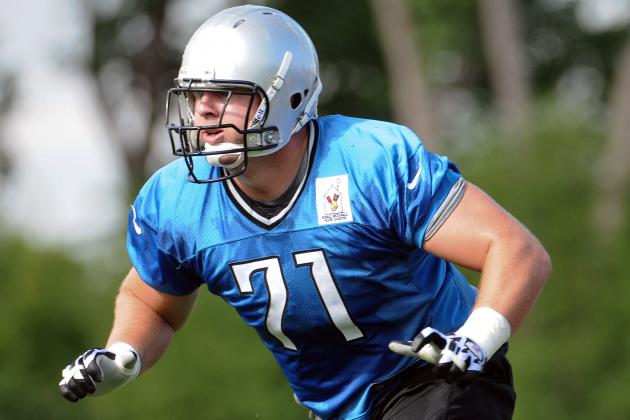 Tim Fuller-USA TODAY Sports

Being your team's best player and being your team's most important player are two vastly different things.
Conversely, being your team's best young player and being your team's most important young player under the age of 25 often bear a much closer resemblance to one another.
Nonetheless, even this line of thinking can sometimes produce different results, answers and variances in opinion.
Take for instance out in Denver, where rookie running back Montee Ball figures to be a huge part of the Broncos' offensive game plan this upcoming season.
While there is certainly an argument to be made for his level of overall impact, nearly no one in their right minds could look you in the eyes and honestly say that he's more talented than All-Pro linebacker Von Miller.
It's just not true, and quite frankly it would be a slap in the face to one of the (if not the) best young players we have in our game today.
So, with that said, where do you find the balance between talent and importance—aptitude and impact?
Certainly, all teams would prefer to have their best young player also be their team's most important; however, this cannot always be the case, as it is in places like Indianapolis with Andrew Luck and Seattle with Russell Wilson.
After all, those players are both young and play the most important position in football, whereas in other divisions like the NFC North there are currently no starting quarterbacks under the age of 25.
Which, if you ask me, is one of the things that make it perhaps the most interesting and ideal young divisions to further analyze and discuss for this very topic at hand.
Begin Slideshow

»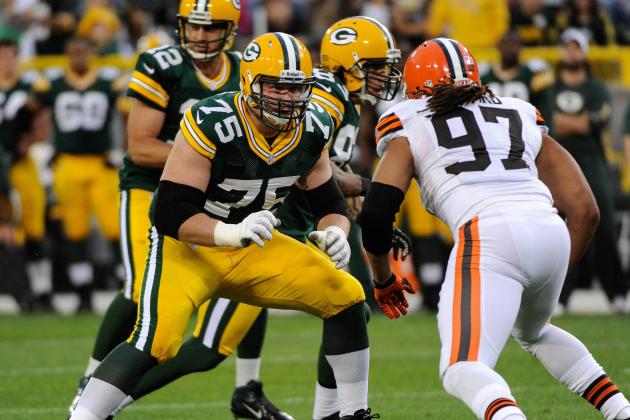 Benny Sieu-USA TODAY Sports

Player: OT Bryan Bulaga
Age: 24
NFL Experience: Three years
When the Packers made Bulaga the 23rd overall pick in the 2010 NFL draft, they did so with one goal in mind—to eventually make him their team's starting left tackle and sole person responsible for protecting Aaron Rodgers' blindside.
Three years later and this long-term vision finally seems to be coming into focus.
This offseason, coach Mike McCarthy announced that there would be changes to the offensive line; most notably, this transitioned Bulaga from his most comfortable position of right tackle, to the other side of the formation as the team's starting left tackle.
Part of what prompted this move and decision was probably the 51 sacks Aaron Rodgers incurred in 2012 (most in NFL), but an equally important aspect to remember is just how flexible and well Bulaga has adjusted when asked to play multiple positions along the offensive line.
Obviously, his 2012 season didn't go according to plan and was cut short due to injury, but before that time Bleacher Report's own Matt Miller ranked him as the game's second-best right tackle in his annually released B/R NFL 1,000 series.
This year, Bulaga ranked 11th overall in that same ranking, but a large part of that regression had to do with a hip injury that never seemed to fully heal.
Nevertheless, now completely healthy, Bulaga appears focused and set to take on his new role—adding the following quote courtesy of ESPN's Kevin Seifert, which reflects both his level of dedication and mental approach leading into this all-important season.
"I don't look at it as a compliment or anything else. I've kind of looked at it like Coach McCarthy wanted to make a change. He's just flipping guys around. It's an opportunity for me, just like playing right tackle is an opportunity for me. I'm excited about it."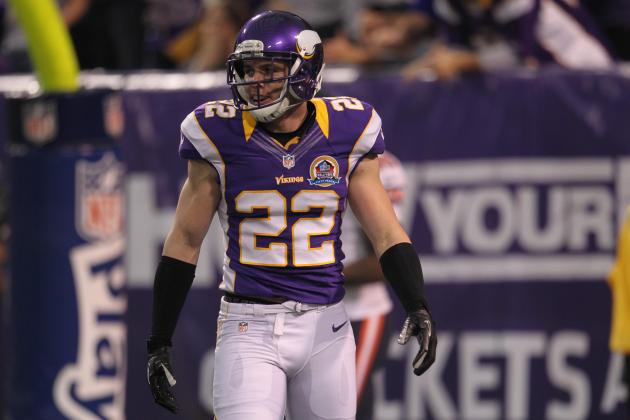 Brace Hemmelgarn-USA TODAY Sports

Player: S Harrison Smith
Age: 24
NFL Experience: One year
Of all the teams in the NFC North, the Vikings are perhaps the hardest to analyze when it comes to choosing a most important player under the age of 25.
After all, in the past two NFL drafts the Vikings have had a total of five first-round selections, with three coming just this past year—garnering names such as Matt Kalil, Sharrif Floyd, Cordarrelle Patterson and Xavier Rhodes.
Certainly, all four of those players are supremely important and impressive, but equally impressive are some of the talents the Vikings were able to land after Round 1 in these same two drafts.
Guys like Josh Robinson, Jarius Wright and Blair Walsh have all proved they can play at a high level and will be depended on heavily if the Vikings are to make it back to the playoffs in 2013.
With all that being said, if there is one player I am choosing when it comes to relative importance for the 2013 season, then I would have to go with former Notre Dame football star Harrison Smith.
Although his selection in the first round of the 2012 NFL draft was brought on with some temporary cause for concern, Smith's performance in his rookie season made questions about the Vikings' decision to trade up and get him very short-lived.
In fact, if you were to choose a player outside of Adrian Peterson who had the most to do with the Vikings' success in 2012, Smith's name would have to be high on the list of "SKOL" nation fans everywhere.
After all, it was Smith's fantastic instincts, range and tackling ability that limited some impact, as Pro Football Focus ranked him as the fifth most efficient tackling safety against the pass in 2012, with only 147 yards allowed after contact.
Stats like these go a long way and give valuable insight into exactly the type of player Smith is and what he isn't.
Not reckless but reliable. Not flashy but productive. Not over-confident but consistent.
Qualities the Vikings will once again be depending on heavily, in a division with a whole lot of star talent at the quarterback and wide receiver positions.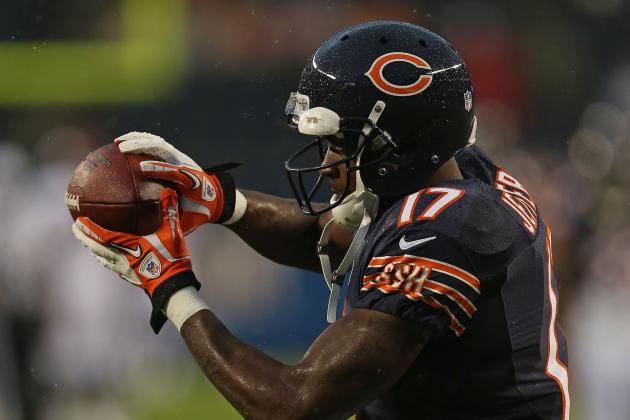 Jonathan Daniel/Getty Images

Player: WR Alshon Jeffery
Age: 23
NFL Experience: One year
The middle of the second round in last year's NFL draft produced what many could consider one of the bigger steals all together.
Once considered a sure-fire first-round pick, Alshon Jeffrey's reputation of having a lackadaisical work ethic and poor approach to the game caused him to fall all the way to the second round at 45th overall.
Now, however, over one year removed from this personal disappointment, not only has Jeffery become perhaps one of Chicago's best young players, but he's also potentially their most important.
This offseason, the Bears brought in Marc Trestman for the sake of revamping an offense that, according to stats from teamrankings.com put them at the ninth worst overall in terms of red-zone touchdown scoring percentage in 2012.
Perhaps even more concerning, however, is the fact that Brandon Marshall's 1,508 total yards receiving last year were just a measly nine yards shy of accounting for over half of Jay Cutler's 3,033 total yards passing in 2012.
Additionally, Marshall's 11 receiving touchdowns made up nearly 58 percent of Cutler's total touchdown passes on the season (19). The next closest, for comparison's sake, was none other than Jeffery with just three.
In 2013, if the Bears are to become a more balanced offense that doesn't rely so heavily on the likes of Marshall and Cutler, another viable pass-catching target will need to emerge.
The addition of tight end Martellus Bennett this offseason should help, but for the most part all eyes will be on No. 17 to take this offense over the top, while providing Cutler with another reliable target opposite the supremely talented Marshall.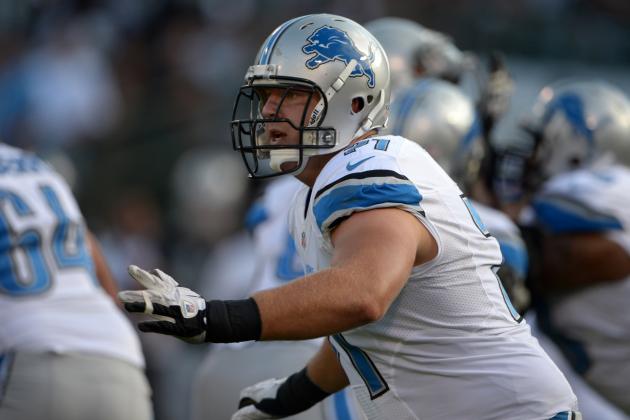 Kirby Lee-USA TODAY Sports

Player: OT Riley Reiff
Age: 24
NFL Experience: One year
Detroit Lions offensive tackle Riley Reiff is a former 23rd overall pick out of the University of Iowa, who is now entering what will be his first season as his teams' new starting left tackle.
Sound familiar?
If not, maybe these last few clues can help.
Both Reiff and this player each play within the same division, both protect franchise quarterbacks that received lucrative contract extensions this offseason, and, perhaps most importantly, both players were given first names to also match the first letter of their respective last names.
Okay, so that last hint was worded in a somewhat confusing way, but nonetheless I hope you caught onto this point by now:
Packers' offensive tackle Bryan Bulaga (highlighted earlier) and Detroit Lions offensive tackle Riley Reiff share their fair share of similarities and characteristics.
However, with so much in common, what makes Reiff's situation all the more different than Bulaga's over in Green Bay?
Well, first of all is the fact that not only is Reiff in just his second NFL season, but he's also entering it with little-to-no starting experience to speak of.
You see, last season Detroit predominately used Reiff only as an extra lineman in short-yardage situations, as the team already had veteran offensive tackles Jeff Backus and Gosder Cherilus to lean on.
However, with both those players now moved on, this season will ask and demand much more from the second-year pro out of Parkston, South Dakota.
For instance, not only will Reiff be asked to contribute on more than just running plays, but Reiff will now also be asked to protect Matt Stafford's blind side in an offense that threw the ball an NFL record 727 times last season.
Certainly, no small task in and of itself, that will also be while going against some of the best pure pass-rushers the NFL has to offer in players like Julius Peppers, Jared Allen and Clay Matthews—who combined to total 36.5 sacks in 2012.
Surely then, it goes without saying that amongst the four players highlighted on this list, perhaps no player faces a steeper learning curve and is under more direct pressure to produce than Reiff in 2013.
Looking at it through the opposite lens, however, what Reiff now has is an actual chance to prove he has what it takes to become a franchise-worthy left tackle.
What he chooses to do with that chance is completely up to him, but if he's anything like Bulaga, he will accept the challenge with open arms and embrace it as nothing more than his own unique opportunity.