The Atlanta Braves are sitting pretty atop the NL East, but that doesn't mean that general manager Frank Wren should just sit on his hands as the July 31 Major League Baseball trade deadline approaches.
Wren needs to find a reliever to add to the Braves bullpen.
Should Atlanta look to acquire a reliever?
Mark Bowman of MLB.com reports that Wren is looking at three relievers at the moment: James Russell of the Chicago Cubs, Mike Gonzalez of the Milwaukee Brewers and Wesley Wright of the Houston Astros. While all three would be solid options for Fredi Gonzalez, Wren needs to put a focus on landing Russell.
The Braves currently have one of the better bullpens in baseball. Entering Sunday, Atlanta's collection of relievers was the 12th best in baseball in terms of WAR, according to FanGraphs. The team's bullpen, however, does have the best ERA of any other team in the American or National League.
That's truly something to be proud of, but the bullpen does have its weaknesses. Atlanta lacks great left-handed options. The Braves usually have Eric O'Flaherty and Jonny Venters, two of the better lefties in the game, but both are out for the season after undergoing Tommy John surgery.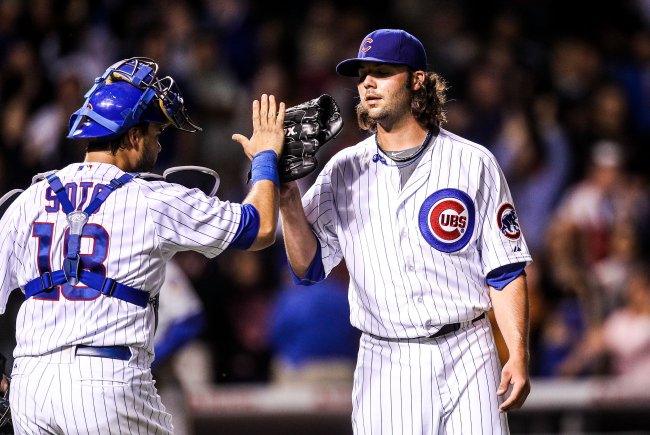 Daniel Shirey-USA TODAY Sports
With those two relievers done for the year, that leaves Luis Avilan as the only left-handed option Gonzalez has available on a daily basis. Avilan has been good this season, as he's allowed just six earned runs in 39 innings of work, but the Braves need someone else who can help each night. Avilan can't be the lone lefty.
If Wren is going to go outside of the organization, Russell is the easy choice.
Here's a look at how the three relievers Wren is reportedly looking at, according to Bowman, match up against one another:
Trade Target Comparison

| | | | | | | |
| --- | --- | --- | --- | --- | --- | --- |
| Player (Team) | G | IP | K/9 | BB/9 | ERA | WAR |
| James Russell (CHC) | 47 | 35.2 | 7.32 | 2.52 | 2.78 | 0.8 |
| Wesley Wright (HOU) | 44 | 34.0 | 8.47 | 2.65 | 4.24 | 0.1 |
| Michael Gonzalez (MIL) | 49 | 33.1 | 11.07 | 4.59 | 2.97 | 0.0 |
FanGraphs
The Braves could make it into the postseason without doing anything with their bullpen, but having more than one lefty will definitely pay dividends. What the Cubs would be seeking in exchange for Russell remains to be seen, but the Braves have the talent in the minors to make a deal happen—and it shouldn't take much.
Russell would be best suited pitching in the seventh inning for the Braves, or potentially against a batter or two in specific situations. Opponents hit .244 off of him in the seventh and .297 in the eighth. His eighth-inning ERA is a tad lower than his seventh-inning ERA, though—2.84 compared to 3.18.
Atlanta is already set with right-handed options that lead up to Craig Kimbrel securing the victory in the ninth. It's a pair of dominant lefties that the Braves need to boost their bullpen. The organization already has Avilan, and it's in the team's best interest to add Russell into the mix.
*All statistics in this article were obtained via FanGraphs unless otherwise noted and are current entering Sunday, July 21. All contract information was obtained via Cot's Contracts and all injury information was obtained via Baseball Prospectus.